TREsemme and Loreal both have amazing reputations for repairing damaged hair. Their shampoos and conditioners are used widely in professional salons.
But they do have some different properties, so it's important to decide which one will work best for your hair type and purpose. Here's a great comparison to ensure you're selecting the right option for your hair. 
TREsemme Vs Loreal History
The TREsemme brand began its life in 1947 in Manhattan, created and founded by hair care expert Edna L. Emme – the name which inspired the brand name.
It was originally marketed as a salon-only brand until Alberto-Culver took over in 1968 and decided to sell to the public market. 
Unlike TREsemme, the French brand name Loreal does point to its origin. It was founded in Clichy, Hauts-de-Seine, and is a registered company name in Paris.
The idea for the brand came from French chemist, Eugene Paul Louis Schueller in 1919 who created a hair dye formula to hide grey hairs. 
The company branched out into other types of products in 1920 and by 1984 they had a successful fragrance, makeup, hair care, and skincare worldwide brand.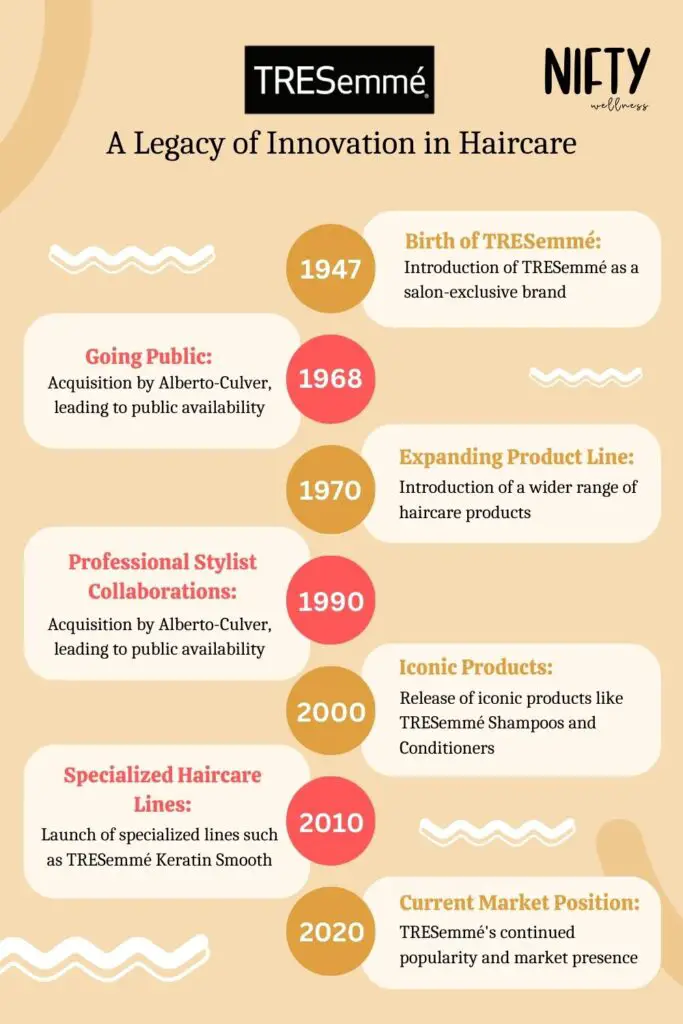 Read our blog Lancome VS Loreal: Differences, Similarities & Which One Is Right For You and explore the world of cosmetics as we compare these two industry giants.
TREsemme Vs Loreal General
Both TREsemme and shampoos were formulated to treat the hair follicles and prevent breakages.
TREsemme is a recommended shampoo for men's hair loss. 
L'Oréal, though great for smoothening hair, contains parabens and sulphates, so it's not cruelty or chemical free. 
L'Oréal is known for it's 'no tears' shampoo which is great for children, and it's designed to prevent dandruff. 
TREsemme Vs Loreal Heat Protection Spray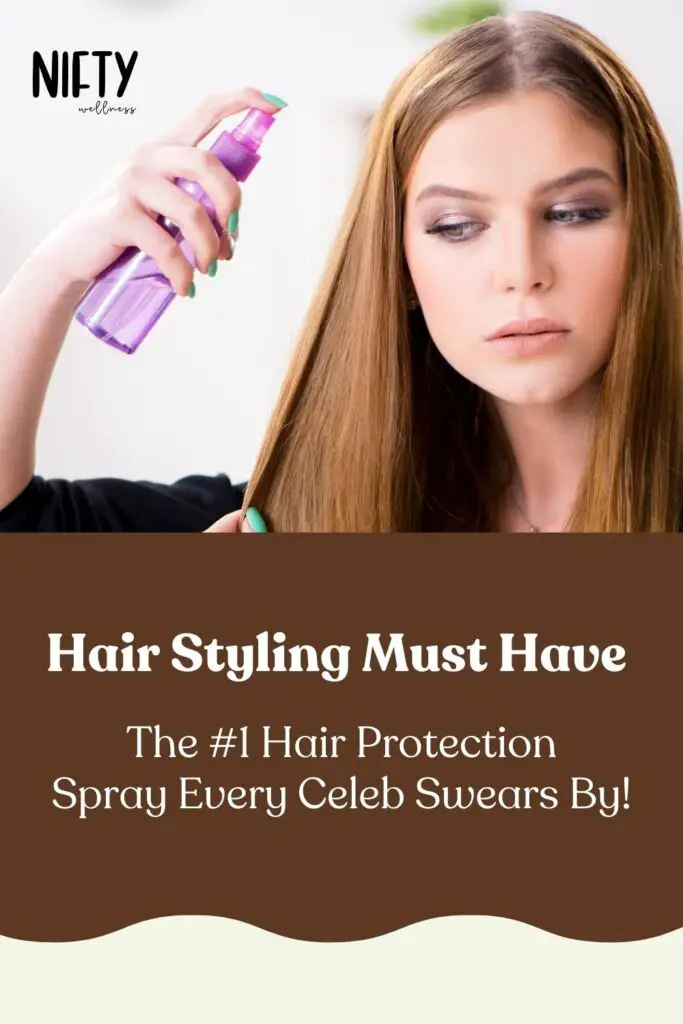 To protect your hair when styling, it's important to use some sort of heat protector on your hair to divert some of the heat and stop your hair from burning or breaking. 
The TREsemme Heat Protectant Spray comes in a larger bottle the promotes the best UV filter. It's a product used by professionals as it protects against the heat of curlers or straighteners but also helps to hold the style in place for longer. 
The L'Oréal Studio Hot & Smooth comes in a slightly smaller bottle, meaning you don't get as much for your money. It's also not classed as a 'styling spray' meaning that it doesn't give as much hold to hairstyles as the TREsemme option. 
Similarities
Both products protect the hair against temperatures up to 230 degrees and aim to make the hair feel smooth and silky, even after straightening, avoiding breakages that could damage the hair's appearance. 
They can also both be used on wet or dry hair depending on the style you're going for and they aim for a frizz-free appearance.
If you have particularly frizzy hair, it may be worth spraying a little after the shower and a little more after your hair is dry. 
It's recommended to use them sparingly, in either case, to avoid clumps or a wet look once the style is finished. This means that both products will last a long time, so they're definitely great value-for-money. 
Differences
The TREsemme product does make your hair feel a little sticky when it's first sprayed while the L'Oréal has a smoother, brush-through feel.
However, this is the hairspray element incorporated into the TREsemme, which helps to keep a hold on the hairstyle once you've finished. 
The TREsemme isn't as highly scented as the L'Oréal, meaning if you're looking for long-lasting freshness, you might need to add another oil or product to your hair after styling if you go for the TREsemme
Verdict
If it's just protection from heat while you're going for a standard, straight style, then the L'Oréal option provides a great smell, smooth finish, and detangling abilities. 
However, if you're using curlers or are aiming for a more elaborate style, the TREsemme is the better option as it's the first step in getting some hold in your hair to compliment the hairspray later on. 
Read our blog Schwarzkopf vs L'Oreal: Which Has Better Shampoos, Hair Color & More. Find out which one suits your needs best in this comprehensive comparison. Don't miss it!
TREsemme Vs Loreal Hairspray
Finding a good hairspray is necessary, especially if you have particularly untameable hair or want to style the best 'up-do.'
The TREsemme Compressed Micro Mist Hold Spray gives a hold level 2 score, so it's great for a long-lasting style, even for heavier hair.
It's also a compressed formula, meaning you have a smaller can which is ideal for travel, with the same amount of hairspray inside. This means it'll last much longer than any other hairspray can of this size. 
L'Oréal's Elnett Satin Extra Strong Hold Hairspray is one of the most vintage hairsprays on the market, having been released in the 1950s originally.
It was one of the most used hairsprays for professionals back then and was only available in Europe. It was even smuggled out by hairdressers in the US to bring back to their salons just because of its strong hold reputation.  
Similarities
Both products are known for their holding abilities and can even hold up heavy or long hair for a long-lasting style. 
They are both invisible products, so you won't be able to see any residue or powder on the hair after spraying, for a natural look.
Differences
The compressed can included with the TREsemme product means that fewer pollutants are sprayed out into the atmosphere, while you still achieve that same great hold and style.
For its forward-thinking and great reviews, it achieved the Best of Beaty Breakthrough Award in 2018. 
L'Oréal's original recipe hairspray provides an incredibly strong hold with a hint of shine. It doesn't leave the hair knotted or tangled when you brush it out, though it can leave a dry after-effect on the hair immediately afterward. 
It's also known for being humidity resistant, so it can even hold up in the rain. 
Verdict
Although the L'Oréal product has been around for so long, times and priorities are changing, and it does appear that it might be a little outdated.
Although the can is the same size as the TREsemme, the TREsemme is more compressed, meaning it saves space, helps protect the environment as well as your hair, and lasts much longer. 
TREsemme is the clear choice here. 
TREsemme Vs Loreal for Hair Loss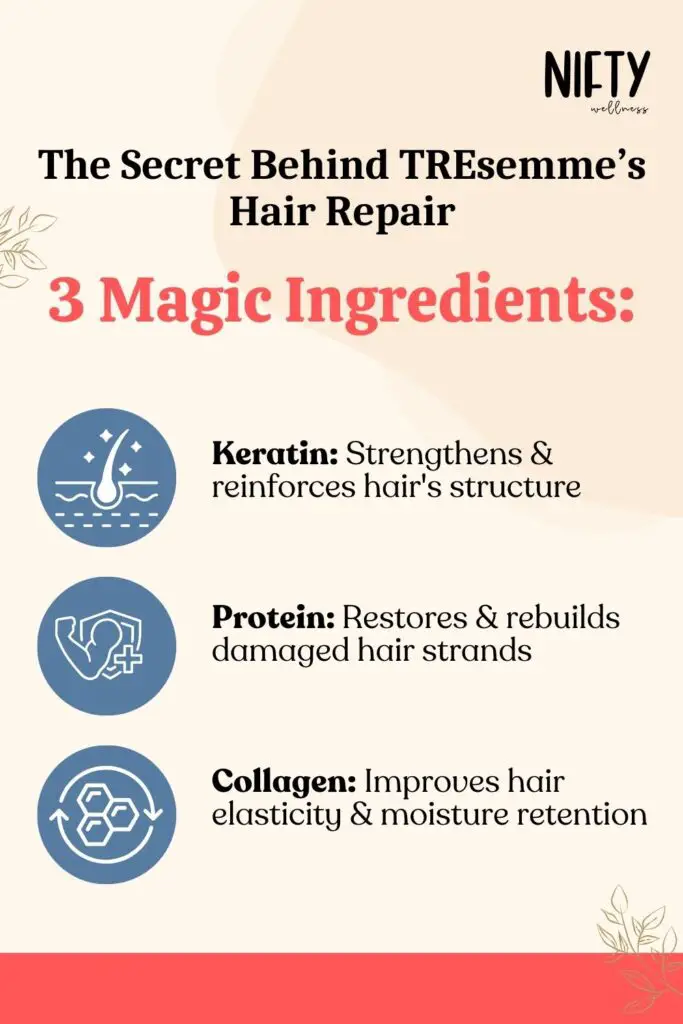 Dealing with hair loss can be a common concern for many. To fight this problem, it is essential to get to the root cause, and using the right product might address this issue. TREsemme and L'Oréal each offer their solutions tailored to combat hair loss.
TREsemme's hair fall defense is an excellent shampoo to help prevent hair loss. It penetrates the scalp to revive hair follicles deep down, encouraging hair growth.
This means your hair will likely grow longer and healthier from the root. 
However, the TREsemme option isn't the best with treated hair. If you've bleached your hair recently or are a regular dyer, then the chemicals in the TREsemme could react with your hair treatment and cause further breakages. 
The L'Oréal hair fall shampoo contains parabens and sulfates, meaning it's really not chemical-free. It's great to stimulate hair growth and strengthens weak or damaged hair.
However, if you have sensitive skin, it could increase the chances of dandruff or an allergic reaction. 
Similarities
TREsemme and L'Oréal recognize the significance of addressing hair loss concerns. They are known to offer a wide range of hair-fall protection products. Their exceptional range includes shampoos, conditioners, and more. TREsemme and L'Oréal use unique formulas to create specialized products to promote healthier hair and reduce hair fall.
Differences
Ingredients: If you wonder, "Is TREsemme good for hair loss?" Be assured that TREsemme often uses common ingredients, on the other hand, L'Oréal uses a higher quantity of cutting-edge, advanced elements to make their hair loss products.
Price Range: TREsemme products are known for their budget-friendly options, catering to a broader consumer base. In contrast, L'Oréal's offerings may be slightly higher due to their advanced formulations.
Product Range: L'Oréal offers various hair loss solutions for different hair types and concerns. TREsemme, on the other hand, provides straightforward options, albeit a more limited selection.
Verdict
As long as you don't have treated hair, the TREsemme option is the better one for hair loss. 
TREsemme Vs Loreal for Dandruff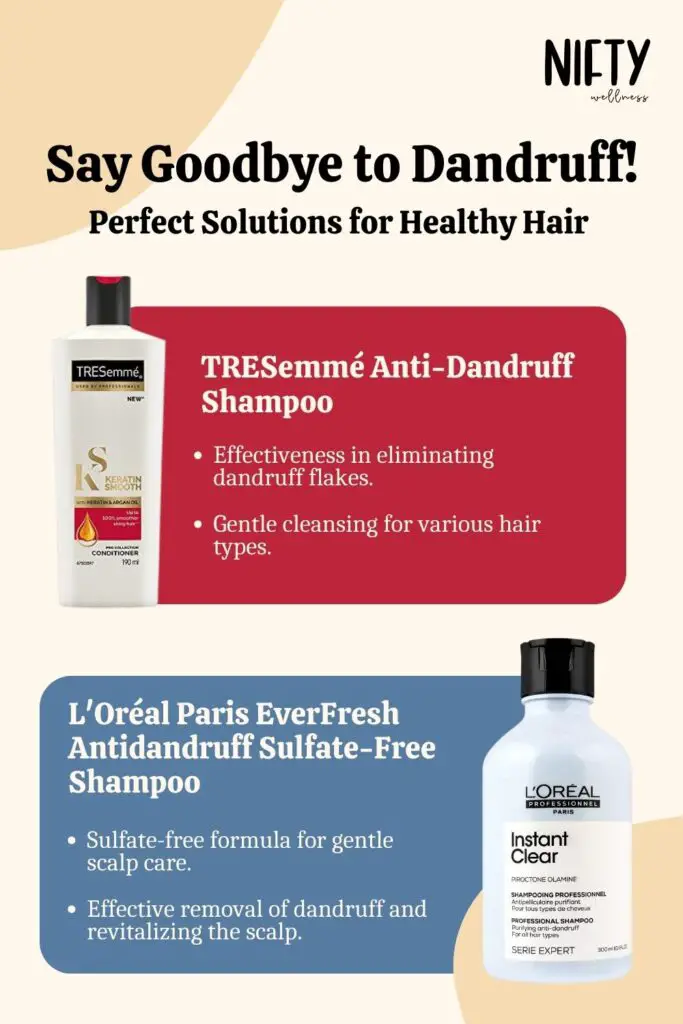 One of the most irritating and embarrassing hair problems one can face is dandruff! If not appropriately treated, dandruff can cause a lot of embarrassment. The solution to this problem might differ from person to person, but the key is to find the right product to manage the problem. TREsemme and L'Oréal both offer solutions designed to combat this common problem.
Both Tres Emme and L'Oréal make great anti-dandruff shampoos. 
L'Oréal Paris EverFresh Antidandruff Sulfate-Free Shampoo is completely safe for colored hair and contains less chemicals than other L'Oréal branded products.
The most exciting thing about this product is that it's completely vegan, for people who are looking for a more natural option. 
Despite the lack of sulfates in the product, which usually aim to remove dirt and grime from the scalp, this shampoo works incredibly well on the scalp to revitalize and rejuvenate those dying cells, while still leaving a clean, fresh feeling.
It's also great for treated or dyed hair, so you don't need to worry about a reaction. It's a cheap option too, having a much lower price tag than the TREsemme. 
TREsemme don't provide specific shampoos to remove dandruff, however, that doesn't mean they can't tackle dandruff. The TREsemme Smooth & Silky Shampoo and Conditioner Set has a slightly higher price tag than the L'Oréal option.
However, because the two products do more than just minimize dandruff, they are worth it. Instead of tackling dandruff alone, it works to eliminate the source of dandruff by moisturizing the scalp.
This prevents flakiness but if you have a naturally oily scalp initially, this could cause your hair to appear greasy, so you'd need to use it sparingly. 
Similarities
Recognizing the widespread issue of dandruff, TREsemme and L'Oréal provide anti-dandruff shampoos that aim to reduce flakiness and soothe scalp irritation effectively. So all those who google, "Is TREsemme good for your hair," "Is L'Oréal effective against dandruff?". It is essential to note that both TREsemme & L'Oréal are known for their unique product range, designed to cater to specific issues.
Differences
Ingredients: L'Oréal often incorporates advanced ingredients and cutting-edge technologies in their dandruff products, offering a more specialized approach. TREsemme, in contrast, focuses on simplicity and affordability. 
Additional Benefits: Some L'Oréal dandruff shampoos may provide extra benefits such as enhanced shine or color protection. TREsemme, however, primarily concentrates on dandruff control without additional frills.
Fragrance: TREsemme products typically have a distinct fragrance. L'Oréal may offer a broader range of scents to cater to different preferences. Your choice may depend on your sensitivity to fragrance.
Verdict
Comparing the two, the L'Oréal option would be the best fit for achieving dandruff-free hair. It's designed specifically to get rid of dandruff and provides an all-natural solution that lasts longer.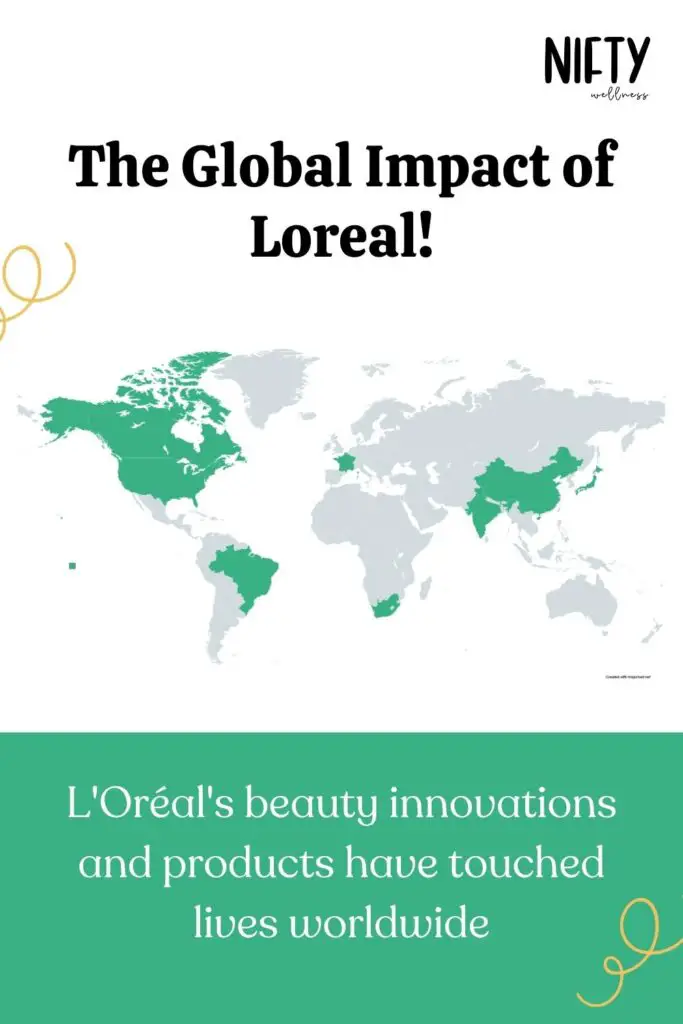 TREsemme Vs Loreal for Colored Hair
Coloring your hair and getting the color to remain strong and vibrant can be tricky. You need to find a product that works well with colored hair and enhances the shine. 
L'Oréal promotes L'Oréal Elvive Color Protect. This product is designed to lock in color and be an effective detangler at the same time.
The smoothness gained here makes it much easier to brush out knots and prevents breakages, whilst maintaining a clear shine and accentuating the color. 
TREsemme use their Color Protect Conditioner to strengthen and maintain hair color. The conditioner works to reach deep down into your hair and strengthen it from root to tip, stopping breakages and locking in the color so it last longer.
The scent of this conditioner is also very powerful and last for days after use. 
Similarities
Both products focus on keeping the hair strong and healthy so that color doesn't fade as easily. They prevent breakages and split ends which speed up the color fade process. 
Differences
Aside from preventing breakages and repairing damaged hair, the L'Oréal option works as a detangler so it's easier to brush out knots after a wash and maintain sleek smooth hair all day. 
Because L'Oréal didn't originate as a salon-only product, it's also a little cheaper than the TREsemme option so you can save yourself a little cash. 
Verdict
Overall, the L'Oréal product comes out on top. It's a slightly cheaper option and more readily available. It also aims to protect the hair from breakage which helps to improve the overall health of the hair.
This means that, alongside the color locking properties, your color will last for longer naturally, just because your hair is healthier. 
Conclusion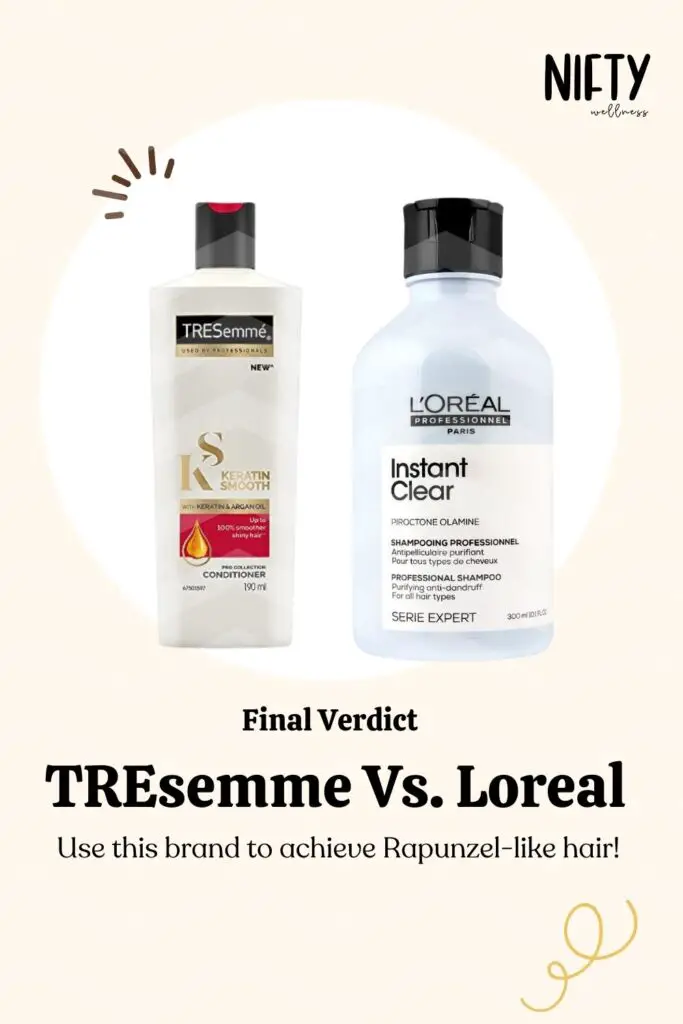 Overall, TREsemme does provide a more specialist hair treatment regime, gives a great wash, and keeps hair healthy and shiny. It can also help to prevent hair loss.
Because of its success rate, TREsemme is a little more expensive and the product range is much smaller, but it's worth it.
However, it's not the best for treated hair, as the coating on the hair makes TREsemme less effective and could also cause a reaction. 
L'Oréal is great for all the family and comes in multiple different fragrances. It's ideal for getting rid of dandruff.
However, to maintain the strength and health of your hair, it does use chemicals, which might not be ideal for people looking for 100% natural shampoo.
There are also many more options out there when it comes to products, which could be confusing. 
For a standalone, one size fits all option to keep your hair growing strong and healthy, TREsemme is the clear choice. 
Frequently Asked Questions (FAQs)
Are TREsemme products suitable for all hair types?
TREsemme products are designed for different hair types, like curly, straight, or wavy. So, no matter your type, you will always find something from TREsemme that will work for you! TREsemme has a wide range of product lines, including shampoos, conditioners, and styling products crafted to make your hair feel and look nice. You just need to choose the product per your needs, and voila! You are good to go!
Do Loreal products contain harmful chemicals?
Even though L'Oréal claims to be a safe product manufacturing brand, it does have chemicals in its products. While not all chemicals are harmful, some ingredients in their products are linked to cancer. From eye makeup to nail paint, anti-aging cream, and even kids' shampoo, all of these L'Oréal products are known for their chemical components. If you have concerns, it's a good idea to ask a doctor or a skin expert to be sure it's safe for you.
Can I switch between TREsemme and Loreal products?
Yes, you can switch between TREsemme and L'Oréal products if you want to. These brands are known for their wide variety of hair and beauty products. You only need to choose the products per your needs and preferences. If you like certain TREsemme products for your hair and want to try some L'Oréal ones, that's okay. Before trying out anything new, always check the product's ingredient list to ensure they are safe and suitable for you.
Which brand is more environmentally friendly?
It is hard to say which brand is more environmentally friendly because it can vary depending on specific products and practices. TREsemme and L'Oréal have taken steps to be more eco-friendly, like using recycled materials in packaging and reducing their carbon footprint. If you want to know which of these brands are more committed to environmental protection, please check their sustainability efforts.
Where can I find the latest offers on TREsemme and Loreal products?
Monitor their official websites to discover the most recent discounts on TREsemme and L'Oréal items. You can also watch local stores and online retailers, such as Amazon, for fantastic deals. There are a lot of special coupon websites that you can follow for special discounts. Don't forget to watch for sales events like Black Friday for extra savings!