Both Schwarzkopf and L'Oreal are internationally renowned beauty brands. Although L'Oreal boasts a larger footprint with more products in more categories, both brands compete tightly in hair color and styling products.
L'Oreal may be more of a household name, but Schwarzkopf boasts more than 120 years of experience, being at the forefront of innovation ever since. 
In this post, I will illustrate the differences between these brands in terms of the:
Quality of their products.
Range of products they have available. 
Price and accessibility between the brands.
About Schwarzkopf
Schwarzkopf, a well-known hair care brand, has been a leader in the hair care world for over 100 years. It all started back in 1898 when Hans Schwarzkopf founded the company in Germany. Since then, Schwarzkopf has been known for making really good hair products that work. They have a bunch of different shampoos, hair colors, and styling stuff, so whatever you need for your hair, Schwarzkopf has it.
About L'Oreal
L'Oreal is a huge name in the beauty world, and they're not just about makeup. They've been around since 1909, thanks to Eugène Schueller in France. L'Oreal also makes all kinds of hair care products, like shampoos and hair dyes. People love L'Oreal because their products make your hair look like you just stepped out of a fancy salon. No matter what kind of hair you have or what you want to do with it, L'Oreal has the goods to make it happen.
Check out our blog TREsemme Vs Loreal: Differences, Similarities & Which One Is Right For You. Dive into the hair care debate of the century. Choose your brand and love your hair.
Schwarzkopf Vs L'Oreal Hair Color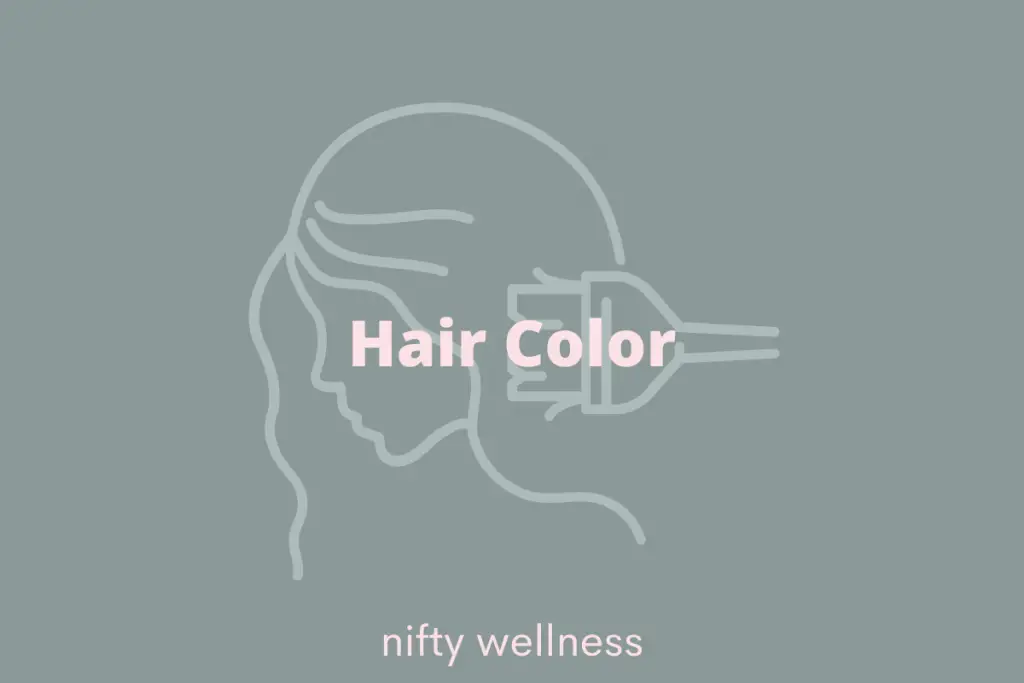 Application Times
When it comes to application, L'Oreal's hair color often has a gel-like consistency, which some find easier to work with. It comes with natural coconut oils, making the process more pleasant without ammonia's strong odours. It takes about 30 minutes to rinse your hair, just like Schwarzkopf.
Both L'Oreal and Schwarzkopf have a wide range of color products that come in very similar packaging and forms. Both both brands deliver their color with gloves and a developer container.
And, both L'Oreal and Schwarzkopf come with some form of pre-treatment to use before mixing their unique products in their supplied container.
Much of the process is very similar. This even includes the 30 minutes wait time before being able to rinse your hair. 
One of the major differences between the products that are noticeable during the application stage is in the texture and consistency of the products themselves.
L'Oreal's product comes in more of a gel consistency whilst Schwarzkopf comes in more of a crème form. Schwarzkopf'scrème form allows for better coverage as it can get into the hard-to-reach areas of your hair including your roots.
Quality & Longevity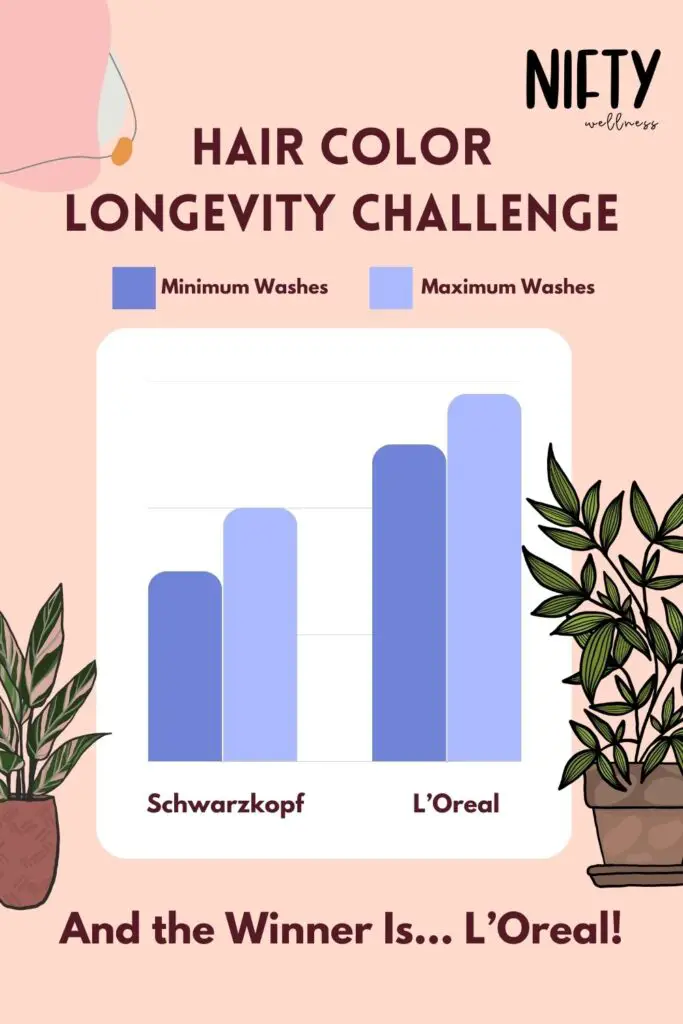 Both L'Oreal and Schwarzkopf are professionally accredited brands with uncompromising quality in all of their products. In terms of hair color, quality can be assessed in both the color outcome of the hair as well as its durability.
L'Oreal comes with natural coconut oils to fully nourish your hair, free of ammonia which prevents any bad odors.
Schwarzkopf is also free of ammonia and has made significant strides towards organic ingredients to improve its sustainability and carbon footprint.
In terms of long-lasting color and durability, L'Oreal boasts that their product can last for up to 28 washes whilst Schwarzkopf Is widely noted to last around 15 – 18 washes.
Although this may seem like L'Oreal instantly becomes the more affordable option, it is important to note that L'Oreal's smaller packaging may not come with enough product for longer hair.
In this case, you may need to buy two packages, which ruins its longevity-affordability balance. So, always check the ml amount on the packaging.
Consistency & coverage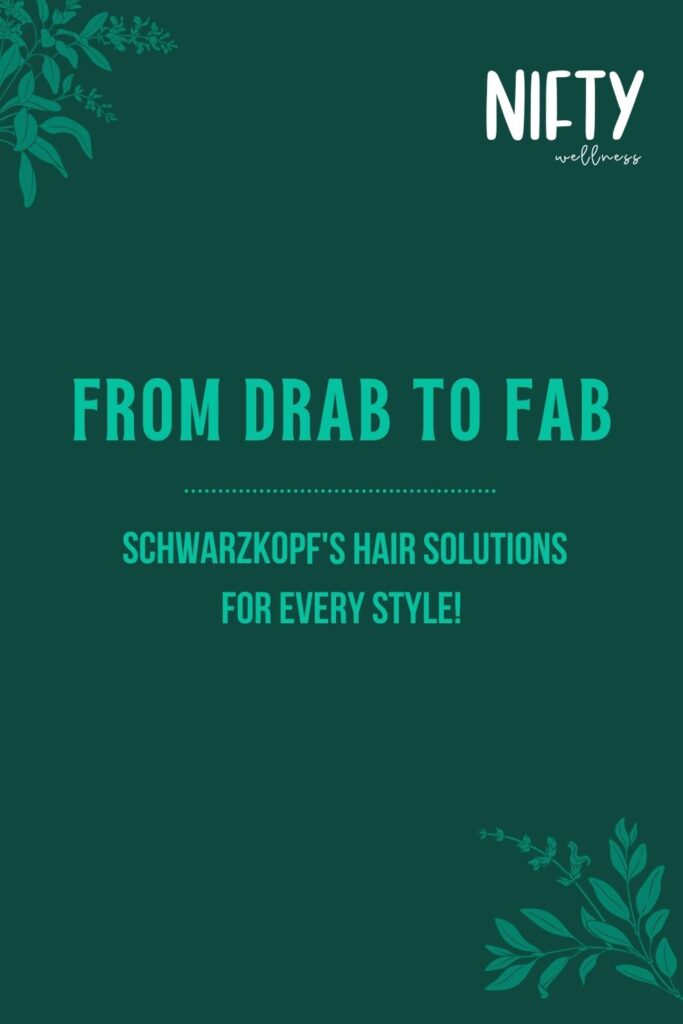 Both brands do promise maximum coverage, but Schwarzkopf definitely has a better texture for this.
Schwarzkopf's hair color products come in more of a crème consistency. This helps you lather the product effectively and have it reach your roots. Schwarzkopf definitely has a distinct advantage over L'Oreal in terms of total coverage. 
Schwarzkopf can be especially useful for those who dye their hair to cover up their greying roots. L'Oreal's hair color products are known for their gel-like texture, which provides decent coverage but may not reach tricky spots like roots as effectively as Schwarzkopf's crème form. Schwarzkopf is preferred if you want total coverage, especially for those pesky greying roots.
Range of colors & options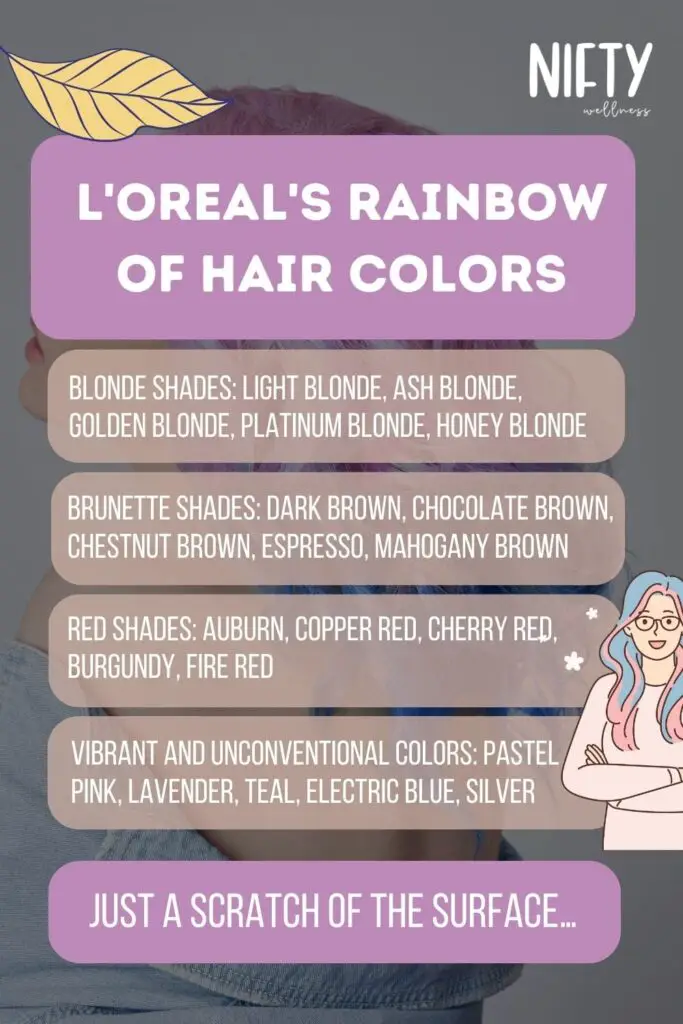 Despite the hair color products from Schwarzkopf being of excellent quality, they do fall short on their range.
This is where L'Oreal flexes its internationally renowned muscle in order to provide the best options for every hair type and style.
L'Oreal has many different lines of hair dye but boasts a much wider range of colors and shades than Schwarzkopf. In addition to the pure range available, L'Oreal is also known for its more vibrant colors.
When this is used in conjunction with their post-treatment conditioner, you can expect strong, healthy, and shiny hair for up to 28 washes. 
In addition to variations in color, L'Oreal provides products that range for different kinds of hair. This ranges from products accustomed to frizzy, thin, thick, curly, or even damaged hair. While Schwarzkopf's hair color quality is excellent, they offer fewer color options than L'Oreal. L'Oreal is the champ here, with an extensive range of colors and shades, including vibrant choices. They even cater to specific hair types and styles, from frizzy to curly, ensuring something for everyone.
L'Oreal has cemented itself within the market to cater to almost everyone. L'Oreal also has dedicated ranges for curly hair. Schwarzkopf also has very diverse ranges in hair colors that include matt and metallic finishes.
It is with this in mind that many say L'Oreal has the more dynamic and vibrant color profiles whilst Schwarzkopf offers more inconsistent products that differ slightly from that on the packaging. 
Price and Accessibility
When considering price, remember that L'Oreal's smaller packaging may not be enough for long hair, potentially requiring you to buy two packages. While L'Oreal's wide availability can make it more accessible, it's essential to check the product's quantity to balance affordability with longevity. On the other hand, Schwarzkopf offers good value for those seeking extensive coverage.
Read our blog Lancome VS Loreal: Differences, Similarities & Which One Is Right For You. Discover the differences and similarities between Lancome and Loreal in our beauty showdown.
Schwarzkopf Vs L'Oreal Shampoos, Conditioners & Hair Styling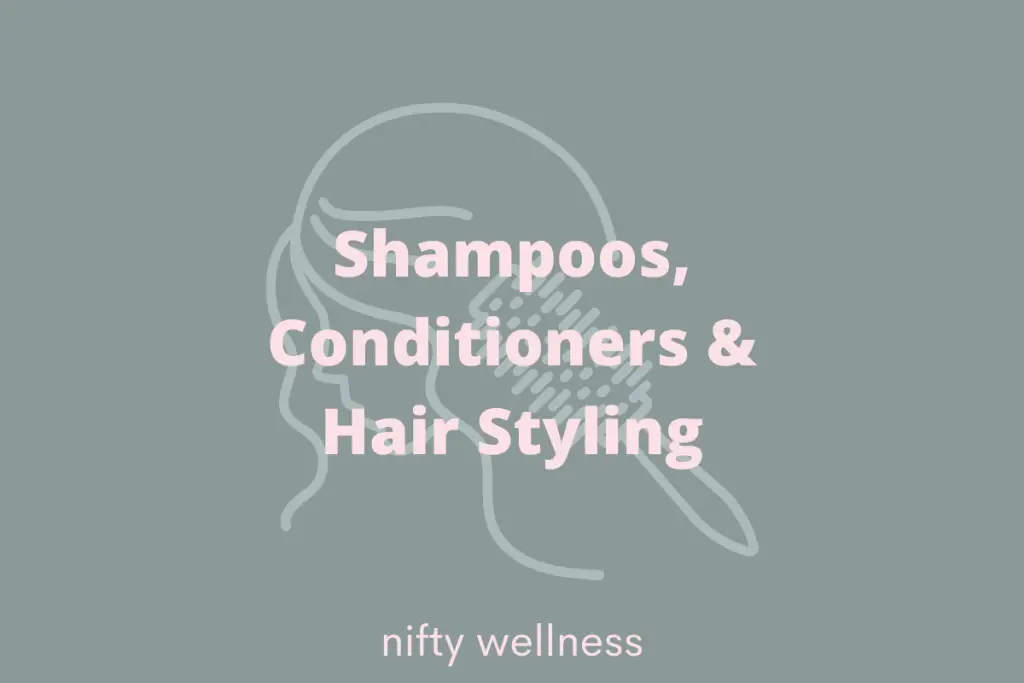 Quality
L'Oreal and Schwarzkopf make excellent hair products but are great at different things. L'Oreal wins when offering a huge range of colors that last a long time and stay vibrant. Schwarzkopf is fantastic for fixing damaged hair, thanks to special stuff called keratin, and it's also great at hiding grey hairs because it spreads nicely.
Product ranges
In addition to their abundant hair color products, L'Oreal spans a wide range of hair styling products and treatments. In the hairstyling segment, L'Oreal boasts products such as pomades, waxes, gels, and pastes for both men and women.
These products come in a wide variety of styles, strengths, and finishes.
Schwarzkopf also has a very popular brand in this segment known as göt2b. This product range includes waxes, gels, glues, sprays, and pomade designed for both men and women. It's been getting more popular lately, but it's not as big as L'Oreal. L'Oreal has many options like pomades, waxes, and more, and they come in all kinds of strengths and styles. Plus, they're easy to find and don't cost a lot, so a lot of hairdressers like them.
Although göt2b's popularity has exploded in recent years, it cannot compare to the magnitude of L'Oreal.
L'Oreal offers more variation in holds, strengths, and finishes. These include texture in both look and feel. In addition to this, L'Oreal is also more widely accessible and affordable than Schwarzkopf.
Many hairdressers opt to use L'Oreal products in their salons compared to Schwarzkopf as well due to their range and affordability.
Treatments & hair care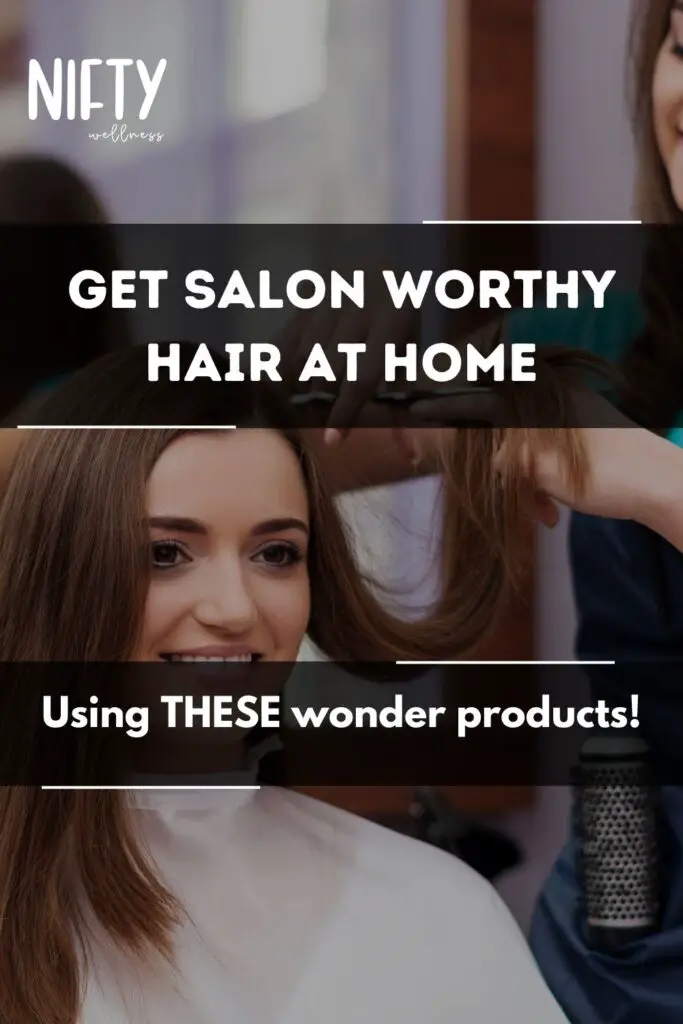 L'Oreal extends its lead over Schwarzkopf in the treatment and hair care segment of the beauty market.
Although Schwarzkopf does have the basics in shampoos and conditioners, they lack depth in their product offering when it comes to serums, oils, and moisturizers. L'Oreal has a much more diverse range of products that cater to frizzy, straight, thinning, thick, or even curly hair. 
In addition to the basic hair care products, L'Oreal also offers serums, creams, and masks that far outrank anything from its competition. When it comes to special hair treatments and care stuff, L'Oreal is the winner. Schwarzkopf has the basics, like Schwarzkopf shampoo and conditioners, but L'Oreal goes all out with serums, creams, and masks for all hair types. L'Oreal has something for frizzy, straight, thin, thick, and curly hair. They have more options than Schwarzkopf.
Although Schwarzkopf has the basics in this area as well, L'Oreal has many more options available for whatever you may need. This includes variations in specific repairs, hair types, styles, and more.
Price and Where to Get Them
L'Oreal is the winner here too, because it's cheaper and easier to find. But, if you've got long hair, you might need more L'Oreal stuff, which could make it not so cheap anymore. Schwarzkopf is good quality but might cost you more if you have long hair and need to buy more.
Colors That Pop & Last (Winner: L'Oreal)
L'Oreal is not only one of the most popular global brands in the beauty market. It has also cemented its place due to the vast range and variations of its available products.
L'Oreal boasts this range in both its hair color products as well as its styling products for both men and women.
In the hair color segment, L'Oreal has far more colors and shades to choose from and is designed to work with a lot more kinds of hair.
From frizzy and curly all the way to sleek and thick hair, L'Oreal has everyone covered in some way or another. 
Although their pricing may be similar to Schwarzkopf, the quality and shine from the L'Oreal products are known to have more vibrant and long-lasting colors.
As I mentioned, L'Oreal also lasts longer than their competitors at 28 washes.
Coverage & Quality (Winner: Schwarzkopf)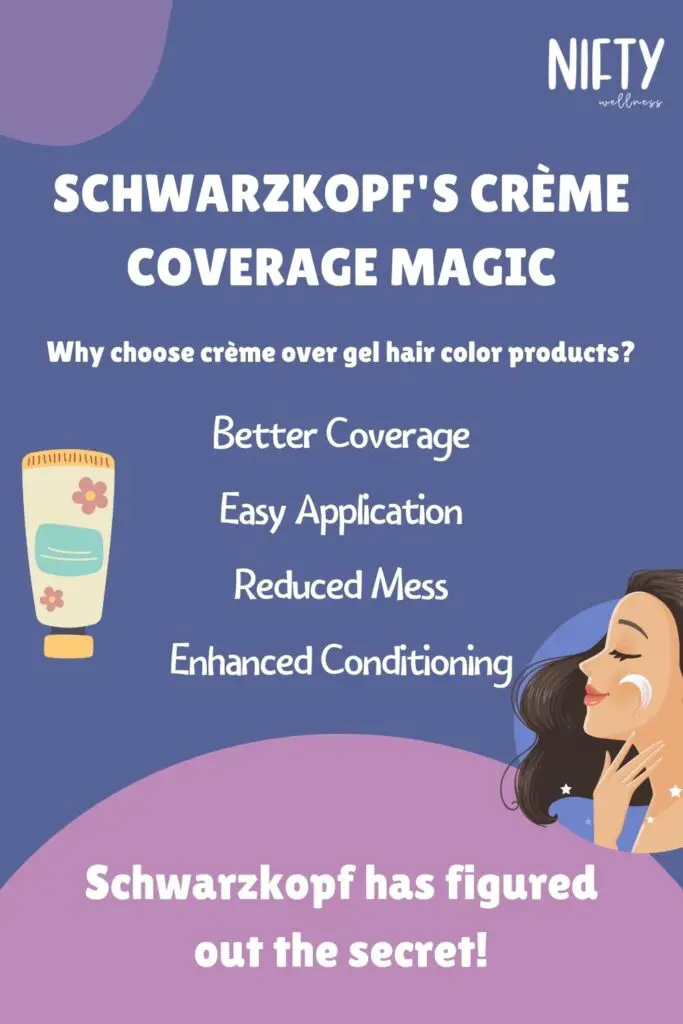 Schwarzkopf hair dye can also treat damaged hair. Unlike L'Oreal, Schwarzkopf comes with keratin and does not need any other treatments in order to strengthen your hair.
One of the major differences to note is that Schwarzkopf comes in more of a crème consistency. This helps with overall coverage and can be particularly valuable for people looking for maximum grey coverage. 
Although the intense colors offered do not come in as many variations as L'Oreal, Schwarzkopf is not very far behind.
Schwarzkopf also comes with a pre-treatment to ensure even coloring throughout your hair but unfortunately does not last as long. However, Schwarzkopf does come with a bit more product to accommodate more lengthy hair than L'Oreal.
Summary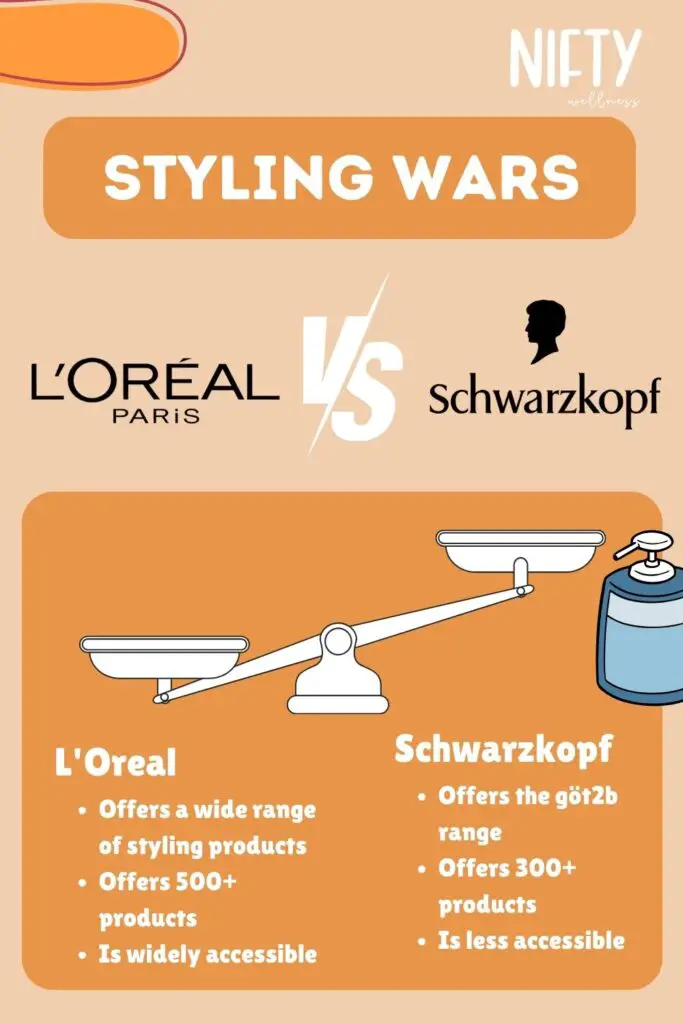 Through this post, I have clearly indicated some of the major differences between Schwarzkopf vs L'Oreal.
Although both products are fairly similar in their application, Schwarzkopf does come in more of a crème consistency to aid in better overall coverage, but it, unfortunately, does not last as long or pop as much as L'Oreal.
Both brands have a wide variety of styling products for both men and women, with L'Oreal leading the way in options on this front. 
L'Oreal is a distinctly better brand for those who do not want to compromise on the quality and affordability of the products they use as well as the options and variations they have available.
Schwarzkopf sets itself apart for those who want a product in more of a crème texture to prioritize maximum coverage for longer hair.
Frequently Asked Questions (FAQs)
Are Schwarzkopf products suitable for all hair types?
Yes, Schwarzkopf makes products for different hair types. They have things for damaged hair, and their hair color products work for various hair types, like frizzy, straight, thin, thick, and curly hair. So, there's something for most people, but you should check the product labels to be sure it's right for your hair type.
Is L'Oreal more expensive than Schwarzkopf?
L'Oreal and Schwarzkopf have similar prices overall, but the cost can vary depending on the specific products you choose. However, Schwarzkopf's hair color may require more frequent applications since it doesn't last as long, which could add up to higher costs over time. So, the expense depends on your product preferences and how often you need to use them.
Which brand has a stronger focus on sustainability?
When we talk about being eco-friendly, L'Oreal is really serious about it, even more than Schwarzkopf. L'Oreal is actively trying to make their products and how they make them better for the environment. Schwarzkopf is also trying, but L'Oreal is putting in more effort and is really focused on being good for the environment and society.
Are Schwarzkopf hair colourants long-lasting?
Schwarzkopf has a variety of hair color products that are praised for their long-lasting effects. But remember that how long the color stays vibrant can depend on factors like the exact product you choose, your hair type, and how well you care for your colored hair. Usually, Schwarzkopf mentions on the product packaging how many weeks or months you can expect the color to last, so it's good to check that when choosing.
Can I find Schwarzkopf and L'Oreal products in my local stores?
Yes, you can usually find Schwarzkopf and L'Oreal products in many local stores. These brands are quite popular and widely available, so you should be able to locate their products in supermarkets, drugstores, and beauty supply shops near you. Just visit your nearby stores, and you'll likely come across various hair care and beauty items from Schwarzkopf and L'Oreal.