Finding the right haircare range for your type of hair is essential. You should find something that is specifically designed to care for, repair, and nourish your hair so you can keep it looking younger and healthier for longer.
But how do you know which brand of hair products is best for your hair type, especially when it comes to choosing between top brands?
Here's a quick comparison between two haircare giants, Nexxus vs Biolage. 
Nexxus & Biolage History
Both brands aim to strengthen hair by repairing the proteins to reduce breakages and split ends caused by UV rays, styling and coloring the hair. 
Nexxus
Nexxus was created in 1979 by Jheri Redding. He decided on the brand name Nexxus as it means "connecting and binding together" in Greek.
His intention for the haircare range was to connect and bind together the proteins in each and every hair to keep it strong and flexible. 
There are around 50 different individual types of protein to create that luscious look. Redding was one of the first people who devised a plan to repair these proteins, with other proteins in the form of hair care products. 
He worked with scientists to decipher the hair's protein chemistry and used nature as his inspiration to add in those extra proteins where they might be missing.
For this reason, lots of his products contain wheat protein, marine collagen, elastin, and keratin.
These ingredients repair the tears in the proteins, reducing split ends and also give added flexibility to the hair to prevent breakages. 
Read our blog Redken VS Nexxus: Differences, Similarities & Which One Is Right For You and uncover the secrets of stunning hair with our Redken vs Nexxus analysis.
Biolage
Biolage is a much younger company, started life in 1990.
The founder, Arnie Miller was also inspired by nature and aimed to nourish hair using the most natural products available to return the hair to its natural state after environmental damage (caused by UV rays, salt water, hot or cold climates and styling). 
Today, Biolage is known for its professional and successful use of botanical ingredients on the hair and incorporates greenery into all of its branding.
It's a brand recommended by salons and hair care professionals to improve the health of hair and also leave it smelling amazing. 
The Biolage brand is now the number 1 recommended brand by professionals in America and is also conquering the global market with the 2016 range Biolage RAW, which means for Real, Authentic, and Full.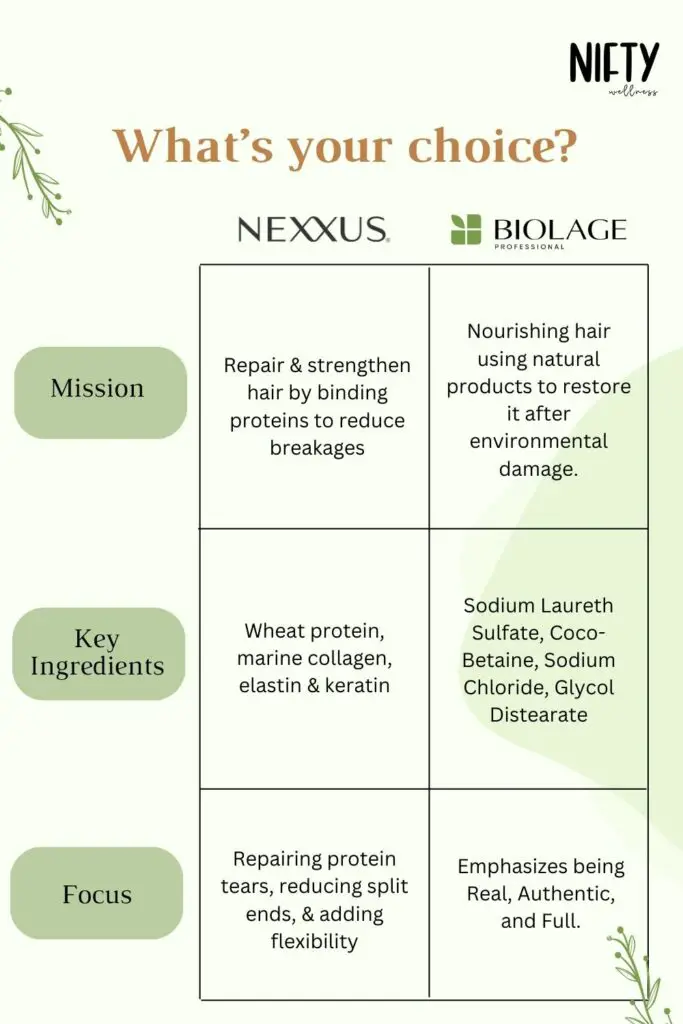 Nexxus Vs Biolage General
The active ingredient to treat hair in the Biolage range is Aloe Vera – creating a smoothness and detangling the hair to prevent breakages.
The active ingredients in Nexxus are proteins that help to fill the gaps where the hair has been damaged and creating more flexibility. 
Nexxus aims to add extra moisture to the hair, so its products are excellent for dry hair. 
Biolage wants to restore the hair to its natural form, protecting it from external factors. This means it's most suitable for hair that goes through a lot during the day such as sun damage, water damage or heat styling.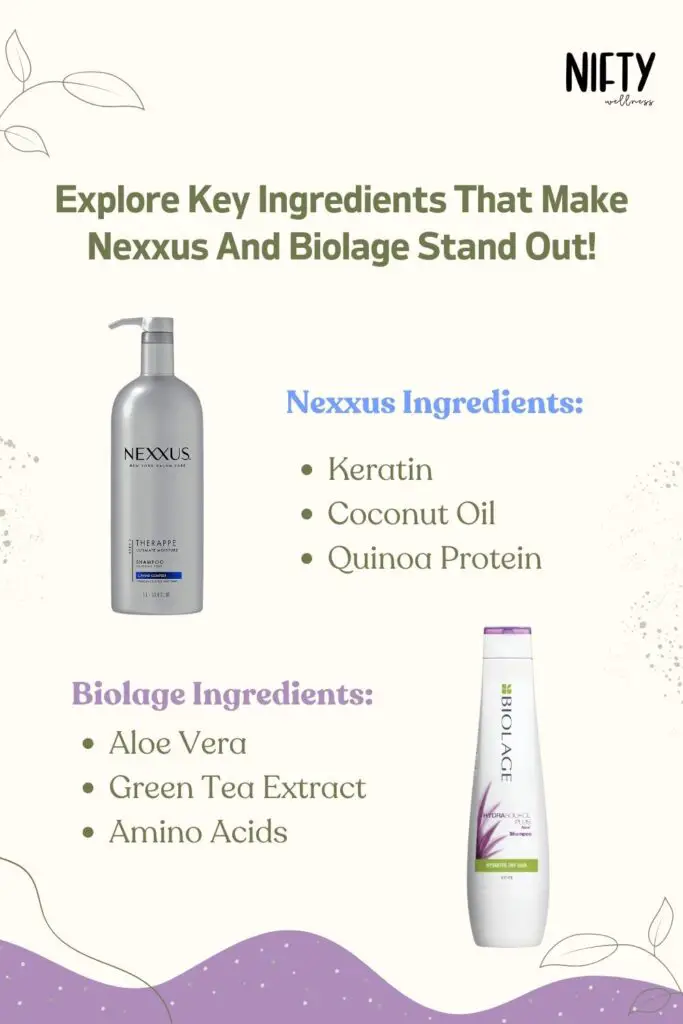 Nexxus Vs Biolage Shampoo
Both brands initially started life with a nourishing shampoo to help repair and maintain the hair's natural health. 
Nexxus has the Therappe Ultimate Moisture product. It's made specifically for people with dry hair but can also be used by people with normal hair to revitalize the hair's appearance and lock in moisture. 
People question, "Is biolage a good shampoo?", and the answer is yes! Biolage's Hydra Source shampoo is designed to provide extra hydration to the hair and is recommended by salons for people with particularly dry hair. 
Similarities
Both shampoos are made with natural and beneficial ingredients to help repair the hair as much as possible without overdoing it on the chemicals. 
Both achieve a clean, fresh look and smell great while allowing for an easy-brush finish. 
Differences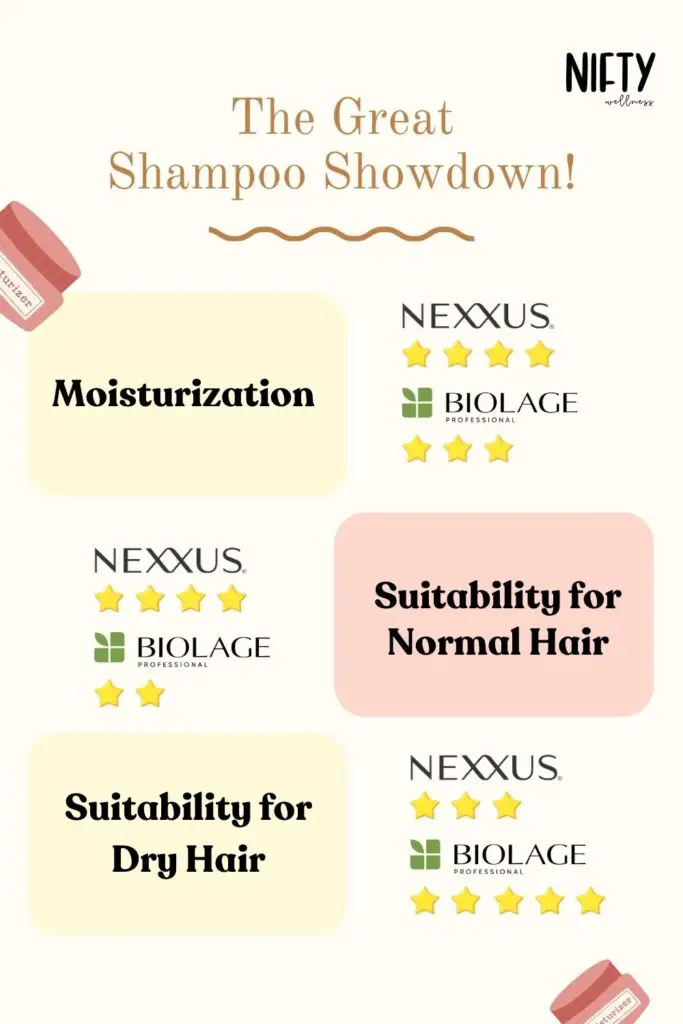 Biolage is the most recommended shampoo for dry and damaged hair, however, for people with normal hair, it can cause the scalp to look a little greasy and feel heavy.
This is because the idea of this shampoo is purely to hydrate the hair and if your hair doesn't need as much hydration, this can come across on the surface.
The shampoo claims to give up to 15 times more hydration to the hair than standard market shampoos. 
The shampoos aloe vera extract is also an excellent choice for people who have sensitive skin or struggle with standard brand shampoos. The fragrance is natural and the soothing aloe vera can get rid of itchiness or rashes. 
Nexxus' shampoo range has been tested on people with normal hair too and does an amazing job of repairing and detangling the hair to leave a smooth and healthy appearance. So, you don't need to have dry hair to use this one. 
The Nexxus also contains keratin and coconut oil which repairs the gaps in the protein caused by breakages and locks in extra protein to strengthen the hair.
It will leave fine hair looking fuller and give it more energy and volume. 
Verdict
In most cases, the Nexxus shampoo wins here.
Because of its extra proteins it can repair hair much more easily than other shampoos and it can be used on most types of hair – something which the Biolage does sometimes struggle with. 
However, if you have sensitive skin or you're prone to allergies, then the Biolage may be the better option.
It might not repair the hair as quickly, but the active ingredients will keep your skin healthy, promoting new, healthy hair growth. 
Read our blog Biotera vs Biolage: Which One Is Better For Your Hair and discover which hair care champion reigns supreme for you.
Nexxus Vs Biolage for Colored Hair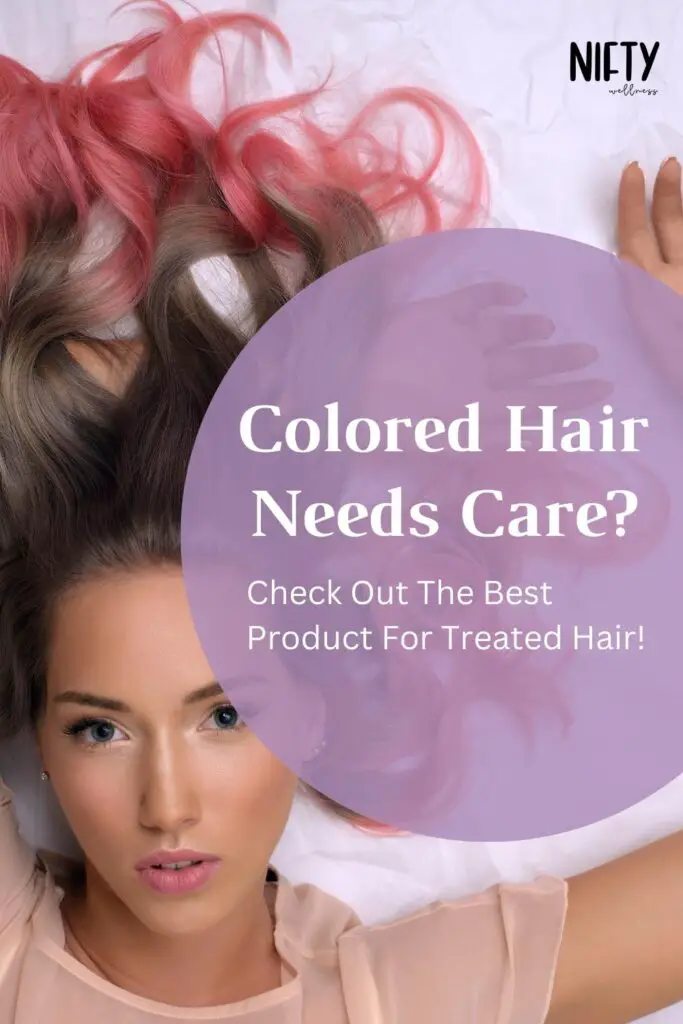 If you want to know "Is Nexxus good for your hair?" or "Is Biolage good for your hair?" Here is the answer: Both Nexxus and Biolage cater for dry and damaged hair. One of the most common forms of damage comes from constant coloring or bleaching of the hair which can leave it brittle and inflexible. 
Biolage's Colorlast Shampoo for Color-Treated Hair is paraben-free and helps to bind the color to your hair to prevent fading over time.
It's also a great option to use if you're between colors, as it helps to lock in moisture and make your natural hair color shinier and more vibrant. 
Nexxus offers the Color Assure Shampoo for Color Treated Hair. It works to preserve the hair using a blend of quinoa and elastin protein.
This blend is great for dry or normal hair and can be used regularly without leaving a greasy appearance. 
Similarities
Both shampoos are known to have a great, fresh fragrance that lasts for the full day after use. The shampoos are also quite concentrated, so a single bottle will last a long time if you use just a small amount.
The Nexxus standard-sized bottle claims to last for up to 40 washes. 
Differences
The Nexxus option is sulfate-free, whereas the Biolage contains no sulfates or paraben, making Biolage the more natural option. 
Now you would ask, "Is Biolage good?" Certainly! The Biolage is great for colored hair, but also increases the vibrancy of natural hair too, bringing out the color and giving you a healthy, natural shine. 
Verdict
In this case, Biolage is the clear winner.
Although it does improve the appearance of colored hair, it can be used on natural hair too and you would still see some great wins here.
It might not last as long as the Nexxus, however, it is a little cheaper in some stores, so you aren't losing out too much. 
Nexxus Vs Biolage Hairsprays
One of the most common causes of hair damage is styling. You may use straightening irons or curling tongs to achieve your perfect look.
If you do this every day, it can take its toll. So, it's important to ensure your hair is always protected, even after styling. 
Biolage's Styling Freeze Fix Humidity-Resistant Hairspray is a good finishing spray for a natural curled look. Its aim is to reduce frizz but maintain the natural movement, so your hairstyle looks effortless. 
Now comes the question, "Is Nexxus good enough?" The Nexxus equivalent, Comb Thru Volume Finishing Mist, provides a medium hold and aims to increase the volume of the hair while providing a long-lasting shine for those special occasions.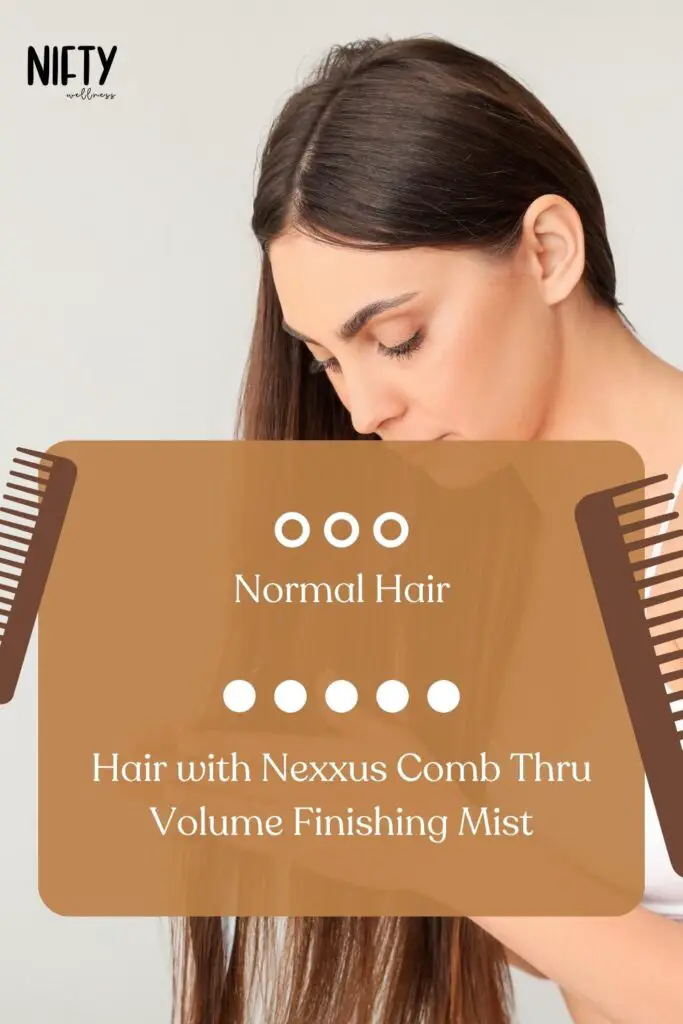 Similarities
Both products produce a natural, shiny and healthy look while reducing frizz. They also aim to make your hair brushable and tangle-free, so your hair will maintain its glamor, even after a long day. 
Differences
The Biolage product has a lower hold rating, so probably isn't the product for you if you're aiming for a fancy up-do.
However, for natural curls or a tousled beachcomber look, this will give you that extra oomph without becoming sticky or tangled. It's the product to choose if you want to present that you just rolled out of bed looking perfect.
For a natural appearance though, it holds a much higher price tag, so that's something to consider if you're looking for an everyday use spray. 
However, the Nexxus hairspray provides a much more superior hold. It works for much longer and can hold even the most elaborate of hairstyles without drying out the hair.
It leaves an invisible hold with none of the struggles to brush it out later. It's ideal for those special hair occasions. It's also on the cheaper end of the scale so it's a more affordable option for everyday use if required. 
Verdict
The Nexxus is streaks ahead on this occasion. It provides a more superior hold but also shows a natural look with no powering or stickiness, meaning it can be used for everyday hairstyles or less frequent occasions.
It's also much more affordable, creating a more flexible finishing option that helps to support the natural proteins in your hair and prevents breakages when brushing out afterward.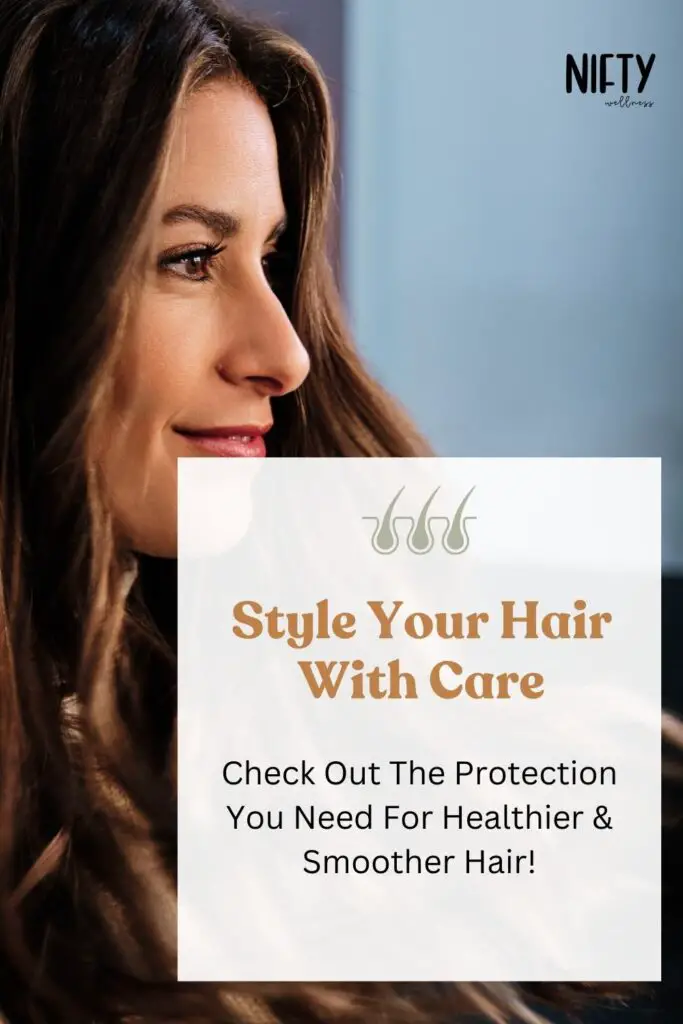 Final Thoughts
Overall, both brands come highly recommended for people who have dry hair or use constant styling irons which can cause long-term damage.
Both also strive to include natural ingredients to improve the health of your hair and make you feel good about it. If you want to know, "Is Nexxus a good brand?" We are happy to tell you that we approve of the brand!
However, the Nexxus shampoo does have a slight edge. This is because the products aim to repair damage and fix the proteins to protect against future damage. Hope this puts an end to all those "Is Nexxus a good shampoo?" questions!
The Biolage, while it can replace moisture in the hair that's lost through daily life, it doesn't particularly fight against future damage.
Biolage fixes the problems you have, whereas Nexxus fixes them and prevents them from happening in the future. So if you are worried and wonder, "Is Nexxus good for hair?" We say yes, it is!
That said, if you do have sensitive skin or you're prone to allergies or itchiness of the scalp, Biolage does contain more natural ingredients, fewer chemicals, and the aloe vera content is designed to be kind to the skin.
If you are worried about scalp health, then Biolage may be the better choice. 
Frequently Asked Questions (FAQs)
Can I use Nexxus and Biolage products together?
Yes, you can use Nexxus and Biolage products together. Nexxus and Biolage are known for their vast product lines. In common practice, combining and using these products is usually safe. However, it is essential to combine products suited to your hair needs. Mixing and matching these brands can help you create a customized hair care routine for the best results.
Are Nexxus products suitable for all hair types?
Nexxus has dedicated products crafted to suit all types of hair. They have options for curly, straight, fine, or thick hair. So you can find something that suits your specific hair type and needs. It is important to choose the right product per your hair type and specific needs and incorporate it into your hair care routine to ensure you get the best results.
Are Biolage products tested on animals?
Yes, Biolage is a cruelty-free brand. This means that Biolage does not test its products on animals alone or through a third party. This shows their commitment to animal welfare and safe industry practices. When you use Biolage products, you choose a brand that's kind to animals and good for your beauty routine.
How long does it take to see results with Nexxus products?
The effectiveness of Nexxus products may differ for each individual based on their unique hair condition and the specific product chosen.While some people might start noticing improvements after just a few days, it might take longer for others to observe significant changes. However, if you wish to see the best results, please follow all the instructions and use the product consistently per your hair's needs.
Can Biolage products help with dandruff and scalp issues?
Certainly! Biolage has a special range of products designed to help treat dandruff and scalp issues. They create special shampoos and conditioners with ingredients that can calm an itchy or irritated scalp and reduce the presence of dandruff, those white flakes that can sometimes appear. If you wish to improve your scalp health and find relief from these problems, we recommend you use these products regularly, as instructed.