Olay products have been in existence for the longest time. If you are a frequent fan of skincare, you might have heard of Olay or even used one of their signature products.
They are a skincare manufacturer and distributor headquartered in the US. It is owned by the American Conglomerate Proctor and Gamble.
Among the most popular products of Olay is their skincare routine for anti-aging creams and serums.
And, Olay Total Effects and Olay Regenerist are top-tier anti-aging products that take care of your skin wrinkles, dark spots, excessive skin sagging, among other skin issues. 
But they are different in their of composition and effect. So, which one is right for you? Well, let's do a comparative analysis summary of Olay Total Effects vs Regenerist products.
Here are a few key differences right off the bat:
Regenerist is top of the line on Olay product list than the Total Effects.
You can get Total Effects for half the price of Regenerist.
The Regenerist product line is more sophisticated in composition than Total Effects, offering a wide range of skin nourishments.
Regenerist products work faster than their Total Effects counterparts. You can get results after just four weeks (28 days) using the Olay Regenerist product.
Regenerist products are best suited for damaged skin. That is why it is a recommendation for older persons with skin problems.
About Olay Total Effects
Olay Total Effects is a fantastic face moisturizer that does seven great things for your skin. It keeps your skin hydrated, replenished, and bright, and it also evens out your skin tone, shrinks the look of pores, firms it up, and makes it smoother. They've loaded it with VitaNiacin Complex II to make your skin look healthy. And the best part? It soaks in quickly, so your skin feels amazing, not greasy. Just wear it in the morning after washing your face and using any treatments. It's got important vitamins and antioxidants that make your skin look and feel great. Keep your skin happy, healthy, and nourished with Olay Total Effects.
About Olay Regenerist
Olay Regenerist is a skincare product renowned for its multifaceted benefits. Its key functions encompass immediate hydration, leading to a visibly lifted appearance, fortifying the skin's innate protective barrier, and reducing fine lines and wrinkles. Formulated with essential ingredients such as Niacinamide (Vitamin B3), Amino Peptides, and Hyaluronic Acid, it caters to a spectrum of skin types, including oily, normal, and combination. Moreover, Olay Regenerist addresses various skin concerns, including dryness, fine lines, uneven texture, and sagging skin. Elevate your skincare routine with Olay Regenerist for a revitalized and rejuvenated complexion.
Olay Total Effects Vs Regenerist: 5 Differences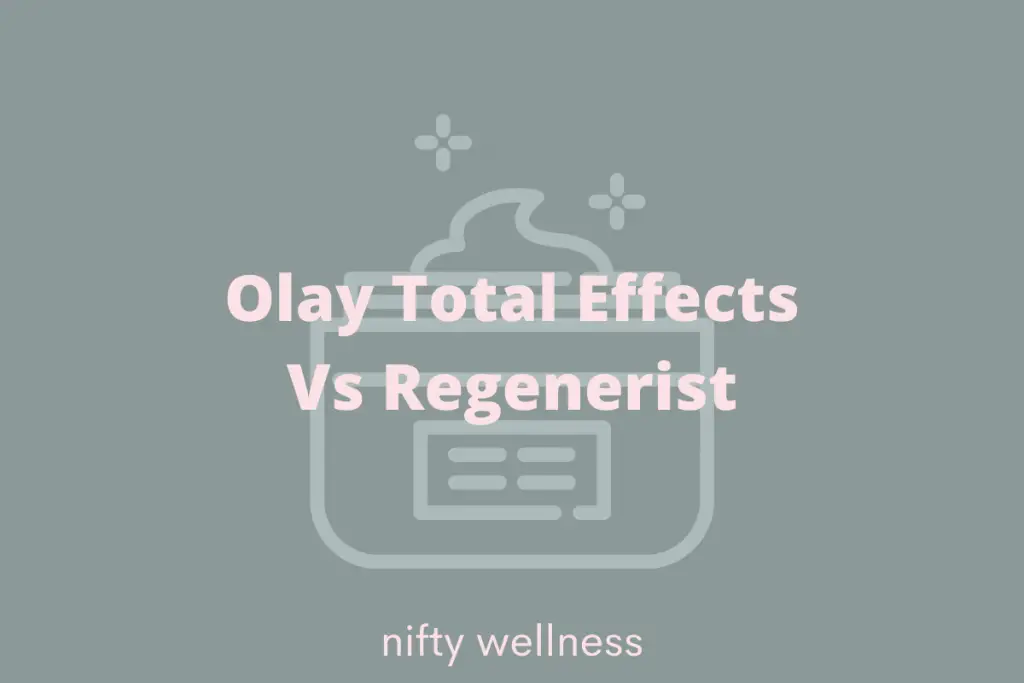 1. Effects & Composition
The two products have different ingredients and compositions of vitamins used for the nourishment of the skin. However, their effects are different, and they have working times that differ from each other.
Depending on your budget and what you expect to accomplish with the product, choosing a suitable line between the Total effect and Regenerist is key. Ensure that your selection matches the specific needs of your skin.
So, how do you select a product that will make your skin glow and attain the much-needed improvement? Here is an in-depth peruse of Olay Total Effects vs. Regenerist.
Olay Total Effects
This is among the start product line of Olay. It is famed for its affordable cost and ease of use. It also has a good feel on the skin, which has made it popular around the globe.
Its composition and non-greasiness make it a good replacement for your moisturizer, helping you attain smoother skin faster due to everyday use. You can grab this skin antidote at a local market at fair prices.
The ingredients of Olay Total Effects include: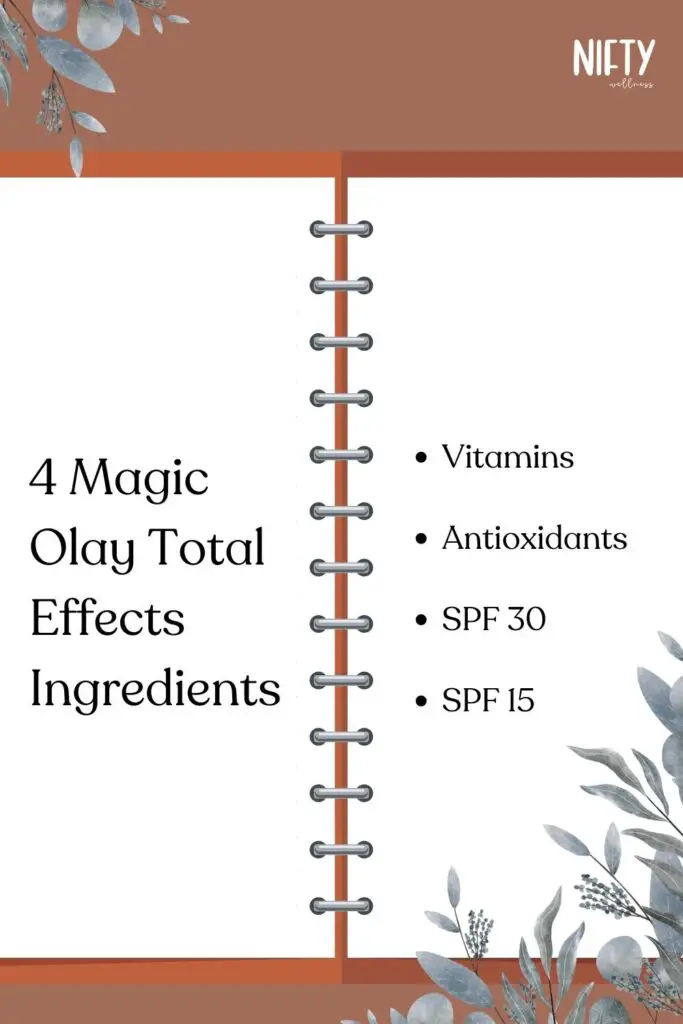 Vitamins
Antioxidants
Enriched with SPF30 and SPF15, which provides UV protection to the skin
It contains the 7 in 1 properties to combat wrinkles, spots, and all signs of aging on the skin. It contains antioxidants and vitamins which nourish your skin to help revitalize its youth.
The hydration effect helps with wrinkles and even skin toning. Also, the products allow for less exposure of skin pores, making your skin look and feel smoother than when using a normal cream.
It is non-greasy, so good for your all-day use, and its UV protection makes it a charm for morning or evening application.
The turnoff for this amazing product is the reviews of it being like a normal moisturizer and taking longer to activate its effects. But for the price, you can argue it works alright. Faster results are seen when using Olay Regenerist.
Olay Regenerist
This product works best with tougher skin. It works to remove though clearly visible wrinkles on your face leaving smooth skin. Its fast working time (approximately 4 weeks) makes it ideal for a quick remedy to treat your skin.
Be ready to experience the biggest transformation of your life while using this product.
It activates skin repair and hydration in 10 layers, making it a more suitable remedy for long-term treatments to wrinkled skin. It is wildly popular with older persons, who by default of age, have skin wrinkles.
You can cheat age by activating your younger skin with this magic serum that works faster and better than most market equalizers in the same category.
The ingredients of Olay Regenerist include:
Vitamin B3 increases skin hydration and also prevents skin redness and irritation
Vitamin E acts as an antioxidant to protect the skin from free radicals
Glycerin helps keep the skin hydrated
The peptide helps skin rejuvenation and collagen growth 
Hyaluronic acid is a moisturizing agent.
The key ingredients in Olay Regenerist promote skin health, aid in skin revitalization and retain skin moisture, resulting in a plump and hydrated appearance. These carefully selected ingredients enhance your skin's vitality and maintain a youthful glow.
Check out our blog Clinique VS Olay: Differences, Similarities & Which One Is Right For You. Find out which brand reigns supreme in this in-depth comparison. Your skin deserves the best!
2. Benefits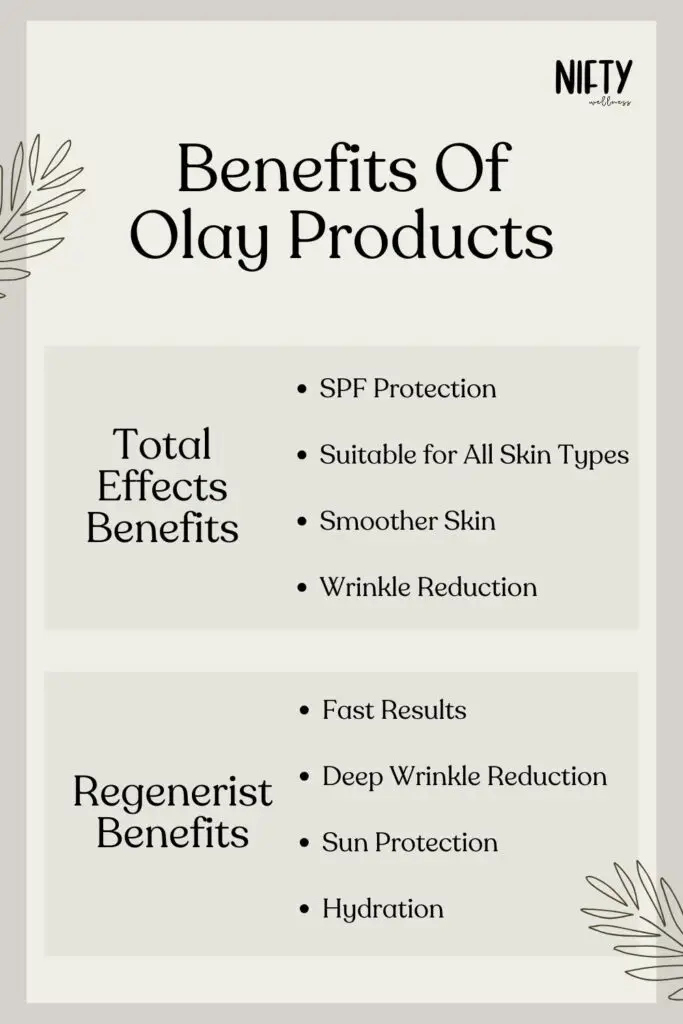 When it comes to Olay skincare products, you can expect a range of benefits that contribute to healthy, radiant skin. Olay's Total Effects and Regenerist lines both offer effective moisturization and sun protection. They are suitable for various skin types, making them versatile additions to your daily skincare routine. Additionally, these products help reduce the appearance of common skin issues such as wrinkles, fine lines, dark spots, and dryness. Whether you choose Total Effects for its all-around skincare or Regenerist for its rapid results, Olay products aim to enhance your skin's overall health and appearance.
Olay Total Effects Benefits:
It can replace your moisturizer for everyday use and treat your skin blemishes as well.
Offers skin protection from the sun's harmful rays
It is non-greasy, making it comfortable on your skin all day
It can serve dry, normal, and oily skin types
Humectants and emollients in the composition of Total Effects products are great for skin hydration
The product removes wrinkles, lines, and dark spots.
Olay Regenerist Benefits:
Facial moisturizer for tender and hydrated skin
Vitamin B3 and hyaluronic acid help eradicate dead skin cells to rejuvenate your skin.
More effective than Total Effects, working in a record 28 days when results start showing
Offers sun protection to the skin
It can be applied as an all-day moisturizer
Non-greasy and easy on the skin.
3. Rating
On different e-commerce platforms, the average rating of the two product lines is 4.3 out of 5 stars. This means that both are popular amongst their users and can be used interchangeably-ideally. 
Olay Total Effects
With an impressive average rating of 4.5 out of 5 stars on various e-commerce platforms, Olay Total Effects is a favourite among users. Its popularity is evident, particularly among the younger demographic, thanks to its multifaceted approach to skincare. Users appreciate its ability to provide UV protection while enhancing moisture retention, making it a well-rounded choice for those seeking effective and preventative skincare.
Olay Regenerist
Olay Regenerist also boasts a commendable rating of 4.6 out of 5 stars on e-commerce platforms. This product line is particularly favoured by individuals looking for rapid skin rejuvenation and targeting concerns like dark spots and enlarged pores. Its effectiveness, especially in addressing the needs of older users, has garnered it a dedicated following.
The distinct difference is in their audiences, as the Regenerist products are used more by older people who seek a fast skin revamp. It is also popular with individuals who would love to clear their skin from dark spots and deep pores.
The Total Effects line is more popular with the younger generation because it is an effective skincare product that will not only protect your skin from UV harm but make it more susceptible to moisture retention.
4. Quickness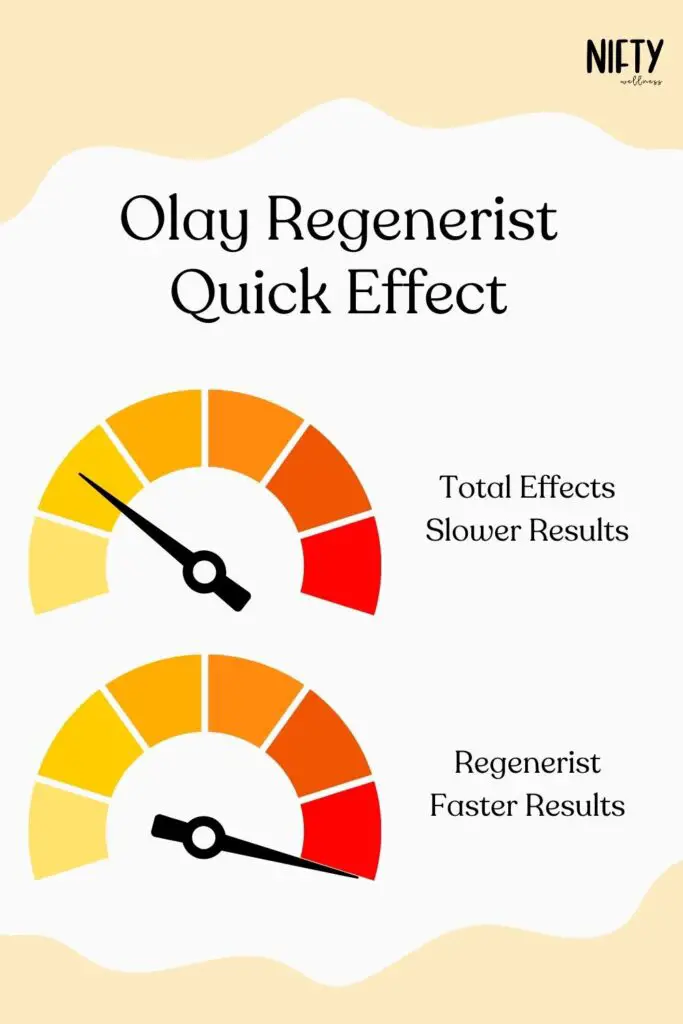 Olay Regenerist
Olay Regenerist offers rapid anti-aging results, often noticeable within just four weeks of use.
The Regenerist product line has an Amino-peptide complex which supplies the anti-aging characteristics to your skin at a much faster pace.
You will start to see results in your face by the fourth week, which is way faster than any other Olay product. Vitamin B3 and Glycerin boost skin rejuvenation by increasing the activation process to commence at a faster rate. Regenerist is perfect for those with specific anti-aging goals, making it an excellent choice for quick and effective transformations.
Olay Total Effects
On the other hand, Total effects products have SPF30 and SPF15-reagents which ensure sun protection on your smooth skin. You will be comfortable wearing it all day and even replace it with your daily day cream.
Depending on the needs, like making your tone even, removing dark spots, or reducing skin pores visibility, your product from the Total Effects line will work.
It's a versatile option that can replace your daily day cream, effectively evening out your skin tone, diminishing dark spots, and reducing pore visibility. It's favoured by those who want radiant skin while shielding it from UV harm.
Between the two, Regenerist works faster and better on tougher skin. Total Effects is suitable to maintain an even tone and clear those dark spots on the skin. Depending on your end goal, choose a line that will work for your skin.
Read our blog Dove VS Olay: Differences, Similarities & Which One Is Right For You. Dive into this comprehensive comparison to make an informed choice for radiant skin.
5. Pricing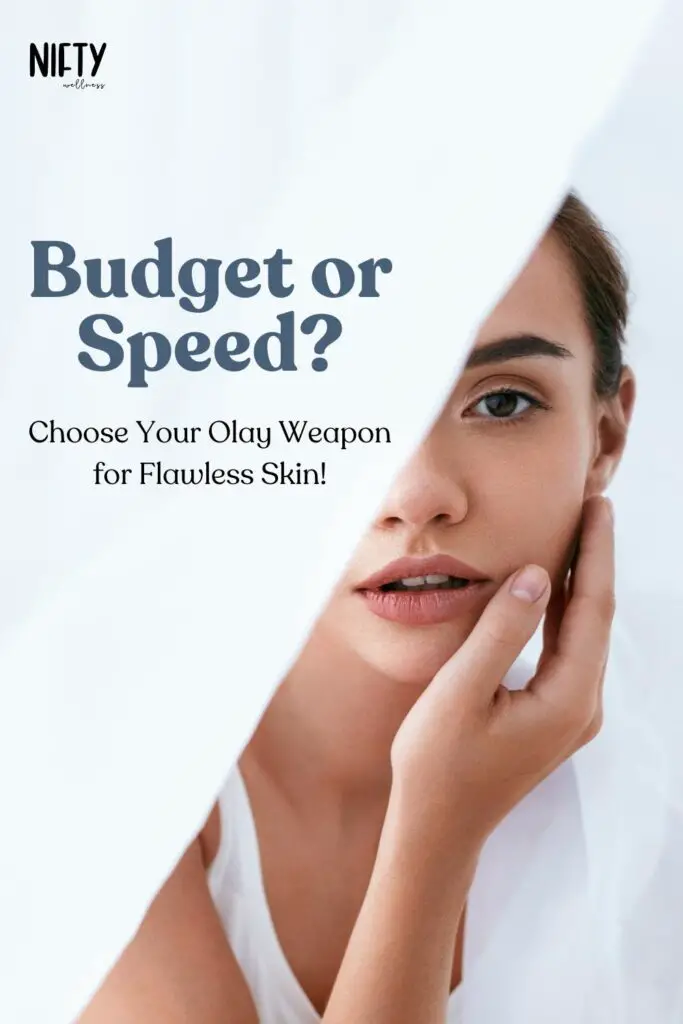 It comes as no surprise that the pricing for these two lines of products from Olay differs. One is, without a doubt, a higher-end consumer than the other.
Prices also vary depending on the market trends, but you can be sure to find the cost of Regenerist products higher than Total Effects, sometimes double the prices.
Olay Regenerist
Regenerist is popular for their active ingredients and a faster activation of the skin repair process. It makes you get results faster within four weeks, which is a plus. Therefore, it is a bit pricey but worth it.
Olay Regenerist products are priced slightly higher than Total Effects, reflecting their advanced anti-aging technology and faster results. While they may be a bit more expensive, they offer exceptional value to those seeking swift and effective skin care.
Olay Total Effects
On the other hand, Total Effects is a product line that is popular for its affordable price. Olay Total Effects products are budget-friendly, making them accessible to a wide range of consumers. Their affordability is consistent with the quality of the skincare benefits they provide. When seeking a product that is active and helpful in making your skin younger, try Total Effects. You can enjoy comprehensive skincare without breaking the bank.
So, Olay Total Effects Vs Regenerist: Which Is Better?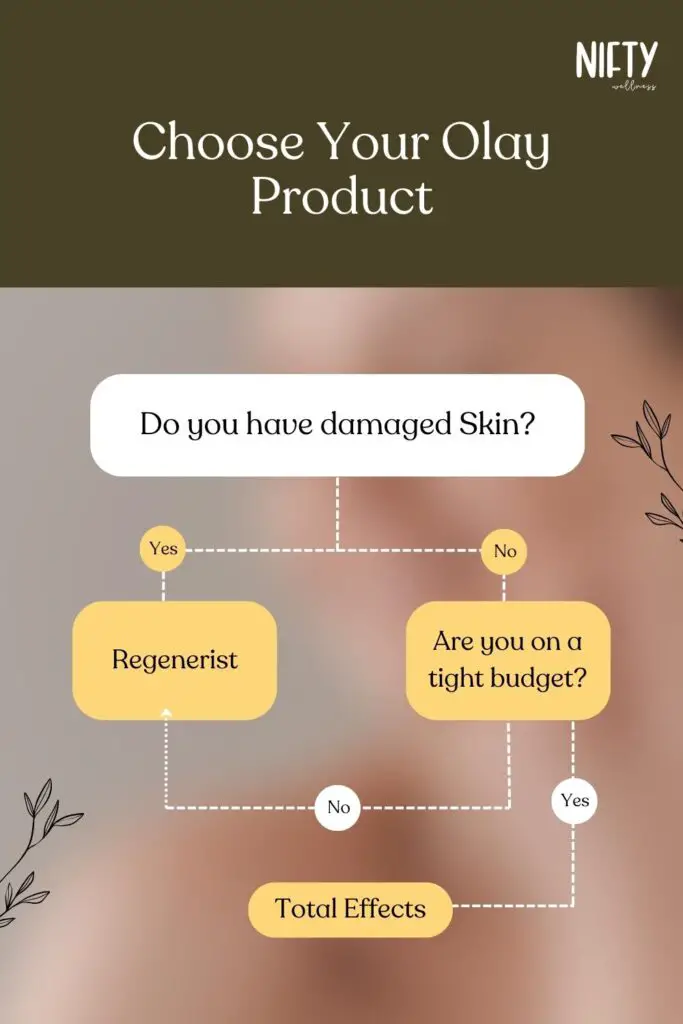 This question is dependent on what you are trying to achieve with your skin. Remember that both product lines do the same job-only one is more active than the other. That said, you would want to make the selection based on your skin.
If you are older, chances are you have more wrinkles and spots. Therefore, it would make sense to use Regenerist products.
But if your budget is small and your skin is fairly healthy, you can use Total Effects products for gradual skin revitalization.
Summary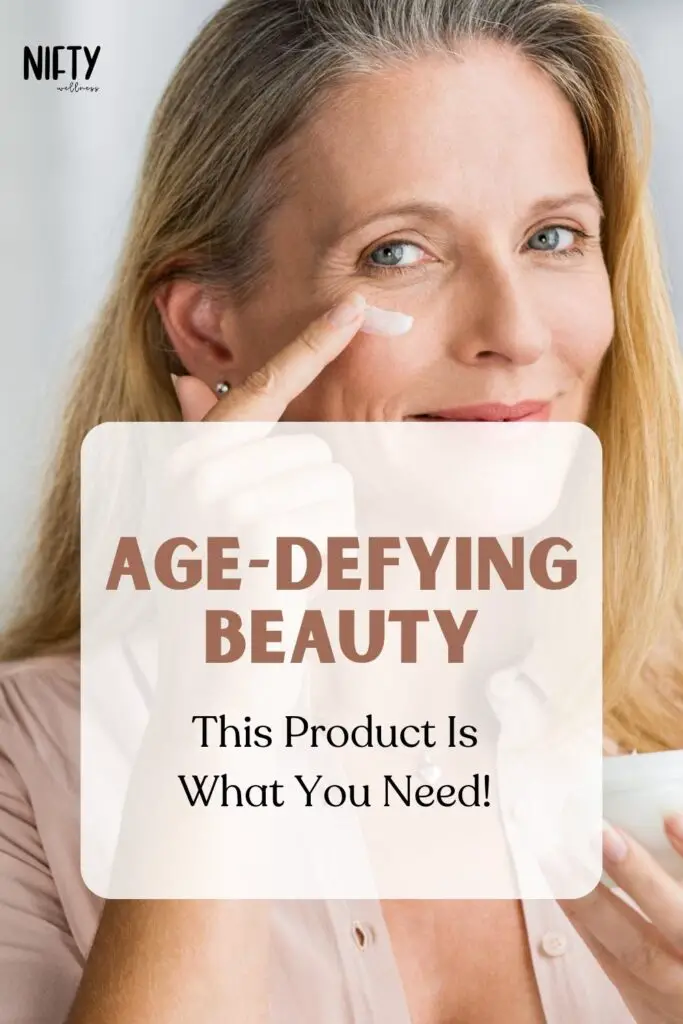 Through the article, you have seen in-depth the two product lines that Olay has in skin treatment of anti-aging. You can select a face product and skin routine based on the benefits that each product accords.
Also, another consideration will be how much you are budgeting for, as Regenerist products are more in price than the Total Effects line.
Olay Total Effects is suitable for people with fewer blemishes. Young people, especially those in their 20s, will choose this product. The good thing is that it can replace your typical moisturizer and at the same time give you the benefits of skin treatment that Olay is known to provide.
Olay Regenerist products are fit for damaged skin, and it clears all blemishes quickly within 28 days. You can choose this product if you want a quick fix on your face with lasting effects.
Frequently Asked Questions (FAQs)
Can I use Olay Total Effects if I have sensitive skin?
Yes, Olay Total Effects is generally suitable for sensitive skin. It is formulated to be gentle and is free of common irritants like parabens and sulfates. However, everyone's skin is unique, so doing a patch test first is a good practice to ensure it doesn't cause any adverse reactions. Consulting a dermatologist is always a wise choice if you have specific concerns about your skin's sensitivity.
Does Olay Regenerist have a strong fragrance?
Olay Regenerist products typically have a mild and pleasant fragrance, but it's not considered strong or overpowering. The fragrance is designed to be subtle and should not irritate most users. However, individual preferences and sensitivities to scents can vary, so if you're particularly sensitive to fragrances, you may want to test a small amount of the product before using it extensively to ensure it suits your preferences.
How long does it typically take to see results with Olay Total Effects?
With Olay Total Effects, you can typically start to see results in your skin within a few weeks of consistent use, usually around 4 to 6 weeks. However, the exact time it takes to see noticeable improvements can vary from person to person depending on factors such as your skin type, the specific product within the Total Effects line you're using, and your skincare concerns.
Can I use both Olay Total Effects and Olay Regenerist in my skincare routine?
Yes, you can use both Olay Total Effects and Olay Regenerist in your skincare routine. Total Effects offers daily protection and moisture, while Regenerist targets advanced anti-aging needs. Apply them in the order that suits your skin's needs, such as cleansers, treatment products like Regenerist, and moisturizers like Total Effects. Follow product instructions and consider your skin's requirements for the best results.
Are these products tested on animals?
Olay claims not to test their products on animals but does sell in countries like mainland China where animal testing is required by law. This stance prevents them from being certified as a cruelty-free brand. While they express a commitment to finding alternative testing methods, as long as they continue to sell in regions with mandatory animal testing, their products cannot be considered cruelty-free.