Clinique and Olay are both well-known and well-recognized brands in the realm of anti-aging cosmetic products and skincare, so it comes as no surprise that it's hard to choose. 
Well, this article will explain and compare the various significant characteristics of Clinique and Olay to make your life easier.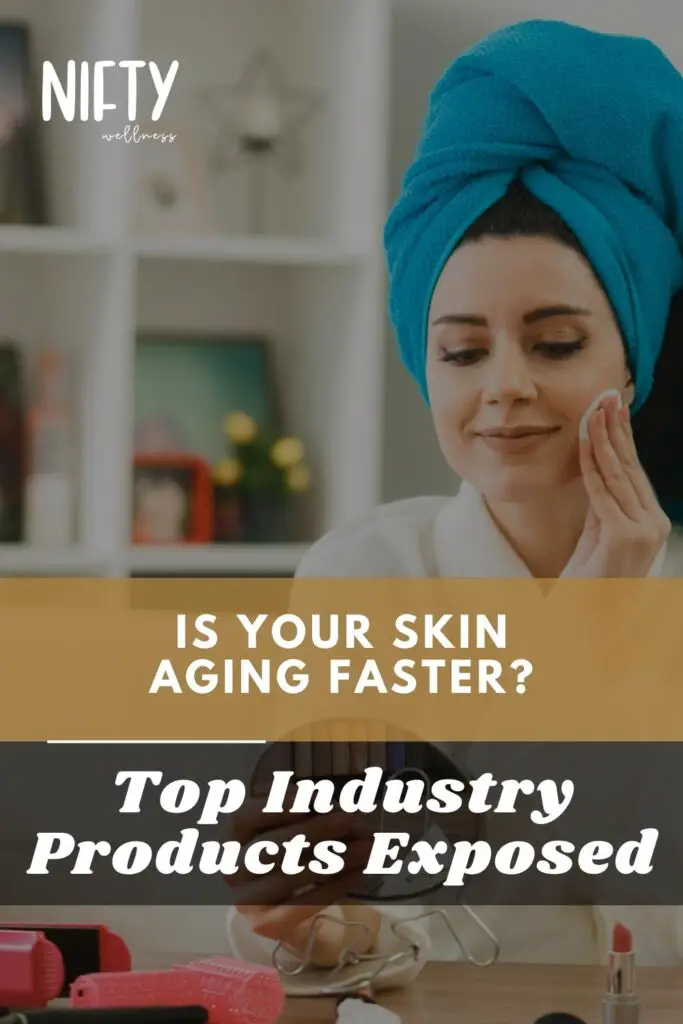 About Clinique
Clinique is a well-known player in the skincare and beauty arena. Since its inception in 1968, Clinique has been famous for its dermatologist-developed products. What sets them apart is their commitment to delivering effective products that work, are allergy-tested, and do not have any irritating fragrances. They've got a wide range of skincare, makeup, and fragrances to suit different needs and skin types, with a special focus on sensitive skin. Clinique has won the hearts of many loyal customers thanks to their dedication to safe and effective products.
About Olay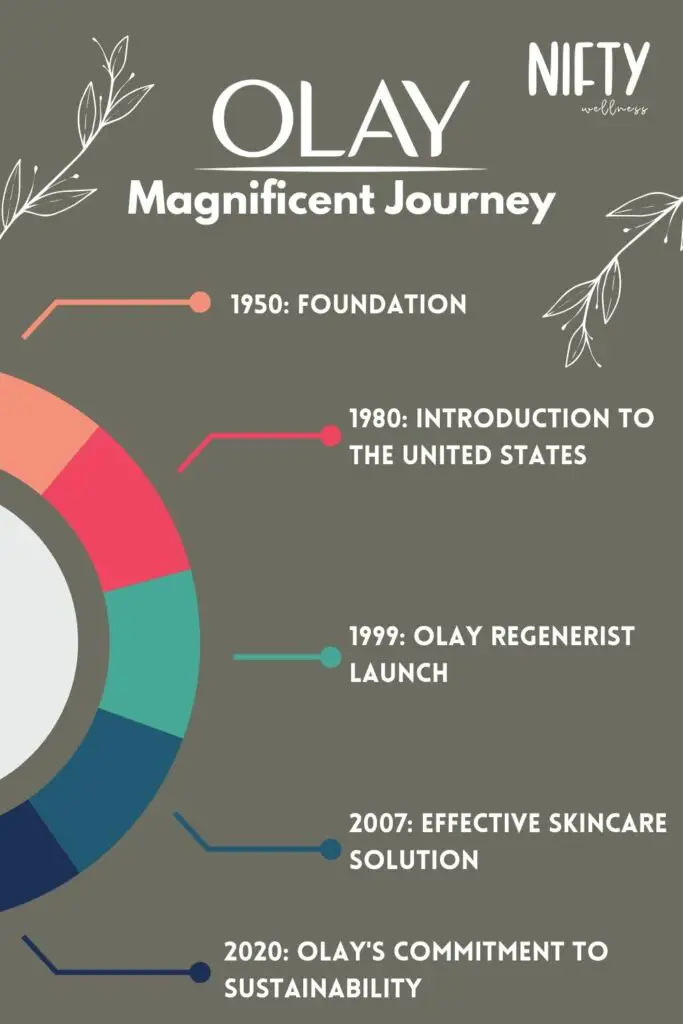 Now, let's talk about Olay. They've been in the skincare industry since 1952 and are a household name today. Olay's mission is about giving you top-notch products without emptying your wallet. They take their research and innovation seriously, always striving to solve different skin concerns effectively. Whether you're after a trusty moisturizer or something to combat signs of aging, Olay has a product for every skin need. People adore Olay for their products' real results, making them a favourite worldwide.
Check out our blog Kiehls VS Clinique: Differences, Similarities & Which One Is Right For You. Discover the pros and cons of each brand and uncover which one aligns with your unique beauty goals.
Clinique Vs Olay Moisturizer
Moisturizers are among the most popular cosmetics on the market. Unlike make-up removers and facial cleansers, moisturizers are used by most people on a daily basis.
Because of this, it is critical to ensure that the product is hydrating and nourishing while being gentle. When it comes to Clinique vs Olay moisturizers, Clinique offers dermatologist-developed options known for their gentle yet effective formulas. On the other hand, Olay provides accessible skincare solutions focusing on visible results and affordability.
Let's see who does it better.
Dramatically Different Moisturizer by clinique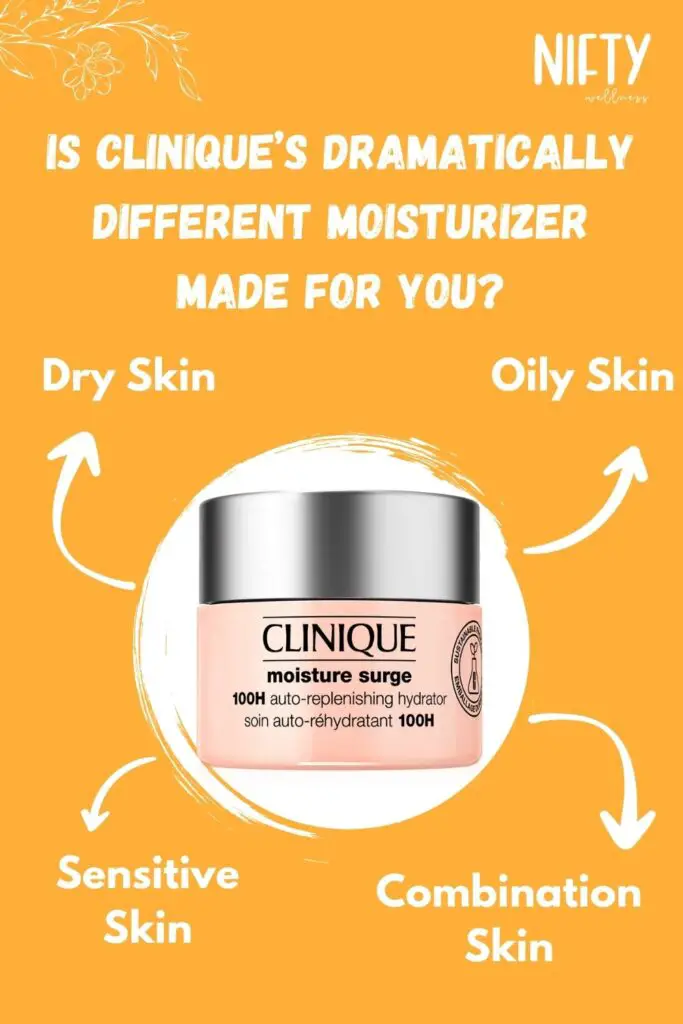 Let's start with the Clinique Dramatically Different Moisturizer, which is formulated for greasy, dry, or combination skin types. 
It was created by a dermatologist and can be used as a facial moisturizer to soothe and lighten the skin. One feature that may distinguish it is its ability to blend into the skin quickly. You don't need to wait too long as with other creams.
The Clinique Moisturizer, like many other moisturizers, aids in controlling the amount of water within our tissues and keeps them hydrated. 
The Clinique lotion can decrease dry skin and fine lines and wrinkles on the face thanks to the hyaluronic acid. A cucumber extract is also included, which tends to maintain and regulate your skin's moisture.
Daily Moisturizer By Olay
Olay, on the other hand, is quite popular among consumers. However, when compared to Clinique products, it is not as pricey. 
There are numerous advantages to utilizing this product, including soft, moisturized skin and the elimination of small wrinkles on the skin. Clinique can provide the same benefit.
It's non-greasy and smooth on the skin, which is one of the main reasons people adore it.
It might be used as a daily moisturizer. Another positive aspect of the product is that it can be used on damaged skin and can provide UV protection. 
Which Moisturizer Should You Purchase: Olay or Clinique?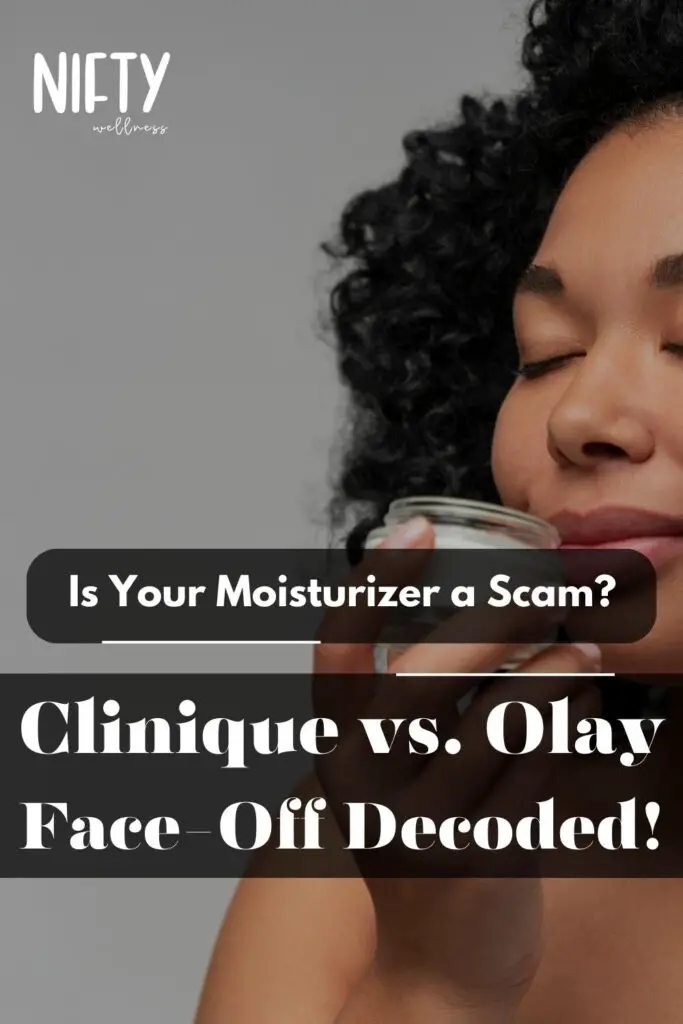 You can attribute the recognition and honor they obtain to the high quality of their products. It's difficult to compare these two market leaders because they're both excellent. 
Both products guarantee a light, pleasant cream or gel that will gently hydrate your skin for up to 24 hours and reduce the appearance of fine wrinkles, puffiness, and tightness.
Olay's products, on the contrary, are frequently less expensive than Clinique's, making them more affordable for the general public. 
Clinique's moisturizers have all undergone antibody tests, are allergen-free, and may contain significant substances.
Read our blog Olay Total Effects vs Regenerist: 5 Differences In Effects, Price & More. Discover the difference between Olay Total Effects and Regenerist, and find the perfect match for your skin.
Clinique Vs Olay Eye Cream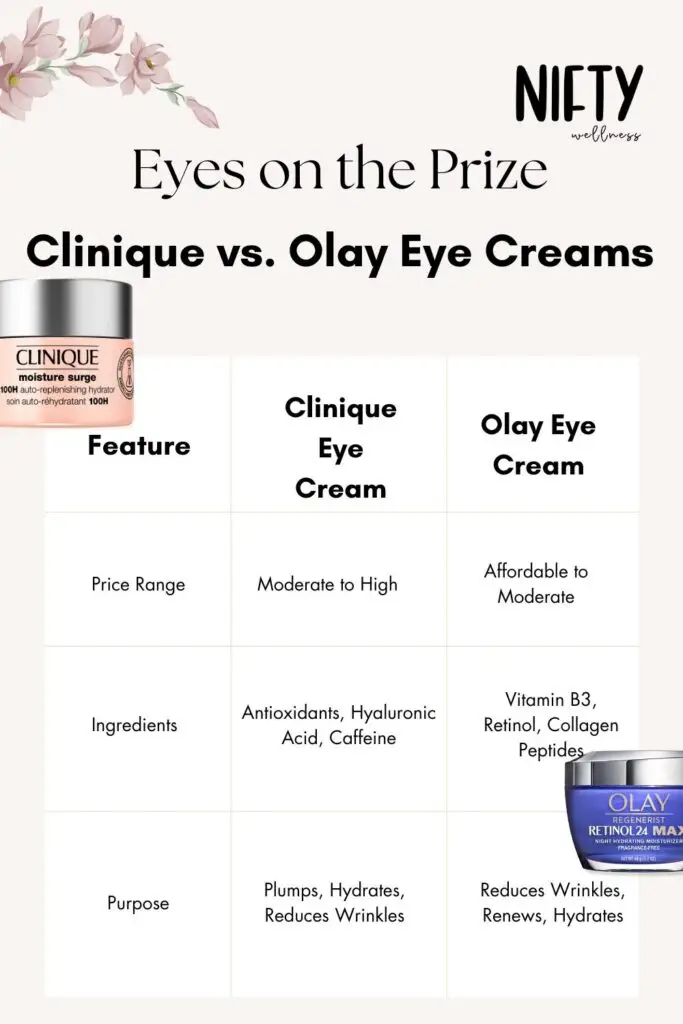 The advantages of eye cream are frequently forgotten when it comes to maintaining a healthy skin care regimen, but eye cream is a crucial aspect of skincare. 
Eye creams, unlike other moisturizers, have a formula that is light enough to apply and soak into the gentle skin around the eyes.
Furthermore, most eye creams contain chemicals such as retin, hyaluronic, and vitamin E, which nourish, illuminate, which minimize the indications of stress and aging. 
Eye creams are available in a number of formulations, including thicker creams, liquid creams, and lighter serums, from top skincare companies such as Olay and Clinique.
Eye Cream By Olay
Olay takes a tested, science-based solution to cosmetics as a product. Their eye creams are specially created to decrease wrinkling, age spots, and withering over time. 
In its moisturizers and other skincare products, each product uses safe, high-quality chemicals that have been thoroughly evaluated at all production phases.
Other possibly dangerous ingredients and chemicals are not included in several of Olay's eye products. For optimum hydration and anti-aging, several moisturizers contain vitamin B3 and retinol mix. 
Eye creams start at around $20, with more expensive options costing around $50.
3 Best Eye Creams By Olay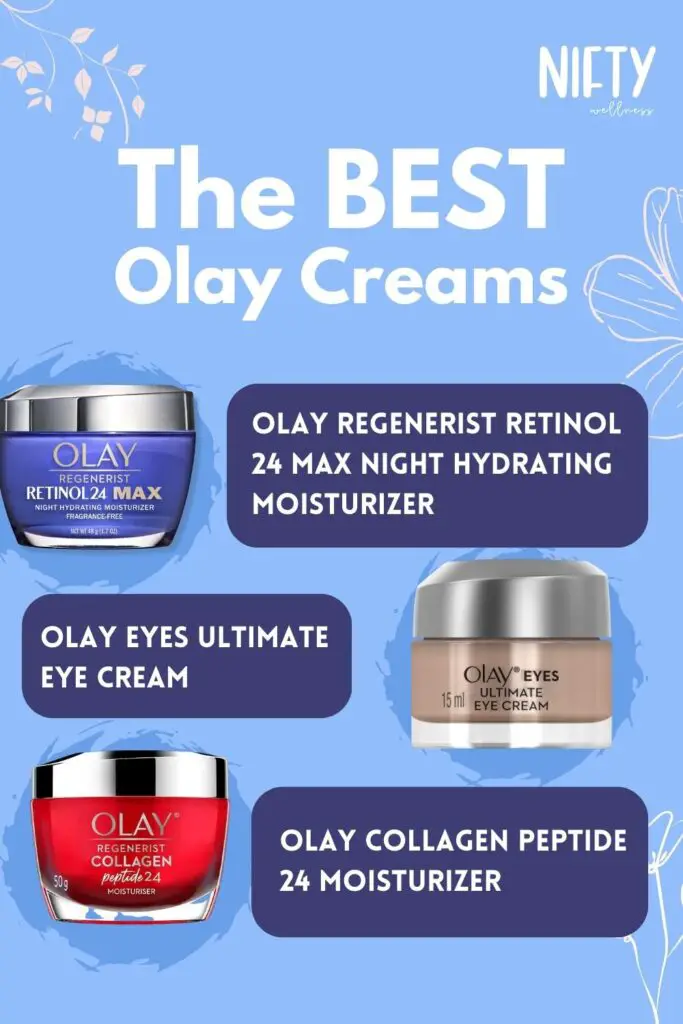 1. Olay Regenerist Retinol 24 Max Night Hydrating Moisturizer.
Nighttime moisturizer with a Retinoid Complex that has been enhanced to reduce wrinkles and fine lines, dark circles, and hydrate sensitive skin an absorbing eye cream that doesn't clog pores or create a sticky residue. Perfect for all skin types
2. Olay Collagen Peptide 24 Moisturizer
This eye cream, which contains vitamin B3 and collagen peptide, hydrates the skin for 24 hours, has anti-aging qualities, and helps to renew and maintain the protective barrier. This product is ideal for people who have a mixture of skin types.
3. Olay Eyes Ultimate Eye Cream 
This all-in-one eye cream has a near-immediate effect on skin and is designed to revitalize and refresh. It hydrates you for 24 hours, reduces swelling, smooths fine lines and wrinkles, and makes you seem refreshed.
Eye Cream By Clinique
Since its foundation in the 1960s, Clinique has been known for its dermatologist-developed, revolutionary skincare products. 
Clinique's eye creams, like the rest of the brand's products, are paraben-free, perfume-free, and halogen-free, making them suitable for almost everyone.
Clinique's eye creams include a mild, winning formula that plumps and hydrates the face, decreases the likelihood of facial wrinkles, and tightens and brightens the complexion. 
Based on the products, eye creams range from $25 to $80.
3 Best Eye Creams By Clinique
1. Clinique All About Eyes Rich Cream 
Formulated to be suitable for all skin types, this cream hydrates and is soft enough even for the most sensitive skin. It is a one-of-a-kind composition that boosts natural collagen development in the skin for long-term benefits.
2. Anti-Gravity Eye Cream by Clinique 
This eye cream lifts tightens and moisturizes the skin around the eyes for a revitalizing effect. It's excellent for anyone with dry skin. It's also gender-neutral, and daily usage can help reduce puffiness and dark spots.
3. Clinique Repairwear Laser Focus Wrinkle Correcting Eye Cream
Clinique's Repairwear Laser Focus™ Wrinkle Correcting Eye Cream is unique in its composition. It effectively reduces the appearance of fine lines around your eyes.
This anti-aging eye cream rectifies wrinkles, covers puffiness, and combines fine lines with a special moisturizing blend of soothing chemicals.
Clinique's Repairwear Laser Focus™ Wrinkle Correcting Eye Cream has been tested and approved by eye specialists, and it deeply hydrates the eye area, leaving it more youthful and radiant.
Which Eye Cream Should You Purchase: Olay or Clinique?
Both Olay and Clinique utilize professionally proven solutions to combat wrinkles, dark circles, fine lines, puffiness, and more in their eye creams. 
However, Olay's products are often less expensive than Clinique's, making them more accessible to the average consumer. Olay's eye creams are a great budget-friendly option for tackling various eye area concerns, delivering visible results without breaking the bank. Whether you're targeting fine lines, puffiness, or dark circles, Olay has a solution that won't disappoint.
Clinique's eye creams, on the other hand, have all been allergy tested, are free of allergens, and may contain higher-quality ingredients.
Clinique Vs Olay Firming Cream
When it comes to firming creams, Clinique and Olay offer different options to suit your budget and needs. Clinique is known for its luxury and quality, while Olay provides effective solutions at a more affordable price. Clinique's firming creams often come with a higher price tag but are backed by years of research and dermatological expertise.
On the other hand, Olay offers a range of firming products that cater to various skin types and concerns without breaking the bank. Ultimately, the decision boils down to your specific skincare goals and budget. The choice between them depends on your preferences and what works best for your skin.
Repairwear Uplifting Firming Cream By Clinique
Clinique's firming cream comes in two separate formulas, each customized for a different skin type. You have the option of choosing between very dry and dry, or a blend of dry and oily. 
This cream is light but hydrating, and it's packed with natural elastin and collagen to help your skin regain its elasticity. Within two weeks of using the product daily, users observed tighter skin and fewer wrinkles.
Although it is more pricey than Olay, Clinique Repair Wear Firming Cream can guarantee you a flawless, wrinkle-free face without irritating side effects. 
It provides the well-known SPF15 protection, making your face look fresh and flawless, and can be used as an oversight or separately.
Regenerist Micro-Sculpting Face Cream By Olay
Olay Regenerist Micro-Sculpting Cream is by far the most sophisticated and award-winning anti-aging face moisturizer from Olay. 
This moisture-binding product is infused with Niacinamide, Amino-Peptides, Hyaluronic Acid, and antioxidants for maximum penetration. 
It rapidly moisturizes to improve suppleness and firms for a lifted look. 
This luxurious-feeling moisturizer, used as the last phase in your ritual, hydrates skin, softens the appearance of fine lines and wrinkles and tightens skin with plumping moisture.
The Olay Regenerist Micro-Sculpting Face Cream has also been dermatologist-tested. 
It's rich and creamy, and it's packed with vitamin E and hyaluronic acid, which both contribute to improving skin hydration and texture. 
Which Firming Cream Should You Purchase: Olay or Clinique?
When deciding between Olay and Clinique for firming cream, it ultimately comes down to your skin's specific needs and budget. Olay offers affordable options that have been praised for their effectiveness, making them accessible to a wide range of consumers.
On the other hand, Clinique's firming cream is backed by extensive research and dermatological expertise, which may justify its higher price point for those seeking advanced skincare solutions. Consider your skin goals, preferences, and budget to make an informed choice.
Conclusion 
In conclusion, when it comes to choosing between Clinique and Olay, both brands offer a range of excellent skincare products. Clinique is known for its dermatologist-developed formulas and may be preferred by those seeking specialized solutions. At the same time, Olay provides effective products at a more affordable price point, making them accessible to a wider audience.
Ultimately, the choice depends on your specific skincare needs, budget, and personal preferences. Whichever brand you select, both Clinique and Olay are dedicated to helping you achieve healthier, more youthful-looking skin.
After reading this you probably already know what it takes to keep your skin looking great when it comes to Olay VS Clinique. If you don't, leave a comment below!
Frequently Asked Questions (FAQs)
Which brand is more suitable for sensitive skin?
Among Olay and Clinique, the latter is often the preferred choice for sensitive skin. This is because Clinique has allergy-tested and fragrance-free products that are safe for sensitive skin. While Olay offers some options for sensitive skin, Clinique's reputation for gentleness makes it a top choice. It's essential to patch-test any new product, as individual skin reactions can vary.
Are Clinique products cruelty-free?
While Clinique claims it does not indulge in animal testing, its products are not cruelty-free. This is because Clinique allows its products to be tested on animals when legally required, especially when selling in mainland China, like its parent company, Estee Lauder. It clearly indicates that they do participate in animal testing, so their products cannot be considered cruelty-free.
Does Olay offer products for anti-aging?
Absolutely! Olay offers a variety of products designed for anti-aging purposes. For instance, their Anti-Wrinkle Pro Vital lotion moisturizer is made for mature skin and effectively reduces even deep wrinkles. They use a potent Targeted Vitamin Complex to achieve this. Olay's ProX Dermatological Anti-Aging Deep Wrinkle Treatment is specifically formulated and tested to address deep and stubborn wrinkles. So, yes, Olay has products tailored for anti-aging needs.
Can I find Clinique and Olay products in stores near me?
You can typically find Clinique and Olay products in various nearby stores. These include department stores, drugstores, and beauty shops. They are commonly accessible, and you can check with nearby stores or look at their websites to find particular products and check if they're available in your area. Remember, the availability of products may differ depending on where you live and the store's stock.
Are there any special promotions for first-time buyers?
Certainly! Olay and Clinique often have special deals and discounts for first-time customers. These promotions can include welcome discounts, free samples, or gift sets. To find out about these offers, you can visit their official websites, sign up for their newsletters, or check with local stores and authorized online retailers. Keep an eye out for introductory deals if you're new to these brands.