Both Olaplex and Ouai are some of the most popular brands in hair care at the moment. With the rise of more environmentally conscious products in the beauty market, Olaplex has cemented itself within the segment.
Although Ouai has a larger range of products within the beauty market, these two brands compete directly in hair care. These include products such as shampoos, conditioners, and treatments. 
So, in this post, I will note some of the key differences between Olaplex vs Ouai in terms of:
How these products work.
Price point and quantities.
Texture and consistency.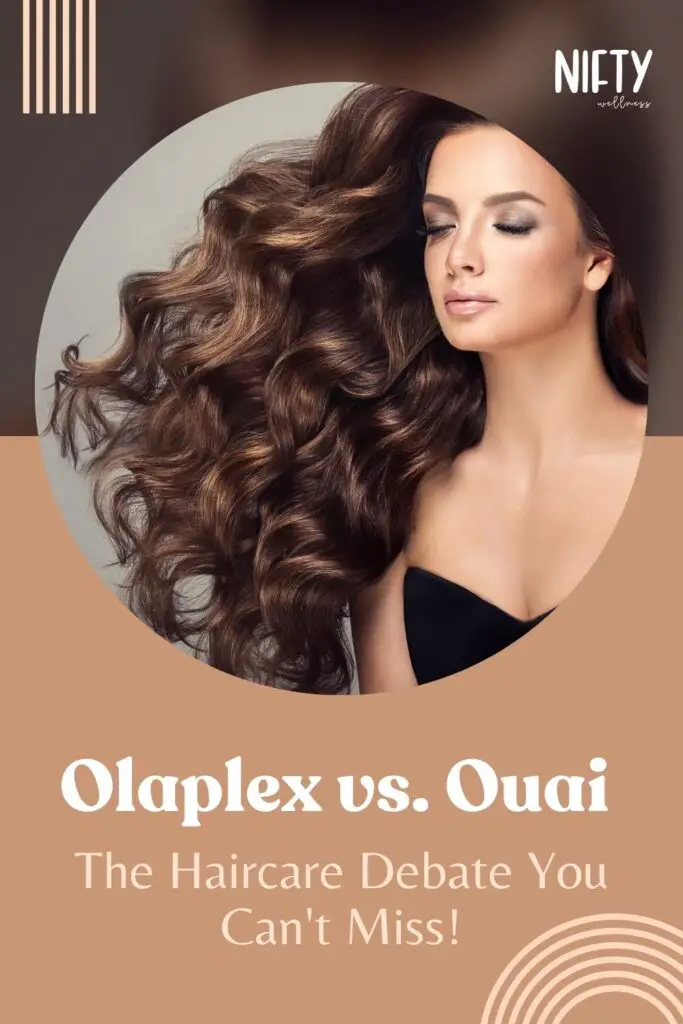 About Olaplex
Olaplex is a renowned name in the haircare industry, celebrated for its innovative approach to hair repair and strengthening. Its products are designed to tackle common hair concerns, such as damage and breakage, and have gained a loyal following among those seeking healthier, more resilient locks.
About Ouai
Ouai, on the other hand, is a modern haircare brand created by celebrity hairstylist Jen Atkin. Known for its stylish packaging and accessible approach to haircare, Ouai offers a range of products tailored to various hair types and concerns. It has quickly become a favourite among those looking for both style and substance in their haircare routine.
Olaplex Vs Ouai: 5 Differences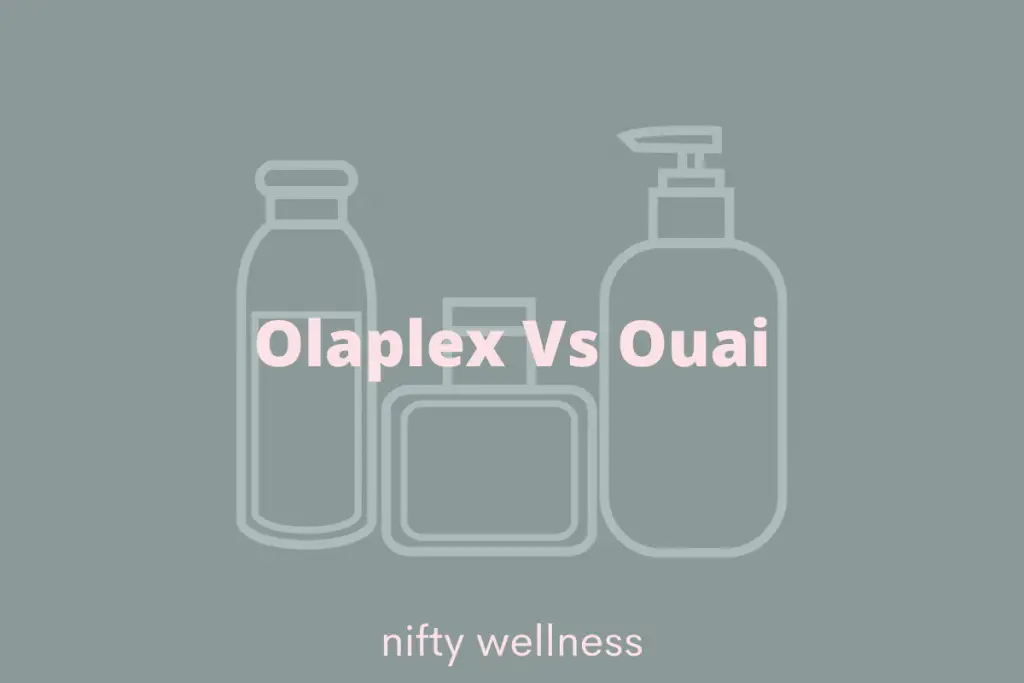 How They Work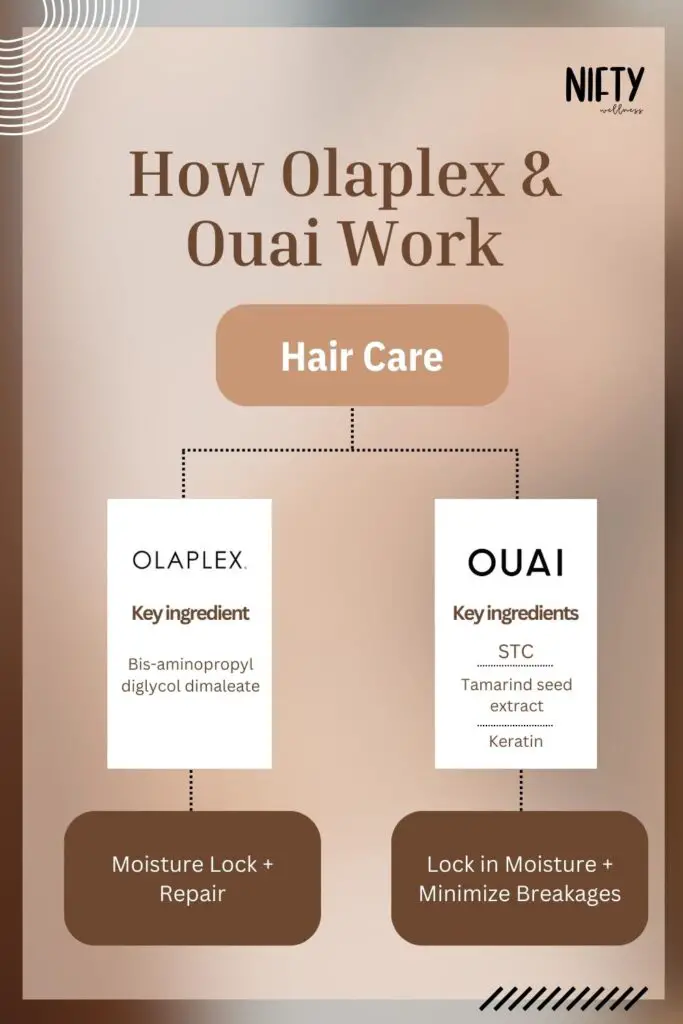 Both Ouai and Olaplex use their own unique formulas to help take care of your hair.
Ouai utilizes its own unique Smart Technology in order to create a product that can easily lock in moisture whilst minimizing breakages. Their product is fragranced but is not too overpowering of a scent.
The key ingredients for Ouai include:
STC
Tamarind seed extract
Keratin
A variety of amino acids.
These work in harmony with each other in order to nourish and enhance your natural hair and improve its overall health and appearance. 
Olaplex is a clear salon favorite as it is professional in both its look and quality. They're well known for their high-quality products that can help lock in moisture whilst also repairing your hair.
Olaplex also helps to create a natural shine to your hair making it look fresh, clean, and healthy. One of the key different ingredients within the Olaplex formula is bis-aminopropyl diglycol dimaleate which helps to both prevent breakages as well as to repair them.
The key ingredients for Olaplex include:
Bis-Aminopropyl Diglycol Dimaleate
Water (Aqua)
Sodium Benzoate
Phenoxyethanol
Bis-Cetearyl Amodimethicone
Fragrance
Amodimethicone
Citric Acid
These ingredients work together to restore and protect hair, making Olaplex a trusted brand for hair repair.
Check out our blog Olaplex vs Moroccan Oil: Different Benefits, Drawbacks & More. Choose the best for your hair's unique needs and conquer bad hair days with confidence.
Product Characteristics
Olaplex and Ouai both compete within the hair care market. They both have products such as shampoos, conditioners, leave-in conditioners, and oils. The most popular for both of the brands are their shampoos and conditioners.
Olaplex's shampoos and conditioners are designed specifically for maintenance and repairs. This is because Olaplex has crafted its product line to be seen as a complete hair treatment and maintenance kit.
This includes products to be used before, during, and after the coloring process of your hair. These products are all designed with repair and restoration in mind.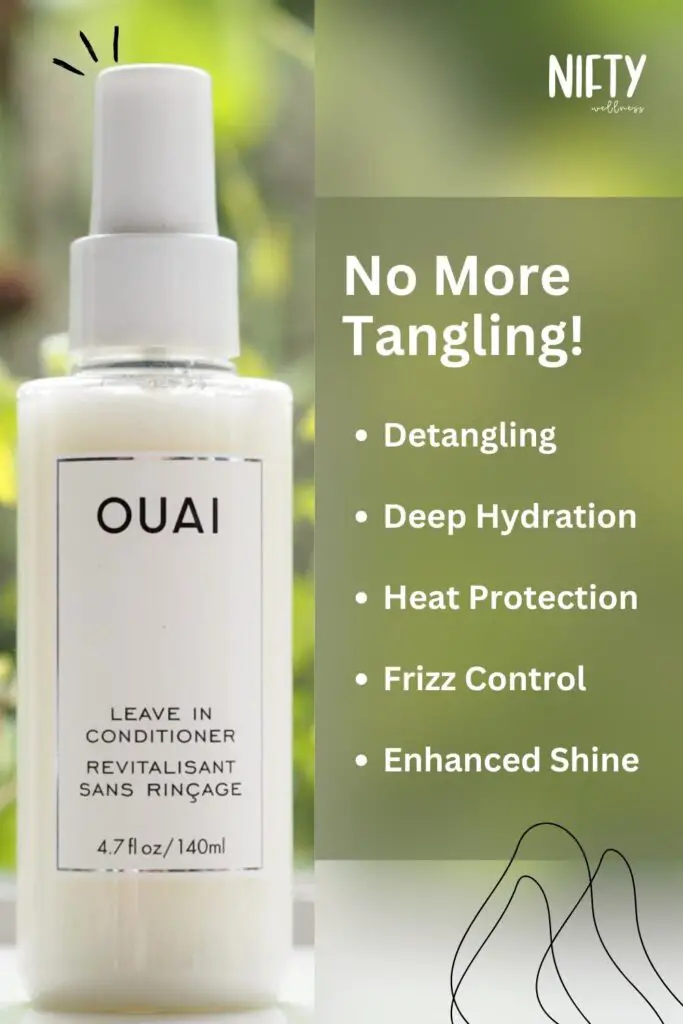 This is in contrast to Ouai as they do offer the same maintenance and repair benefits, but also nourishment and care, being a much thicker consistency because of it.
Both Ouai and Olaplex products are scented, with Olaplex being a sweet aromatic smell and Ouai being slightly less harsh on your hair.
Ouai has carefully chosen its chemicals and ingredients to treat your hair with the utmost care and delicacy so that nothing is too harsh.
Price Point & Product Quantities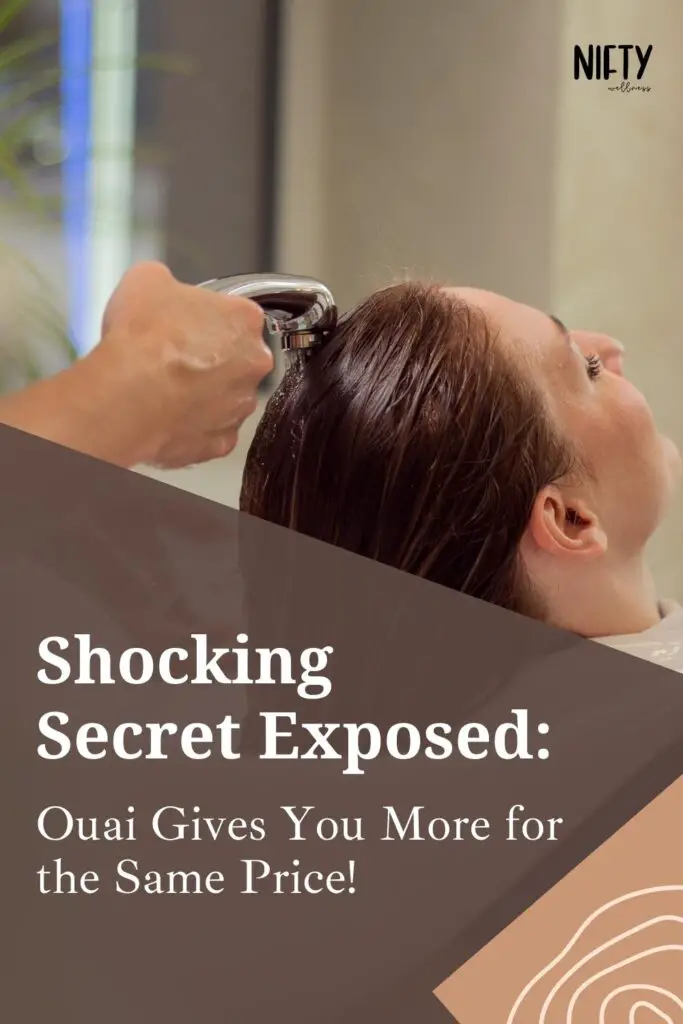 Both Olaplex and Ouai are professionally marketed products and occupy a very distinct part of the market. These are taunted as professional-grade, salon-quality products and command the price associated with that as well.
Olaplex has gained an exceptional reputation for its innovative approach to hair care. Its patented technology is known to repair and restore hair bonds, leaving hair stronger and more resilient after each use. This unique formula has made Olaplex a go-to choice for individuals looking to tackle hair damage and achieve salon-quality results at home.
Olaplex and Ouai are similarly priced but an important thing to note is that Ouai comes in slightly larger packages, for the same price. Due to Olaplex often coming in smaller quantities, Ouai is the more affordable option between the two.
Another distinction to make is that Ouai, in order to be more environmentally conscious, offers refill sachets of its products. These refills are great as they reduce waste, but they come with monetary benefits as well.
These refills are a little bit cheaper than purchasing another product entirely, thus making Ouai even more affordable than Olaplex.
Product Ranges & Variations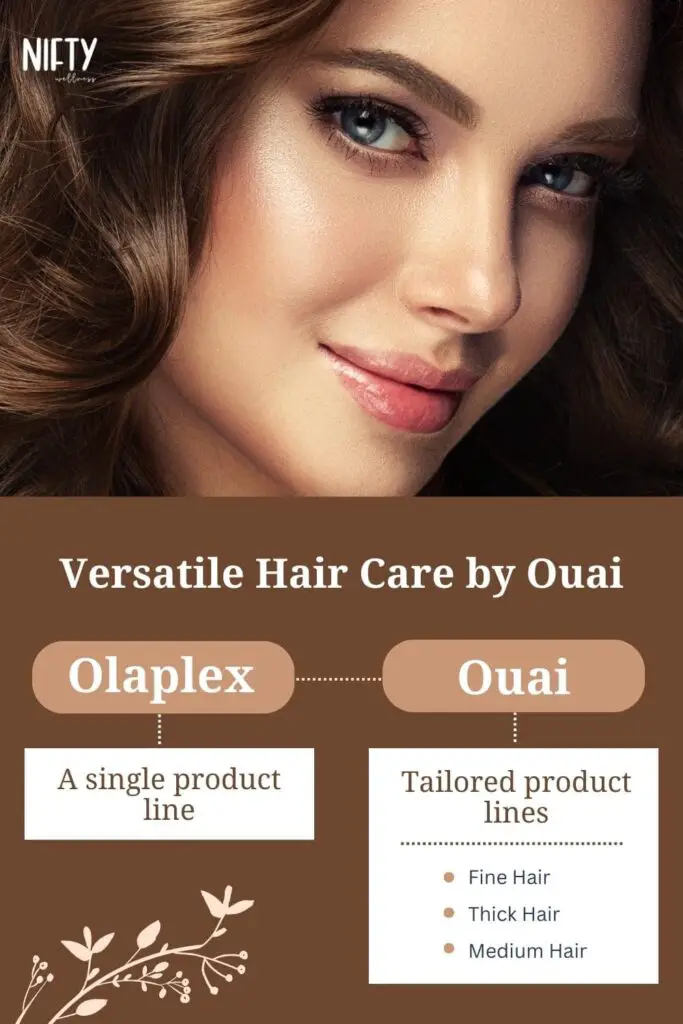 Olaplex may be amazing in its use and technology, but it lacks the diversity and range of Ouai.
Ouai boasts a wide range of products for various hair types and conditions. It splits its products to be easily found by customers into products designed for fine hair, medium hair, and thick hair. This can be found throughout their range of shampoos and conditioners. 
Olaplex may be of generally superior quality, but they have taken a 'one size fits all' approach. Although this is great in theory, it does not always work. Customers can experience different levels of success due to this and often prefer something more catered to their exact needs.
Product Compatibility & Results
In the real world, we do not tend to buy all the products we use from a single place or from a single brand. The modern environment leaves us spoilt for choice and thus we find what we need from a variety of places.
This is an important part of choosing between these brands as what you use should never decrease the results that you have achieved elsewhere. 
Both Olaplex and Ouai state that they work well when used alongside other products. However, Olaplex is the brand that clearly wants you to use its entire kit for the best possible results.
Although this might not be your thing, it is well known that an Olaplex kit can deliver amazing results. 
Conversely, Ouai places a strong emphasis on product compatibility, allowing you the freedom to blend their products with your existing hair care routine. This approach caters to individuals who appreciate a personalized approach to their hair care. Ouai's formulations are designed to harmonize with a wide range of other brands, making it effortless to integrate them into your daily regimen without compromising the overall effectiveness of your hair care routine.
Whether you lean towards the comprehensive system offered by Olaplex or the mix-and-match versatility of Ouai, both brands strive to deliver results that enhance and transform your hair. The choice ultimately comes down to your individual preferences and the specific needs of your hair care routine.
Are you torn between Redken pH Bonder and Olaplex? Read our blog Redken PH Bonder vs Olaplex: The Ultimate Breakdown. Our guide breaks it down, helping you choose the ideal treatment for your hair.
For Professional Quality That Protects
Winner: Olaplex
Winner: Olaplex
Winner: Olaplex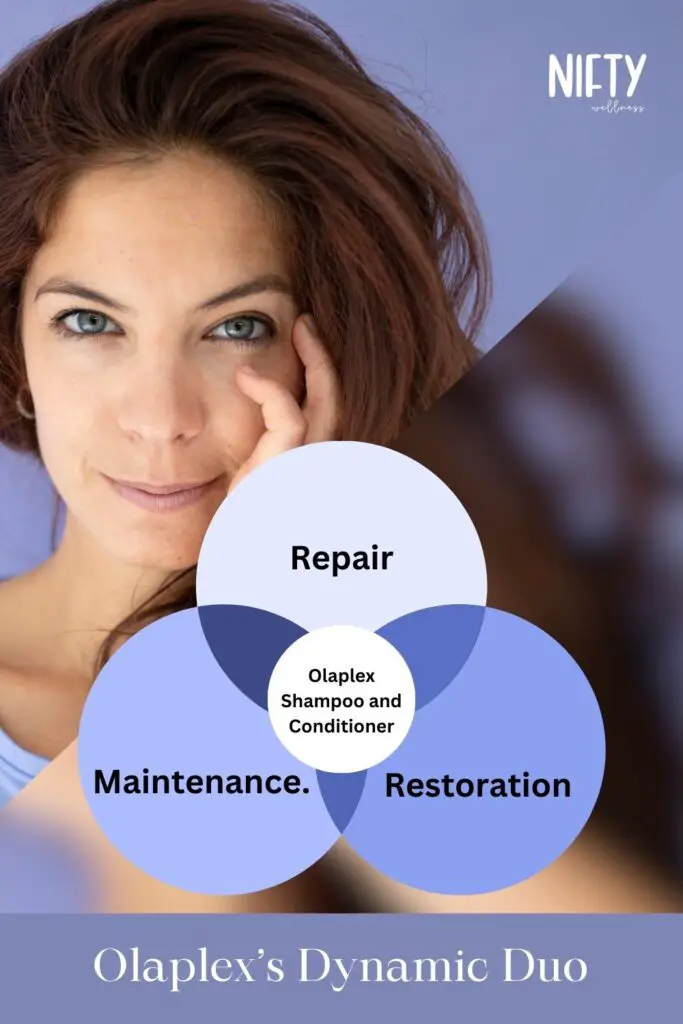 The clear choice for professionals within the beauty space is undoubtedly Olaplex. Although they may not be too diverse in their offerings, what they do, they do incredibly well.
They have designed their offering to compile into a complete hair care kit that strives to protect and prevent your hair from breakages as well as aid in repair, restoration, and maintenance.
Their shampoos and conditioners come in slightly smaller containers than Ouai so even though they are similarly priced, Olaplex is a slightly more expensive product. But, it's a minor difference and it could be argued that it's well worth it.
For A More Diverse Range That Can Last A Bit Longer
Winner: Ouai
Winner: Ouai
Winner: Ouai
Although both Olaplex and Ouai are similar in the kinds of products they produce, Ouai has a far more diverse range of products.
It has an incredibly wide range of hair care products that allow you to find exactly what you may need for your specific hair type and style. Ouai has shampoos, conditioners, leave-in conditioners, and oils.
In addition to having more products themselves, Ouai has products specifically for fine hair, medium hair, and thick hair.
Another major advantage of Ouai is that it does come in slightly larger containers. This means that it is the more affordable option between the two brands. 
Summary
Both Olaplex and Ouai are professional-grade haircare brands that more than qualify them to dominate the segment.
Both Ouai and Olaplex have a unique chemical formula that is designed to protect, strengthen, and nourish your hair. Olaplex and Ouai are both priced professionally but in a very similar way.
However, Ouai does come in a slightly larger bottle which edges it out as being the more affordable of the two.
Olaplex is also used by professionals as it boasts compatibility with most other treatments, especially for hair that has been treated or colored recently.
Because these two brands are so similar, the decision between them relies on finding the right product for your specific needs and hair type.
Frequently Asked Questions (FAQs)
Can I use Olaplex and Ouai products together for better results?
Yes, you can absolutely use Olaplex and Ouai products together for potentially enhanced results. Both brands emphasize compatibility with other products, allowing you to mix and match based on your hair care needs. This combination allows you to enjoy the benefits of both brands and tailor your hair care routine to your specific preferences and goals.
Are Olaplex and Ouai products suitable for all hair types?
Yes, Olaplex and Ouai products are generally suitable for various hair types. They offer a variety of products designed to address different hair care needs, from damaged and coloured hair to fine and frizzy hair. However, choosing specific products within their ranges that align with your hair type and concerns is essential for the best results. Always read product descriptions and recommendations to find the most suitable options for your hair.
Can I use Olaplex and Ouai products if my hair is chemically treated?
Certainly! Both Olaplex and Ouai offer hair care products that are perfectly safe and beneficial for hair that has undergone chemical treatments. Olaplex is renowned for its powerful repair and strengthening capabilities, while Ouai offers specialized products tailored to protect and hydrate chemically treated hair, including solutions for colour preservation. When choosing products, simply look for those tailored to support and improve the health of chemically treated hair to achieve the best results.
How often should I use Olaplex and Ouai products for the best results?
The ideal frequency for using Olaplex and Ouai products depends on your hair's condition. Typically, both brands suggest a weekly application. However, you can adapt it to your hair's needs. If your hair is damaged or treated, consider using them twice a week. Conversely, if your hair is healthy, using them every two weeks can suffice. Follow the product instructions and seek advice from a hairstylist for personalized guidance.
Are Olaplex and Ouai products cruelty-free?
Yes, both Olaplex and Ouai proudly adhere to cruelty-free principles. They do not engage in animal testing during product development, and their commitment extends to ensuring that their suppliers and partners also follow cruelty-free practices. These brands prioritize ethical testing methods, making them suitable choices for those who prefer cruelty-free products.