Welcome to the world of beauty and glamour! If you're on a quest for skincare and makeup that leaves your skin looking flawless without that heavy, cakey feeling, then you're in for a treat. In the spotlight today, we have two heavyweights of the beauty industry – Lancome and Estee Lauder. If you're looking for a light, airy products that make your skin look great but also don't leave that heavy made-up feeling on your skin, then both Lancome and Estee Lauder are up for the task.
However, there are some subtle differences between the two so it's worth a comparison to see which one would suit you best. While both of them aim to make you look and feel your best, there are subtle distinctions you need to know. So, join us on this beauty journey as we find out, 'Is Lancome a good brand?' unravel the distinctions and similarities between Lancome and Estee Lauder, helping you discover which one might be your perfect match.
Lancome & Estee Lauder's History
Lancome is a slightly older brand than Estee Lauder, launching its first product in 1935 in France.
The brand was founded by Armand Petitjean and initially focused on perfumes. However, a few years later, the skincare range became incredibly popular and now the company is known for both beauty products. 
The company was bought out by L'Oreal in 1964, but still brands its most popular products under the Lancome name. 
Estee Lauder, though the name sounds French, is actually an American company founded by Estee Lauder and her husband Joseph in 1946.
The company is a little younger than its predecessor Lancome, however, it's had just as much success in the skincare market. 
They still brand as Estee Lauder and the first-ever shop on Saks Fifth Avenue is still open today. 
Lancome: A French Icon
Lancome, an illustrious French cosmetics brand, boasts a storied history that dates back to its founding in 1935. With nearly nine decades in the beauty industry, Lancome has emerged as a paragon of luxury and innovation. This prestigious brand is renowned for its comprehensive line of skincare and makeup products that cater to a diverse clientele.
Estee Lauder: A Visionary American Brand
In a parallel vein of beauty excellence, Estee Lauder, an American brand, took its maiden steps in 1946. Since its inception, Estee Lauder has upheld a tradition of delivering superlative cosmetics and skincare offerings. With a dedication to quality and an unrelenting pursuit of beauty innovation, Estee Lauder has solidified its status as a global frontrunner in the beauty realm.
Lancome vs Estee Lauder in General
Estee, who founded Estee Lauder, was one of the first people to discover that a skin care range throughout the night was the best method to repair the skin. 
The Lancome brand was initially set up to offer high-end and long-lasting fragrance ranges and that's what they're still famous for today. 
Lancome do make some great skincare products, though some of these are now marketed under the L'Oreal brand name. 
Estee Lauder market a fantastic range of products specifically formulated for sensitive skin. 
Though neither brand is totally cruelty free, Estee Lauder is making great leaps toward this. 
Lancome vs Estee Lauder Skin Types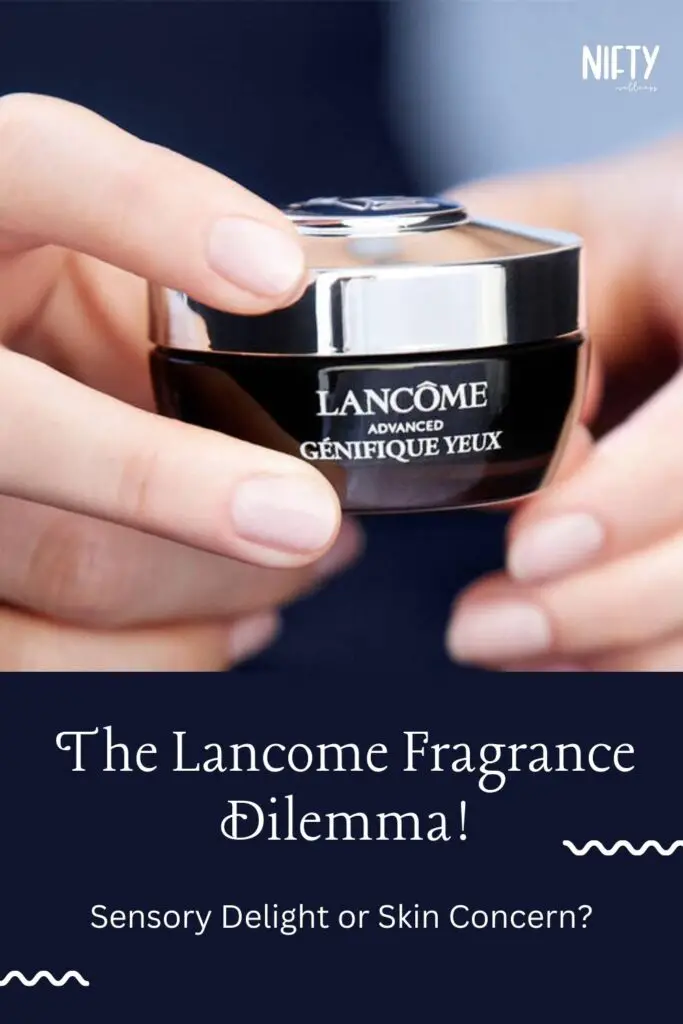 While both brands are highly sought after, Lancome is known to be highly fragranced, originating from a fragrance company, that's their USP.
However, this can mean that some of the products aren't the best for sensitive skin in comparison to the less fragranced and slightly more natural Estee Lauder. 
Estee Lauder is also more of a casual brand. They make products for everyday use, catering to different skin types and regimes. If you don't like one product, there are always others that will suit your needs. 
However, with Lancome, they operate more of a beauty and skincare package. Marketing a range of products to use all in one skin care regime.
You may have a face wash, serum and moisturizer that are designed to work together for a certain skin type, compelling many customers to buy all 3 to get the maximum effect. 
Check out our blog Lancome VS Loreal: Differences, Similarities & Which One Is Right For You. Get insights into their products and philosophies to make an informed choice for your skincare and makeup needs.
The Cruelty-Free Issue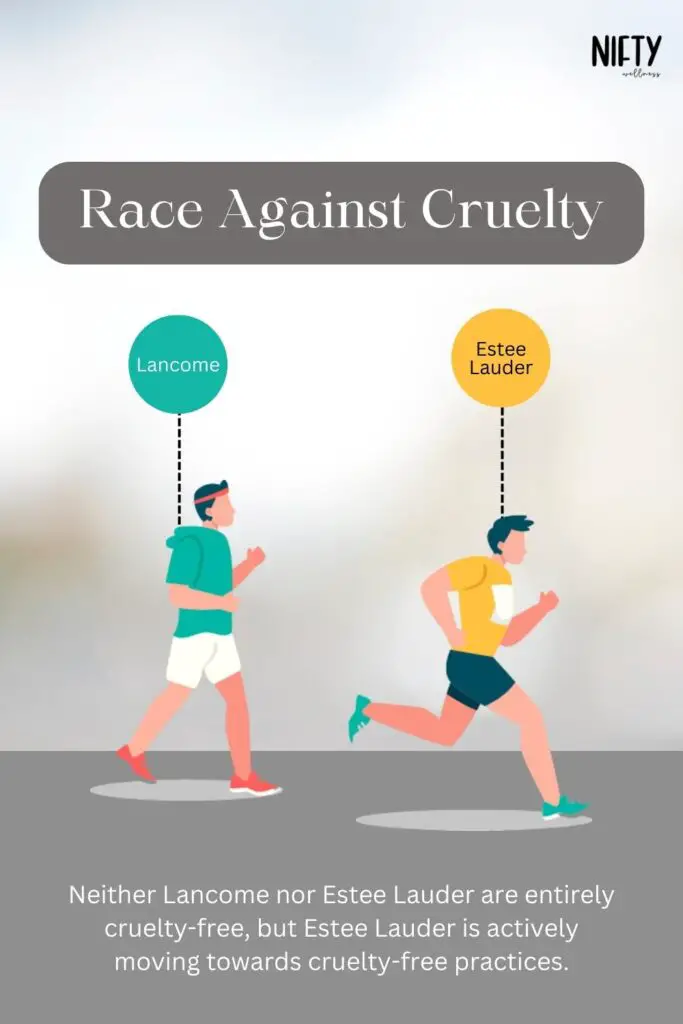 The issue that many people have with both brands is that neither is completely cruelty-free at this stage, so this means that people may avoid them.
Both companies are taking steps toward correcting this. However, so far, Estee Lauder seems to be making greater strides. 
In conclusion, while both Lancome and Estee Lauder have work to do in their journey towards becoming completely cruelty-free.
Lancome vs Estee Lauder Moisturizer
It's important that moisturizer provides a barrier to stop moisture from escaping your skin, but also protects you from external, moisture-removing forces, such as the sun.
For this reason, a good moisturizer must have an SPF rating to offer that extra layer of protection. 
Similarities
Estee Lauder Daywear SPF15, Lancome Bienfait Moisturizer SPF30 and Lancome Rénergie Lift Multi-Action Face Moisturizer With SPF 30 are excellent solutions to the best moisturizer question. They provide a light, even covering which provides moisture consistently throughout the day. 
Both moisturizers also last for up to 24-hours with a single application, so don't need to be reapplied before bedtime. They're meant for casual day wear and give a lasting barrier to the sun, even in the height of summer. 
Differences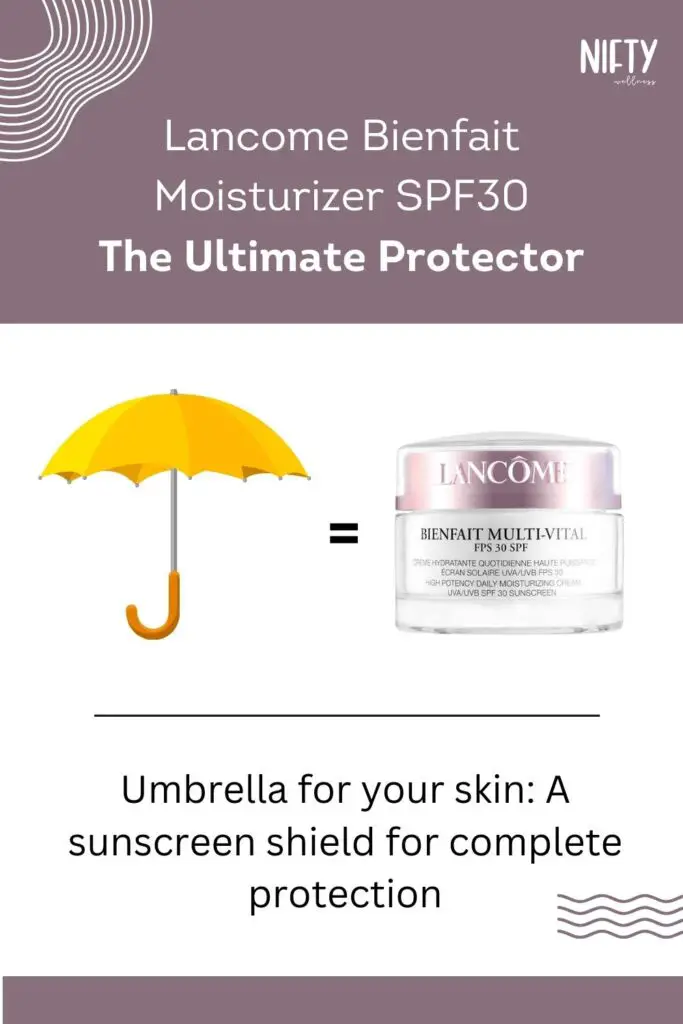 The obvious difference here is the SPF units. The Lancome moisturizer protects the skin from more of the sun's rays, therefore making it slightly better for more sensitive or paler skin.
However, the difference in SPF numbers isn't as wide as you might think, with the SPF15 only protecting from 4% less of the sun's rays than the SPF30. 
Due to the slightly thicker nature of the Bienfait moisturizer, this is better for people who might feel more comfortable with less makeup, as it is slightly heavier.
It has an antioxidant effect on the skin, using vitamin E, vitamin CG, and vitamin B5 to leave a smooth, soft texture even without makeup. It works for all skin types and is adaptable, depending on how much you use it.
Because of the higher SPF, it can also double as sunscreen. 
Whereas the SPF15 by Estee Lauder can easily be worn throughout the day underneath makeup and still provide protection and moisture throughout the day.
It gives a blast of hydration and continues to hold in moisture all day. It can be a little overpowering for oily skin though. 
As a thicker moisturizer providing more protection from the sun, the Lancome product works well to lock in the moisture for longer and has anti-aging properties. 
Verdict
In the battle of Lancome vs Estee Lauder moisturizers, both brands offer formidable options. Lancome's Rénergie Lift SPF30 takes the lead for sun protection and works wonders for sensitive skin, with its rich texture and antioxidant-infused formula. On the other hand, Estee Lauder's Daywear SPF15 excels as a daily moisturizer under makeup, providing hydration and protection throughout the day. The choice between the two boils down to your skin type and the level of SPF coverage you desire. Ultimately, it's a close match between these skincare giants, with the decision resting on your specific needs.
Lancome vs Estee Lauder Face Wash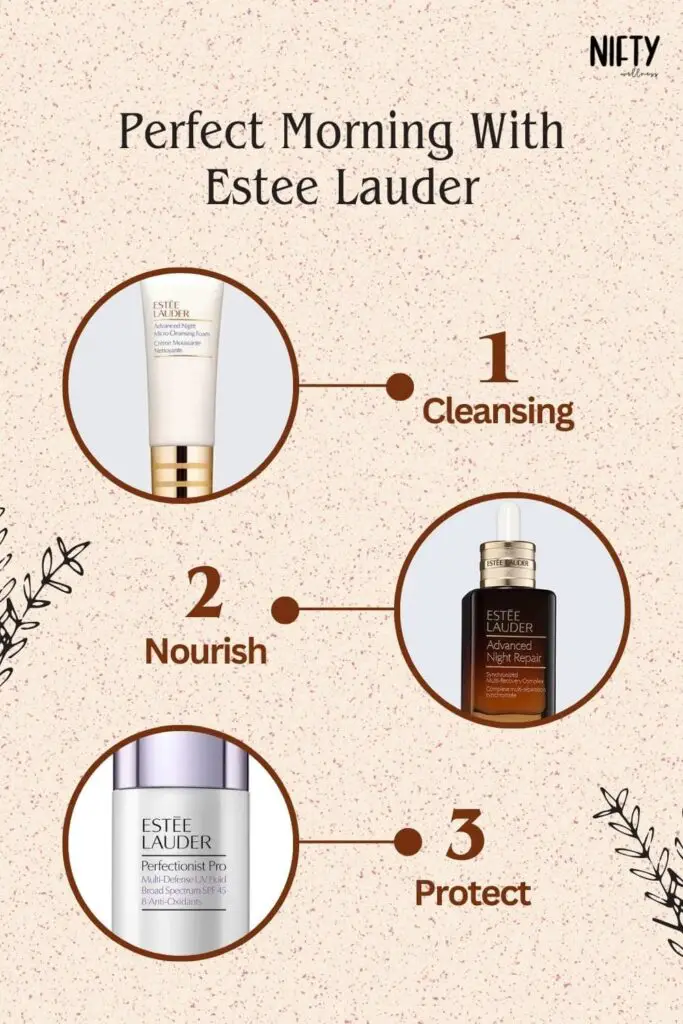 Estee Lauder was one of the first brands to recognize the importance of washing your face each morning. Overnight, your skin takes the opportunity to repair itself and regenerate new and healthier-looking skin cells.
This means that you need to wash your face each morning to remove any dead cells that are left behind. It gives you a more radiant and younger appearance. 
Estee Lauder's Perfectly Clean Multiaction Foam Cleanser and Purifying Mask is a step in the right direction when it comes to making products that contain more natural ingredients.
Estee Lauder launched this product filled with natural botanicals that doubles up as a face wash cleanser and a face mask depending on how long you leave the foam on for.
It's a great 2-in-1 product that helps to remove dead cells and freshen the skin each morning. 
It's perfect for combination skin types and works to keep the skin free from oil and clean throughout the day, even after use. 
The Lancome Crème Radiance Cream-to-Foam Face Cleanser is a skincare gem. This gentle yet effective cleanser is enriched with antioxidant White Lotus and soothing Rose, making it a perfect addition to your daily routine. It goes beyond the surface, diving deep into your pores to remove impurities and even stubborn waterproof makeup.
The best part? It achieves this without leaving your skin feeling dry or stripped. This cleanser is suitable for all skin types, ensuring a fresh and revitalized complexion. To use, simply massage the cleanser over your wet face and neck, then rinse with lukewarm water. A simple step for beautifully refreshed skin.
Similarities
Lancome Crème Radiance Cream-to-Foam Face Cleanser and Estee Lauder's Perfectly Clean Multiaction Foam Cleanser and Purifying Mask boast a striking array of similarities. First and foremost, their shared commitment to effective cleansing stands out. Both products excel at removing impurities, makeup, and excess oils, ensuring your skin emerges refreshed and revitalized.
What sets them apart is their unique cream-to-foam transformation, beginning as creamy formulations and luxuriously transitioning into foamy lathers when activated with water. This feature provides a delightful and efficient cleansing experience. Moreover, these cleansers are gentle on the skin, preventing the risk of moisture loss or over-drying. Their versatile formulations cater to a broad spectrum of skin types, making them inclusive choices for diverse users.
To top it off, both products offer refreshing scents that enhance the overall cleansing ritual, turning it into a sensory delight. In essence, these shared characteristics establish Lancôme and Estee Lauder as formidable contenders in the realm of skincare cleansers.
Differences
One distinct contrast lies in their key ingredients. Lancome incorporates antioxidant White Lotus and soothing Rose, promoting a calming and purifying experience. Estee Lauder, on the other hand, features different beneficial elements suitable for a multipurpose approach. Additionally, Estee Lauder's product can be used as a purifying mask, offering a dual functionality that Lancôme does not possess. These distinctions allow users to choose based on their unique skincare preferences and needs.
Verdict
In the quest for effective facial cleansers, both Lancôme Crème Radiance Cream-to-Foam Face Cleanser and Estee Lauder's Perfectly Clean Multiaction Foam Cleanser and Purifying Mask offer promising options. Lancôme's product provides a gentle yet deep cleansing experience with a focus on antioxidant protection and skin-soothing qualities.
On the other hand, Estee Lauder's cleanser takes versatility to another level, allowing for use as a purifying mask, making it a compelling choice for those seeking a multifunctional approach. The choice between the two ultimately depends on individual skincare preferences and whether one prioritizes antioxidant-rich ingredients or multifaceted utility in their daily routine.
Lancome vs Estee Lauder Serum for Aging Skin
Serums are the next level of skincare which provides extra nutrients and moisturizing properties when your skin needs it most. 
Estee Lauder offers an Advanced Night Repair serum while Lancome has their Genifique Youth Activating Concentrate. Both serums use natural ingredients and are largely free from harmful sulfates and parabens. 
Similarities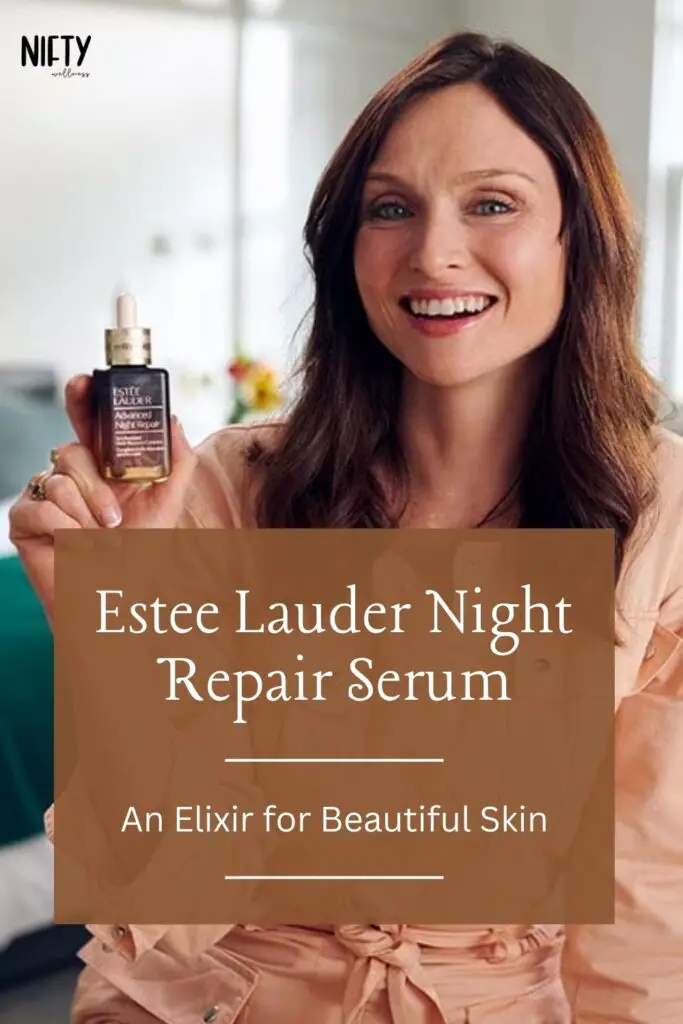 Both serums are filled with excellent probiotics and hyaluronic acid to help nourish and increase blood flow under the skin to provide consistent coloration of the skin and reduce fine lines.
Both serums make the skin appear smoother and more radiant even after just a few days of use. 
While both products achieve a more youthful appearance, Estee Lauder's version operates with collagen and tripeptide-32 which maintains the skin's elasticity.
It's a great product to use ahead of time before the skin starts to age too much. 
Differences
Whereas the Lancome variation works using prebiotics to preserve the microbiomes in your skin. This gives you a youthful and more radiant appearance as you get a little older. 
Both products are likely to achieve the natural, youthful appearance that you're looking for.
However, the Genifique by Lancome isn't fragrance-free and does contain oils. This means it's not the best for already oily skin types. 
The Estee Lauder night repair cream is mostly unscented and is a better fit for people who might have allergies or sensitive skin. 
Verdict
In the world of anti-aging serums, Estee Lauder's Advanced Night Repair and Lancome's Genifique Youth Activating Concentrate are potent contenders. Both serums feature probiotics and hyaluronic acid, providing intense nourishment and improving skin tone and fine lines. Estee Lauder's version includes collagen and tripeptide-32, great for early anti-aging. Lancome's Genifique uses prebiotics for a youthful glow but contains fragrance and oils, which may not suit oily skin. Estee Lauder is fragrance-free, making it a safer choice for sensitive skin. Your choice depends on your skin type and preferences.
Read our blog Estee Lauder VS Mac: Differences, Similarities & Which One Is Right For You. Make an informed decision on your beauty essentials.
Lancome vs Estee Lauder Foundation
Both Lancome and Estee Lauder offer a seamless foundation in multiple color shades which allows for a filtered look without a heavy covering.
The main contender from Lancome is the Teint Idole while Estee Lauder's product, Double Wear is equally as sought after. 
Similarities
Both foundations get great reviews on application as they're easy to add and touch up and are amazing at covering imperfections. 
The Double Wear by Estee Lauder is typically a favored foundation for oily skin, offering a mattifying, smooth look. It's heat and sweat-resistant so humidity isn't a problem, and it lasts for up to 24 hours with no need for a refresh. Lancome Teint Idole is celebrated for its ease of application, seamless coverage, and the ability to conceal imperfections effectively, similar to Double Wear by Estee Lauder.
Differences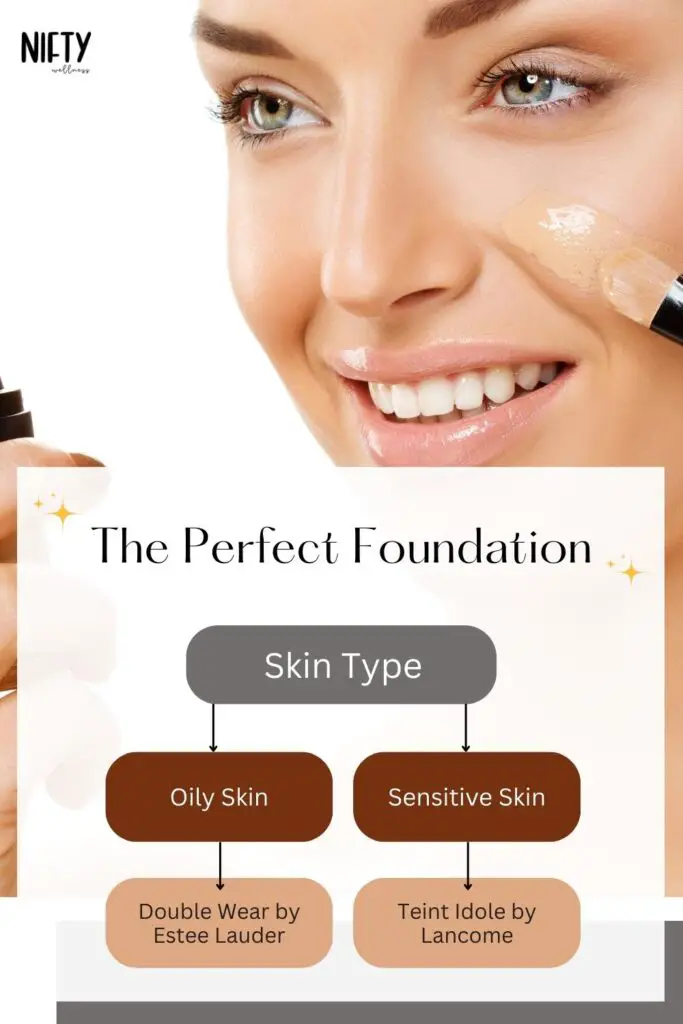 The Teint Idole by Lancome is best for people with sensitive or damaged skin as it is designed specifically to cover over imperfections without giving a heavy layer of covering which gets stuck in pores.
It also lasts for up to 24-hours with no powdering or touch-ups required and doesn't transfer to clothes.
Both foundations offer great coverage and a range of options, however, oily skin is a much more common problem for many people and typically, most foundations will cater to sensitive skin to some extent.
Verdict
In the battle of Lancome vs Estee Lauder foundation, both Lancome's Teint Idole and Estee Lauder's Double Wear foundations offer seamless application and effective coverage, the Estee Lauder foundation is favoured for oily skin due to its mattifying and long-lasting qualities. It remains heat and sweat-resistant for up to 24 hours, making it a top choice for those with oil-prone skin. However, Lancome's Teint Idole is the go-to option for individuals with sensitive or damaged skin, providing excellent coverage without feeling heavy or clogging pores.
Conclusion
In conclusion, both Lancome and Estee Lauder have their strengths. Lancome shines in the realm of anti-aging products, making it an excellent choice for those targeting age-related concerns. On the other hand, Estee Lauder provides a well-rounded range of products suitable for daily use and caters to sensitive skin types, giving them a slight edge in overall versatility.
Taking everything into consideration, Lacome offers fantastic products for anti-aging and they're the best bet if that's what you're looking for. 
However, Estee Lauder offers a much more rounded range of products that are great for everyday use and work for sensitive skin, so overall, they do tend to come out on top. Ultimately, the choice between these brands depends on your specific skincare needs and preferences.
Frequently Asked Questions (FAQs)
Which brand is more affordable, Lancome or Estee Lauder?
When it comes to affordability between Lancome and Estee Lauder, it's a bit of a mixed bag. Generally, Estee Lauder is often seen as the more budget-friendly choice when compared to Lancome. However, it's important to note that both brands offer a wide range of products with varying price points. So, while Estee Lauder may be easier on the wallet for certain items, it's a good idea to compare prices for the specific products you're interested in to make a well-informed decision based on your budget and preferences.
Are Lancome products suitable for sensitive skin?
Lancome offers various products, and some are designed to be suitable for sensitive skin. They often have product lines that are hypoallergenic, fragrance-free, and tested for sensitive skin. However, it's essential to read product labels and descriptions to ensure you select the right Lancome products specifically formulated for sensitive skin. Additionally, doing a patch test before using any new skincare product can help determine how your skin will react.
Which brand has a broader global reach, Lancome or Estee Lauder?
Lancome and Estee Lauder are well-known internationally, but Estee Lauder holds a more extensive global presence. This is because Estee Lauder owns a variety of brands like Clinique, MAC, and Bobbi Brown, enabling it to connect with a wider audience worldwide. Although Lancome is a global brand too, Estee Lauder's reach is more extensive, making its products accessible to people in many different countries.
Do Lancome and Estee Lauder test their products on animals?
Both Lancome and Estee Lauder are not considered cruelty-free as they may conduct animal testing on their products, particularly in regions where it is required by law. If you prefer cruelty-free beauty brands, there are many alternatives available that do not engage in animal testing and have cruelty-free certifications. It's a good practice to check for cruelty-free certifications or verify a brand's cruelty-free status through reliable sources when choosing beauty products.
Are Lancome and Estee Lauder products vegan?
Both Lancome and Estee Lauder offer vegan products within their collections, but not all of their items are entirely plant-based. It's essential to scrutinize product labels and ingredient lists to ascertain their vegan status. For the most precise information, consider checking the brands' official websites or contacting their customer service. Please note that the vegan status of specific products may change, so staying updated is advisable.