When high-end luxury cosmetics are mentioned, it's completely normal for the first few names that pop into your mind to be Estee Lauder and Mac. 
They're both excellent manufacturers of cosmetics, fragrances, and skincare products. Interestingly, Estee Lauder actually owns Mac Cosmetics. 
However, there are loyalists to each of the brands, and in a comparison of the brands, we came up with some surprising results. 
Because Estee Lauder has several products on the market outside of makeup, but Mac Cosmetics is basically just a makeup manufacturer, our comparison will consist only of makeup products. 
We will not be covering any of Estee Lauder's skincare or fragrance lines, although we have favorites in each of those categories. We focused on the 5 main classes of facial cosmetics, which are:
Foundation
Face Powder
Mascara
Eyeshadow
Lipstick
Estee Lauder At A Glance
Estee Lauder was the first female entrepreneur, and she hit the ground running. 
The Estee Lauder name has been known through generations of women, and has always been a reputable name in cosmetics, fragrances, skincare, and hair care.
They currently have 25 brands under the Estee Lauder umbrella of business. These include some of the most popular in the industry, like Bumble and Bumble, Aveda, Clinique, Michael Kors, Smashbox and the Mac Cosmetics line. 
Estee Lauder has always been committed to creating luxury cosmetic items for everyone and has more skin tone options than any other cosmetic company in the business. 
They were among the first cosmetic companies to market to ethnic women and continued to do so. Estee Lauder products are heralded for helping to lend a more youthful appearance to women who use their skincare and cosmetic lines. 
They have been known for having the best facial creams and fragrances for generations. 
Mac Cosmetics At A Glance
Mac Cosmetics is a well-known high-end cosmetic line and has been favored by makeup artists for years. They were established in 1984 and are actually owned by the Estee Lauder company at this time. 
Mac Cosmetics is sold in 120 countries. Their best sellers include lip color, foundation, and eyeshadows. 
Mac Cosmetics have often been called the first name in professional makeup due to their use in photo shoots and movie sets. 
They are a cosmetic brand, not well known for skincare or fragrance, and they haven't needed to be. For years, if you looked at any makeup artist's kit, it would contain Mac Cosmetics. 
Whether you're dealing with dryness, sensitivity, or simply seeking a refreshed complexion, understanding the nuances in The Ultimate Comparison: CeraVe vs Cetaphil – Unveiling the Best Skincare Choice between these skincare giants can make all the difference.
Estee Lauder VS Mac: Foundation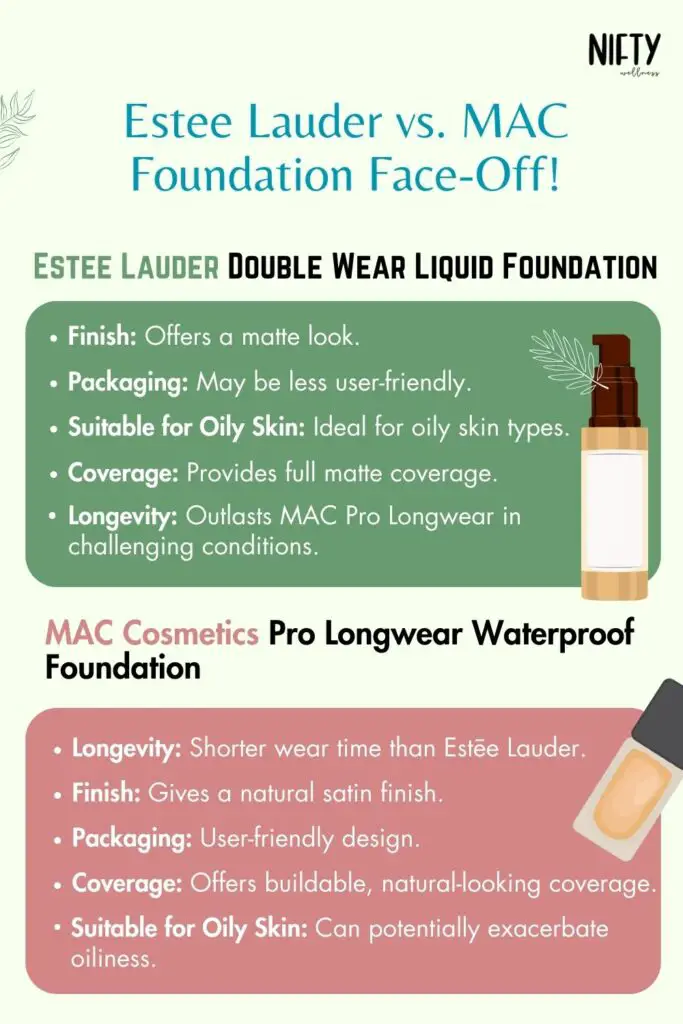 Estee Lauder Double Wear Liquid Foundation
One of the top beauty products of all time, Estee Lauder Double Wear Liquid Foundation has been a favorite of some women for decades. 
It is a completely waterproof formula that doesn't come off even in heat, humidity, and while sweating. It really is a full day of makeup and won't quit after a workday. 
You can move on into your evening without touch-ups. It's light and oil-free, and contains SPF. Available in various shades and offering a matte finish, this foundation is the only foundation you need. 
A few minor issues with the Estee Lauder Double Wear Liquid Foundation are the fact that it comes in an inconvenient package and is liquid and runny, so it's easy to spill and make a mess. 
It also sets really quickly, so you'll need to blend fast. Also, it can end up being too matte on some people. 
Overall, though, it's evident why it's one of the top beauty products of all time. The long-lasting matte coverage is awesome. 
Mac Cosmetics Pro Longwear Waterproof Foundation
With Mac Cosmetics Pro Longwear Waterproof Foundation, the first thing you notice is the easy, convenient packaging. You can use this product on the go without worrying about making a mess. 
It can be applied in multiple layers for maximum coverage without turning cakey and unnatural looking. However, if you have oily skin, you may want to avoid this product, as it has a tendency to make skin oily. 
It resists sweat and humidity, and it blends seamlessly. It can be used as a foundation or as a concealer. And, it offers a natural satin finish and hydrates skin instantly upon application. 
The Verdict
Although Mac Cosmetics Pro Longwear Waterproof Foundation is a professional grade cosmetic, it lasts around half of the time that Estee Lauder Double Wear Liquid Foundation lasts. 
With the ability to go from office to nightlife without touch-ups, and the skin benefits offered from Estee Lauder foundation, it is the clear choice in this comparison. 
Read our blog Shiseido VS Estee Lauder: Differences, Similarities & Which One Is Right For You and dive into our in-depth analysis for the ultimate beauty decision.
Estee Lauder VS Mac: Powder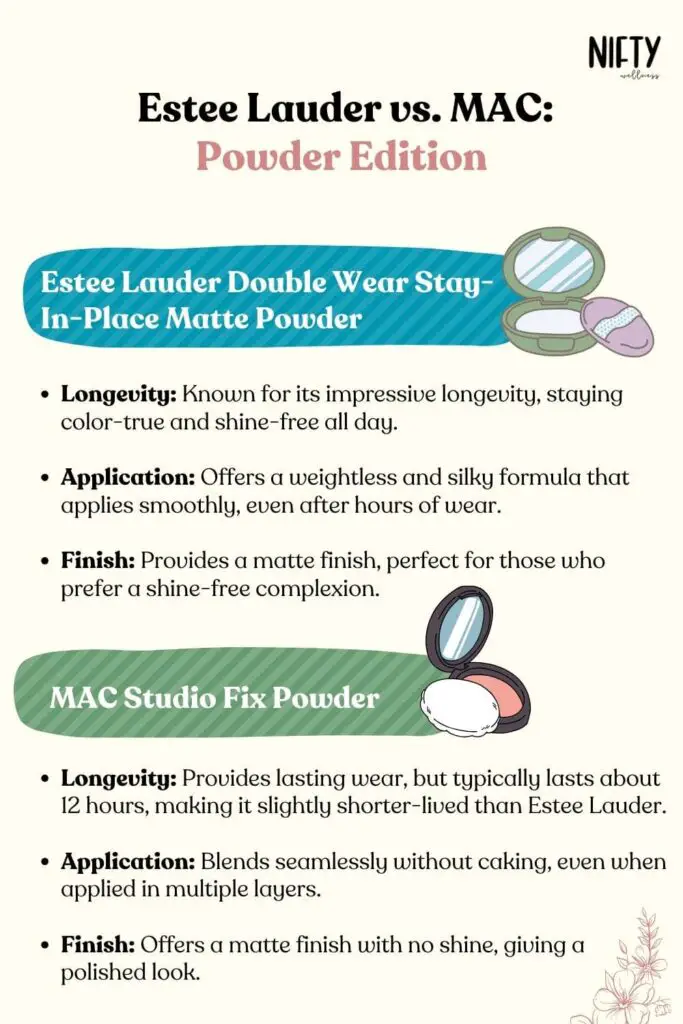 This innovative powder can actually be worn as a foundation or worn as a powder over a foundation. It is a soft and weightless powder formula that provides flawless coverage for your skin. 
It controls oil, fights shine, and stays color-true all day long. You can wet the applicator sponge and wear it as a sheer coverage foundation or sweep it over your skin with a powder brush for a matte finish look. 
This diverse product won't let you down, and the coverage looks just as good in the evening as it did when you first applied it in the morning. 
With Mac Cosmetics Studio Fix Foundation, you understand it will be good just by reading the name. It is often the go-to foundation in makeup studios everywhere, and with good reason. 
It can be used on any skin type, even oily skin. However, it only lasts about 12 hours, tops. It does resist sweat and humidity, and it is great for covering redness and uneven skin tones. 
It is also a cheaper option then the Estee Lauder foundation.
The Verdict
In this case, Estee Lauder Double Wear Stay In Place Matte Powder is the clear winner. It is a versatile product that stays flawless for 24 hours. You won't look oily or made up, just flawless. 
Estee Lauder VS Mac: Mascara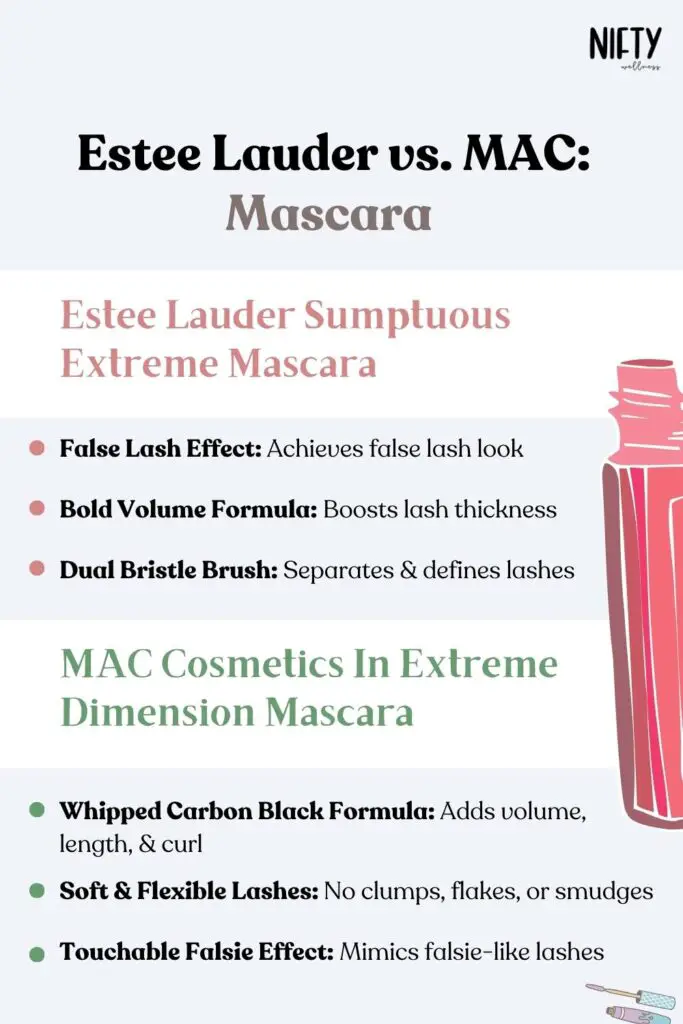 The Estee Lauder Sumptuous Extreme Mascara is a lash multiplying, volume mascara that gives a false lash effect.
Using a bold volume formula, it blends high volume fibers in a mousse light base. The brush has both hard and soft bristles to separate and define lashes. 
The Mac Cosmetics In Extreme Dimension 3D Black Lash Mascara has a whipped carbon black formula that adds volume, lengthens, and creates curl. Lashes stay soft and flexible, and it doesn't clump, flake or smudge. 
The Verdict
Mac Cosmetics In Extreme Dimension 3D Black Lash Mascara is the winner in this comparison. It is a touchable, falsie-creating mascara that stays on no matter what. 
Estee Lauder VS Mac: Eyeshadow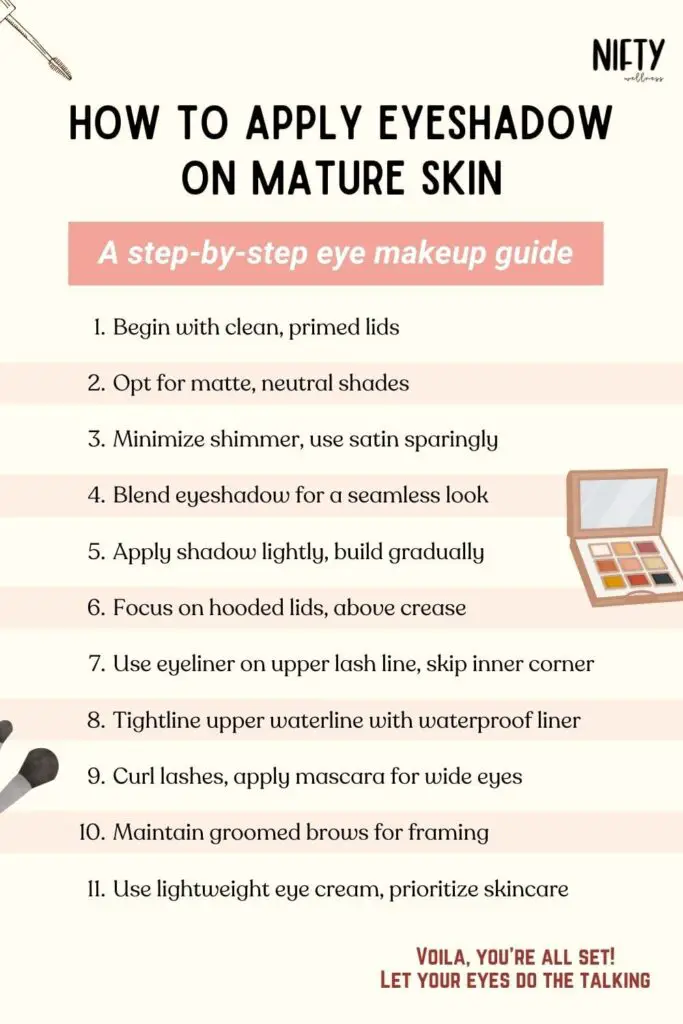 The Estee Lauder Pure Color Envy Defining Wet /Dry Eyeshadow is a weightless, ultrafine powder that acts like a cream, powder, and gel all at once. 
It glides on silky, blends easily, and doesn't settle into creases or lines. For wet or dry use, you can choose the effect you want it to make.
The Mac Cosmetics Powder Kiss Soft Matte Eyeshadow is a weightless matte, ultra cream texture blend. It's soft, glides like velvet, doesn't crease or settle, and is water and sweat-proof. 
This is the eyeshadow that made Mac Cosmetics a leader in the industry, and it's easy to see why once you apply it. 
The Verdict
This is the arena in which Mac Cosmetics shines. Mac Cosmetic Powder Kiss Soft Matte Eyeshadow is known for its dramatic looks and doesn't fail to deliver on its reputation. 
Estee Lauder VS Mac: Lipstick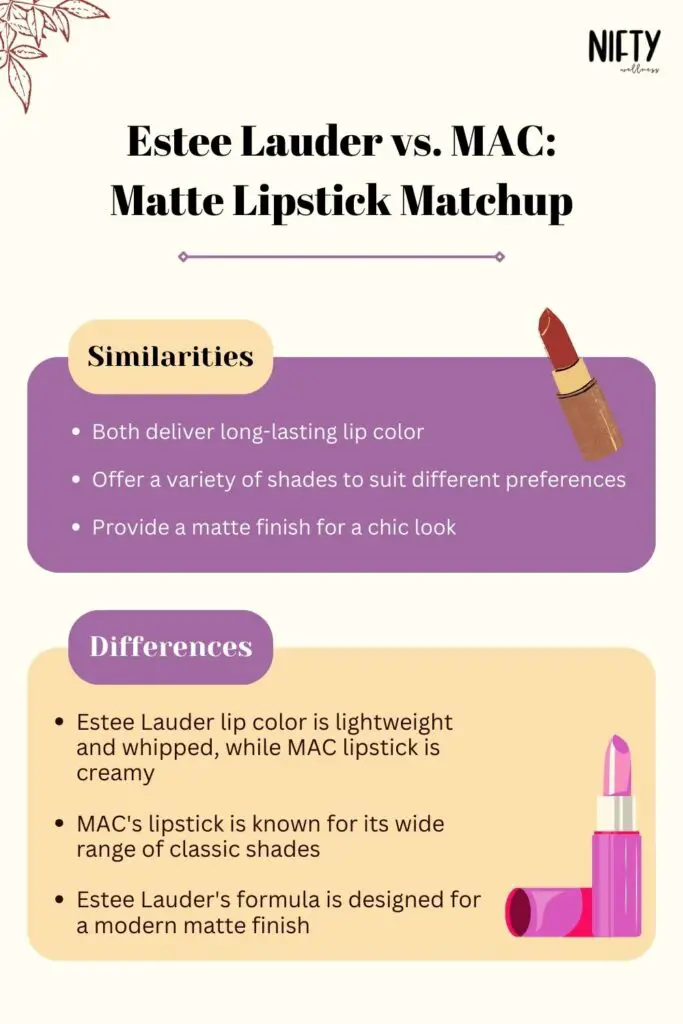 The Estee Lauder Pure Color Whipped Matte Lip Color is a smooth, velvety and weightless lip color. It's not sticky and stays comfortable on your lips for a solid 12 hours. Lightweight matte color that won't fade out or rub off. The availability of an exquisite range of Estee Lauder lipstick shades, allows you to explore a spectrum of stunning hues while enjoying its smooth, velvety texture and long-lasting wear.
Mac Cosmetics Matte Lipstick is as forthcoming in a name as it should be. Rich, creamy, no-shine matte finish on high color with a 10-hour wear. 
30 shades make this lipstick a go-to for many people because of the multiple options in colors. 
The Verdict
For wear time and the ability to wear through drinking and eating, Estee Lauder Pure Color Whipped Matte Lip Color is the winner in this category. 
In Conclusion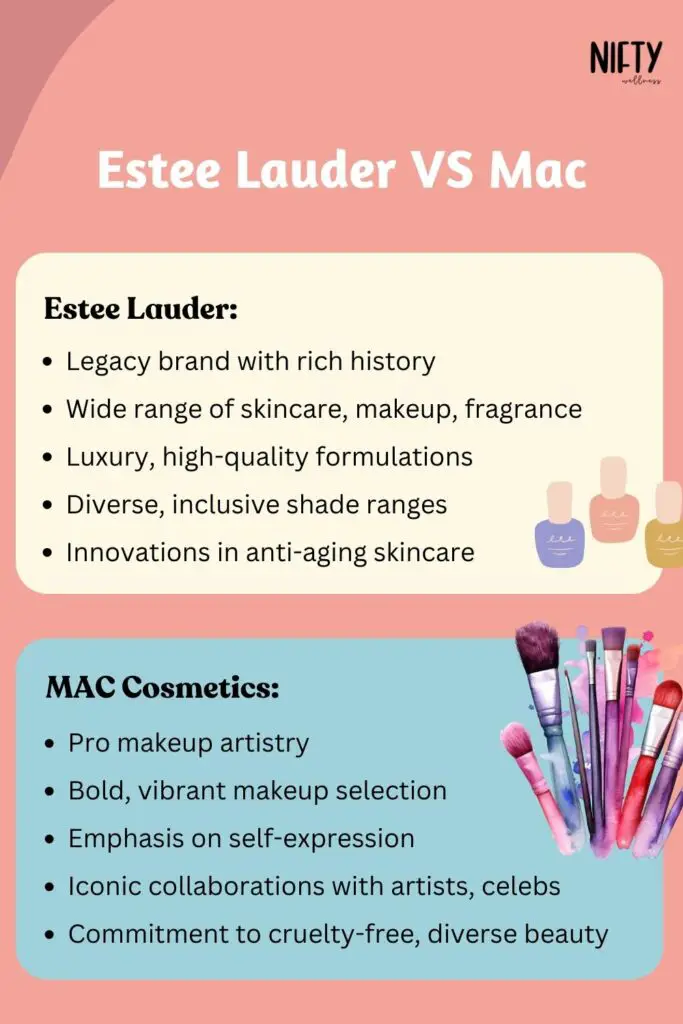 For this comparison, Estee Lauder comes out ahead. Although they're known for skincare and fragrances, in the cosmetic arena, they definitely shine. 
However, because Mac Cosmetics is part of the Estee Lauder group, we can expect to see many new products and options in skincare from Mac. 
Who knows what options we'll have to compare next from these two beauty powerhouses. 
Frequently Asked Questions (FAQs)
Do Estee Lauder products work well with every type of skin?
Most products by Estee Lauder are suitable for all skin types. However, the global beauty label also provides various products tailored to different skin types. Moreover, Estee Lauder also ensures a comprehensive selection of products suitable for sensitive, oily, dry & combination skin to address different skincare concerns. Consulting with a skincare professional can help you find the best Estee Lauder products for your unique skin type.
Does Mac test its products on animals?
No, Mac Cosmetics does not engage in animal testing for their products. As a staunch advocate of cruelty-free practices, Mac Cosmetics is known for its long-standing commitment to them as it actively endorses alternative testing methods.
Consequently, Mac Cosmetics has always been popular among woke consumers who prefer cruelty-free and environmentally responsible products.
Which brand is more budget-friendly, Estee Lauder or Mac?
Mac Cosmetics is generally considered more budget-friendly compared to Estee Lauder. With a wide range of products available at various price points, Mac Cosmetics is known for being accessible to a broader audience. On the other hand, Estee Lauder products are usually at a higher tier to suit its position as a luxury brand. So, if you're looking for makeup options that are kinder to your wallet, Mac might be the preferred choice.
Can I find Estee Lauder and Mac products in my local stores?
Yes, you can typically find Estee Lauder and Mac products in many local stores. Both brands, Estee Lauder and Mac products, are easily available in department stores, makeup stores, and brand retailers across the world. However, the availability of a particular product may vary depending on your location. It is always advised to check with specific stores in your area or visit the brands' official websites to locate nearby retailers.
Are there any ongoing promotions or discounts for Estee Lauder and Mac products?
To find ongoing promotions or discounts for Estee Lauder and Mac products, it's best to check their official websites or visit authorized retailers. Estee Lauder and Mac Cosmetics offer special deals and loyalty programs, especially during the holiday season, for their customers. To stay updated on their latest offers and discounts, subscribe to their newsletters or follow their social media channels to discover the best deals.