The state of our hair sets the tone for our day. A good hair day makes us feel more confident. But, from nutrition to environmental factors, and from color to styling products, our hair goes through a lot. 
Yet, we can't stop ourselves from trying out new color trends and hairstyles. So, picking up the right product for healthy hair is super important. 
But which one do you choose when it comes to Biotera VS Biolage? Well, let's dive into this extensive comparison between the two.
Brief Overview Of Biotera And Biolage
Biotera and Biolage are the two most trusted and well-known professional color treatment ranges. Both are pioneers in the hair industry and have been in the business for decades.
Being reliable and affordable, it's a go-to range for most regular users, even for small-scale salons. Let's take a look at what's inside both of these ranges:
Biotera
Biotera Ultra Color Care is the color-treated hair solution range. This range includes a total of three products; a shampoo and two different types of conditioners. This small range boasts better results in the long run.
The Biotera range also contains natural extracts and infusions from Orchis Mascula which not only helps moisturize the hair but also acts as an antioxidant to avoid damage and keep hair healthy.
This range claims to be sulfate and paraben-free, which is an add-on for color-treated hair. 
Biolage
Biolage Color Last is the complete range of solutions for color-treated hair and problems that may occur after hair color. This range includes shampoos, conditioners, hair masks, and even styling sprays for better results.
Matrix is best-known for using natural extracts in its products. Biolage Color Last range contains natural extracts from orchids that help to restore moisture, shine, and elasticity to the damaged hair.  
This range claims to provide saturation, shine, and vitality to the hair that has been color-treated.
Biolage VS Biotera: Application, Effectiveness & Benefits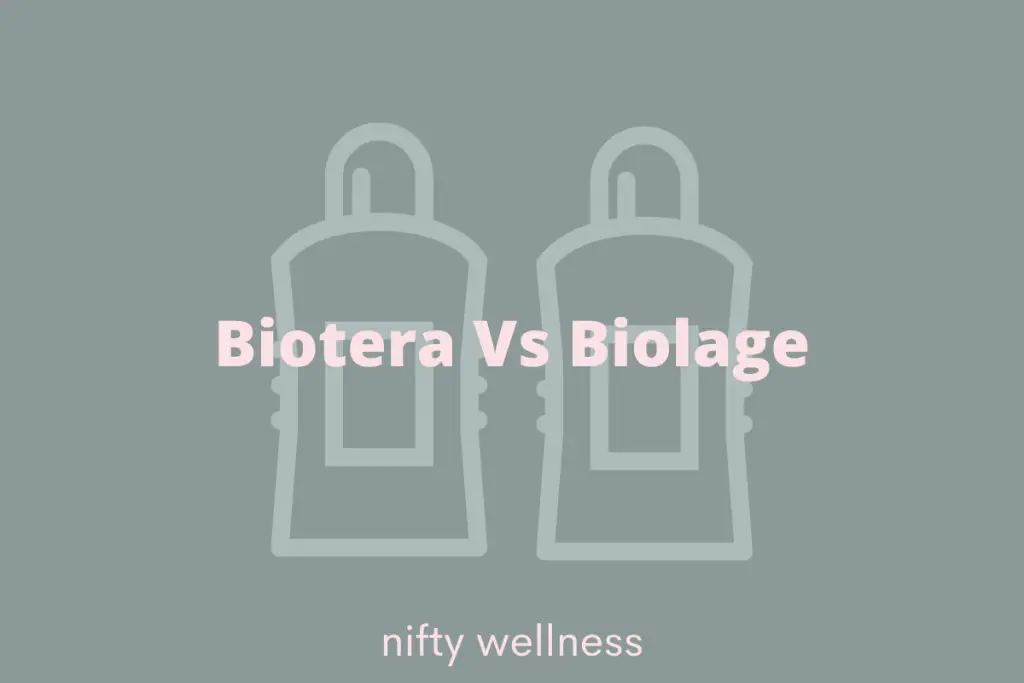 Biotera
Application
Biotera is much like a regular shampoo; however, since it's sulfate-free, it will not be making much foam. Like any other shampoo, though, you will need to wet your hair and apply it gently. 
Let it clear the dirt and sebum from your roots and scalp, then rinse thoroughly. The brand suggests that for better results, you should use a conditioner afterward.
Effectiveness
Being paraben and sulfate-free makes Biotera a gentle choice for color-treated hair. It cleanses the hair without stripping out the natural moisture and also protects the color.
Benefits
This shampoo claims to promote long-term retention of color and keep your hair hydrated and nourished. Hence, it's a good choice for particularly dry hair. 
So, if your hair is damaged due to multiple color treatments or if you have a naturally dry scalp, this product is a good choice for you. It's also great for thin and fine hair.
Biolage
Biolage Color Last by Matrix, as mentioned earlier, is a set of 4 products. Each product has its own function and a different way of application.
Yet, the primary product of this range, and the one that competes with Biotera, is the Biolage Color Last Shampoo. So, I'll go over that.
Application
Like a regular shampoo, the application process of Biolage Color Last shampoo requires wetting your hair and applying the shampoo thoroughly. 
Unlike Biotera, however, this Biolage shampoo makes foam that provides your hair a cushion from damage. 
Since Biolage contains natural extracts, it is advised to let the shampoo work for a couple of minutes before rinsing your hair. The brand suggests following the shampoo with Biolage Color's last conditioner for better results.
Effectiveness 
Biolage Color Last by Matrix has always been a preferred choice by people who regularly color their hair. It is a reliable brand and trusted by customers since forever. 
The shampoo is very effective and gives the hair a vibrant and shiny look with the first wash as the brand promises.
Benefits
Biolage shampoo produces foam as compared to Biotera. The bubbles from the shampoo smoothly lift the dirt and oil from hair and scalp and wash them away with water. This helps to keep your hair shiny and prevent damage.
Biolage Color Last range ensures the best care for your color-treated hair. From hair serums to masks and styling sprays, it has got you covered. 
So, you don't have to worry about finding the products that will work best with your shampoo and conditioner.
Final Verdict
Considering all the previous analyses, we have to say that both of these brands are incredibly good options and worth giving a shot at. But here's the things that differ between them:
Biotera Ultra Color Care is sulfate-free, while Biolage Color Last does contain sulfate, which strips natural oils from hair and scalp. It can irritate a sensitive scalp and cause dryness and itching, ultimately leading to dry and brittle hair.
The Biotera range is way more cost-effective when compared to Biolage. Biotera Ultra Color Care Shampoo's price is around $14, while Biolage Color Last Shampoo's price is around $21 for 1L. 
Biolage is a good choice for an oily and normal scalp as it is paraben-free. At the same time, it's not a suitable option for people with dry hair due to the presence of sulfate. Biotera, on the other hand, is the cheaper option with paraben and sulfate-free properties.
Both of these ranges contain natural extracts and infusions to nourish the hair keep them healthy.
Closing Thoughts
Investing in your hair care may sound super retro, but healthy hair adds to your personality and mood. You should be taking care of your diet and choosing hair products according to your hair type and needs. 
Biolage and Biotera are the ideal ranges for color-treated hair. Biolage has the downside of containing sulfate. 
In comparison, Biotera is an affordable option available with sulfate-free and natural extracts properties. 
I'm sure at this point you can choose the best one for you.