Both Olaplex and Kerastase are world-renowned hair care brands that are recommended by salon professionals to treat hair, keeping it healthy and smooth. They repair the damage caused by styling, extreme climates, and coloring. 
But which brand is the best for your hair? Here's a comparison to help you make the best choice for you. 
Kerastase & Olaplex History
Olaplex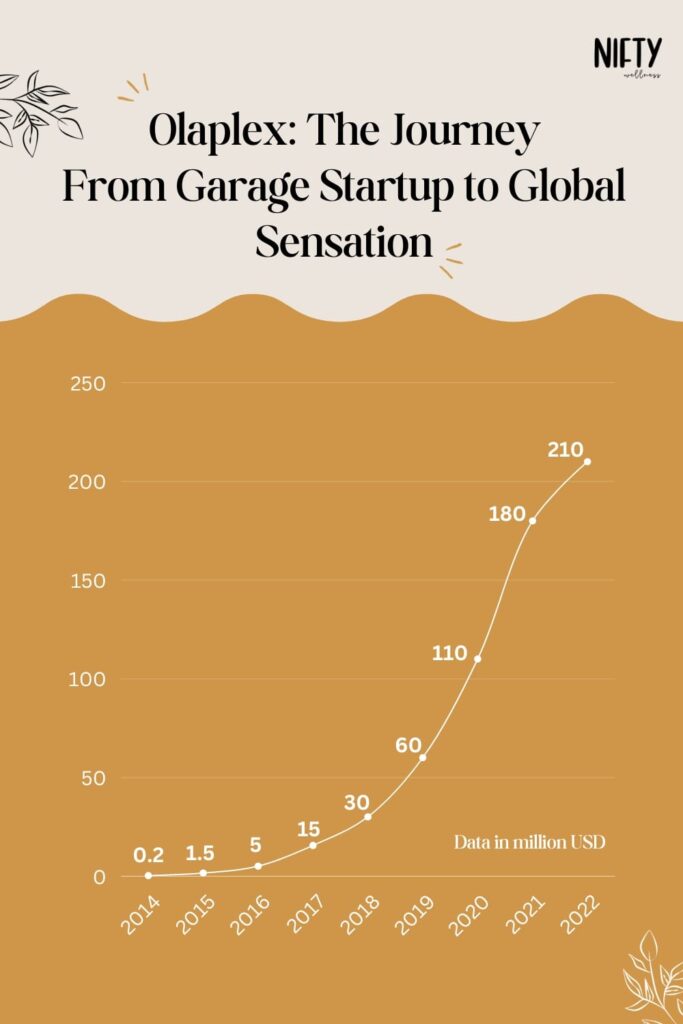 Olaplex is a relatively new brand, starting life in California in 2014 in Dean Christal's garage. Christal was originally a skateboard brand owner, and the brand began life as a cult hair care product with a quirky backstory. 
The brand now operates using a hair care regime made up of 10 individual products for the ultimate hair health and they are sold in over 100 countries worldwide.
The secret ingredient in the Olaplex products is Bis-Aminopropyl Diglycol Dimaleate. It helps to protect and repair hair while also making colors more vibrant and brighter than other coloring products.
It's a product used and recommended by salons. This means a couple of the products can only be used in salons due to their potency. 
Kerastase
The original Kerastase brand was founded in 1964, created by scientists within L'Oréal's advanced research facilities, and founded by Francois Dalle.
The brand grew fastest in Canada where it now operates through 13 different ranges of products which contain a mixture of shampoos, conditioners, primers, serums, and other hair masks and sun protection.
Each range within the Kerastase brand is specifically formulated to resolve a particular hair condition issue, for example, to rehydrate dry hair or to cater to sensitive skin.
They use a scientific approach to hair care, often treating the source of the problem – the scalp, rather than the hair tips. 
Looking for top-notch haircare products? Check out our blog Kerastase VS Aveda: Differences, Similarities & Which One Is Right For You. Our Kerastase vs Aveda guide has you covered.
Kerastase Vs Olaplex General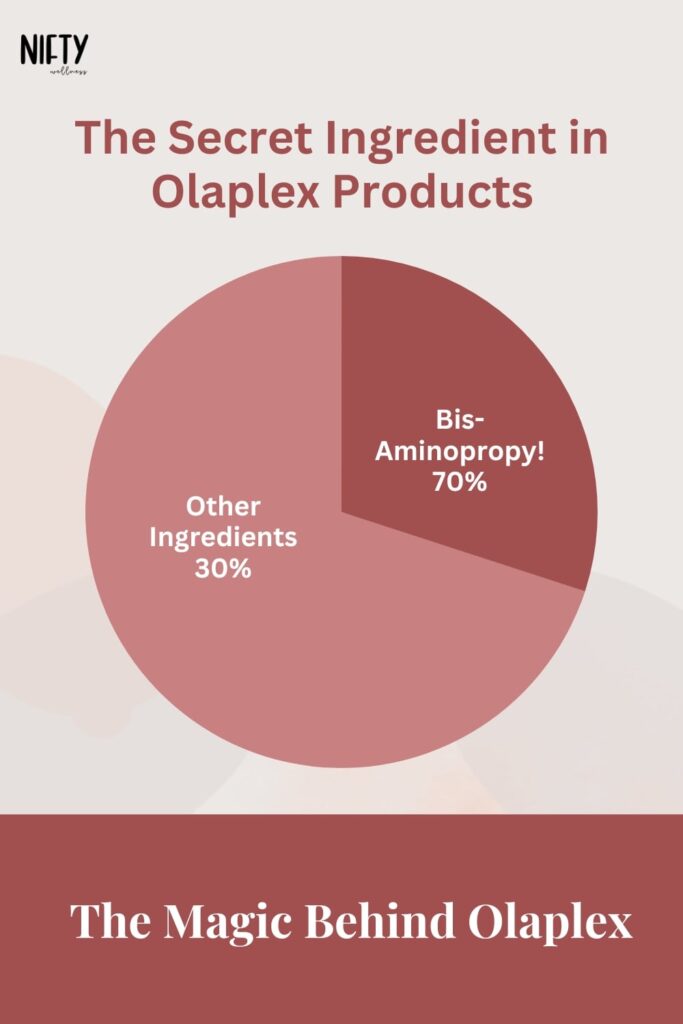 The Olaplex brand is different from other hair care brands as it contains the Bis-Aminopropyl Diglycol Dimaleate molecule which protects and repairs hair from the inside out. 
The main reason for the creation of Olaplex was to support the hair after bleaching. Bleaching products contain lots of harmful chemicals that can make the hair brittle and easily breakable. Olaplex is used in salons to repair this damage for regular hair colorers. 
Kerastase has a range of products that work together to help solve specific hair care problems such as sensitive skin, ageing hair, allergies with other hair care products. 
Kerastase is committed to reducing its carbon footprint. It has redesigned its packaging and utilized the ingredients more efficiently. 
Kerastase Vs Olaplex for Hair Loss
Hair loss is a natural process that happens to both men and women as they age. It's important to look after the hair and the scalp to prevent this process for as long as possible. 
One of the most common causes of hair loss is hair damage from coloring or heat styling. 
The Olaplex No.2 and No.3 are salon-use products only. Their chemical concentration makes them more dangerous to use if you aren't a professional. However, in these products the amino acids and sulfur compounds fuse together to fill in gaps in the keratin which repairs the hairs proteins, making it stronger and less likely to fall out. 
The No.4 and No.5 in the range are also a shampoo and conditioner that help to strengthen the bonds between your hair's roots and your scalp. This means your scalp will be healthier and more resilient to hair loss. 
Kerastase's Bain Densite range incorporates four products including shampoo, hair mask, density activator and mousse which are specifically designed to combat hair loss.
It awakens the hair follicles and thickens the proteins in the hair to give it more texture and volume. The shampoo also treats the scalp to remove any dead cells and improve the skin's health.
This stimulates faster hair growth from the root.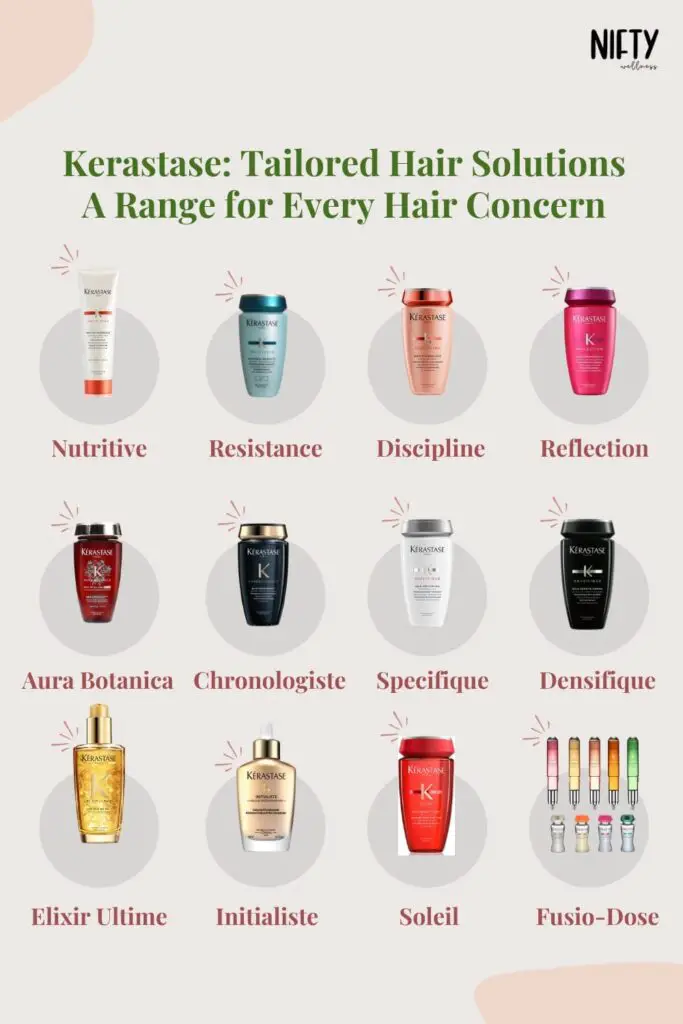 Similarities
Both the Olaplex and Kerastase work to fill any gaps in the proteins where hair has broken. This can strengthen the hair, creating a seal to lock in moisture and give the hair more volume. 
Differences
While Olaplex is a good, all-around care package for your hair and can make your hair look fuller, it doesn't cater to the root of the problem.
The Kerastase range is specifically designed to treat the roots and scalp and remove dead skin cells to promote healthier growth. 
Verdict
Kerastase is the clear winner when you're looking for a solution to thinning hair.
It gets right to the root of the problem to give you healthier skin and encourage new hair growth, whilst simultaneously providing a thicker effect to the existing hair.
This helps to future-proof the problem and keep your hair looking fuller for longer. 
Check out our blog Kerastase vs Pureology: Differences, Similarities & Which One Is Right For You. Enter the world of haircare giants, where Kerastase and Pureology stand tall, ready to transform your tresses.
Kerastase Vs Olaplex for Fine Hair
Olaplex offer a No.1, No.2 and No.3 treatment schedule to help with thin and breakable hair.
The No.1 Bond Multiplier helps to prepare hair for treatment, setting up a barrier to protect it from chemicals or styling.
The No.2 Bond Protector works to eliminate breakages, giving your hair strength all the way to the tips and the No.3 Pre-wash Treatment works its magic within 10 minutes, repairing breakages and giving your hair a fuller appearance. 
The Kerastase Densifique Bain Densite Bodifying Shampoo aims to add density to the hair.
It's enriched with Stemoxydine molecules that thicken the hair from root to tip and create a barrier to lock in moisture to keep it looking and feeling fuller. 
Similarities
Both Kerastase and Olaplex aim to strengthen hair and prevent breakages where possible to give hair a smoother appearance and allow for a longer length.
They also help to give a little volume to the hair by repairing damage where proteins have been lost so it's easier to style.
Differences
One of the main differences between these two brands is that Olaplex is only available for salon treatment. Because it's a more concentrated formula, you won't be able to do this at home. 
The Kerastase can be used at home, but because it's a standard shampoo product, you will need to use it more often as it's not as concentrated. 
The Kerastase, for this reason, is significantly cheaper than the Olaplex when it comes to thickening up your hair. 
The Olaplex option is designed specifically to restore bonds in the hair and keep it thick and healthy. It's even marketed for thinner hair types for this reason.
On the other hand, the Kerastase is marketed for all hair types as it improves the overall condition of the hair, reducing fizziness and repairing bonds, but it's not designed specifically for thickening. 
Verdict
If you are looking to thicken up your hair and have money to spend on this, then the Olaplex product is the way to go.
However, Kerastase is also great for your hair and will likely improve the condition of fine hair. However, if it's thickening you're after, then Kerastase will probably take much longer to show any results.
It focuses on the root of the problem, which is great, but this might mean you have to wait a few weeks to see any change.
The Olaplex provides a thicker and fuller appearance after the first in-salon treatment.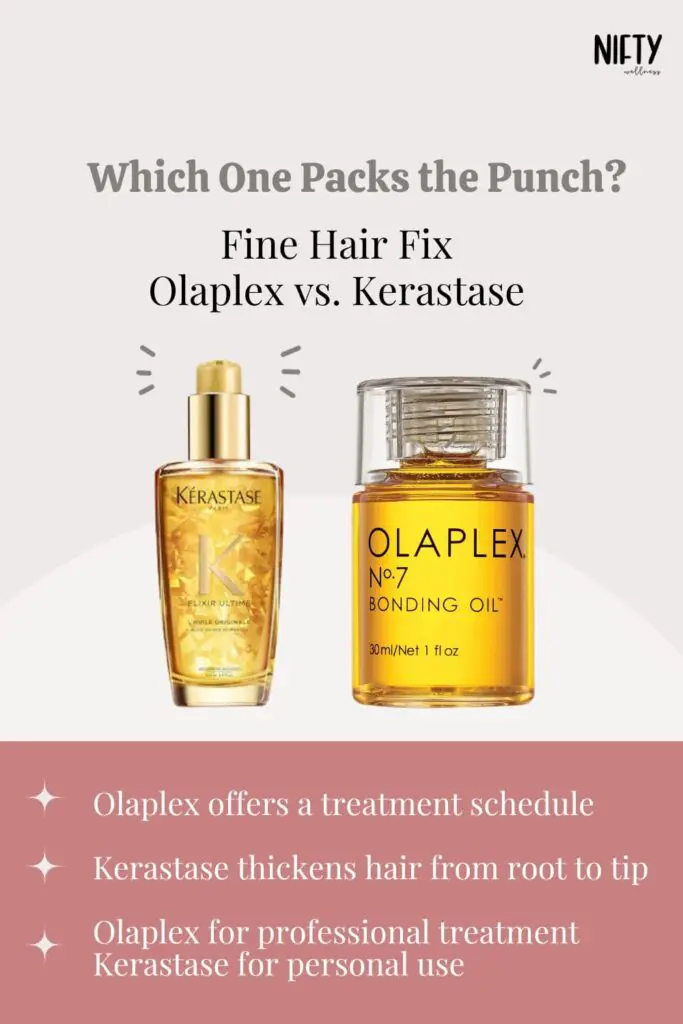 Kerastase Vs Olaplex Serums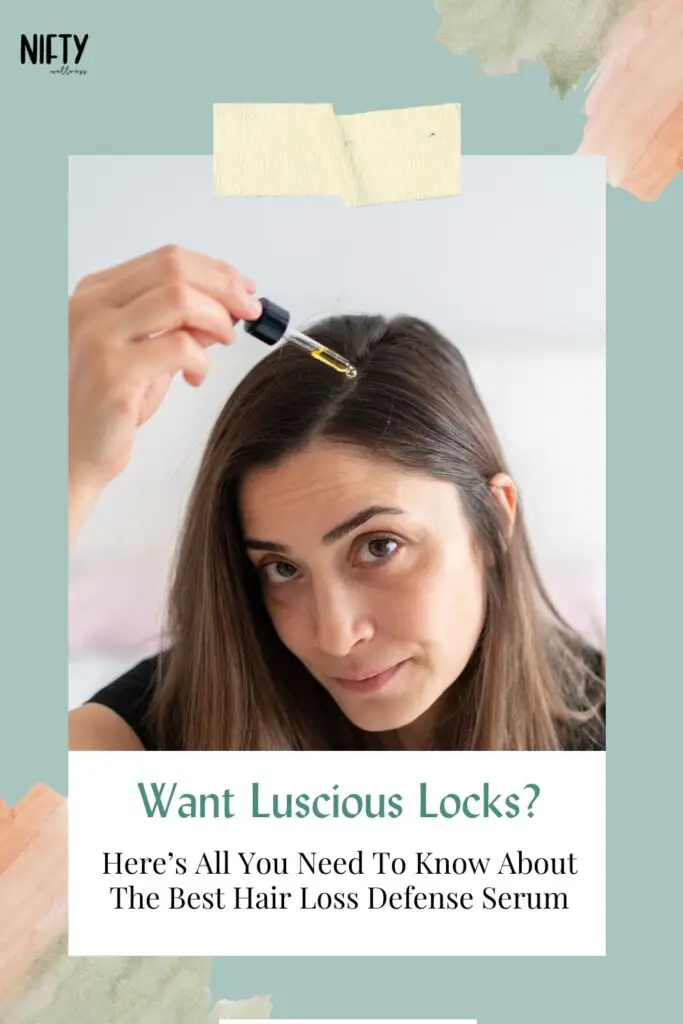 Hair serums are often used after washing damp hair, before styling to protect the hair and maintain the sleek appearance, even after a blow-dry.
They can also be run through the hair after styling to keep the frizz away. 
Olaplex offers the No.7 Bonding Oil at around $30 per bottle. It earned the 'Best Smoothing Hair Growth Oil' award from Good Housekeeping.
The Kerastase Elixir Ultime Oil Serum is slightly cheaper at $26 for the same size and leaves a smooth texture on the hair without making it oily – even on fine hair. 
Similarities
Both serums can be used on the hair at any time throughout the treatment process and are recommended for dry or damaged hair.
They form a protective barrier around the hair to lock in the moisture and help to protect hair from damaging curling or straightening irons. 
Both products also have a great scent that lasts for hours after use, so you'll be left feeling fresh all day. 
Differences
The Olaplex product also operates as a heat protector which can protect the hair from temperatures up to 230 Celsius. It's known for being the oiler of the two products, meaning you only need a small amount to get the effect you want.
That's a good job though, as it's much more money than the Kerastase, so is recommended more for salon use. 
The Kerastase will require a little more of the product to keep the hair protected, but it's excellent for frizzy or dry hair types and aims to repair the hair as well as protect it from outside damage.
It's also a substantially cheaper, home use option. The product recommends leaving in overnight before styling to get maximum effects.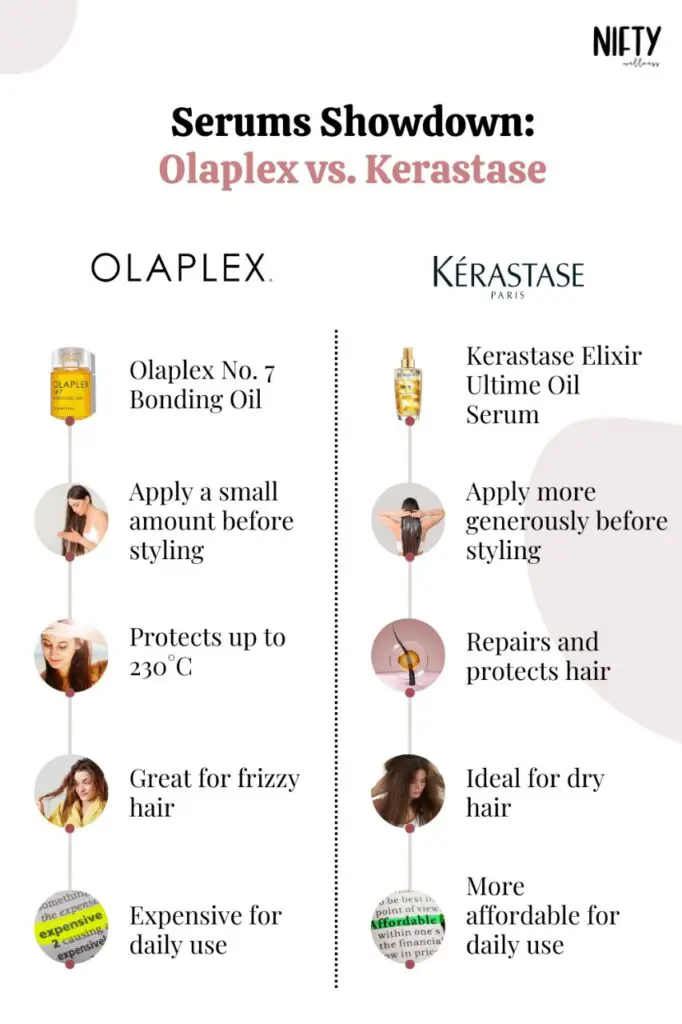 Verdict
Overall, the Olaplex does go that extra mile to protect the hair and is great if you suffer from frizz. However, it can be quite expensive to use this daily. 
The Kerastase is a suitable alternative that doesn't need to be used as sparingly and it's the product that most people opt for if they're looking for everyday use.
It has a great scent and feels amazing if you pop a little on the hairbrush and comb through. It's recommended that you also use a heat protection spray alongside this when styling. 
Conclusion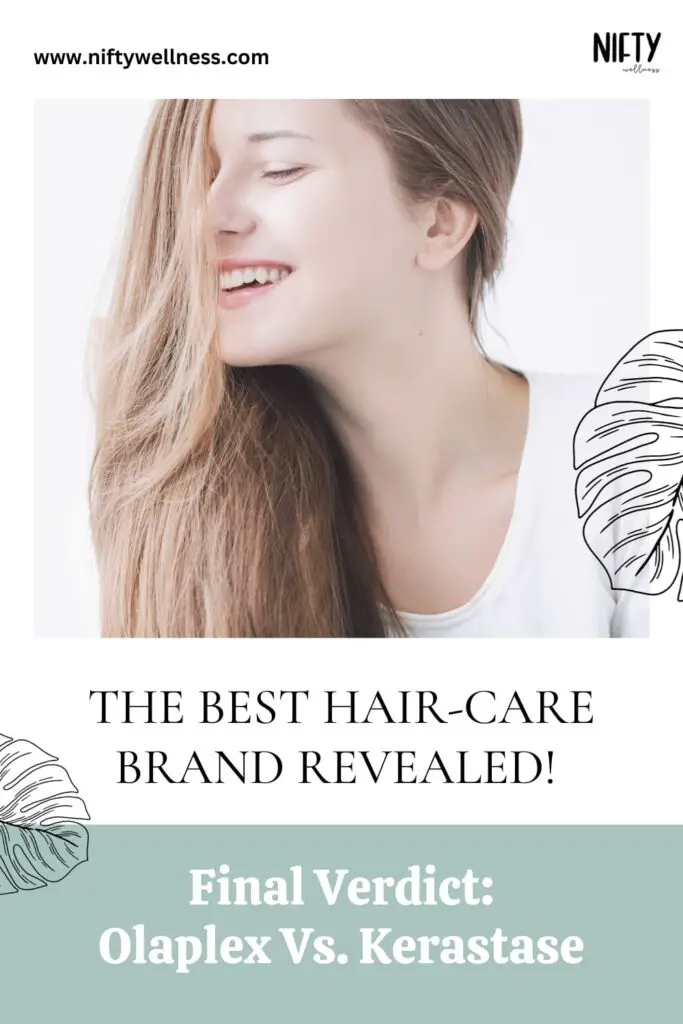 Overall, Olaplex is the best fit for dry or damaged hair. It helps to replace and repair the proteins in your hair strands to stop breakages and makes your hair smoother and younger-looking.
It's also known for providing more instantaneous results in comparison to the Kerastase brand, which takes a few weeks to show the benefits.
For normal or dry hair types, Olaplex is the way to go, but keep in mind that it is slightly more expensive and some of the Olaplex products can only be used in salons. 
Kerastase, on the other hand, offers solutions for specific problems in hair care.
If you have sensitive skin or are prone to allergies, the Kerastase hair care regime can cater to your specific needs and help to repair your skin and hair simultaneously to promote healthier hair growth. 
Frequently Asked Questions (FAQs)
Can I use Kerastase and Olaplex products together?
Yes, you can use Kerastase and Olaplex products together. Having said that, it is important to note that following a structured hair care routine is also necessary. While Kerastase focuses on luxurious hair care, Olaplex repairs damaged hair. Depending on your hair needs, incorporating both can provide comprehensive care.
Are Kerastase products suitable for all hair types?
Kerastase has a wide selection of hair products that are made to meet the unique needs of different hair types. Whether your hair is normal, dry, damaged, curly, or color-treated, Kerastase has a solution. So the answer to this question is yes, Kerastase products are suitable for all hair types. They are dedicated in delivering the best solution to cater to all kinds of hair problems.
Does Olaplex No. 3 Hair Perfector really work?
Known for its efficacy, Olaplex No. 3 Hair Perfector is said to be effective in repairing and strengthening damaged hair. Multiple positive reviews and good results point towards the goodness of this product. People have felt smoother and healthier hair after using Olaplex No. 3 Hair Perfector. Individual results may differ, so it is best to follow the instructions for the best result.
Can Olaplex products be used on colour-treated hair?
Yes, Olaplex products are safe and effective for use on colour-treated hair. They are known for their ability to repair and strengthen hair that has undergone colouring processes. Olaplex helps maintain the health and vibrancy of your coloured hair, making it a popular choice among those with colour-treated locks. It's a trusted option to keep your hair looking its best while preserving colour longevity.
Where can I purchase Kerastase and Olaplex products?
You can purchase Kerastase and Olaplex products from various sources. They are available in many salons, beauty supply stores, and online retailers. Popular online platforms like Amazon, Sephora, and the official websites of both brands are convenient options for buying these products. Additionally, you may find them at authorized brick-and-mortar salons and beauty shops. Be sure to check for authorized retailers to ensure the authenticity of the products.