Kerastase and Aveda have been around for many years with high-quality hair care products for their customers. But, which one comes out on top?
Which brand controls frizz better between the two brands? Which brand has the best moisturizer? Which products work best for colored hair? What are the similarities and differences between the two brands? 
Read on to discover the answers to these questions and more
Kerastase VS Aveda Shampoo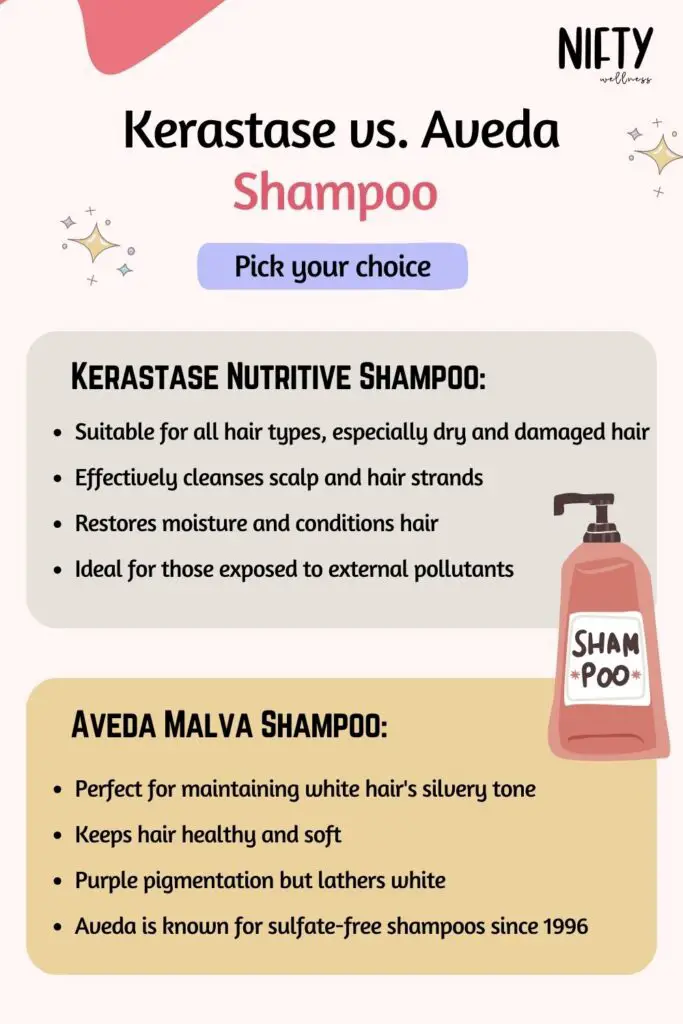 Some of the best shampoos in the world don't always lather, but they do clean your hair. Dirt and debris in your hair can lead to diseases, damaged and unhealthy hair. 
Finding a brand that has great shampooing products works well for daily hair care treatment. 
Kerastase Nutritive Shampoo is good for all hair types, including normal, dry hair, needs conditioning and repair from damaging curling irons, color treatments, relaxers, and lack of moisture. 
The shampoo is created to clean your scalp and hair strands from the accumulated dirt and debris from outside particles in the air at home or people putting their hands in your hair that can leave bacteria. 
Aveda Malvo Shampoo is great for white hair. The shampoo helps to maintain your hair's silvery tone and keeps your tresses healthy and soft. 
Despite having purple pigmentation, the shampoo lathers up white. Aveda has offered sulfate-free shampoos since 1996 and currently has 5 shampoos without sulfates. 
Check out our blog Kerastase vs Pureology: Differences, Similarities & Which One Is Right For You to explore the best products and tips for your hair needs.
Kerastase VS Aveda Frizz Control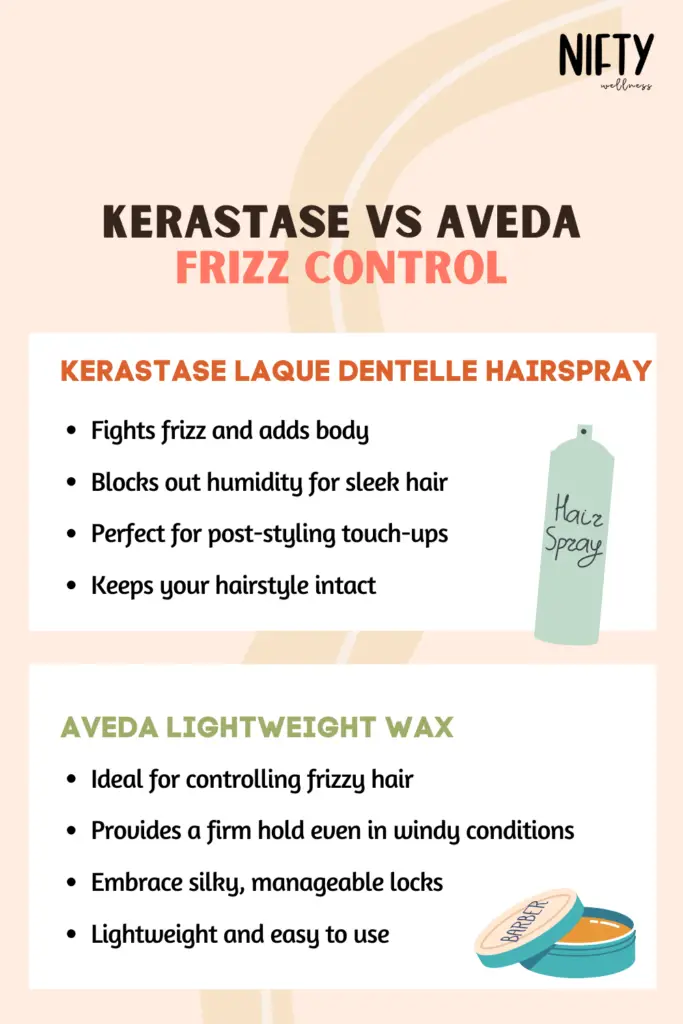 When there is a lot of humidity in the air, it can lead to hair frizzing. Your hair will crinkle up, become weak and break off with a simple touch of your fingers. 
You need to find a system that helps keep your hair naturally moisturized and control hair frizzing. 
Kerastase Laque Dentelle Hairspray is a great way to control your hair, add body, and block out humidity and frizz. This product works well after using a flat iron or curling iron because it helps to hold your hair in place. 
Aveda is an extraordinary brand that offers its customers the best in hair and skin products. It offers a lightweight wax product that is good for frizzy hair. 
It works to hold your hair in place even in the windiest of weather and stops frizzing in your hair. 
Kerastase VS Aveda Moisturizers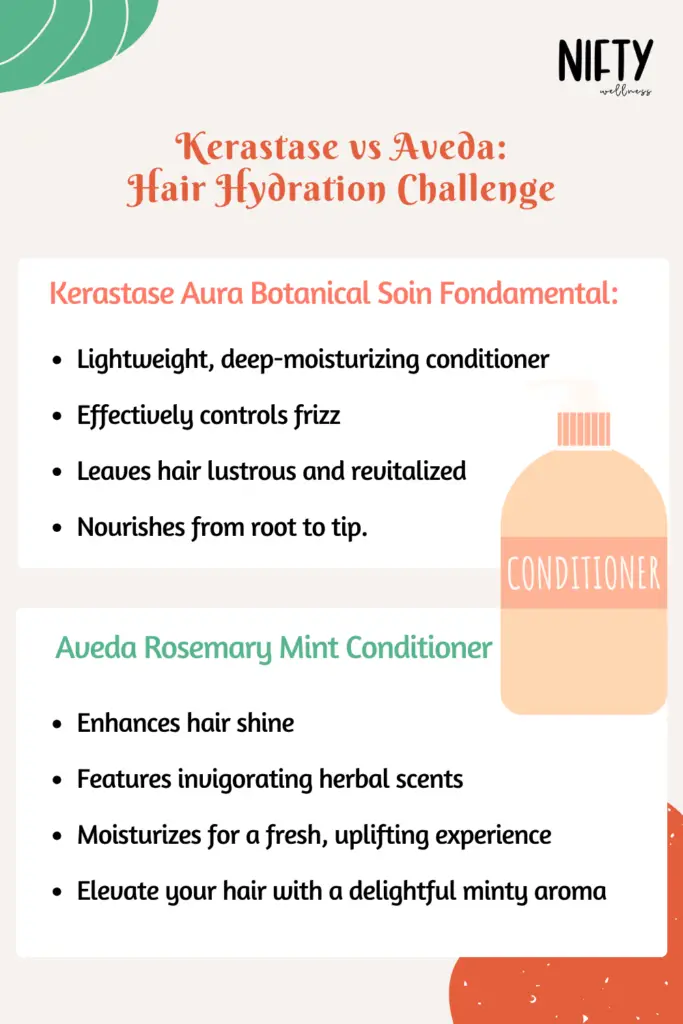 Moisture is important for healthy hair because it keeps your hair from becoming dry and brittle and falling out. 
A product must have great moisturizers to help you with this problem. Moisturizers take away the lackluster shine that you want in your hair. It will keep your hair strong from the root to the tip. 
Kerastase Aura Botanical Soin Fondamental is a lightweight conditioner that melts deep within the hair fibers to moisturize and de-frizz unruly locks of hair. 
The conditioner will never leave an oily or sticky residue but will leave your hair looking lustrous and revitalized. It is created by the Kerastase brand to add shine to dull and lifeless hair. 
Aveda Rosemary Mint Conditioner is developed to give your hair a beautiful shine while leaving a fresh scent of vinegar, herbal scents and moisturizers. 
Read our blog Redken vs Kerastase Shampoos & Conditioners: The Ultimate Breakdown. Dive into our expert comparison and find out which brand suits your needs best.
Kerastase VS Aveda For Colored Hair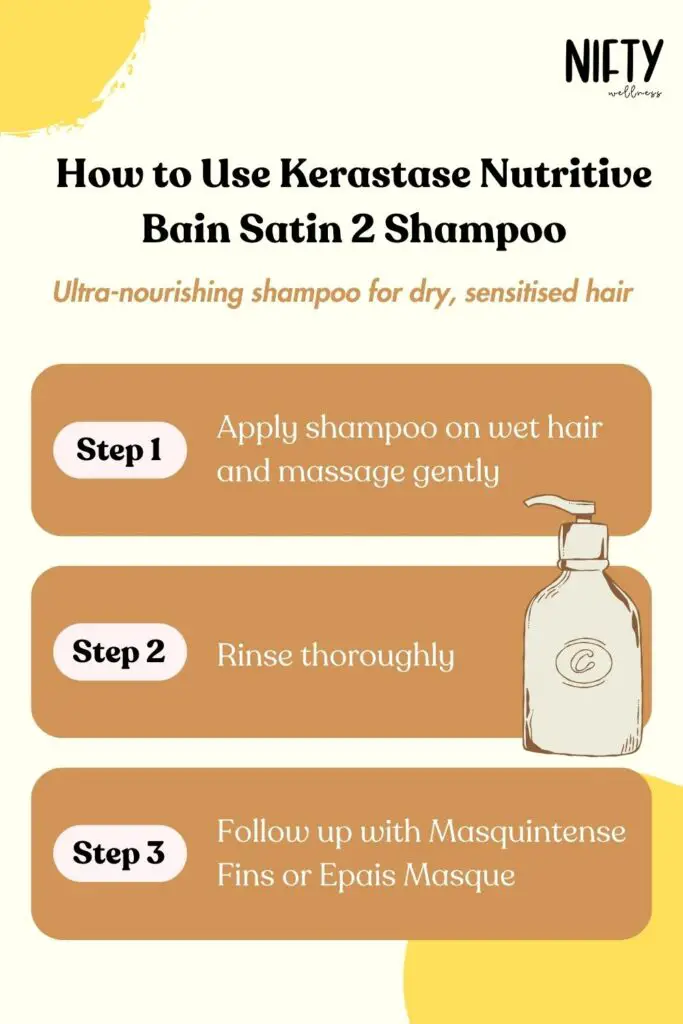 Finding a product that is made for color-treated hair can be challenging. A shampoo must be able to thoroughly clean your hair, take away dirt and oils without stripping away your hair's color. 
Kerastase Bain Chromatique Shampoo gives your color-treated hair the natural luster and shine it deserves. The shampoo maintains your hair color while removing all dirt and debris to bring about a clean head of hair. 
Aveda offers a range of color-treated hair shampoos for all types of hair. Color Conserve is a color-treated shampoo with a plant-infused blend that cleans your hair without stripping its color. 
After all, the best color-treated shampoo is the one that is specifically made for your hair type or color. 
Kerastase VS Aveda For All Hair Types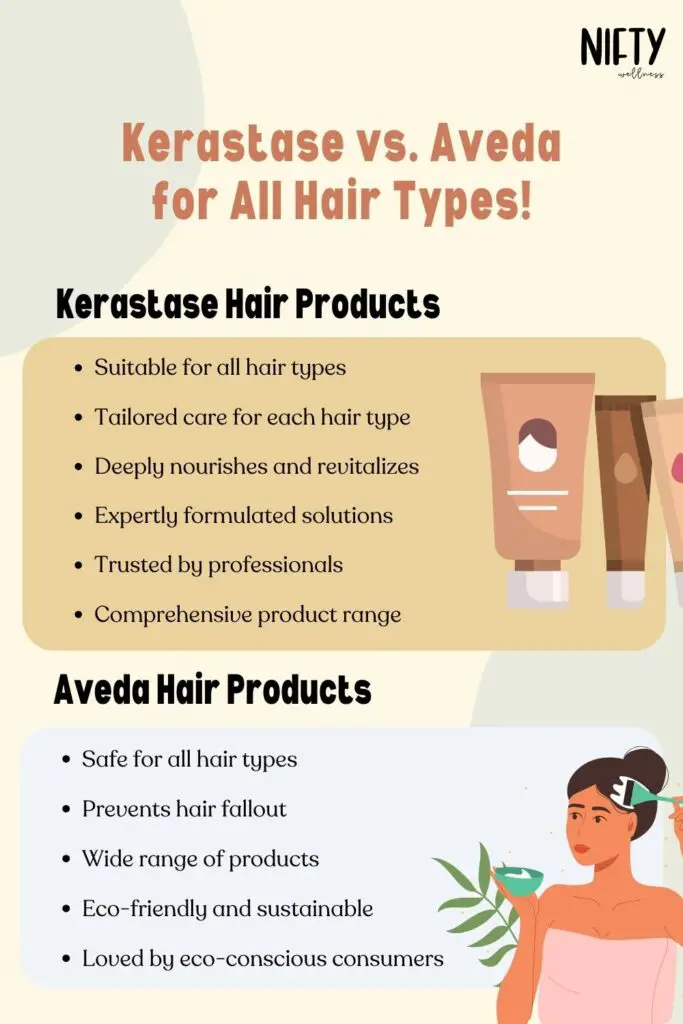 A great brand has products for all hair types. Shampoos and conditioners must be developed for relaxed, color-treated, long, fine, thick, dry, frizzy, normal, and all hair types. 
The right blend must be infused into each shampoo for a specific hair type. Some brands formulate one shampoo for all hair types, while some offer a range of shampoos and conditioners for a particular hair type. 
Kerastase Nutritive Shampoo is created to take care of all hair types. It is one formula and one shampoo that can be used no matter your type of hair. 
Use the shampoo on curly, thick, fine, normal, dry, damaged, relaxed, and color-treated hair, and watch the shampoo give your hair the best cleansing it has ever had. 
Aveda products are chemical and paraben-free, making them suitable for all hair types. In addition to working well for all hair types, their products are also great for preventing hair fallout. 
Kerastase VS Aveda For Hair Fall Out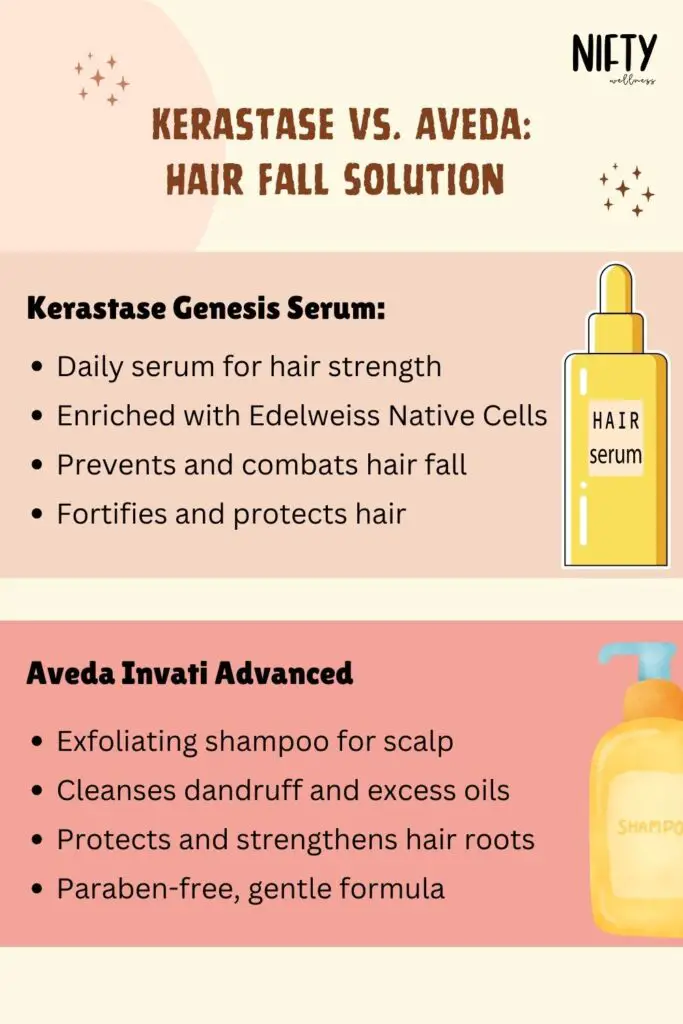 Maintaining a healthy head of hair can be difficult. Constant shampooing, daily use of curling irons, daily brushing and combing your hair, color treating, relaxing all lend a way to damaged and lifeless hair. 
Hair fall out can be embarrassing when you are in public and look down to see a lump of hair on the ground. You need to find a brand that works well for you to prevent hair fall out. 
Kerastase Genesis Serum Fortifiant Anti-Chute is a daily anti-hair fall fortifying serum enriched with Edelweiss Native Cells, ginger root, and Aminexil that work together to strengthen your hair and keep your hair your hair from falling out. 
Aveda Invati Advanced Solutions exfoliating shampoo is a new product from the brand that is created to cleanse the hair from dandruff and excess oils on your scalp that can lead to damaged roots and hair fall out. 
All Aveda products are paraben-free, which works well for hair damaged and falling out. 
Kerastase VS Aveda Natural Ingredients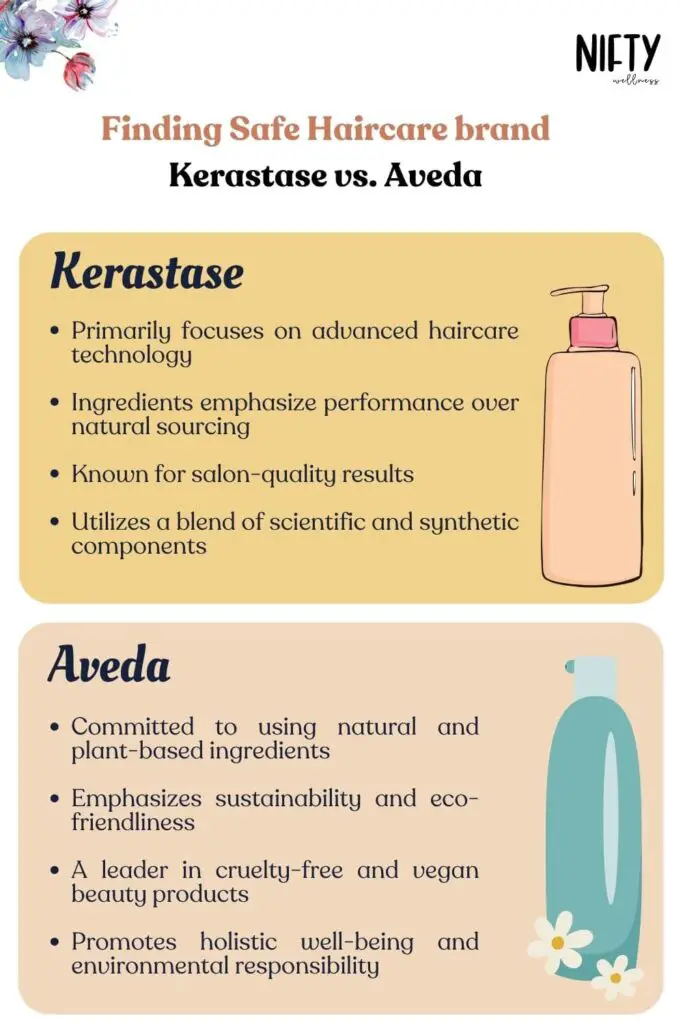 Natural ingredients are important for people who want to stay away from chemicals and toxins that could damage your hair and have dangerous side effects. 
There are many brands that do not use natural ingredients but are federally approved to be safe.
Kerastase does not use natural ingredients in its products, nor does it claim to use natural ingredients. What Kerastase representatives do say is that the ingredients used in their products are safe for consumers. 
Aveda products are created using natural ingredients. Their products are 100% vegan. The brand also uses recyclable and post-consumer plastic for its packaging. Aveda products are of high quality, 
The Aveda hair dye does not allow hair color fading. It is 96% derived from natural ingredients. The dye is made from natural ingredients like jojoba oil, castor oil and sunflowers. 
The Similarities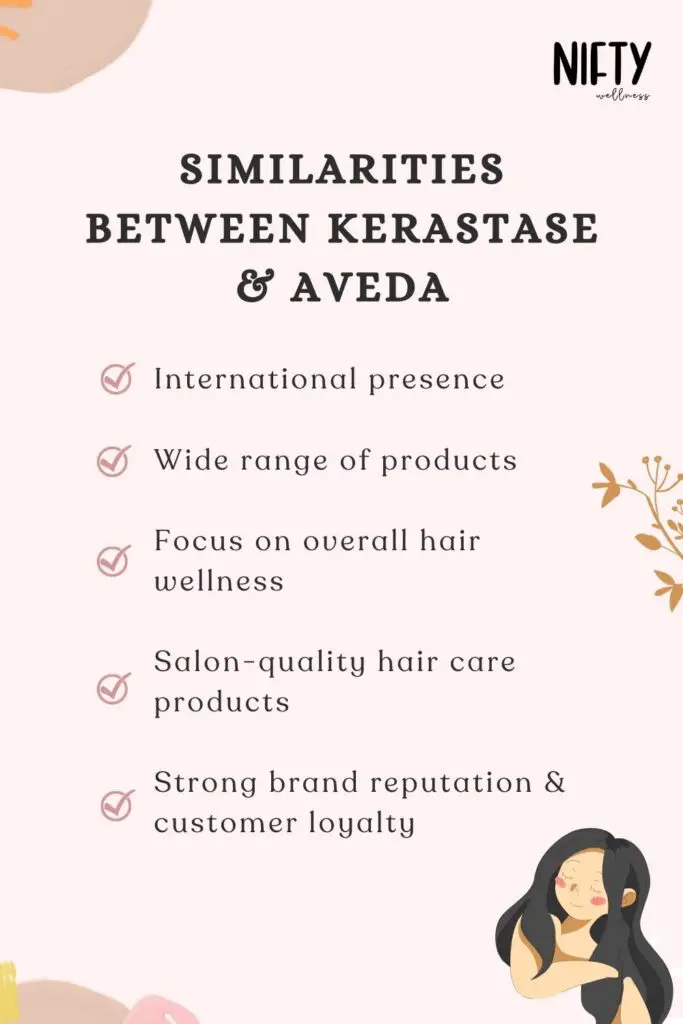 Kerastase and Aveda have some of the best hair care products in the world. They both have products that work on all types of hair. 
They both have products that work well with frizzing hair, color-treated hair and offer great moisturizers. Both brands have products that work on hair fallout. 
The Differences
Kerastase and Aveda's main differences are that Kerastase does not use natural ingredients. Aveda uses vegan natural ingredients in their products. 
Their hair dyes are also made up of natural ingredients like jojoba oil, castor oil, and sunflowers. 
Conclusion
Now that you know more about Kerastase and Aveda products, there may be a shampoo, conditioner, hair dye or other product for your type of hair. 
Both brands have products that work on frizzing, damaged, color treated, dry hair. Both brands have products that work on hair fall out. But, which one is right for you? You know best.
Frequently Asked Questions (FAQs)
Do Kerastase and Aveda test their products on animals?
Aveda proudly adheres to cruelty-free standards, ensuring that none of its ingredients or products undergo animal testing. They fully meet the Cruelty-Free Checklist. However, Kerastase, a brand owned by L'Oréal, doesn't align with cruelty-free practices. Kerastase products may be subject to testing, either directly, through suppliers, or via third parties, making them incompatible with cruelty-free criteria. L'Oréal, the parent company, also lacks cruelty-free certification.
Are Aveda products really worth it?
Famous for using natural and eco-friendly ingredients, Aveda often receives positive reviews and loyalty from customers. Additionally, a lot of users also appreciate the effectiveness of its products as well. However, whether they are "worth it" can depend on individual preferences and budget considerations. It's advisable to read reviews, consider your values, and conduct a patch test when trying new products to determine if they align with your expectations and skin/hair type.
Do celebrities use Kerastase?
Kerastase is a well-known and respected brand in the beauty industry. From Hollywood stars like Jennifer Aniston, Hillary Duff & Emily Ratajkowski to Bollywood Divas like Sonam Kapoor Ahuja, Kareena Kapoor & Shilpa Shetty, many celebrities and hairstylists swear by Kerastase. Some celebs have publicly endorsed Kerastase, while others are known for using Kerastase products in their hair care routine.
Can I find Kerastase and Aveda products in local stores?
You can typically find Kerastase and Aveda products at numerous local beauty supply stores, upscale salons, and department stores. Both brands have established a wide distribution network, making finding their products in physical retail locations relatively easy. However, the availability may vary depending on your location, so you should check with local stores or their official websites to find specific retailers near you.
Are there any special considerations for sensitive scalps when using these brands?
When dealing with a sensitive scalp, choosing gentle formulations from Kerastase and Aveda is crucial. Opt for products labelled as hypoallergenic or designed for sensitive scalps, as they tend to be milder and less likely to irritate. Avoid harsh chemicals and opt for natural, soothing ingredients. Limit hair washing frequency, apply products gently, and ensure thorough rinsing. If sensitivity persists, consult a dermatologist for personalized advice and to rule out any underlying scalp conditions.