Finding a product that will help keep your skin healthy, protected moisturized, and looking young can be a mammoth task.
This is because everyone has a slightly different pH balance to their skin and it can be tricky to find one that keeps it clear, oil-free, and moisturized all at the same time. 
Dove and Nivea are two long-standing brands that aim to cater to all skin types and provide a one-size-fits-all formula to keep your skin at its best.
But which one is best for your skin? Let's take a look. 
Nivea & Dove History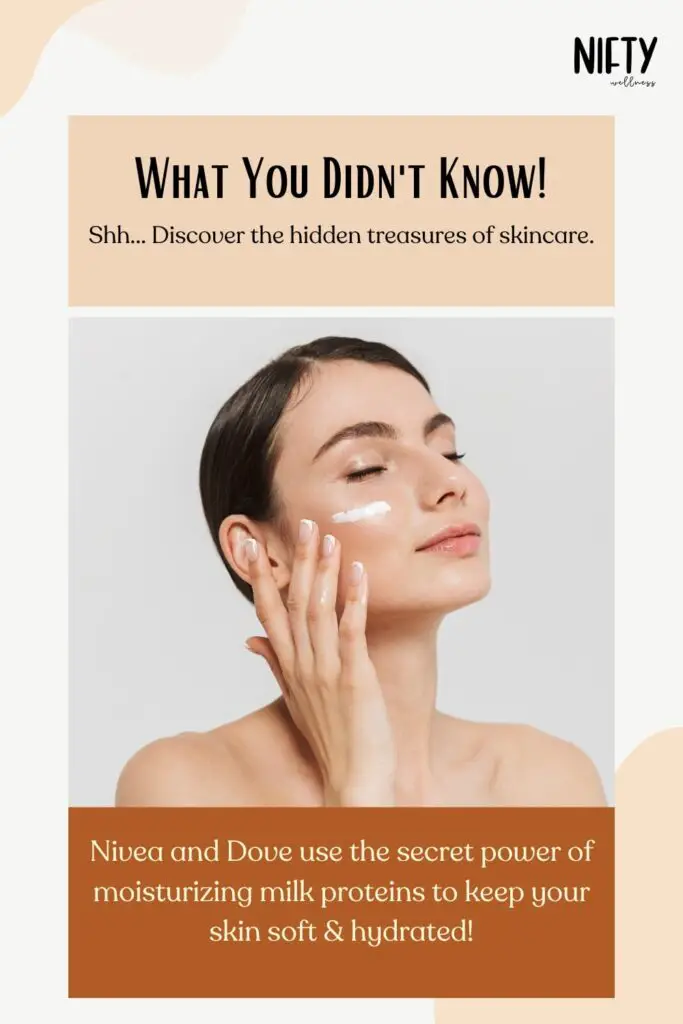 Dove
Dove was originally an American skincare brand that catered for all types of skin across men, women, and even babies.
However, in 1957 Vincent Lambert was granted the original patents for many of the products which are now owned by the British consumer goods company Unilever. 
Their original soap bar products soon branched out into deodorants, antiperspirants, body washes, and even shampoos and conditioners. All of these products are now sold globally in 150 countries. 
Read our blog Dove VS Olay: Differences, Similarities & Which One Is Right For You. Explore the Dove vs Olay dilemma and find your perfect skincare match.
Nivea
The Nivea brand is one of the oldest skincare brands that are still available today. The original product, "NIX" was developed all the way back in 1911 in Hamburg.
The cream was a moisturizer that combined natural oils and emulsifiers to create a white cream to nourish the skin. It was used to treat rashes and hard or red skin.
The name "Nivea" came from this original product as it literally means "Snow White" – the color of the product. 
All of Nivea's products today maintain this same coloring and even their branding remains a pristine white and blue combination. 
The 1950s saw the Nivea brand branch out into other products such as sunblock and deodorant and the brand remains popular across the world today. 
There is a lot of debate regarding the question, "Is Nivea cruelty free?" While the company claims to be cruelty-free as it does not test any of its products or ingredients on animals, PETA and other animal rights organizations disagree on this.
Dove Vs Nivea General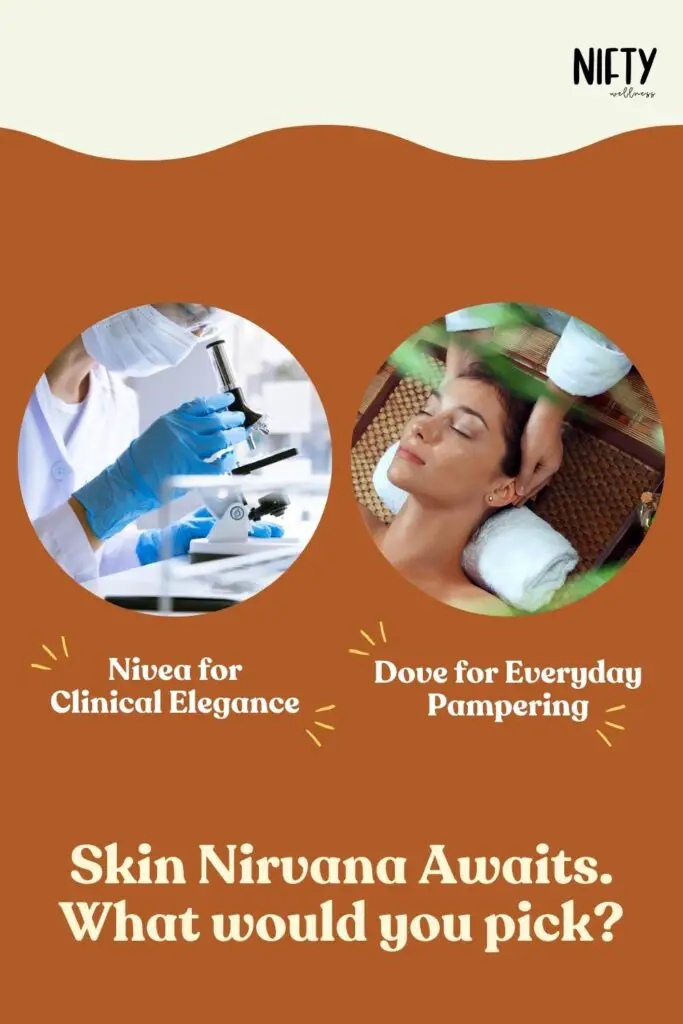 Nivea now has over 500 products on the market.
Dove has recently launched a campaign to help women feel confident in their own beauty stating that they aim to "create a world where beauty is the source of confidence not anxiety."
The standard Dove beauty bar soap is the most purchased bar of soap in the world.
In 2014 Nivea launched the first ever range of invisible deodorants which don't show white marks on clothing. 
Dove Vs Nivea Body Lotion for Dry or Itchy Skin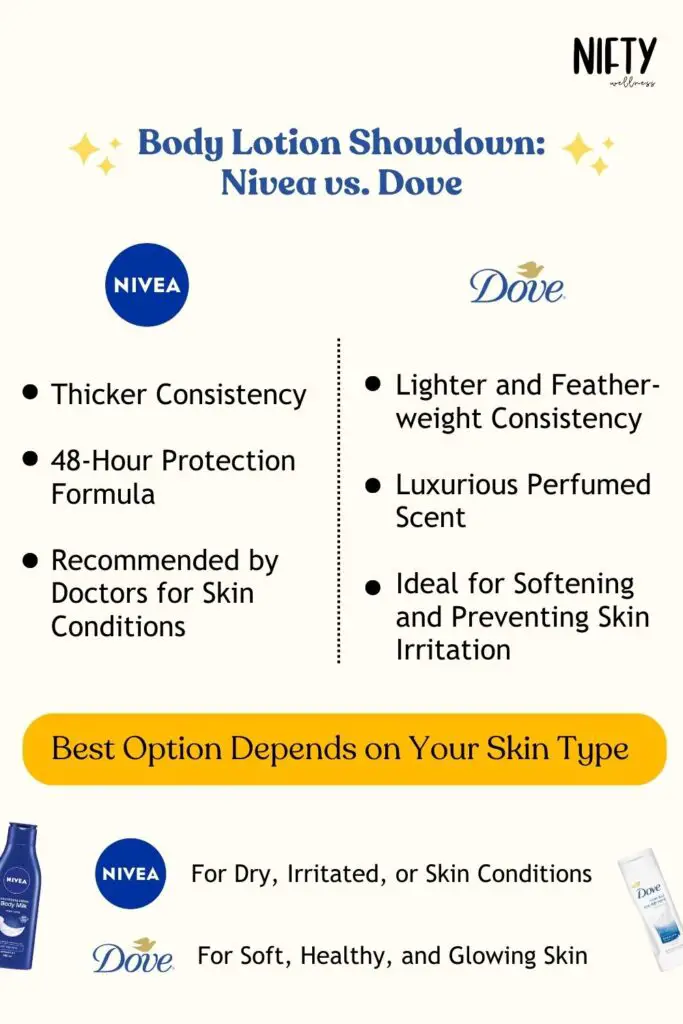 If you have problematic skin, it's essential that you find a product that's great for everyday use and isn't too expensive. Both Nivea and Dove fit the bill. But which is best for you? 
Nivea's Essentially Enriched Body Lotion is a thick white lotion designed to give extra moisture to areas that need it. It supports the skin's hydration and offers 48-hour protection from moisture loss. 
Dove's Cream oil Intensive Body Lotion works to improve the skin's texture and skin tone, giving you a smoother surface and softer, more supple skin. 
Similarities
Both lotions are made for daily use all over the body. They can also be used as hand and foot cream to get rid of those really dry or hard skin areas. 
Both products are unisex and can be used regardless of age. Both are lightly scented, but the perfume isn't so much that it can cause skin irritation on most skin types. This means they're both usually fine to use on sensitive skin or skin that's prone to allergies. 
Differences
The consistency of the Nivea is quite thick and can take a while to rub into the skin to get rid of all the white spots. This is because of the 48-hour protection formula.
It means that it takes a little extra effort to rub in than the Dove. The Dove equivalent has a lighter and more feather-weight consistency, but it can last for longer without having the re-apply. 
The Dove product has a slightly more perfumed scent, whereas the Nivea is more clinical.
If you visited a doctor for a skin complaint, they would be most likely to recommend the Nivea for this reason, as it has fewer ingredients that could intensify a skin reaction. 
For this reason, the Nivea product may be a better option if you already have a skin condition. Whereas Dove is more of a luxury product to moisturize and prevent skin irritation from occurring. 
Verdict
The best option for you entirely depends on your skin type.
If you have particularly dry skin that's prone to irritation, or a skin condition such as eczema or psoriasis, then the Nivea body lotion would be the better option to breathe a bit of life back into your skin and clear up the problem. 
However, if you're looking for a preventative measure to help keep your skin feeling soft and give it a healthy glow, then Dove can provide that extra touch for you. 
Check out our blog Dove VS Pantene: Differences, Similarities & Which One Is Right For You. Explore our detailed review to decide which one deserves a place in your skin care and hair care routine.
Dove Vs Nivea Deodorant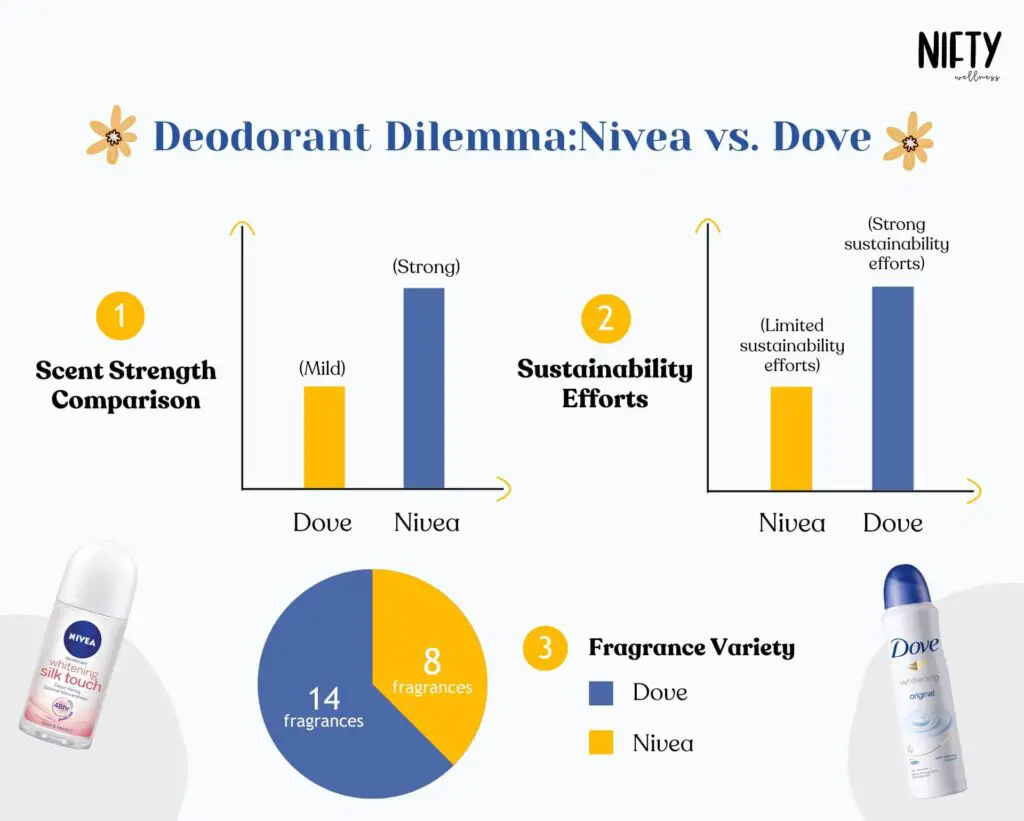 Both Nivea and Dove sell some of the most popular deodorants on the market today. They are sold across the globe and both brands have come up with innovative ideas which have taken the deodorant world by storm.
These include deodorants for sensitive skin, moisturizing deodorants, and invisible deodorants. 
Similarities
Both the Nivea and Dove deodorant ranges boast a 48-hour active time. In theory, this means that you wouldn't have to apply more than once per day.
However, in both cases, some buyers have noted that, although they do last a long time in comparison to other brands, 12 hours is around the maximum that they felt comfortable without reapplying. 
Both brands also offer an invisible range with Dove's Invisible Dry and Nivea's Black & White sprays.
While both do what they say on the tin, the Nivea Black & White typically gets better reviews with no white marks at all and a longer-lasting scent.
The invisible dry can still leave a tiny bit of residue if you spray it too close, so be careful to hold it away from you. 
Differences
Nivea has 8 different fragrances at the moment, while Dove operates with a total of 14 across their "Go Fresh" and "Natural Touch" ranges.
While both ranges have a range of pleasant scents, it's been noted by some that the Nivea range are all very similar. The majority of Nivea's scents are girly and sweet or floral, which is great if you're into that sort of thing.
In contrast, the Dove range provides a host of different scents from pomegranate & lemon verbena to grapefruit and lemongrass.
The scents here are very different, however, aren't everyone's taste, as some feel they smell a little like cleaning products. 
Most people also agree that the Nivea scent is much stronger than the Dove, so if you're looking for the extra ummph to your deodorant, then Nivea might be the better choice. 
Although neither product is harmful to the underarm skin, Dove's deodorants also market themselves as containing moisturizing cream and vitamin E.
So, they may be slightly better for your underarm skin, especially if you're spraying after shaving. 
Verdict
These products both have their pros and cons and do come out pretty even at the end. If you need a product with a fresh, summery scent, then Dove is the way to go.
But if you're more into floral scents then Nivea might be the better choice.
Then you'll need to weigh up whether you'd prefer a deodorant that looks great or feels soft on your skin. The Nivea invisible deodorant is exactly what it says – completely invisible.
If you wear a lot of dark clothes, this may be the one for you. 
But if you're looking for something to take care of sensitive underarm skin, then Dove's ingredient list does appear to be a little more natural and gives you a softer touch. 
Overall, though, as they're neck and neck, the price might seal the deal for you with Dove being very slightly cheaper in most stores. 
Dove Vs Nivea Soap Bars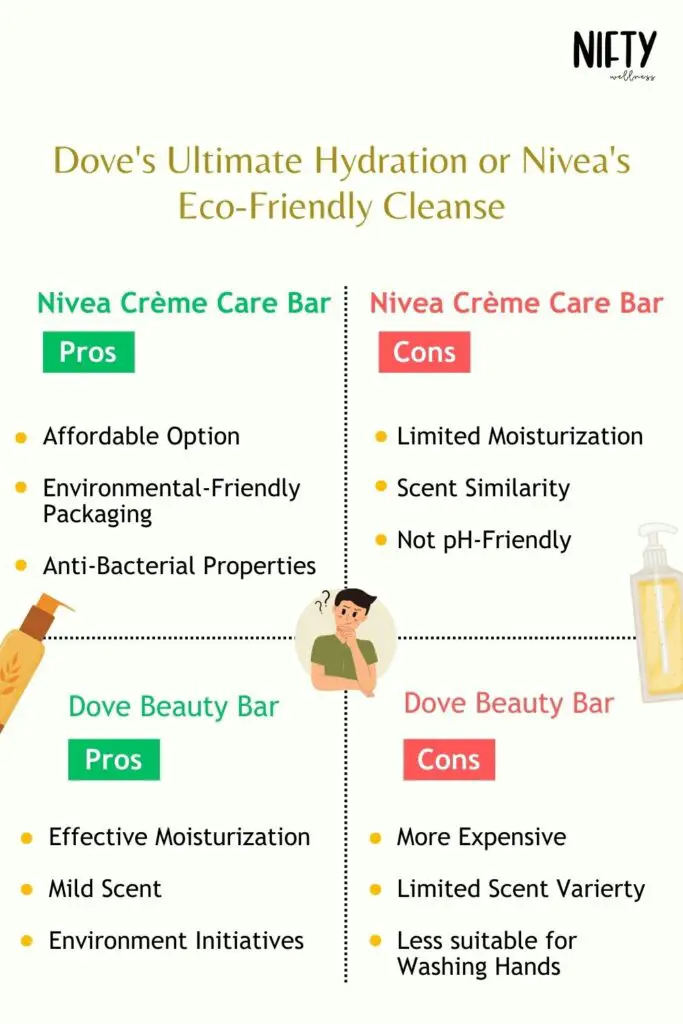 Both Dove and Nivea created their original soap bar recipes fairly early on in the life of the companies and the first-ever recipe that was used back then hasn't changed that much.
However, both brands have branched out now to create multiple branded bars with added ingredients such as shea butter or coconut oil, specifically to enhance the moisturizing effects. 
Despite this, the original Dove Beauty Bar and Nivea Crème Care Bar are still the most popular soap bars purchased in stores. 
Similarities
Both products have a mild and pleasant scent that isn't overpowering.
The perfume held with the soaps is reduced in comparison to other commercial soap brands to focus on moisturizing the skin – something which over fragranced soap doesn't consider.
It's typically the chemicals in the fragrance which causes skin to dry out and it's clear that both brands have considered this. 
Differences
Both brands are working to change their products and packaging to cater to the changing environment.
While Dove has gone for the cruelty-free, PETA recommended angle, Nivea has changed their packaging to be less wasteful and more environmentally friendly.
Either way, you can feel good that both companies are heading in the right direction. 
The Nivea Crème Bar was formulated specifically for handwashing purposes in order to get rid of bacteria.
Although it's safe to use on the body, some people have experienced drying out of the skin in sensitive areas such as elbows and knees after regular use. 
However, the Dove Beauty Bar is known for its moisturizing properties, and it actually contains moisturizing cream, leaving a hydrated and soft skin surface. 
If you're looking for a hand soap to keep that bacteria away, then Nivea is the better option.
However, for a full-body wash that keeps you hydrated and works with your body's natural pH levels, you'd be better selecting Dove. 
Verdict
Overall, Dove wins here. Although it is slightly more expensive, it's worth it.
The Dove soap bar gets excellent reviews and is one of the few soap bars out there that can actually hydrate the skin through regular washing. 
Nivea doesn't quite cut it, with some buyers complaining of dry skin after a while.
However, if you're looking to get rid of those liquid hand soaps and replace them with something a little more environmentally friendly then the Crème Bar will do the job just fine. 
Conclusion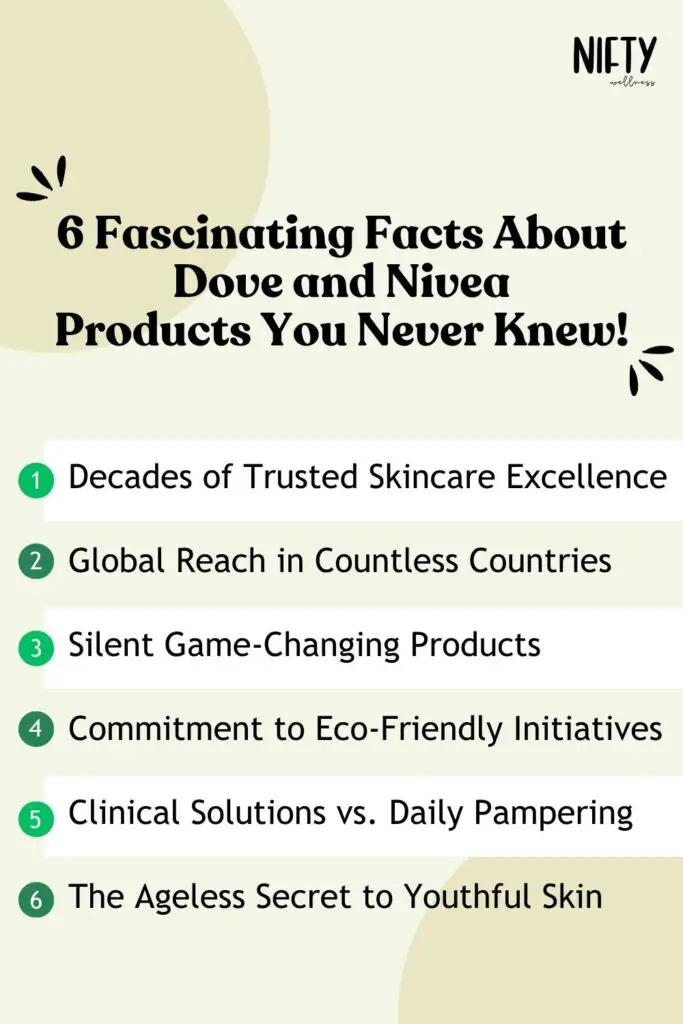 The verdict across both brands would show that Dove is the clear winner. Nivea is a much older brand and has many more products.
They aim to cater to skin problems and correct them, so if you're looking for a more clinical option to remove bacteria or correct eczema, then Nivea might work for you. 
However, for a good all-round product range that's suitable for daily use on all types of skin, then Dove can provide the essential vitamins and hydration that your skin needs.
It works to prevent skin problems and keep your skin looking younger, healthier and add to that touchable softness. 
Frequently Asked Questions (FAQs)
Is Dove cruelty-free?
Dove is proudly recognized as a cruelty-free brand. Moreover, it is certified cruelty-free by PETA and other similar organizations as they do not test any of their ingredients or products on animals. Dove also ensures that their suppliers do not engage in animal testing and do not sell in regions where such testing might be legally required. Rest assured, Dove is committed to cruelty-free practices.
Do Dove products contain parabens?
Dove produces an extensive range of products; some are paraben-free while others contain paraben. It's advisable to check the specific product labels or their website for detailed ingredient information. Dove has been known to offer paraben-free options in response to consumer demand for more natural and gentle skincare products. If you have concerns about parabens, select Dove products labelled "paraben-free" or explore their alternative product lines.
Are Nivea products suitable for sensitive skin?
Nivea does offer skincare products that are made for sensitive skin. So yes, Nivea products are safe to use on sensitive skin. Their gentle ingredients are typically free from common irritants. However, reading the product labels and doing a patch test before trying any new product is wiser. You can check their ingredient list or other related information on their packaging or for more details, check out their official website.
Is Nivea Creme suitable for the face?
Yes, Nivea Creme can be used on the face. However, its rich and thick texture is more suitable for people with dry or normal skin. People with oily or acne-prone skin may perceive it as too dense. If using on the face, perform a patch test to ensure it doesn't cause any adverse reactions. It can be particularly beneficial as a night cream or during dry weather.
Can I use Dove and Nivea products together in my skincare routine?
Yes, you can use Dove and Nivea products into your skincare routine. You can combine these products to curate your daily skincare routine as needed. However, you must do a patch test before trying it out to ensure there is no side effect of using them. If you have doubts, it is advisable to consult a dermatologist before trying these products together.