If you are on a quest to find the best product for your damaged hair to become richer, shinier, and silkier, you have come to the right place! 
As a fellow bad/damaged hair survivor, I will share everything you need to know when deciding which brand to get when it comes to Redken vs Kerastase. 
Read on to learn which brand will get your hair to the finish line you desire, won't drain your wallet, and will make you feel healthy and shiny, both inside and out!
About Redken
One of the most renowned brands in the world of professional hair care, Redken's history spans over five decades. Founded in 1960, Redken is a fusion of its founder, American actress Paula Kent, and her hairdresser Jheri Redding surnames. Redken has offered the best results for decades and has become a trusted choice among salon professionals and customers. Unlike other brands, Redken is known for its innovative approach to haircare, blending scientific expertise with a creative edge.
A lot of people question, "Is Redken good for your hair?" Honestly, for those who are trying to find a suitable solution to end all your hair woes, Redken might be the saving elixir. They have a diverse range of shampoos and conditioners to address various hair concerns.
From hydrating formulas to colour-specific treatments, Redken's products are crafted to cater to the needs of hair enthusiasts, promising healthier and more vibrant locks with every use, answering the query, "Is Redken good?"
About Kerastase
Kerastase is synonymous with luxury and indulgence in the world of hair care. Founded in France in 1964, the brand has redefined the art of haircare with a profound emphasis on elegance and performance. Kerastase draws its inspiration from skincare, applying the principles of personalization and specialized treatments to hair. Not only is the best Kerastase shampoo, but each product is meticulously formulated with advanced technologies and high-quality ingredients to provide transformative results.
Its strong presence in upscale salons and reputation for excellence answers the question, "Is Kerastase good for hair"? Kerastase offers a premium range of shampoos and conditioners to address specific hair concerns, from repairing damaged strands to preserving vibrant colour. The brand's commitment to innovation and luxury has made it a go-to choice for those seeking hair pampering and care.
Read our blog Redken VS Nexxus: Differences, Similarities & Which One Is Right For You and discover the best for your hair! Dive into the Redken vs Nexxus comparison to find your ideal haircare match.
Redken VS Kerastase Shampoos
First of all, before we get into the nitty gritty, I highly recommend you watch this video:
Quality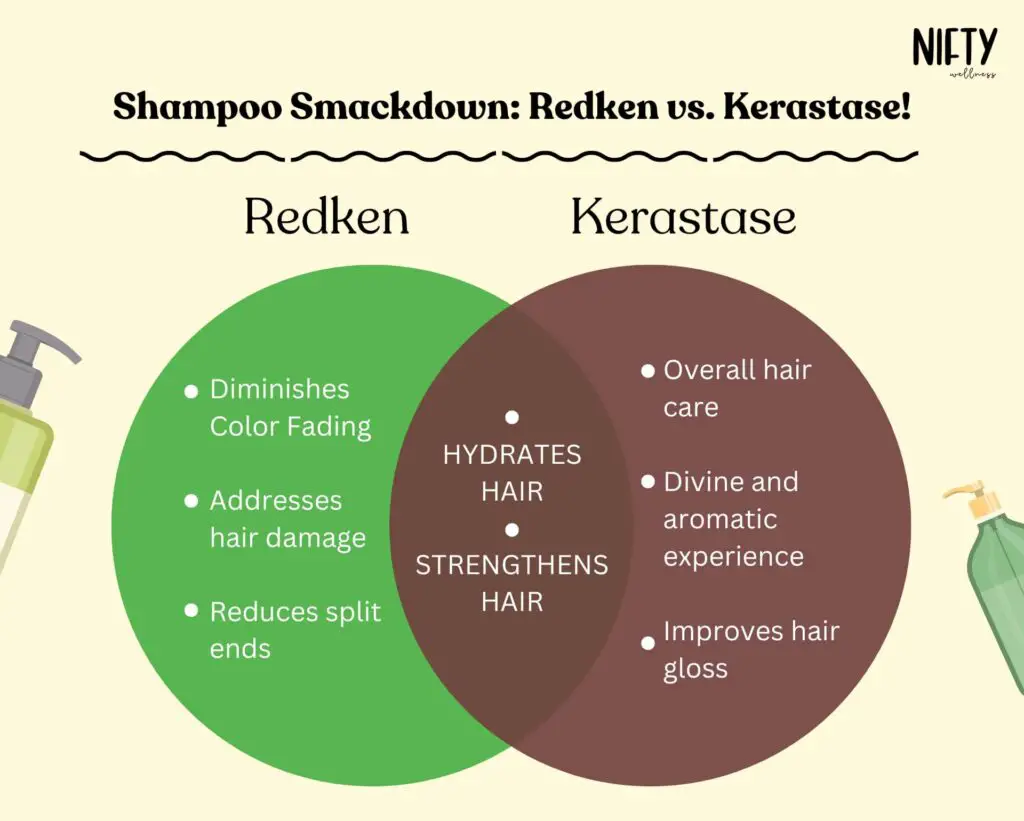 Honestly, both Redken and Kerastase shampoos can be considered "high quality". But that quality differs a bit depending on what you're using it for.
Redken shampoos are manufactured to diminish color fading and the display of impairment and split ends. Their replenishing shampoos improve the gloss of your hair while hydrating and adding nutrients.
But be careful! It's best not to use the Redken shampoo every day because of the amount of protein and biotin it has. Even if you use the best Redken shampoo!
Being considered the Creme de la Creme of all hair products, Kerastase offers your hair an overall divine and aromatic experience, after which you will see astonishing after-effects on your hair. The best Kerastase products are known for their results.
So, while both are high quality, Redken is exceptionally well at handling color fading, impairment, and split ends. Whereas Kerastase does best in overall care. 
Results
If you need a bit of a pick-me-up at the end of the day, Kerastase shampoos are an excellent fit for you! They offer a wide variety of shampoos for fine or thinning hair, frizzy or curly hair, and shampoos that will make your scalp healthier. 
Being one of the more premium hair-care products, Kerastase offers shampoos for those who want to discipline the frizz, hydrate their hair, and overall, make it healthier and more lustrous.
Redken shampoos, on the other hand, boost your damaged hair, remove the impurities, and help tame that unmanageable frizz. People who have tried them claim that the shampoos don't leave any sticky residue and that they are more than suitable for all hair types! Its reviews are the answer to all those who question, "Is Redken a good brand?"
Do you wish to know, "Is Redken bad for your hair?" Generally, Redken is best for fixing damaged hair, while Kerastase takes overall care of your hair.
Pricing
From time to time, we should all treat ourselves to some of the more luxurious products on the market. And both Redken and Kerastase are in that category.
Kerastase shampoos, usually offering 8.5 Oz, range from $19 to $88. 
Redken shampoos, on the other hand, also offering (usually) 8.5 Oz, can be found at prices between $15 and $120.
Both products aren't cheap, but both are developed and recommended by renowned scientists, dermatologists, and trichologists. So, you get what you pay for.
Special ingredients
Redken shampoos stand out to many people because of their natural ingredients. The brand also guarantees that their shampoos are sulfate-free, which is essential for hair-color protection.
Along with protein, argan oil, and Ceramide, Redken shampoos can and will make your hair hydrated and reformed, naturally.
Samoan Coconut Oil and Paraguayan Sugar are just some of the ingredients in Kerastase shampoos. And, they also offer sulfate-free shampoos.
Generally, Redken will help return your hair to its natural glory, while Kerastase will make it stronger and softer.
Redken VS Kerastase Conditioners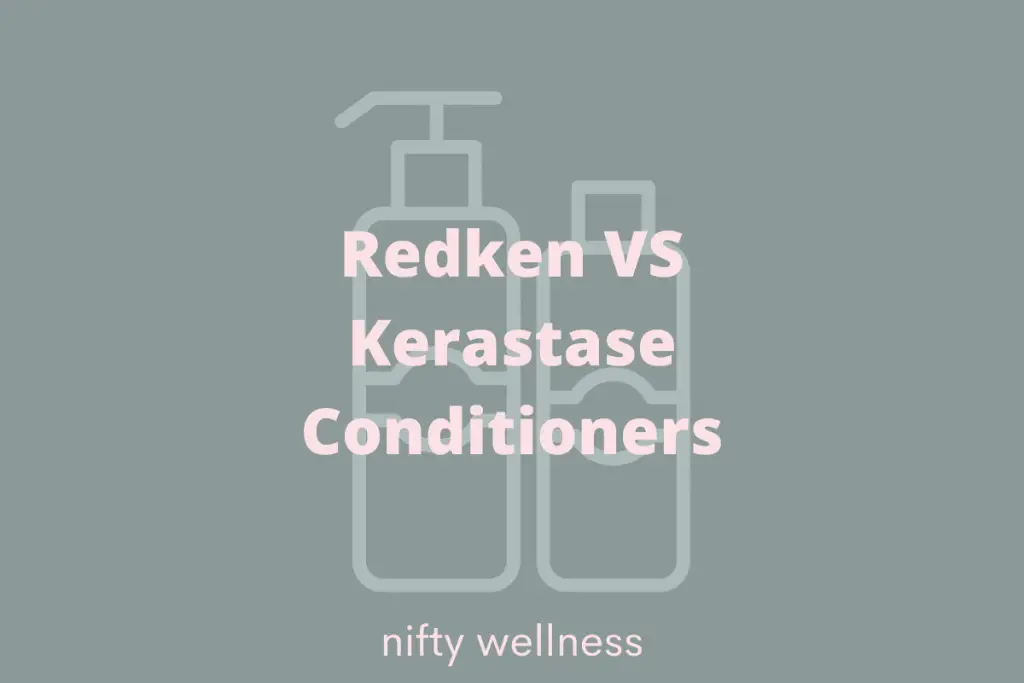 Quality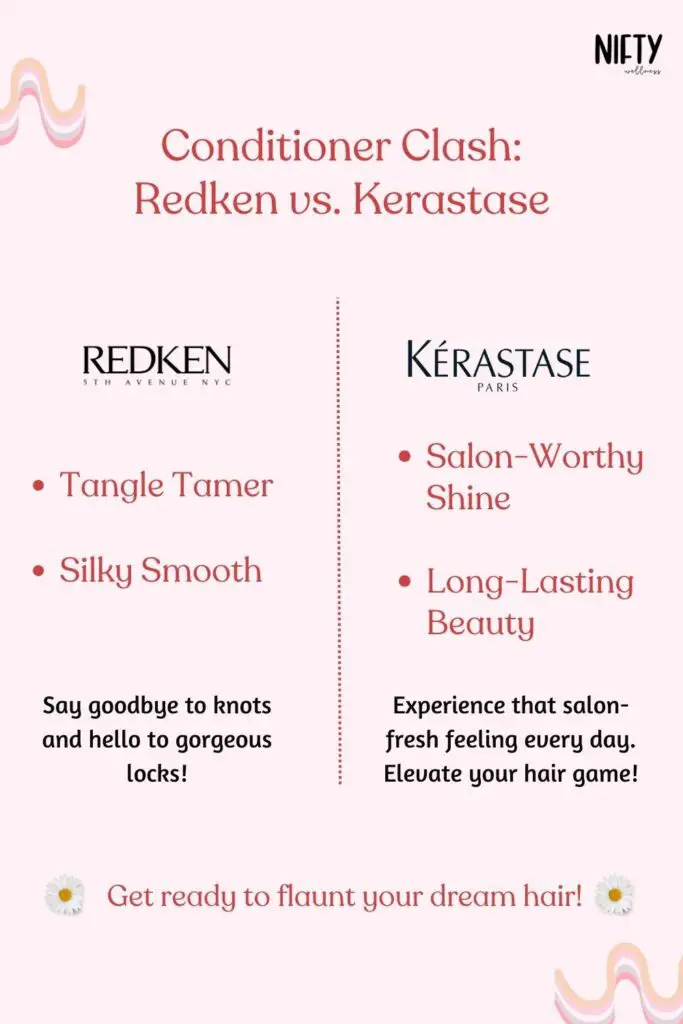 Redken conditioners are so professional that they detangle, soften, nourish, and strengthen your hair all at once. The thing about Redken conditioner, though, is that if you want the 100 % result, you should use the shampoo and oil from their line. Well, at least, according to Redken.
On the other hand, Kerastase conditioners can give you that just-out-of-the-salon-feel by themselves, which the Redken cannot. It is not a surprise that many salons use it to protect their clients' hair.
Check out our blog Kerastase VS Aveda: Differences, Similarities & Which One Is Right For You. Find out which brand suits your needs best in this in-depth comparison. Your hair deserves the best!
Results
Compared with a heavenly smell, the Redken Conditioner will make your hair wonderful, not too oily, or too dry, and it will launch a chain reaction in which your hair will get all the supplements it needs.
On the contrary, if you have especially dull and dry hair, you should use the Kerastase Conditioner for that anti-frizz, smooth day glow.
In a nutshell, the results of using Kerastase Conditioner will be seen even after you have stopped using the product.
Pricing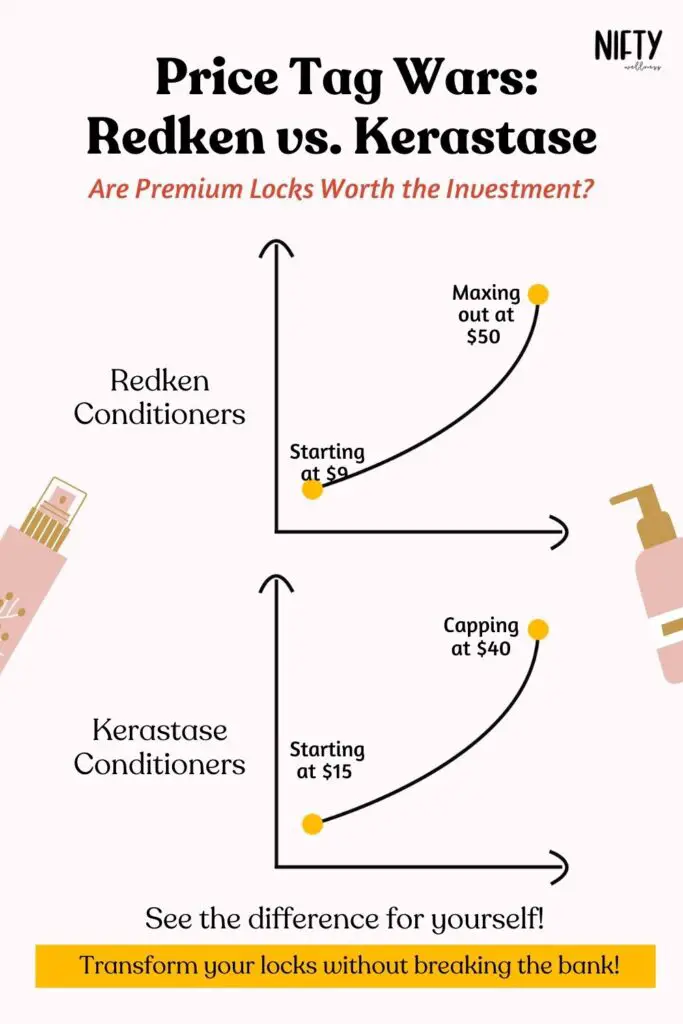 The pricing of Redken and Kerastase conditioners is not that far apart.
Redken can be bought at around $9 to $50 for 8.5 Oz. And, on the other hand, Kerastase offers its conditioners for between $15 and $40 for 8.5 Oz.
Special ingredients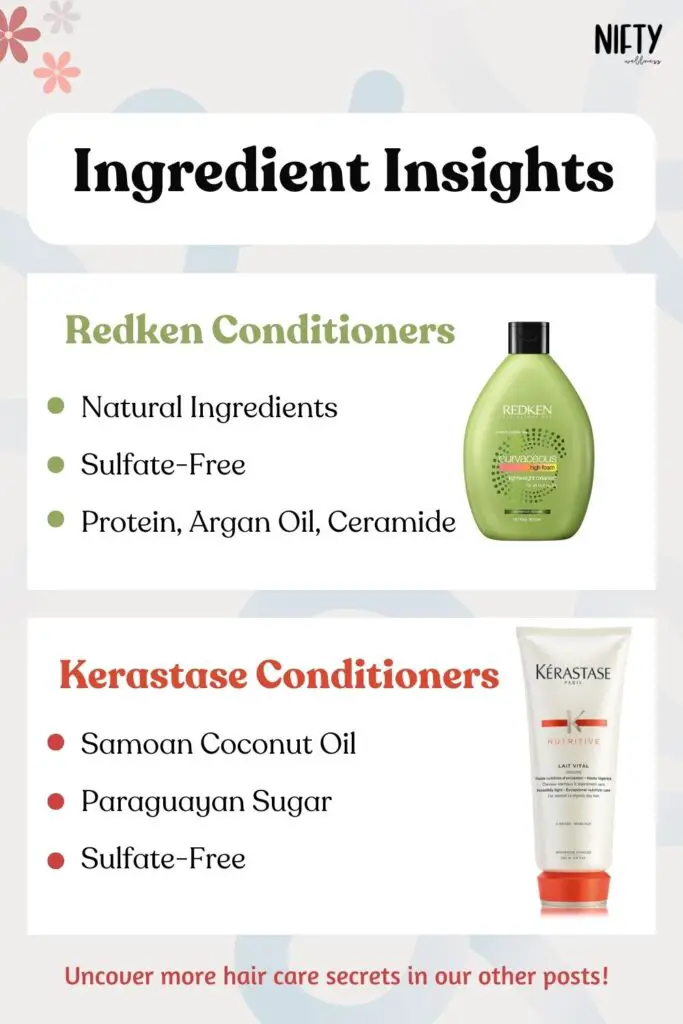 Kerastase Conditioners contain special ingredients such as Surface Protectors that detangle your hair and High-Precision Care Agents (their words, not mine), which will make your hair feel lighter.
Redken Conditioners, on the other hand, are sulfate, silicone, and paraben-free. Along with natural fragrances, the Redken Conditioners will leave your hair well-nourished, repaired, and silky.
When making a choice between Redken and Kerastase conditioners, try to have three things in your mind.
Firstly, is your hair damaged or untamed and dry? Either one will work with a slight edge to Kerastase.
Secondly, how important is the usage of chemicals in the products you use? Go for Redken.
Thirdly, what is your budget to spend on a conditioner? Either one will work, but, again, a slight edge to Kerastase.
Who Should Go For Redken Over Kerastase?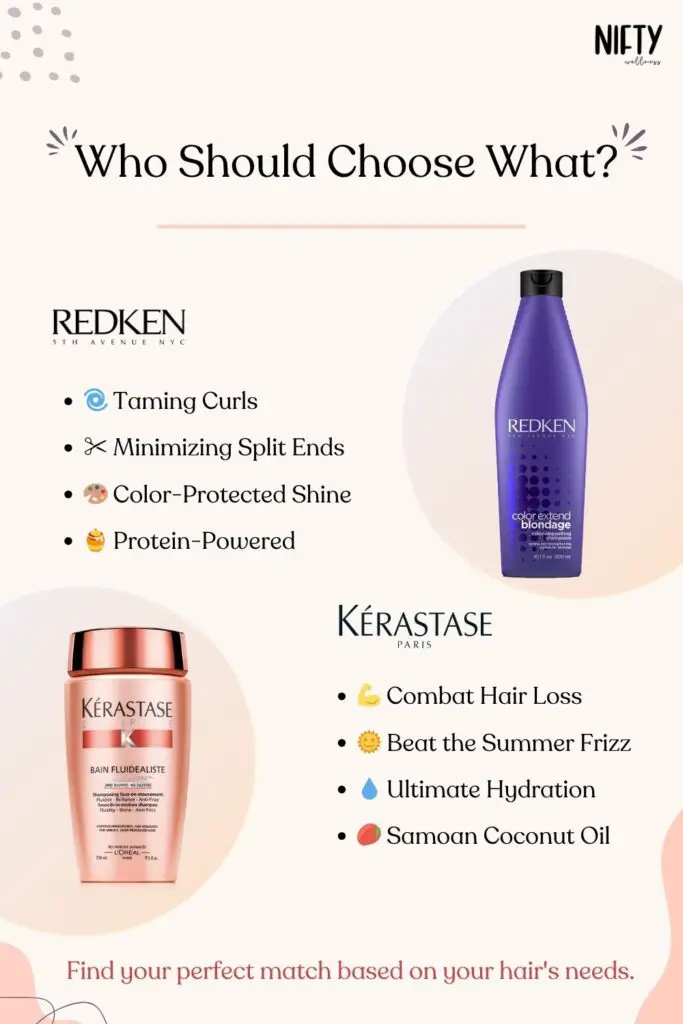 Those who want to tame their rebellious curly hair and minimize the return of split ends should buy a Redken shampoo and conditioner combo that fits their needs. 
For example, if your hair lacks protein, try the Redken All Soft Shampoo, which will compensate for the loss of protein, strengthen your hair, and give it that amazing glow. 
If you colored your hair, then the Redken Extreme Shampoo is the cure your hair was missing all along.
Who Should Go For Kerastase Over Redken?
If you are experiencing hair loss, then you have come to the right place! Kerastase Genesis Ampoules Cure Fortifiantes Anti-Chute is not only a long product name but also an answer to all your hair prayers. 
On the other hand, if your hair becomes unrecognizable during the summer humidity, try the Discipline Shampoo & Conditioner. 
Those of you who have hair that needs bonus hydration should use any of the shampoos from the Nutritive family. 
Summary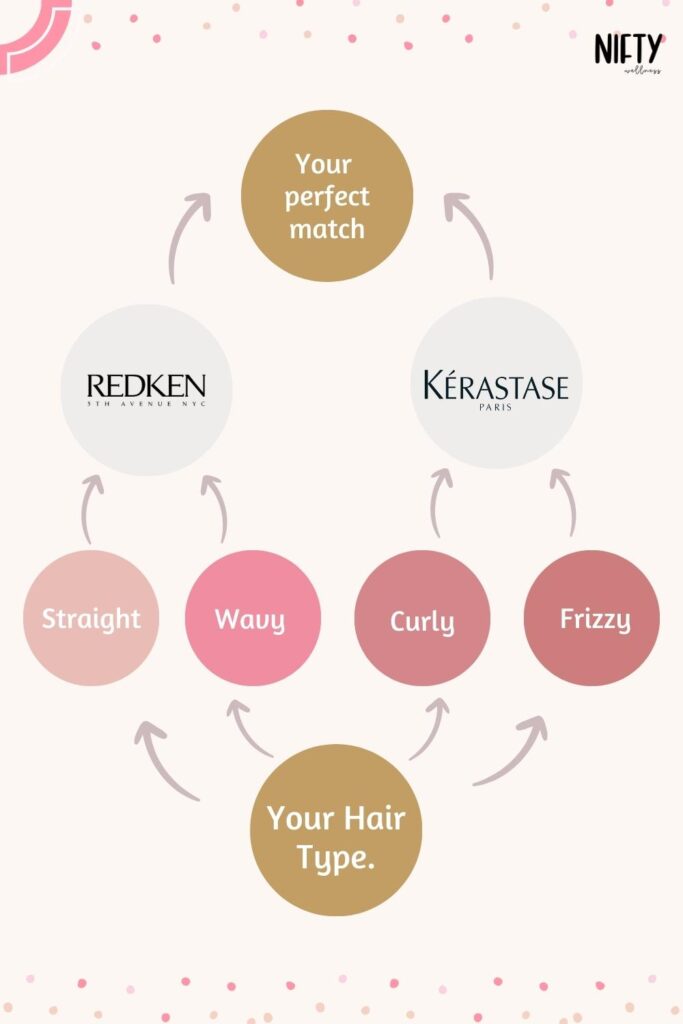 If you came here to find a solution to treat your damaged hair, Redken is the answer. However, if you wish to have stronger hair in general, then you should go for Kerastase. 
Both will enrich your hair, so if you are still not sure whose product to choose, maybe it's best to try both. 
Frequently Asked Questions (FAQs)
Are Redken and Kerastase products safe for colour-treated hair?
Yes, both Redken and Kerastase offer a range of safe and suitable products for colour-treated hair. These brands understand the unique needs of colour-treated hair, such as maintaining vibrancy, preventing fading, and ensuring overall hair health. They offer shampoos and conditioners formulated with colour-preserving technology and ingredients to help lock in and enhance the longevity of your hair colour. However, it's important to choose specific products within their ranges labelled as colour-safe or colour-protecting to ensure the best results and extend the life of your hair colour.
Do Redken and Kerastase test their products on animals?
Kerastase is a cruelty-free vegan brand owned by L'oreal. It doesn't perform animal testing for its products or even ingredients. On the other hand, Redken is not cruelty-free. While Redken does not conduct animal testing alone, it pays other companies to test its products on animals whenever required.
Which brand is better for tackling frizz and humidity?
Both Redken and Kerastase offer solutions to combat frizz and humidity. Redken's Frizz Dismiss line is ideal for those with frizz-prone hair and humid conditions. It helps control frizz, smooth hair texture, and protect against humidity-induced frizz. Kerastase's Discipline range also offers anti-frizz and humidity control, providing a luxurious solution. Your choice should depend on your hair type, specific concerns, and personal preferences. Try products from both brands to find the one that works best for your unique needs.
Can I use Redken and Kerastase products together in my hair care routine?
Yes, using Redken and Kerastase together in their haircare routine is okay. However, it is essential to select products that complement each other and are made to suit your specific hair needs. Both Redken and Kerastase have an array of shampoos, conditioners, and styling products that can mix & match to curate a particular hair-care regimen. For the best results, consider your hair type, concerns, and the desired outcome when combining products from these two reputable brands.
Where can I purchase Redken and Kerastase products online?
All the products sold by Kerastase and Redken can be purchased online from their respective official websites. These brands are also available at beauty retailers like Sephora and Ulta and e-commerce platforms like Amazon. Many salons also offer these products on their websites, and some online pharmacies stock them. Ensure you buy from reputable sellers to guarantee the authenticity of the products.