Dover and Pantene are two products that are considered two of the best brands in the world for your hair and skin. 
But, how well do these products work on acne, sensitive skin, eczema, shampooing your hair, and conditioning your hair? Do these two brands offer hair and skin products containing natural ingredients? Read on to discover the answers to these questions and more. 
Dove VS Pantene Acne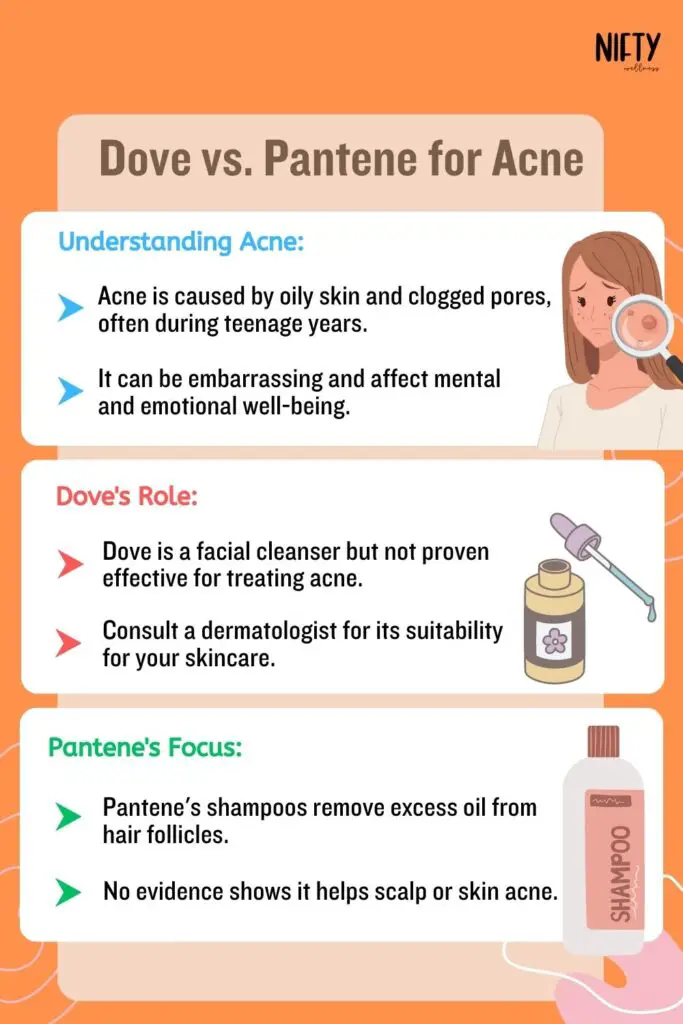 Acne comes from oily skin and clogged pores and can be common during your teenage years.. It is often an embarrassment for people who experience the condition.
Many soaps on the market specialize in opening your pores and cleansing the dirt and oils beneath your skin. 
The severity of acne depends upon your skin type Acne can last for several years or become a lifelong condition that can affect you mentally and emotionally. You may need to work with a professional dermatologist for planning and treatment of your acne. 
While Dove is a great facial cleanser, it has not been proven that it is effective in treating acne. There are no Dove skin products that can help with this condition. 
Speak with a dermatologist to see if Dove is a good soap to use or any of their other products for skin healthcare. 
There is no Pantene product that deals with scalp acne. The shampoo products are great for getting excess oil from your hair follicles, but no studies show that this helps with eliminating or minimizing acne on your scalp or skin.
Dove VS Pantene Sensitive Skin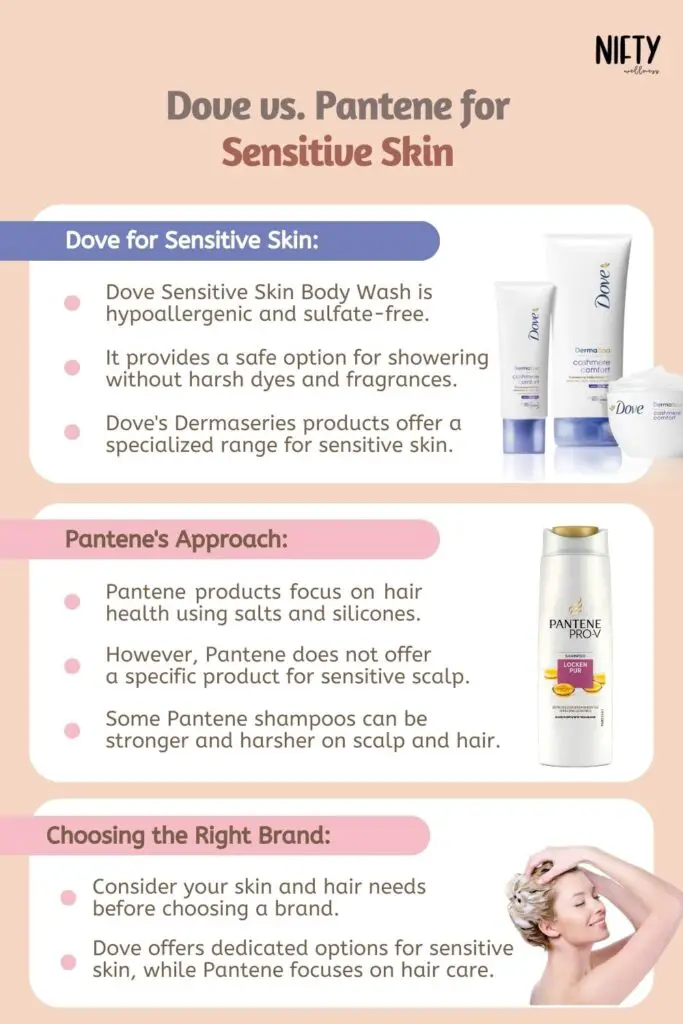 Many people in the world have sensitive skin and cannot use many products on the market. Allergic reactions to dyes and fragrances in products can create limited access to soaps, shampoos, conditioners and body washes that will work well for their skin type. 
People with this type of skin often find it frustrating and challenging to find the right soap or body wash and will often cling to a brand that works well for them. 
Luckily, more brands are developing sensitive skin products for this group of people. The products are milder and use ingredients that are not prone to allergic reactions. 
Dove Sensitive Skin Body Wash is hypoallergenic and sulfate-free. It gives people with sensitive clean a great way to shower or bathe without worrying about allergic reactions to the harsh dyes and fragrances found in many soaps. 
Dove has also recently launched their Dermaseries products which are specifically formulated for sensitive skin. 
The Pantene brand use salts and silicones to create products for your hair. While they offer some of the best ways to healthier hair, they do not offer a product for sensitive scalp. Pantene shampoos have been shown to be stronger and harsher on your scalp and hair than other shampoos on the market. 
Achieve radiant skin with the right pick. Explore CeraVe and Cetaphil in The Ultimate Comparison: CeraVe vs Cetaphil – Unveiling the Best Skincare Choice.
Dove VS Pantene Eczema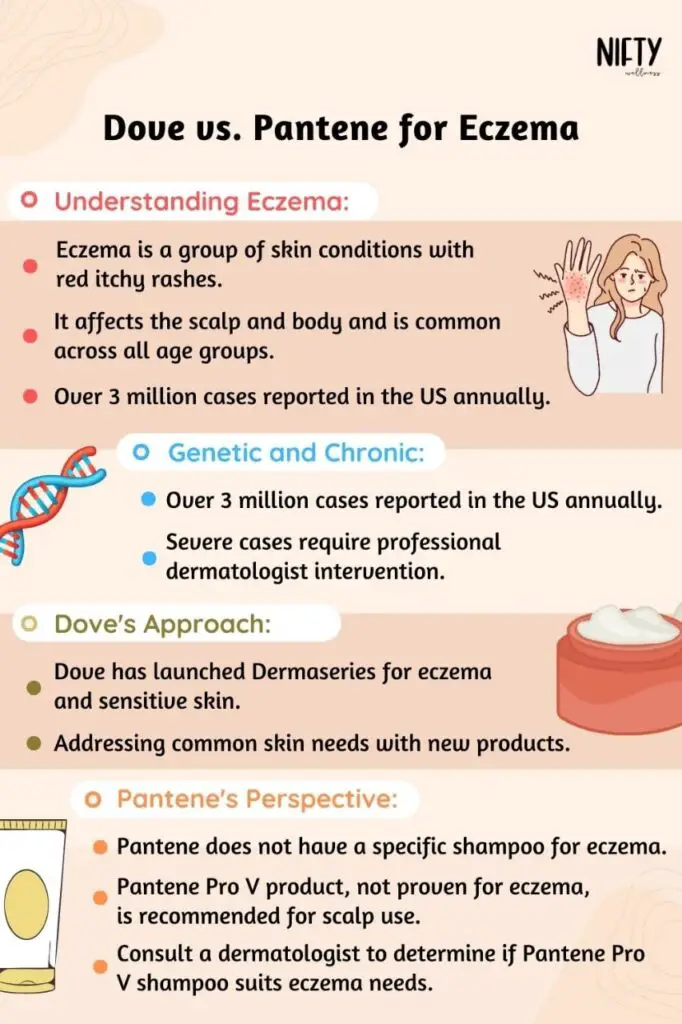 Eczema is a group of skin conditions characterized by red itchy rashes. The condition can be on your scalp or body. It is common among any age group with over 3 million cases in the United States each year. 
Eczema can be genetic and last from several years to a lifelong condition. It can be treated by a professional dermatologist and requires urgent medical attention for severe cases. 
Dove has recently launched a Dermaseries product for people who have eczema and sensitive skin. This is a new product from Dove as they continue to address the common skin needs of their customers. 
While many eczema shampoos are on the market, the Pantene brand does not offer a shampoo for this condition. 
Although it has not been proven to help with eczema, the Pantene Pro V product that works on all hair types is recommended to treat eczema in your scalp. Speak with a dermatologist to see if the Pro V shampoo can help with your eczema condition. 
Dove VS Pantene Scalp Care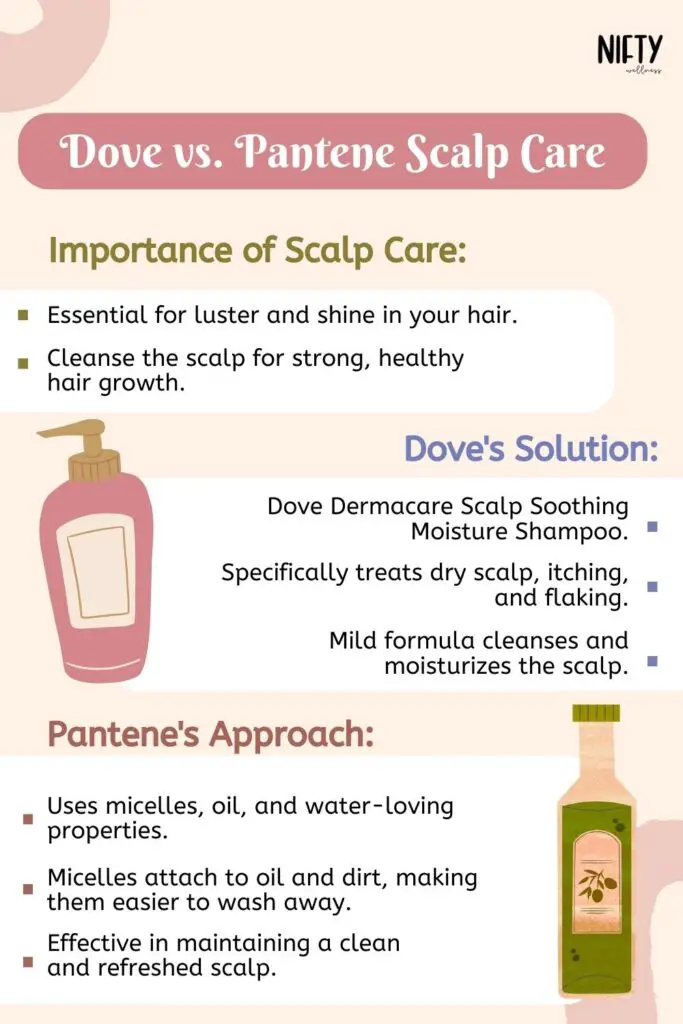 Shampoos and conditioners must cleanse your scalp in order to give your hair a chance to grow strong and healthy from the root to the tip. Scalp care should be a part of your daily hair regimen in order to get the luster and shine that is common to a healthy head of hair. . 
Dove Dermacare Scalp Soothing Moisture Shampoo and the Dermacare line are specifically created to treat dry scalp and prevent itching and flaking. The product is mild for your scalp and works to keep your scalp clean and moisturized. 
Pantene products use oil and water-loving properties called micelles. These micelles attach themselves to the oil and dirt in your scalp and hair while making it easier to wash them away. 
Check out our blog Dove VS Olay: Differences, Similarities & Which One Is Right For You to explore the Dove vs Olay dilemma and find your perfect skincare match.
Dove VS Pantene Shampoo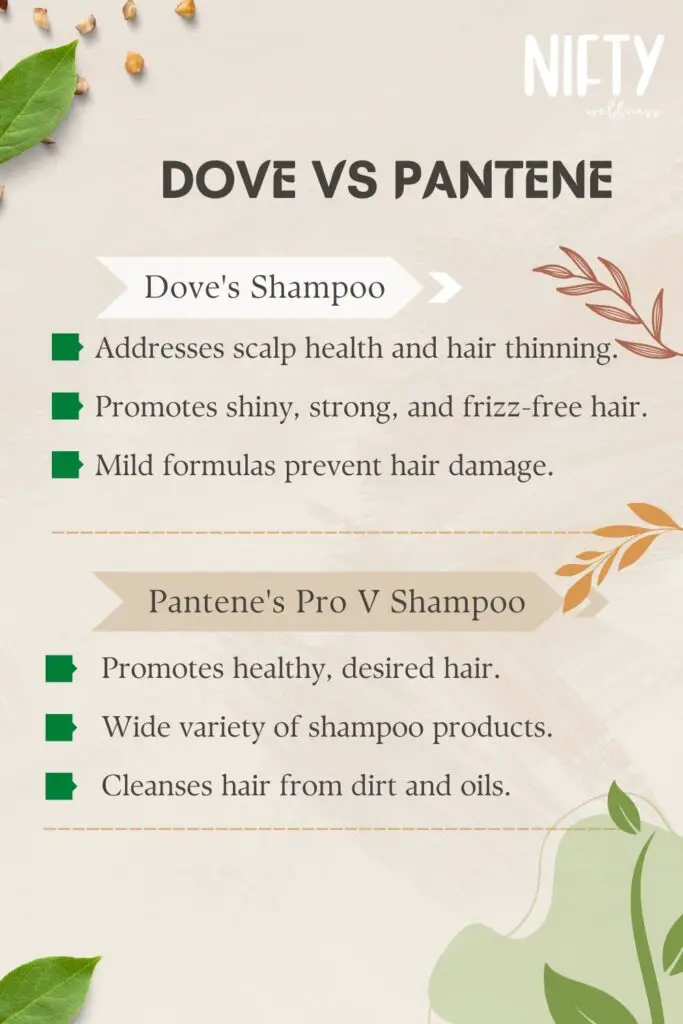 It is important to shampoo your hair as often as possible to keep your scalp and hair clean. Shampooing removes the dirt and oils from your hair than can clog pores and lead to hair damage. 
Dove shampoos are known to be some of the best in the world. They take care of your scalp and keep your hair from thinning and falling out. 
Healthy hair is shiny, frizz-free and strong from root to tip. Dove shampoo products are meant to stop hair damage while leaving your hair
full of life. Their shampoo products have been shown to be some of the mildest on the market. 
Pantene hair shampoo products are also some of the best in the world. Pantene Pro V and other products work well to give you the healthy hair you want. 
While the brand does not offer products for eczema and sensitive scalp, it does have a wide variety of shampoo products that will keep your hair clean and free from damaging dirt and oils.
Dove VS Pantene Conditioner
Conditioning your hair ensures that it gets the moisture that it needs for healthy hair growth. Conditioning your hair should be a part of your daily regimen to lock in the natural moisture in your hair. 
Dove conditioners are some of the best on the market. They are mild in nature and leave your hair feeling clean and soft. The conditioner works to take away frizz while replacing the moisture that is needed for growth. 
Pantene conditioners are some of the best products in the world. The conditioners are created to support healthy hair and to keep hair from further damage in the future. 
The ingredients of fermented rice water and Pro vitamin B5 formula work to prevent falling hair and breakage. 
Dove VS Pantene Natural Ingredients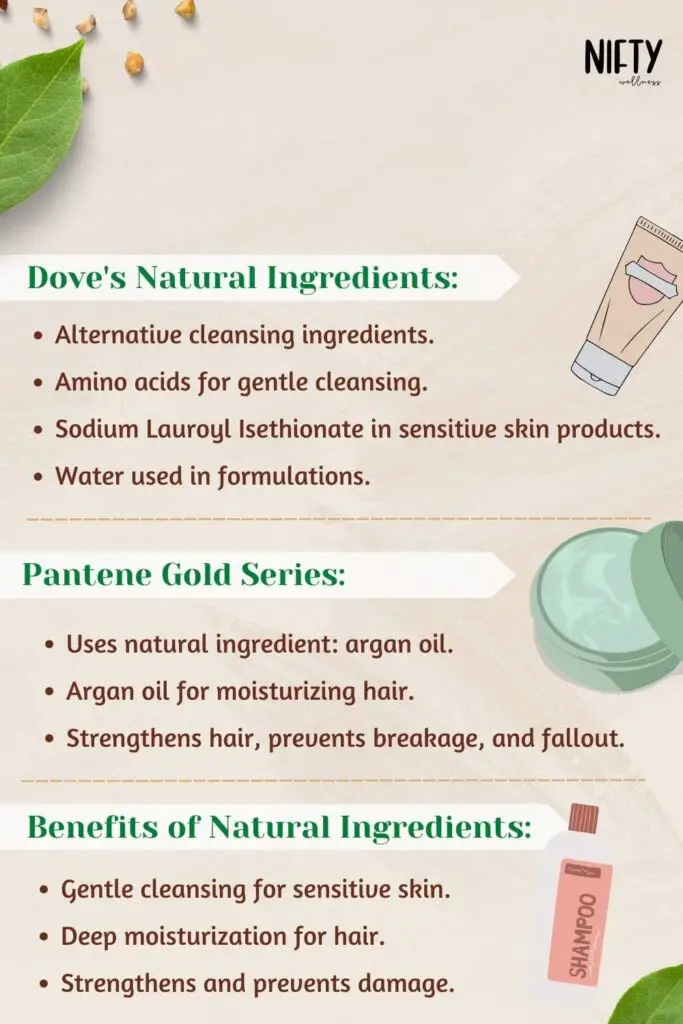 Dove products use alternative cleansing ingredients with some of these ingredients coming from amino acids. Dove sensitive skin unscented beauty bar contains the ingredients of Sodium Lauroyl Isethionate. 
Dove does use water as one of its ingredients for its products. 
Pantene Gold Series uses the natural ingredient argan oil to help with moisturizing your hair. The product is meant to strengthen your hair and prevent breakage and hair fallout. 
Dove VS Pantene Similarities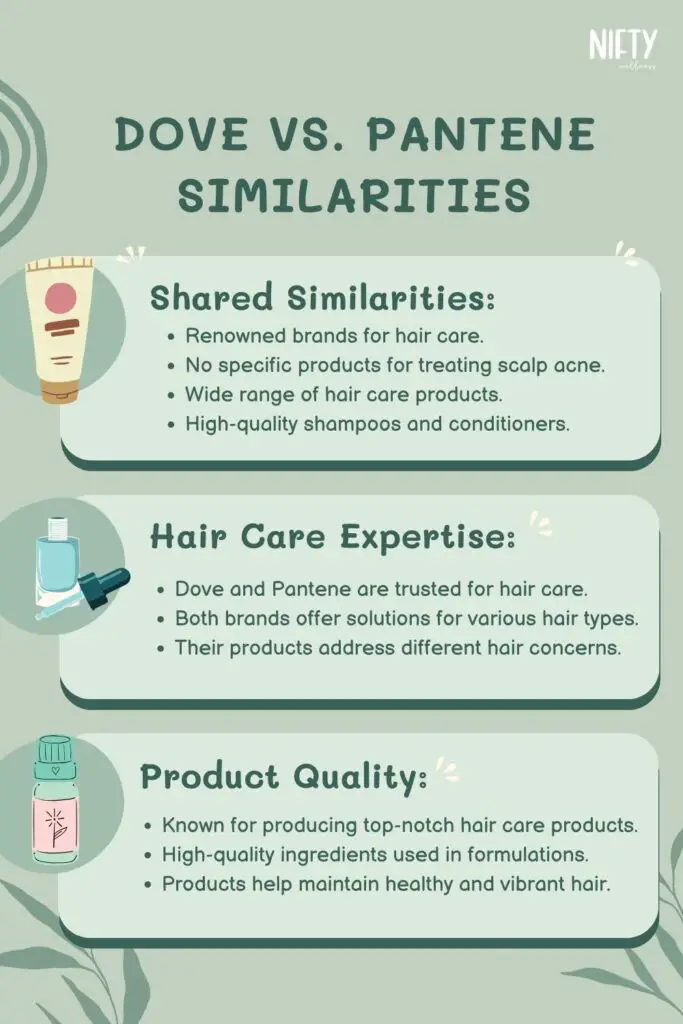 Dove and Pantene are two of the best brands in the world for hair care. Neither brand has created a product that will work on treating scalp acne. Both brands have created hair care products for all types of hair. Their shampoos and conditioners are considered the best in the world. 
Conclusion
Dove offers products for skin care along with hair care. Dove has products that can be used on sensitive skin. 
They have a sensitive skin body wash and their new Dermaseries product for eczema and sensitive skin. Pantene uses argan oil as a natural ingredient in their products to moisturize your hair. 
In general, both Dove and Pantene are amazing brands that offer their customers the best in hair and skin care. 
While Dove is known for both skin and hair care, Pantene is known for developing hair care products for all types of hair. 
While Dove does not have products for acne, they do offer body washes and their new Dermaseries products for sensitive skin and eczema. Pantene does not have products for acne or eczema. 
But their products are great for daily use to create an overall healthy head of hair.
Frequently Asked Questions (FAQs)
Is Pantene better than Dove for fine hair?
Due to its subtle intricacies, fine hair demands careful consideration. While Pantene, which is known for its Pro-V formulas suggests strength and may hold promise for fine hair, Dove and its commitment to moisturising offers the potential for added volume. However, reaching a definitive conclusion remains elusive due to the subjective nature of hair care depending on factors like individual hair type, scalp condition, and personal preferences.
Can I use Dove and Pantene interchangeably?
Certainly! You can use Dove and Pantene interchangeably, depending on your preference, skin and hair needs. Both brands offer a range of hair care products starting from shampoo, conditioner, serum, hair mask & more. But in the skin care range only Dove offers products such as beauty bar, body wash, deodorants etc. So you can switch between them as you like to find what works best for you. It's all about what makes your hair and skin look and feel its best.
Do Dove and Pantene test on animals?
Both Dove and Pantene have unwavering commitments to cruelty free practices, firmly upholding a no-animal-testing policy. Their dedication to the well-being of animals is evident in their product development and testing processes, which are conducted without any harm to our beloved furry friends. These brands consistently prioritize ethical and compassionate approaches to beauty and hair care, providing consumers with products they can feel good about using.
Are Dove and Pantene shampoos sulfate-free?
Both Dove and Pantene offer a range of sulfate-free shampoos designed to cater to various hair types and concerns. Due to its sulphate-free formula, both these brands offer a milder cleaning experience thereby reducing the risk of stripping hair of its natural oil, leaving it feeling soft and healthy. Whether you have fine, curly, or damaged hair, you can find sulfate-free options from both brands to suit your specific needs.
Which brand offers eco-friendly packaging?
Indeed, both Dove and Pantene are firmly committed to eco-friendly packaging. In a bid to minimise plastic waste and enhance the utilisation of recycled materials, they are actively taking multiple measures to showcase their commitment to a more sustainable future. From packaging to recycling, both Pantene and Dove are dedicated to making this environment a little better for the next generation.