Navigating the world of anti-dandruff shampoos can be a hair-raising experience, especially when it comes to choosing between trusted brands like Selsun Blue and Nizoral. These products promise to banish flakes and itching, but what sets them apart? In this comparison, we'll explore the differences and similarities and help you decide which one best suits your scalp's needs.
Selsun Blue and Nizoral are two of the best anti-dandruff shampoos on the market. But which brand comes out on top? 
Which brand treats hair loss better? Which brand treats scalp psoriasis better? Which brands uses more natural ingredients? What are the similarities and differences between the two? 
Discover everything you need to know when it comes to Selsun Blue vs Nizoral. Let's get started.
About Selsun Blue
Selsun Blue, a household name in anti-dandruff shampoos, boasts a rich history of combating dandruff, seborrheic dermatitis, and tinea versicolor—a fungal-induced skin condition. With a diverse product line-up encompassing medicated and moisturizing shampoos, Selsun Blue caters to various dandruff-related concerns. The secret to its success lies in the active ingredient, selenium sulfide, which efficiently targets dandruff's root causes, earning countless users' trust.
About Nizoral
Nizoral is a leading brand in the fight against dandruff and related conditions. With its key ingredient, ketoconazole, a potent antifungal agent, Nizoral effectively addresses yeast overgrowth on the scalp, a common cause of dandruff. Not only does Nizoral combat dandruff, but it also provides relief from itching and flaking. This dermatologist-recommended brand has gained a loyal following among those seeking an effective solution for dandruff.
Selsun Blue vs Nizoral Shampoo
It is important to shampoo your hair as often as possible to get rid of excess oils, dirt, and dandruff. Clean hair is beautiful and thick and has a shine and luster. Good shampoo is also the best way to keep lice, psoriasis, and other diseases away from your scalp and hair strands.
Selsun Blue Naturals is gentle enough for daily use to help prevent and eliminate itchy scalp and visible flakes associated with dandruff.
Nizoral Anti-Dandruff is specifically created for the purpose of getting rid of dandruff in your hair. However, it can be used daily for cleansing your hair. The shampoo should be left in your hair three to five minutes before rinsing. 
Check out our blog Dove VS Pantene: Differences, Similarities & Which One Is Right For You. Find out which one suits your skin and hair type best for a stunning transformation.
Selsun Blue vs Nizoral For Scalp Psoriasis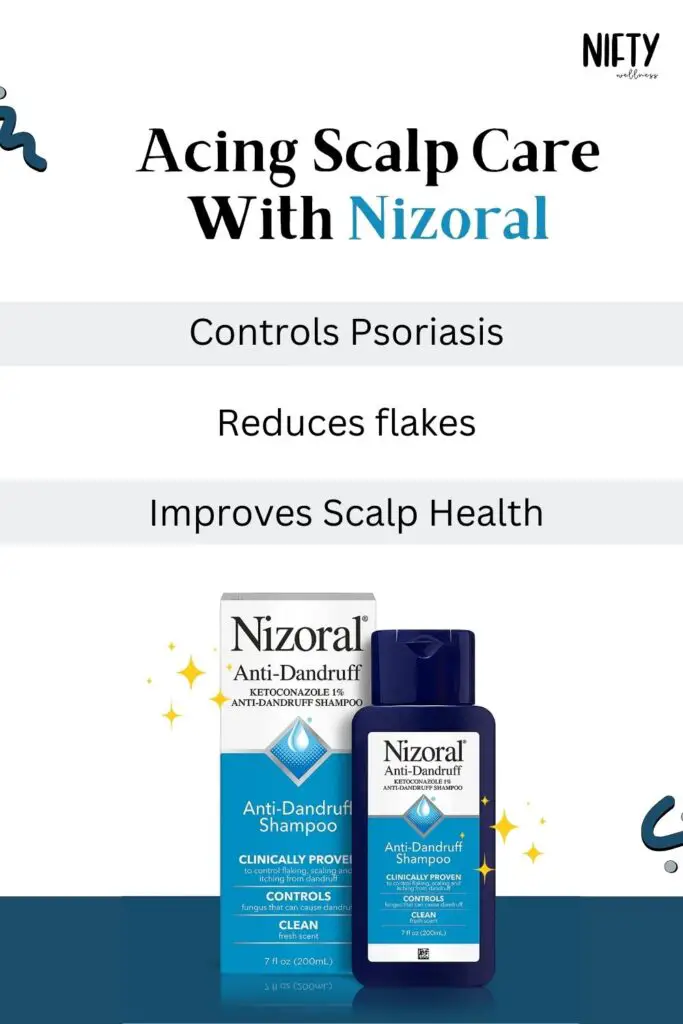 Scalp psoriasis is a skin disorder that causes red, raised scaly patches to appear on your scalp. It can show up as a single patch in one area of your scalp or multiple patches on your entire scalp. 
Dermatologist Dr. David Buka has stated that "anti-dandruff shampoos like Selsun Blue are good for mild cases of scalp psoriasis. However, more serious cases should be seen and diagnosed by a professional dermatologist."
Nizoral Psoriasis Shampoo works to control redness, flaking, scaling, and itching associated with psoriasis. The shampoo contains 3% salicylic acid, which is a powerful and proven psoriasis fighting agent. 
Selsun Blue vs Nizoral Moisturizer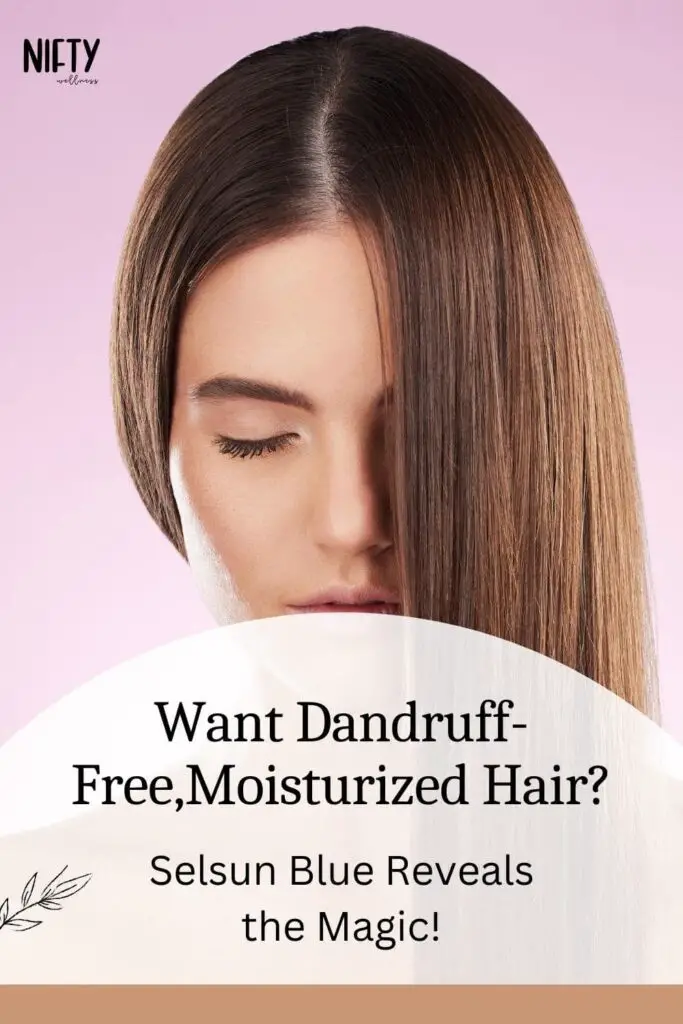 It is essential to keep your scalp moisturized to keep dandruff and psoriasis at bay. A moisturized scalp and hair strands keep your hair free from flaking and itching. 
Selsun Blue Moisturizing Treatment Shampoo is great for moisturizing your hair and scalp. Selsun Blue consumers have noticed an improvement in their dry scalp and no dandruff flakes after 2-4 uses. The shampoo can be used daily to control dandruff and moisturize your scalp. 
Nizoral is used to rid your hair of dandruff flakes and moisturize your dry scalp. It is arguably one of the best anti-dandruff shampoos on the market and also helps treat scalp psoriasis. Nizoral stands out as a top-notch anti-dandruff shampoo, renowned for its scalp moisturizing properties and its ability to combat major issues as stated above.
Selsun Blue vs Nizoral Conditioner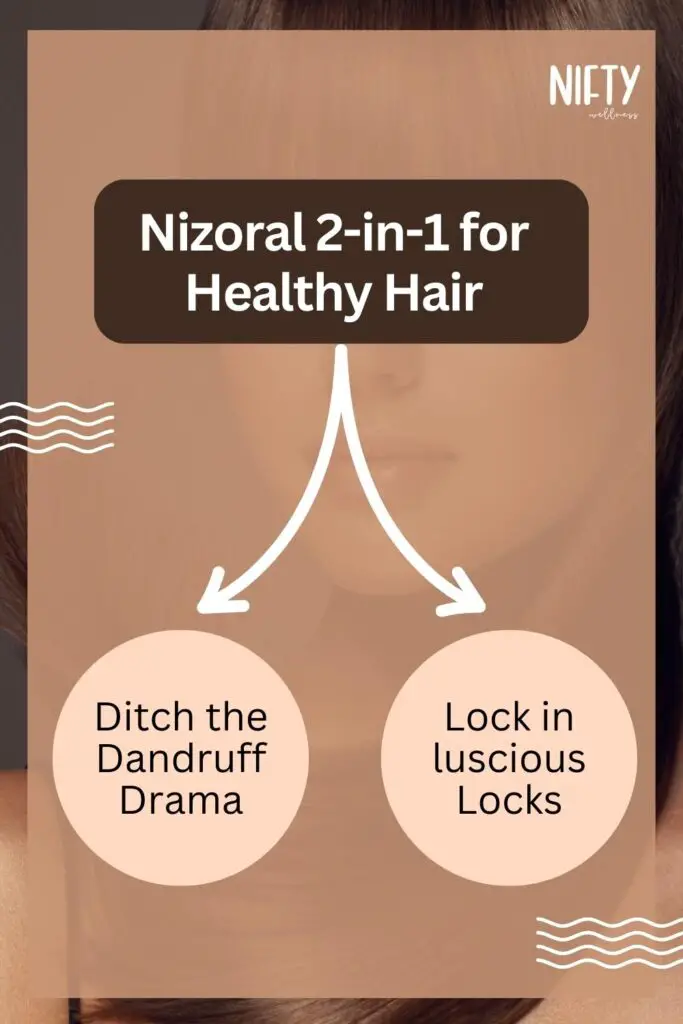 A great conditioner is the best way to moisturize your hair. A well-conditioned scalp keeps your hair roots and strands strong and healthy.
Selsun Blue 2 in 1 Shampoo and Conditioner is created to do two things in one for your hair. It offers anti-dandruff activity and powerful conditioning to replenish the moisture in your hair and scalp. The 2 in 1 formula makes it easier to keep your hair clean and moisturized. 
Nizoral Psoriasis Scalp Shampoo and Conditioner 2 in 1 formula works well to clean and moisturize your hair. The conditioner is created to treat your dry scalp and make hair strands strong and healthy. 
Selsun Blue vs Nizoral Natural Ingredients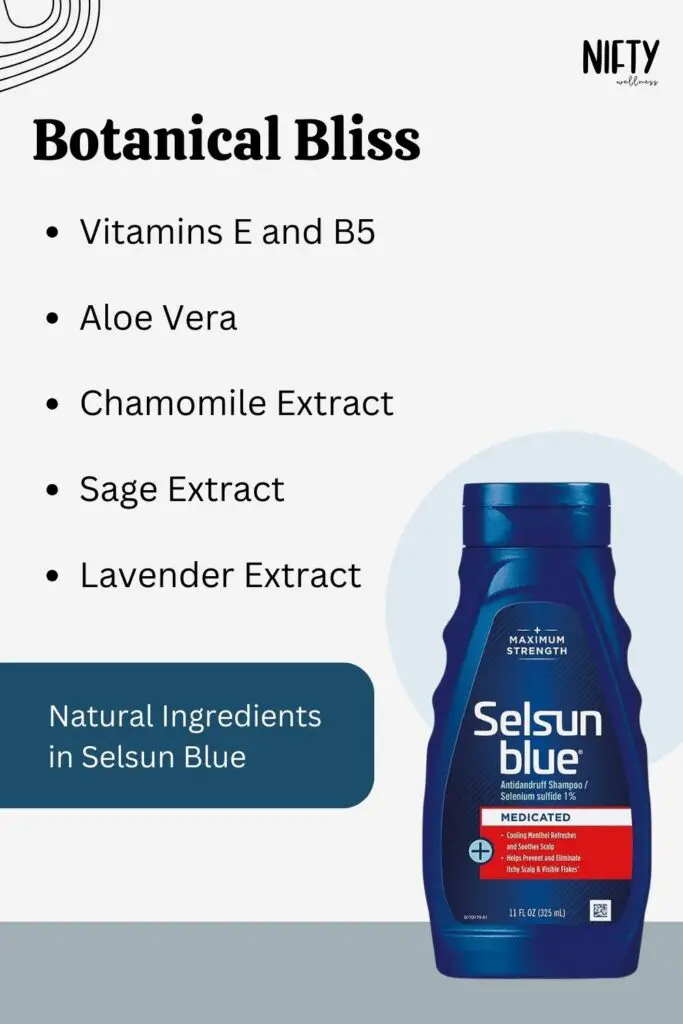 It is tough to find shampoos and conditioners that use natural ingredients as part of their creative process. Well, it's no different with these two brands either.
Selsun Blue Naturals only uses water as a natural ingredient. It also contains salicylic acid, botanicals, moisturizers, vitamins e and b5.
Water is the only natural ingredient in Nizoral too. Some of the other active ingredients include: benzyl alcohol, citric acid, sodium hydroxide, sodium lauryl sulfate, hydrochloric acid, and Ketocomazole. 
Selsun Blue vs Nizoral Hair Loss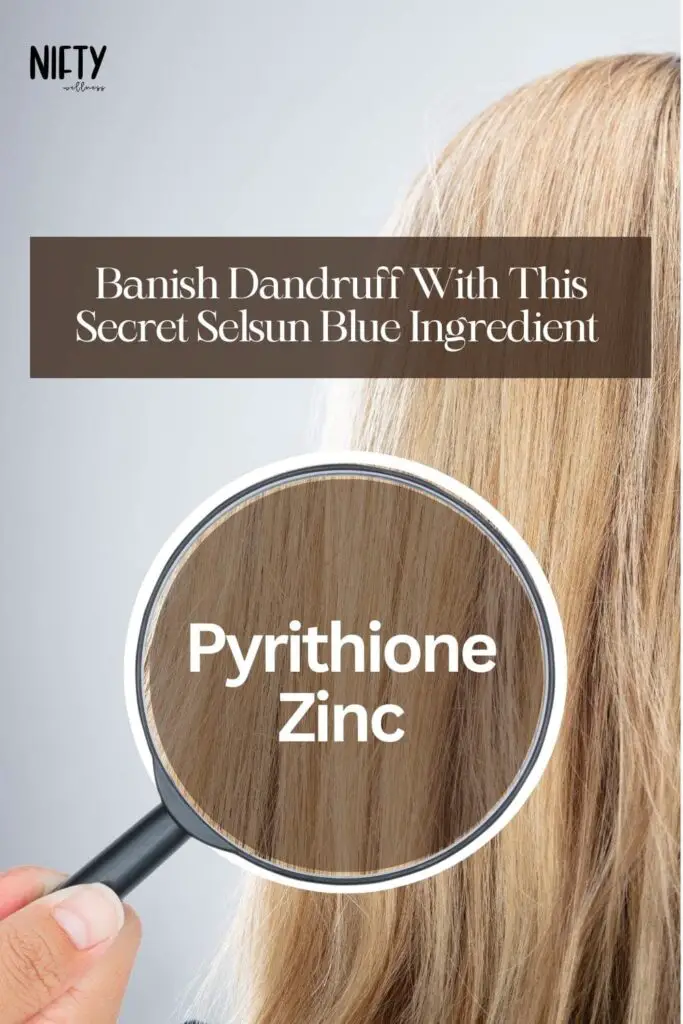 Hair loss becomes more common for men and women as a part of the aging process or simply due to stress and anxiety. 
A good conditioner can moisturize your scalp and hair strands to keep them strong and healthy. Strong roots and hair strands help minimize hair loss and give you the confidence that comes with having beautiful hair. 
Selsun Blue is created to prevent hair loss Pyrithione Zinc is an ingredient found in Selsun Blue, a powerful agent to treat and prevent hair loss. Additionally, Selsun Blue's conditioning properties provide extra care for your hair and scalp.
Nizoral products are created to decrease testosterone levels in your body. Your testosterone is converted into DHT which destroys hair follicles and results in hair loss. With lower levels of testosterone to create DHT, your hair follicles are healthier, resulting in fuller and stronger hair.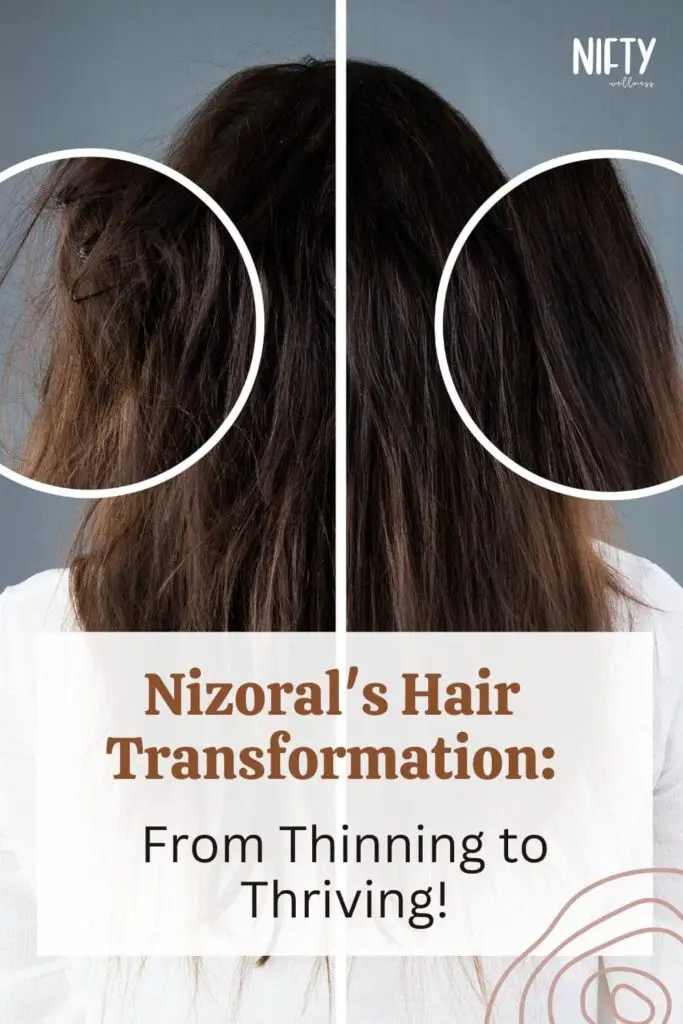 Read our blog Vegamour vs Nutrafol: Unraveling the Battle of Hair Growth Supplements. Learn which hair wellness solution suits you best and achieve the locks you've always dreamed of.
Conclusion
Experts overall view Selsun Blue as a better product than Nizoral. It has been named the number 1 anti-dandruff shampoo on the market. Nizoral is generally considered to be a harsher shampoo than Selsun Blue. 
With both of these brands, remember to do your research and speak with a hair care specialist to determine the best way to resolve your hair problem. 
You may also have to speak with a professional dermatologist to resolve your hair and scalp crisis if it is severe.
Your dermatologist will work with you to determine the best treatment plan to get rid of your scalp psoriasis and fungi infection. 
Remember to shampoo and condition your hair daily for the best results. Add extra moisture with deep conditioners to revitalize your hair and give it back the luster and shine it needs. Good luck!
Frequently Asked Questions (FAQs)
Are Selsun Blue and Nizoral shampoos suitable for all hair types?
Selsun Blue and Nizoral shampoos are generally suitable for various hair types, but it's essential to consider individual hair and scalp needs. Selsun Blue offers a range of products catering to specific concerns, so there may be a suitable option for most hair types. While effective for dandruff and hair health, Nizoral may be intense for daily use on certain hair types, so moderation and individual assessment are key for the best results.
Can I use Selsun Blue and Nizoral shampoos daily?
Using Selsun Blue and Nizoral shampoos daily might not be necessary for everyone. While both shampoos are effective in treating dandruff and related conditions, their potent ingredients can be intense for daily use. They may lead to dryness or irritation, especially if you don't have severe dandruff. It's advisable to follow the instructions on the product labels and consult with a dermatologist for a personalized hair care routine.
How long does it take to see results with Selsun Blue and Nizoral products?
The time it takes to see results with Selsun Blue and Nizoral products can vary from person to person. Some individuals may experience improvement in their dandruff or related conditions within a few uses, while for others, it might take a couple of weeks to notice significant changes. Consistency in use and following the product instructions is essential for the best results. If you don't see improvements after a reasonable period, consider consulting a dermatologist for further guidance.
Can I use Selsun Blue and Nizoral shampoos if I have colour-treated hair?
Certainly, you can use Selsun Blue and Nizoral shampoos even if you have colour-treated hair. These shampoos are generally safe for coloured hair. Still, it's wise to check with your haircare professional or conduct a patch test to ensure no adverse effects, as individual reactions may vary. Opt for colour-protecting shampoos to maintain your hair colour vibrancy and health.
Do Selsun Blue and Nizoral shampoos have a strong scent?
Selsun Blue and Nizoral shampoos do indeed come with fragrances, but they tend to be on the milder side. These scents are intentionally crafted to be gentle and enjoyable, aiming for a pleasant and not overwhelming lathering process. However, as fragrance preferences can differ from person to person, most users generally find the shampoos' aromas to be subtle and quite likeable.