If you suffer from sensitive skin, you know how much effort and consideration is needed when selecting which product to use and avoid disaster.
Luckily there are now several sensitive-skin product options on the market. Two of those brands are Sebamed and Cetaphil.
These brands are both medicinal skin-care brands that are made specifically for sensitive skin. Sebamed and Cetaphil are both chosen to treat and soothe sensitivity because of the carefully-picked ingredients they use.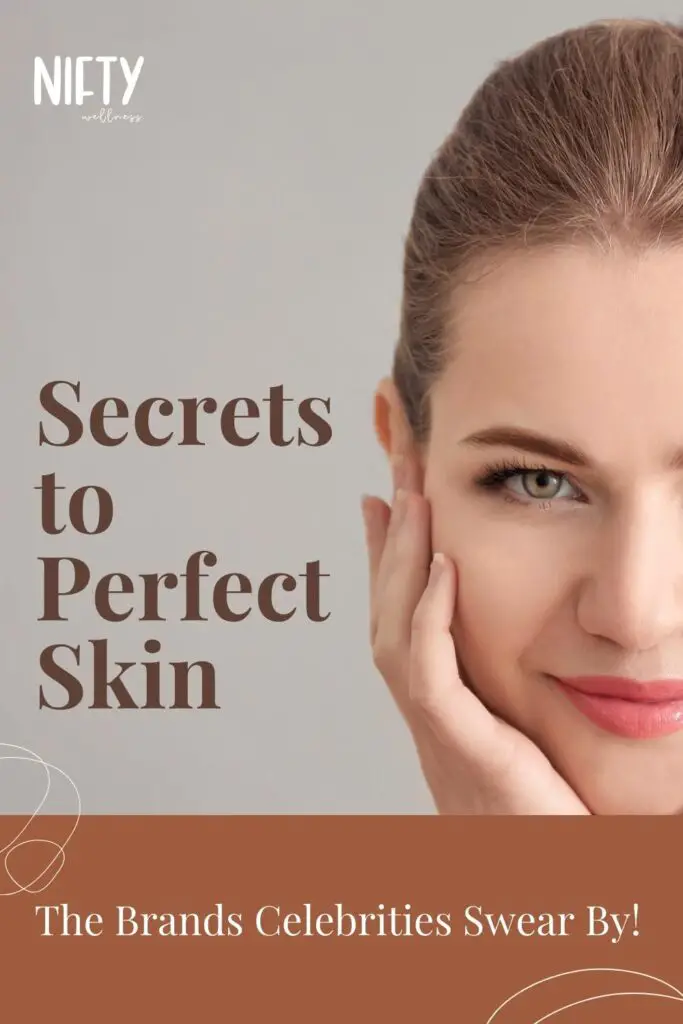 About Sebamed
Sebamed, the skincare maestro, is all about pampering and safeguarding sensitive skin. With a product lineup catering to various skin needs, Sebamed's secret sauce is its pH 5.5 formula – like a snug, comforting blanket for your skin. Their specialty? Delivering gentle care that leaves sensitive skin beaming with joy.
About Cetaphil
Meet Cetaphil, the seasoned skincare sage. Upholding a rich legacy, Cetaphil is known to champion uncomplicated, hassle-free skincare. Renowned dermatologists vouch for their products, and for a good reason – they get the job done. Whether looking after a baby's tender skin or combating dryness, sensitivity, or acne, Cetaphil is your trusted skincare confidant.
Although these brands offer similar benefits, there are differences between them. So, let's talk about Sebamed VS Cetaphil and which brand reigns supreme for sensitive skin. 
First, the main differences between these brands are:
Sebamed has scented products, while all Cetaphil products are fragrance-free.
Cetaphil is soap-free, while Sebamed has a pH value of 5.5.
Cetaphil products have no lather, Sebamed on the other hand, lathers on the skin.
Sebamed Vs Cetaphil: 4 Main Differences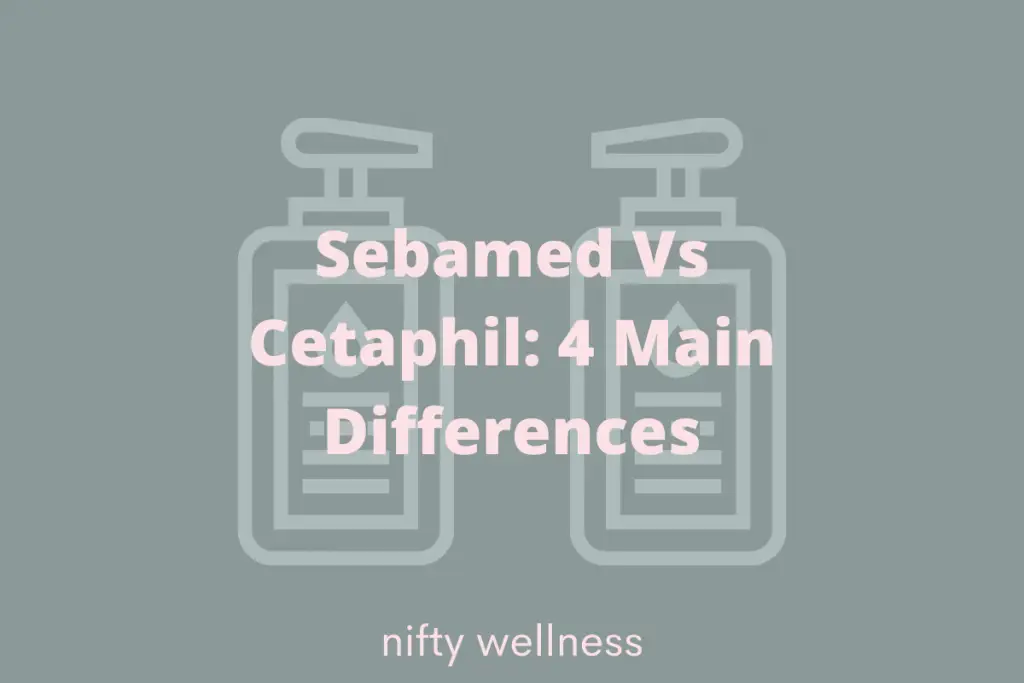 Ingredients 
Cetaphil
Cetaphil is made with all-natural products like Aloe Vera and Vitamin B5. Additionally, the first listed ingredients in Cetaphil products are water and Cetyl Alcohol, which might sound rough but it is a non-irritating ingredient that moisturizes dry skin.
Isopropyl Alcohol, however, a rougher ingredient, is also found in Cetaphil products, specifically cleansers, because it removes impurities and also kills microorganisms.  
Cetaphil cleansers also contain Lauryl Sulfate or SLS, which can cause irritations if overused.
Also, Stearyl Alcohol is used as a moisturizer and can be derived from both stearic acid and coconut or vegetable oil. This ingredient can soothe and condition your skin.
Unfortunately, Cetaphil also includes Paraben, which is now being linked to forming cancer in the body. 
Sebamed
The first two ingredients in Sebamed are water and Olefin Sulfonate. Olefin Sulfonate is simply a cleansing agent which works by dissolving oil molecules and compounds in water.
SLES is another ingredient that is also included in the product. It is a detergent just like SLS that is found in Cetaphil. However, SLES is thought to be safer than SLS.
Additionally, SLES is just like a foaming agent to cleanse your skin. To make sure your skin stays moisturized, Panthenol is also used here, and it will act by binding water to your skin.
Another ingredient used is Glycol Distearate, which is simply an emollient and has a high foaming capacity making it a popular ingredient in cleansers.
Like Cetaphil, Sebamed has moisturizing ingredients like Saccharide Isomerate that binds water to the skin. Additionally, there is Allantoin that is used here to soothe and protect the skin.
Finally, there is Glycerin which is an emollient that keeps your skin hydrated, supple and prevents dryness.
Unlike Cetaphil, Sebamed uses a fragrance in their products, which might be irritating to sensitive skin. Therefore, people should spot test these products before using them.
Check out our blog Qv Vs Cetaphil: Differences, Similarities & Which One Is Right For You. Discover the essentials of Qv vs Cetaphil in this comprehensive guide.
Price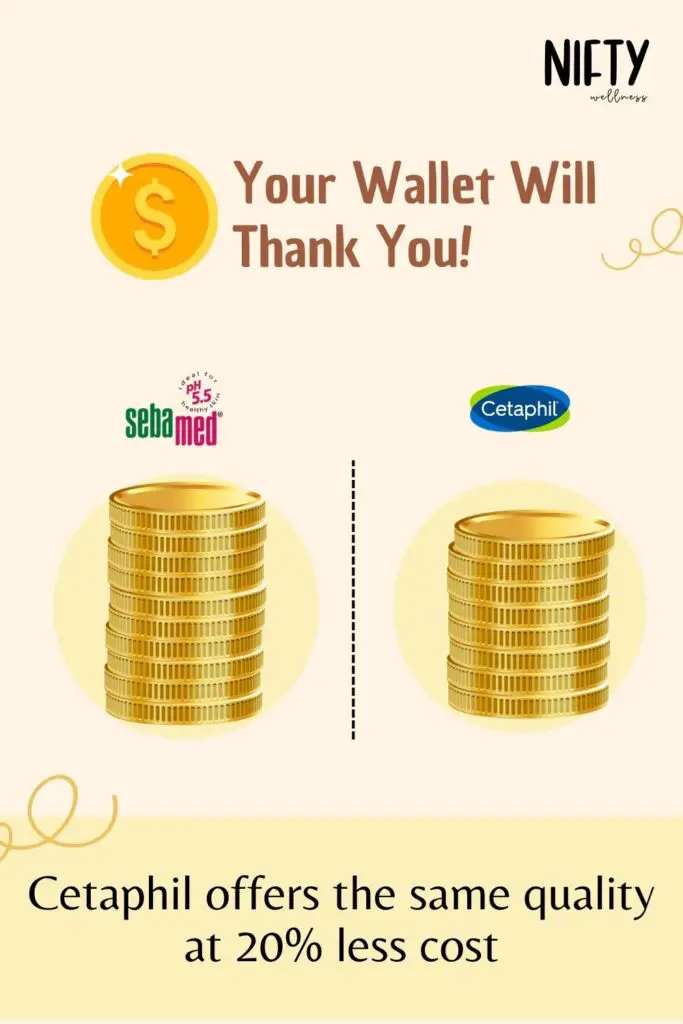 Cetaphil
Cetaphil takes the lead in the affordability game. Their products are like friendly neighbors in your budget-friendly neighborhood. You won't have to break the bank to get your hands on some quality skincare. This makes Cetaphil a top choice for effective skincare without the hefty price tag. Whether you're a student on a budget or prefer wallet-friendly options, Cetaphil covers you without emptying your pockets.
Sebamed
Now, let's talk about Sebamed. While it's true that Sebamed tends to lean towards the pricier side of the skincare aisle, many users consider it a worthwhile investment. Think of it as the luxury car of skincare – a bit more on the splurge side, but oh, the experience! People who swear by Sebamed often do so because they appreciate the premium quality and results it offers. So, yes, you might need to set aside a bit more cash for Sebamed, but the luxurious feel and benefits make it well worth it for many.
The difference in price for these brands depends on the product you are buying, but overall Sebamed is considered more expensive than Cetaphil. 
Ultimately, the choice between Cetaphil and Sebamed when it comes to price often depends on your budget and how much you're willing to invest in your skincare routine. It's all about balancing your skin's needs and your wallet's wants!
Consistency 
Cetaphil
The USP of Cetaphil is the versatility of its products.
Cetaphil's cleanser has a watery consistency which results in a clear cream and gel. As mentioned, Cetaphil is unscented, so there are no relaxing scents, but it can be used with or without water.
Sebamed
On the other hand, Sebamed's consistency is thick with a green gel-like density. Also, there is a powdery scent. The cleansing cream is easy to apply and massage into the skin and can be applied to both the body and the face. While Sebamed's density might make it slightly more luxurious, it's essential to consider your skin's needs.
Based on their individual consistencies, Sebamed may be easier to apply. However, Cetaphil is lighter, which is better for sensitive skin. Furthermore, it can be used with or without water, unlike Sebamed. 
Performance
Cetaphil
Cetaphil cleansers have gained a strong reputation for their gentle yet effective performance. Cetaphil cleansers leave the skin feeling smooth and clean after use, unlike dry or stiff like regular face or body washes. However, since Cetaphil cleansers do not lather, they are not efficient for completely removing heavy makeup.
Sebamed
Like Cetaphil, Sebamed is not so good at removing makeup either. But, it does work well with removing dirt and oil from the skin, and it is a bit more effective with makeup from my experience. It's worth mentioning that Sebamed cleansers work optimally when used with water, making them ideal for those who prefer a traditional cleansing routine.
The main difference between these brands in their performance is that Sebamed lathers, but it will need water to be completely clean, unlike Cetaphil. 
Learn which brand is perfect for your skin type and achieve a radiant complexion effortlessly. Dive into the CeraVe vs. Cetaphil comparison now in "The Ultimate Comparison: CeraVe vs Cetaphil – Unveiling the Best Skincare Choice".
Sebamed Vs Cetaphil Body Wash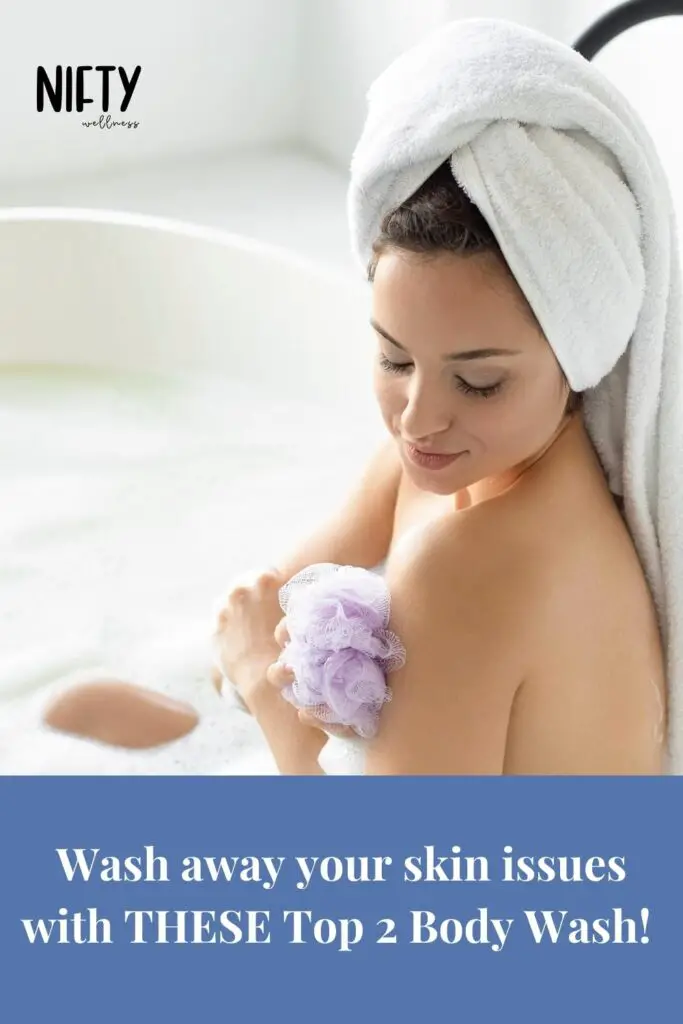 As mentioned, none of the Cetaphil products are scented, which makes it better for sensitive skin as there is a lower risk for skin irritation. Sebamed on the other hand is scented.
However, if you like to have a lathery body wash, then Sebamed is for you. Cetaphil body washes are cleansers, not soap, which means the washes do not lather.
Furthermore, Cetaphil Body Wash can be used without water as it is more of a cleanser than a soap. Since Sebamed lathers like soap, you will need to use it with water. 
Sebamed vs Cetaphil Face Wash
When it comes to Sebamed vs Cetaphil face wash, both brands offer gentle and effective cleansing solutions. While Cetaphil offers a non-lathering, gentle cleansing experience, Sebamed offers mild lather, adding the traditional touch to your cleansing routine.
Both brands effectively remove dirt and excess oil, but Cetaphil might be the preferred option for those who don't wear heavy makeup. Ultimately, the best choice boils down to your own skin type and needs. Whether you want a lathering or a non-lathering cleanser. It is recommended only to use products that suit your skin type and are designed to cater to your skin's needs.
Sebamed vs Cetaphil Moisturizer
When comparing Sebamed and Cetaphil moisturizers, remember that both brands are all about keeping your skin nicely hydrated. Cetaphil gets props for its lightweight, non-greasy moisturizers, perfect for everyday use, especially if you have sensitive skin.
Now, Sebamed takes a different approach. They've got moisturizers designed to tackle specific skin issues like dryness and sensitivity. These products tend to be a tad richer, ensuring your skin gets a good, deep drink of hydration.
So, which one to pick? Well, it all comes down to what your skin needs and whether you're into a lighter or richer feel. Your skin, your rules!
Sebamed Vs Cetaphil for Baby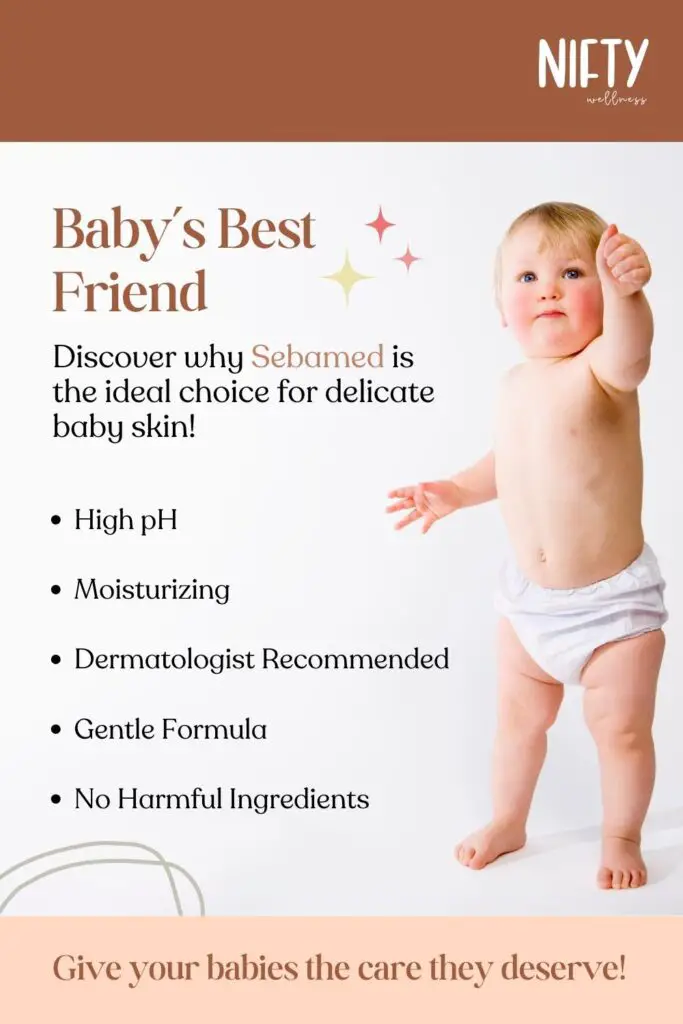 As both brands are great for sensitive skin, this makes them perfect for babies. Additionally, they both have no harmful chemicals and are soap-free.
Cetaphil has a dedicated range of products designed just for baby's sensitive skin. Cetaphil offers gentle and mild options for your little one's delicate skin.
However, for a better clean, you may prefer to use Sebamed instead of Cetaphil. Sebamed has a high pH which is best for cleansing, and it does not strip the moisture from the baby's skin while keeping it clean at the same time. 
Furthermore, Sebamed is recommended by dermatologists for babies with dry skin. Also, Sebamed is soap-free which means it won't irritate the baby's eyes.
Another reason why Sebamed is best for babies is it has herbal extracts that can make your baby's hair stronger and healthier.
Sebamed Vs Cetaphil for Acne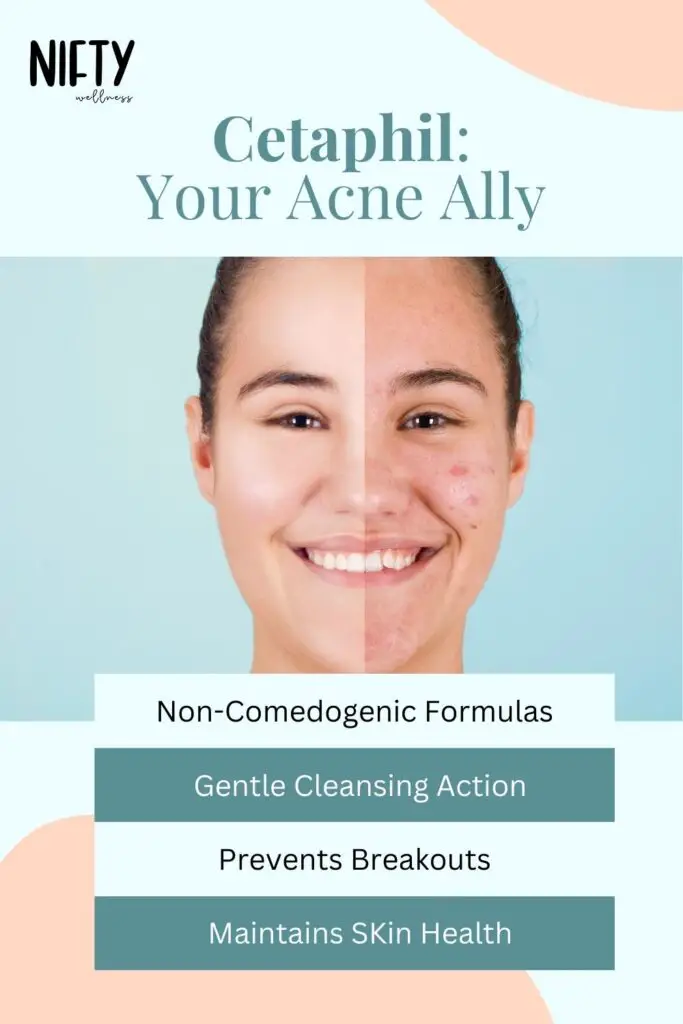 Cetaphil Facial Cleanser offers a basic acne treatment because it cleanses the face without removing the essential oils. Also, all of the Cetaphil moisturizers are non-comedogenic, which means they won't block your pores.
However, Cetaphil is so gentle on the skin it can be used as part of the daily regime for acne-prone skin, but it can not be used as the sole treatment. 
Sebamed, on the other hand, is specifically designed for eczema, pimples, acne, and blackheads. It also moisturizes, heals, and helps with skin elasticity. Because of this, Sebamed is more suited to treat chronic acne. 
Who Is Cetaphil Good For
Although Cetaphil and Sebamed are both for sensitive skin, Cetaphil is best for persons with highly sensitive skin as it does not have any fragrance.
Who Is Sebamed Good for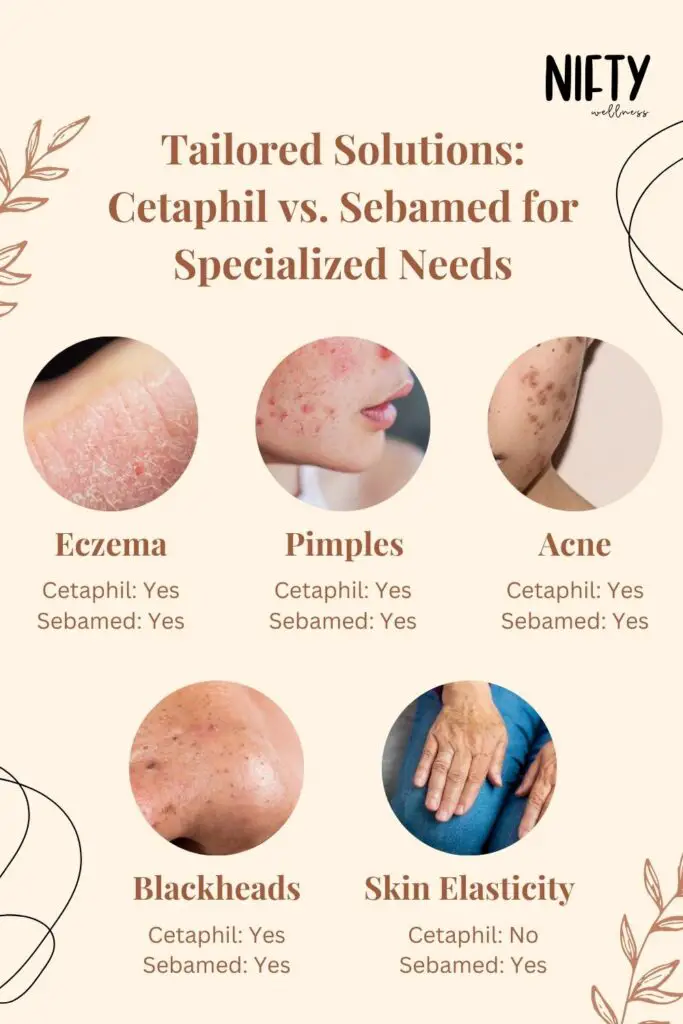 As mentioned, Sebamed does have fragrance, unlike Cetaphil. Furthermore, Sebamed is heavier and foamier.
That being said, Sebamed would be suited for persons who want to use a product for fairly sensitive skin but still want to have the feel of using soap. 
Summary
Cetaphil and Sebamed are pretty equal contenders. Their main differences are the fragrance and foaminess.
Although both of these brands stay away from harmful products, there have been some conversations about the use of Paraben (found in Cetaphil products) which has been linked to causing cancer.
Frequently Asked Questions (FAQs)
Is Sebamed better than Cetaphil for sensitive skin?
Sebamed and Cetaphil are popular for sensitive skin, but the "better" option depends on individual preferences. Sebamed is known for its slightly acidic pH that matches the skin's natural pH, which can be beneficial for some. Cetaphil, on the other hand, is often recommended by dermatologists for its gentle formula. It's essential to try both and see which works best for your specific skin needs, as everyone's skin is unique.
Can I use Sebamed sunscreen daily?
Yes, you can use Sebamed sunscreen daily. Sebamed has a wide range of sunscreens specially designed for daily use. It must be noted that applying sunscreen is extremely important to protect the skin from harmful UV rays and prevent premature aging and skin damage. Just remember to follow the recommended usage instructions on the product packaging for optimal sun protection.
Does Cetaphil work well for dry skin?
Certainly! Cetaphil is pretty great for dry skin. Many folks with dry or sensitive skin like how Cetaphil products give their skin the moisture it craves. Cetaphil is known for its hydrating moisturizers. But, you know, everyone's skin is unique, so it's always a good plan to give a product a shot to see if it's your perfect match.
Can I use Sebamed and Cetaphil products together?
You can use Sebamed and Cetaphil products in your skincare routine. However, it is essential to ensure that the specific products you choose from each brand align with your skin's needs and don't contain ingredients that could potentially interact negatively. Always perform a patch test when introducing new products to your skincare routine to ensure compatibility and monitor your skin's reaction.
Are these brands cruelty-free?
No, Sebamed and Cetaphil are not cruelty-free brands. While Cetaphil claims not to test its products on animals, it pays others to do so when required by law, which disqualifies them from being cruelty-free. Sebamed, on the other hand, tests its ingredients and formulations on animals when necessary and does not openly claim to be cruelty-free. Additionally, Sebamed products may contain animal-derived ingredients, and the brand needs to be clearer about its suppliers' practices.