Coloring your hair looks great, but it can have negative effects on your overall hair health.
Bleaching and dying your hair exposes it to chemicals that can wear away the proteins in your hair and leave split ends and a dry, damaged appearance. 
When you're a regular dyer, or if you regularly style your hair with hot irons or curlers, you will need to find a product that's kind to the hair and helps to repair and protect from damage to give you a younger-looking, healthy shine.
So, which one should you go for when it comes to Pureology vs Redken? Let's find out!
Pureology & Redken Brief History
Redken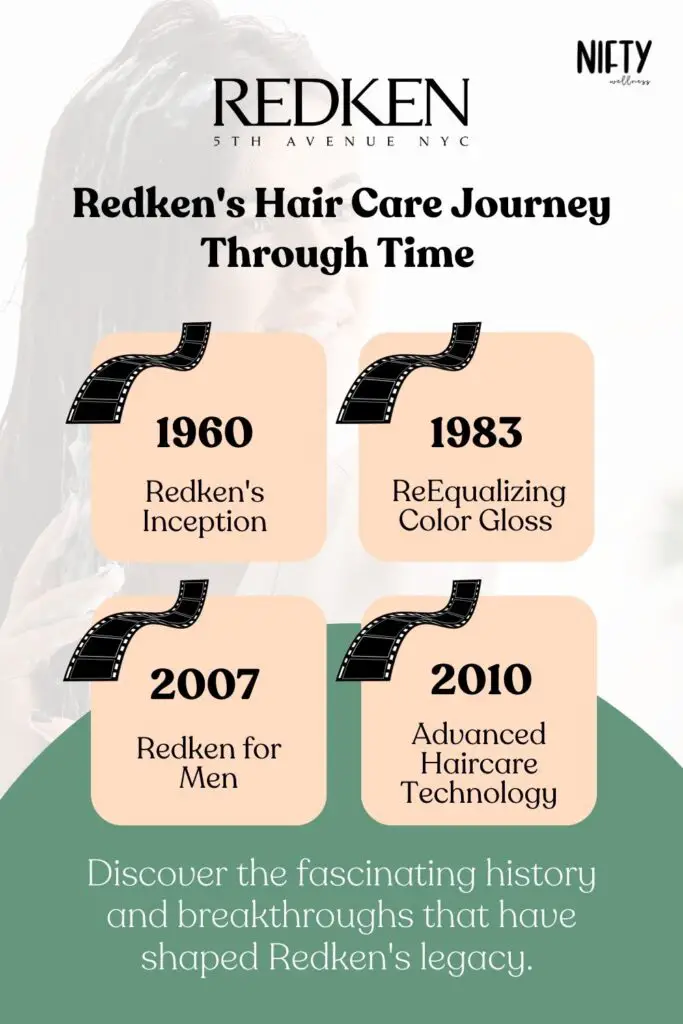 The Redken brand was established in the 1960s when American actress Paula Kent struggled with her constant hair treatments and styling for her role, meaning that her natural hair always looked dry and damaged.
She also has sensitive skin and was prone to allergic reactions, so struggled to find products that were kind to her scalp too. 
The brand started its life with standalone products designed with the most up-to-date protein technology in mind to repair the damage and restore the hair's natural pH level.
It was marketed to salons only, moving to a more commercial market with the Equalizing Color Gloss in 1983 to specifically target and repair colored hair. 
Check out our blog Kerastase vs Pureology: Differences, Similarities & Which One Is Right For You. Find out which brand suits your unique needs and discover the secrets to achieving salon-worthy hair at home.
Pureology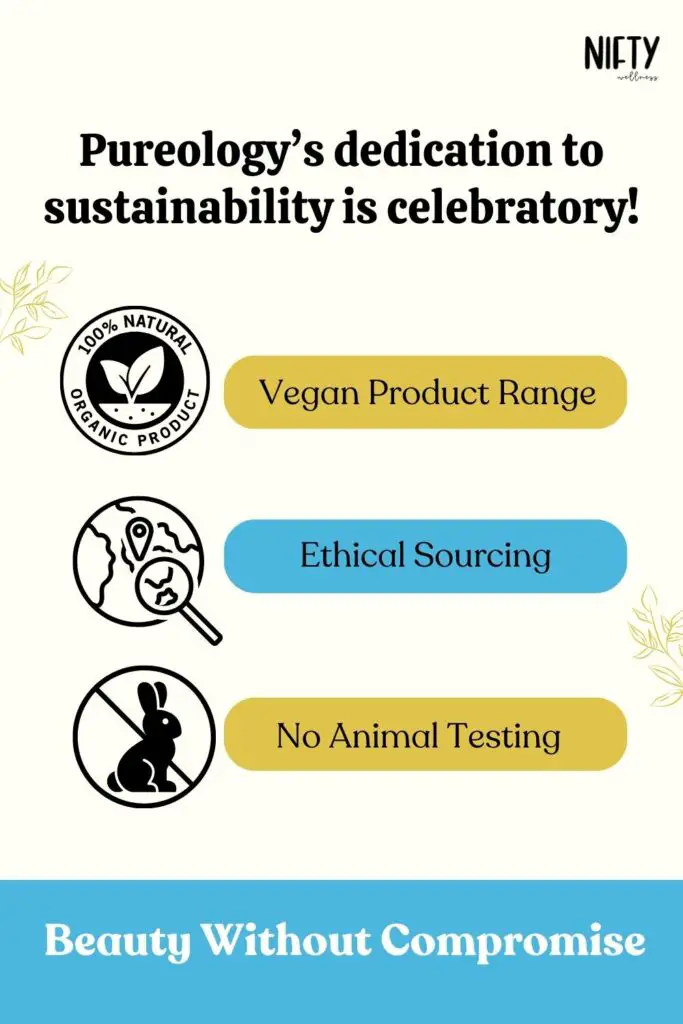 Pureology, now owned by the L'Oréal brand, was born in 2001, created by American hairstylist Jim Markham. He developed the products specifically to treat and maintain the health of colored hair.
The brand boasts a 100% vegan formula and aims to provide women with the best quality products to protect their hair and maintain their beautiful colors for longer, whilst doing their bit for the planet. 
The products are completely cruelty-free and contain no harmful sulfates. They also work specifically with concentrated formulas to make even the smallest bottle last for longer. 
Each product, from shampoos to serums, operates with protein protecting and anti-fade technology and is built to last. It's a recommended brand for all hair types in salons across the world. 
Pureology Vs Redken General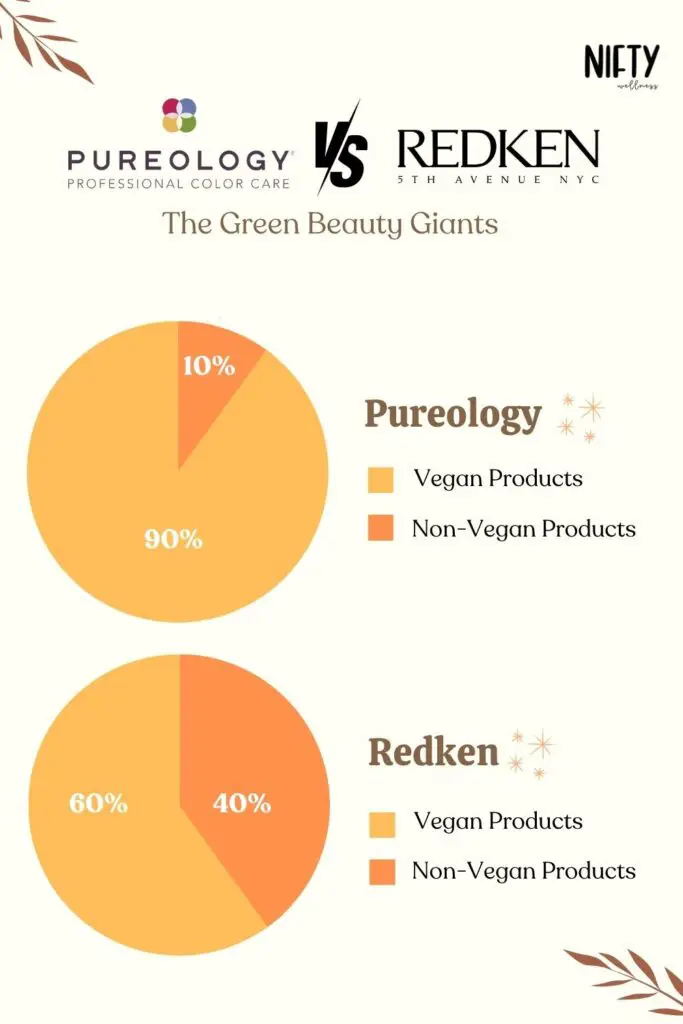 All Pureology products are carcinogen and sulfate free. 
Both Pureology and Redken are now owned by L'Oréal. However, neither brand is affiliated with each other and were purchased by L'Oréal separately at different times. 
Pureology is specifically formulated to cater to colored hair. Redken, although it's great for colored hair, also focusses on other common hair care problems, such as frizz. 
Neither of the products are completely natural, but they don't contain any ingredients that would be considered harmful to hair. 
Pureology Vs Redken Leave-in Sprays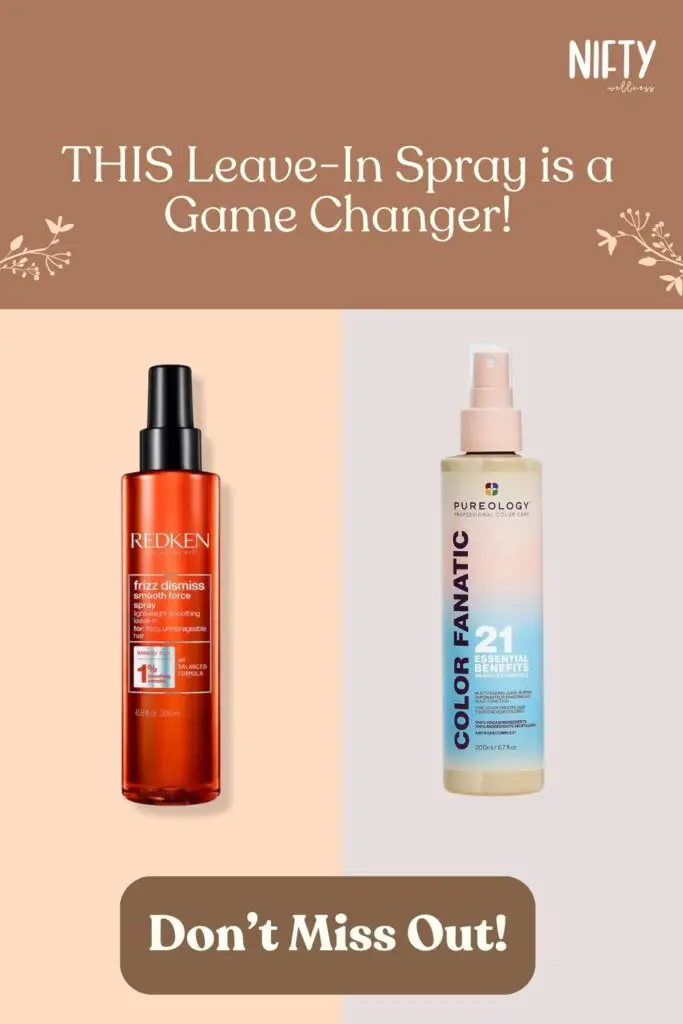 Leave in sprays are a great way to maintain the condition of your hair between washes. You simply spray onto damp hair before styling and leave it all day. 
Redken offers the Acidic Perfecting Leave-in Treatment for Damaged Hair. It's a repairing formula that provides intense conditioning and prevents fading of colored hair.
Pureology's version is the Color Fanatic Multi-Tasking Leave-in Spray. It aims to condition and detangle hair while adding shine to color-treated hair. 
Similarities
Both sprays can be used on damp hair after washing to give you a conditioning effect throughout the day. You could also spray both products lightly onto styled dry hair to reduce the frizz.
But don't overdo it. Too much could lead your hair to feel heavy and may reduce the effects of your style. 
Differences
Although both products have a nice smell, Pureology uses natural oil scents such as coconut, camelina, rose, and cedar, giving a longer-lasting fragrance to your hair.
It also contains olive oil which conditions the roots of the hair and reduces frizz. 
However, the amount of oil contained in this product could weigh down fine hair and cause it to look greasy. Some customers also suggest using this product sparingly, as the scent can become overpowering.
The Redken product is specifically designed for finer hair, so the oils in this aren't as strong as the Pureology.
This means that the detangling abilities are slightly reduced though and the formula may not last as long to condition the hair throughout the day. But this means you won't have that heavy, greasy feeling. 
Verdict
Both products get great reviews, and it entirely depends on your hair type when deciding which one is best for you.
If you have finer hair, then the Redken is the right choice. However, for thicker or frizzy hair, you should opt for the Pureology – but make sure you don't use too much. 
Read our blog Redken vs Kerastase Shampoos & Conditioners: The Ultimate Breakdown and uncover the magic behind these two hair care giants.
Pureology Vs Redken Dry Shampoo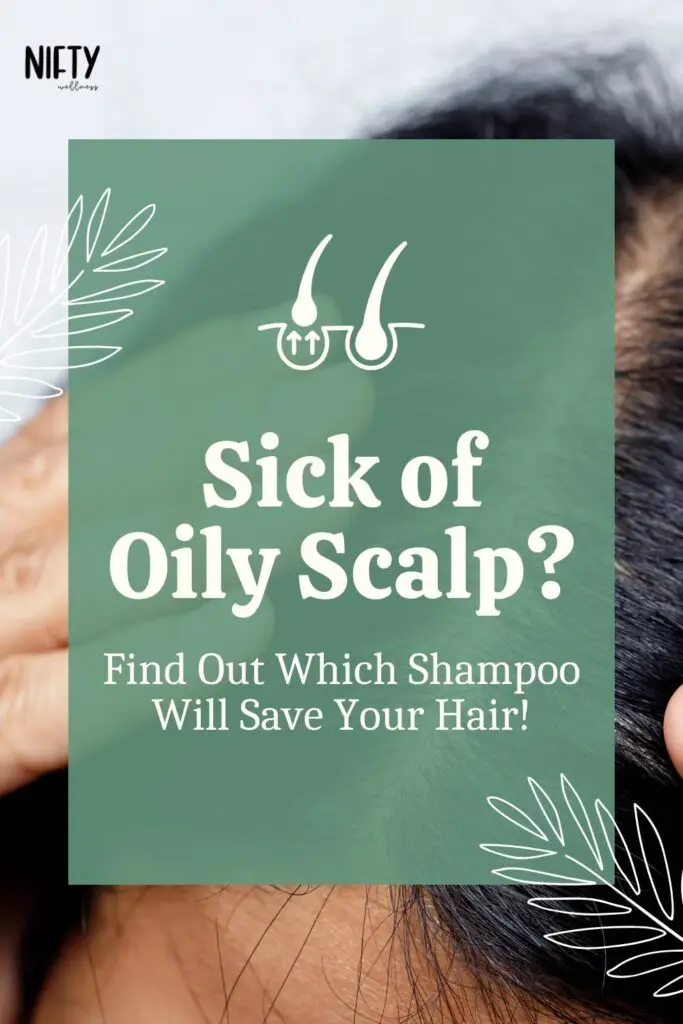 Sometimes washing the hair can be time-consuming and when you're on the go, you just don't have the time or energy to give your hair a full wash and condition.
However, dry shampoos can save the day. You simply spray the powder onto your scalp to reduce the oils that develop and give it a clean and fresh look with no water required. 
Pureology's Style & Protect Refresh & Go Dry Shampoo boasts a light texture that effectively reduces the oils whilst increasing movement and adding a light texture to the hair to give it a natural, fresh look. 
The Redken Deep Clean Dry Shampoo gives a long-lasting clean appearance, meaning it even works on hair that hasn't been washed for 3 or 4 days. 
Similarities 
Both products work to reduce the oils that are naturally developed on the scalp to give a clean appearance. They are both completely sulfate-free, and, unlike some powdered dry shampoos, they are actually good for your hair. 
Both dry shampoos also have a pleasant, long-lasting scent with aromatherapy benefits and are developed using the key ingredients of rice starch and tapioca starch.
The formulas also leave very little white residue on the hair as long as you spray from the correct distance. 
Differences
The Redken dry shampoo works incredibly well for the thickest hair types, meaning that the product is slightly denser than other, similar products.
This may mean that it takes a little longer to brush through the hair, but the lack of talc in the formula reduces the oiliness more effectively than other products without excessive white powder.
It's not recommended for people with finer hair, as there may still be a little white residue left if you use it over generously. 
The Pureology is formulated for people with thinner hair or dyed hair. It is designed to be completely invisible and therefore, isn't as thick as the Redken option.
However, this does mean that the effects probably won't last as long. The product should be used as more of a touch-up than to hide the evidence of a few days of unwashed hair. 
Verdict
For a just-washed feeling without the hassle, the Redken product takes the lead here. With the talc-free recipe and pleasant smell, it can give you the experience of a full wash.
It's also good for your hair, reducing the oily and frizz at the same time to give you a natural look. 
However, if you have especially fine hair, the Redken might be a little much, unless you use it very sparingly from a distance. If you're just looking for a little touch-up to fine hair, then opt for Pureology. 
If you are wondering about normal shampoos, Pureology Strength Cure vs Hydrate is a good place to start. In the battle between Pureology Hydrate vs Strength Cure, the winner is the one that suits you. While both are designed for coloured hair, Hydrate is known to treat dry hair, whereas Strength Cure is fit for damaged hair.
Pureology Vs Redken Conditioners
Both brands offer a conditioner specifically to manage dry, tangled hair which can come from sun exposure, saltwater, or, most commonly, from regular dye or bleach treatments. 
Pureology's Strength Cure Conditioner is specifically formulated for hair that has become damaged during the dying process. Its key ingredients are Astaxanthin and Keravis with some fruity essential oil additions to give it a great fragrance. 
Redken's Acidic Bonding Concentrate Conditioner for Damaged Hair uses Citric Acid as the main ingredient, which helps to increase the strength of the hair internally and lock in color to prevent fading which can occur quickly due to damage. 
Similarities
Both conditioners were created with dyed hair in mind. Coloring your hair, especially if bleach is needed first, can damage your hair. This actually means that the color can fade more quickly.
However, both conditioners can be used regularly to secure the color into the hair and keep your vibrancy for longer. 
Both products also work exceptionally well for dry hair types, aiming to provide long-lasting moisture and shine to each strand. 
Differences
The Pureology product is aimed at people specifically with frizzy or unmanageable hair types.
Though those with fine hair may struggle with the conditioner if it's used during every wash as it can cause the hair to look a little greasy. 
As with most Pureology products, the conditioner is highly scented in comparison to the Redken counterpart, which is a positive for some, but can put some people off. 
This conditioner works on the surface of the hair to reduce frizz and smoothen hair. It's also a great detangler. 
The Redken conditioner is aimed at people with blonde hair, though it can be used by anyone. It aims to get inside the hair proteins to repair the damage caused by coloring or styling.
Again, because of the concentrated formula, this conditioner can be a little overpowering if you happen to have fine hair and may cause a greasy look.
However, it's not quite as highly scented as the Pureology. Because it uses less perfume, it can be better for people with sensitive skin.
This does come at a price for people with sensitive skin though, as it's considerably more expensive than the Pureology.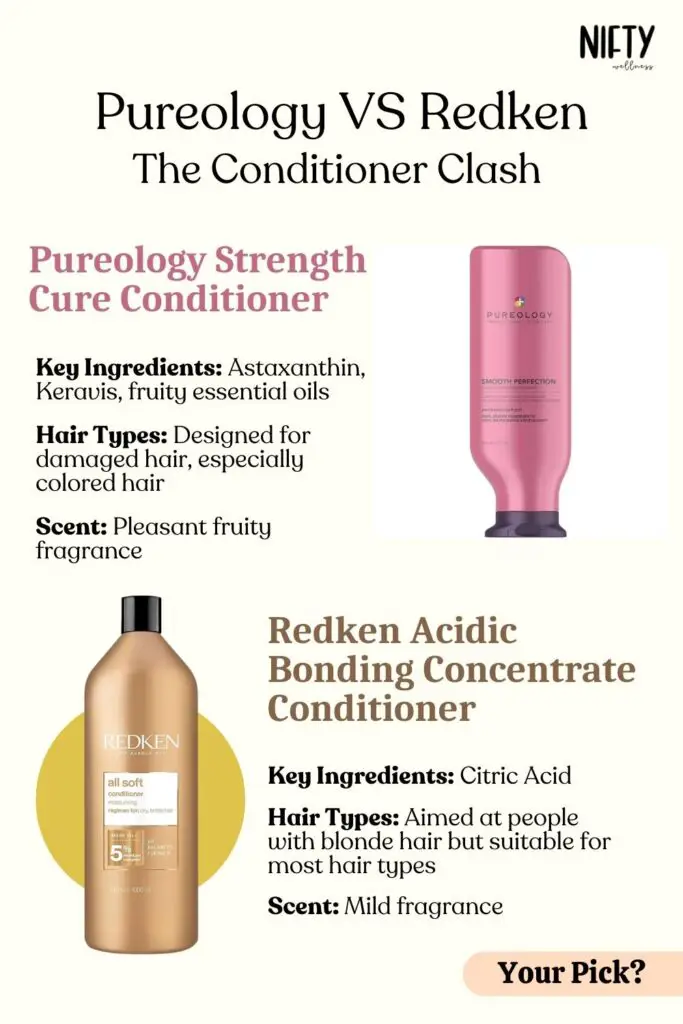 Verdict
Overall, the Pureology product wins here. It reduces frizz, repairs hair, and works as a detangler too – something that the Redken doesn't seem to do as well.
It's also a lot cheaper for a product that does essentially the same thing, though in a slightly different way. 
However, if you have sensitive skin or colored blonde hair, then it may be worth paying that little extra for the Redken. 
Conclusion
Both Pureology and Redken have some excellent products on offer and the one you select basically comes down to your hair type. 
If you have thick hair that's prone to frizz, then the Redken options tend to be the better choice. However, for fine hair that gets damaged regularly by coloring, Pureology has the floor. 
Frequently Asked Questions (FAQs)
Are Pureology products suitable for all hair types?
Yes, Pureology offers a range of products designed to cater to various hair types and concerns. Whether you have fine, damaged, coloured, or curly hair, you can find specific Pureology lines tailored to your needs. Their products are known for being sulfate-free and safe for colour-treated hair, making them suitable for a wide range of hair types.
Does Redken test its products on animals?
No, Redken does not conduct animal testing on its products. They are committed to producing cruelty-free hair care products and are certified by PETA (People for the Ethical Treatment of Animals) as a cruelty-free brand. Redken values animal welfare and ensures that its products are not tested on animals at any stage of development.
Which brand is more budget-friendly, Pureology or Redken?
Redken is generally considered to be more budget-friendly compared to Pureology. While both brands offer high-quality hair care products, Pureology is often positioned as a premium brand and tends to have higher price points. Redken offers a variety of products across a wider budget preference, making it a budget-friendly and more cost-effective option for all.
Is it acceptable to incorporate both Pureology and Redken products into my haircare regimen?
You can use Pureology and Redken products in your haircare routine. Pureology and Redken are known for their vast product lines. In common practice, combining and using these products is usually safe. You must try products that cater to your hair needs for the best results.
Where can I purchase Pureology and Redken products?
You can buy Pureology and Redken products from their official websites and various places like salons, online retailers (Amazon, Ulta, Sephora, official websites), beauty supply stores (Sally Beauty, Beauty Brands), and some department stores (Macy's, Nordstrom). Make sure to check availability and compare prices before purchasing.