Kiehl's is a cosmetics brand known most commonly in America since 1851. They specialize in skin, body care, and hair products, which always stand out against other brands. 
They now have thousands of stores in different locations worldwide. Kiehl's has been recognized for its unconventional marketing approach, large client bases, and minimalist packaging. 
On the other hand, Clinique is an American mass manufacturer of cosmetics, skincare, fragrances, and toiletries supplied to large department stores. 
It was awarded the Best Ecommerce Experience during Europe's Inaugural Glossy Awards (2019) and had Emilia Clarke as their Global Ambassador team last 2020. 
But which one comes out on top when it comes to Kiehls vs Clinique? Let's find out!
Check out our blog Clinique VS Mac: Differences, Similarities & Which One Is Right For You and discover the differences and similarities between Clinique and Mac cosmetics.
Kiehls & Clinique in General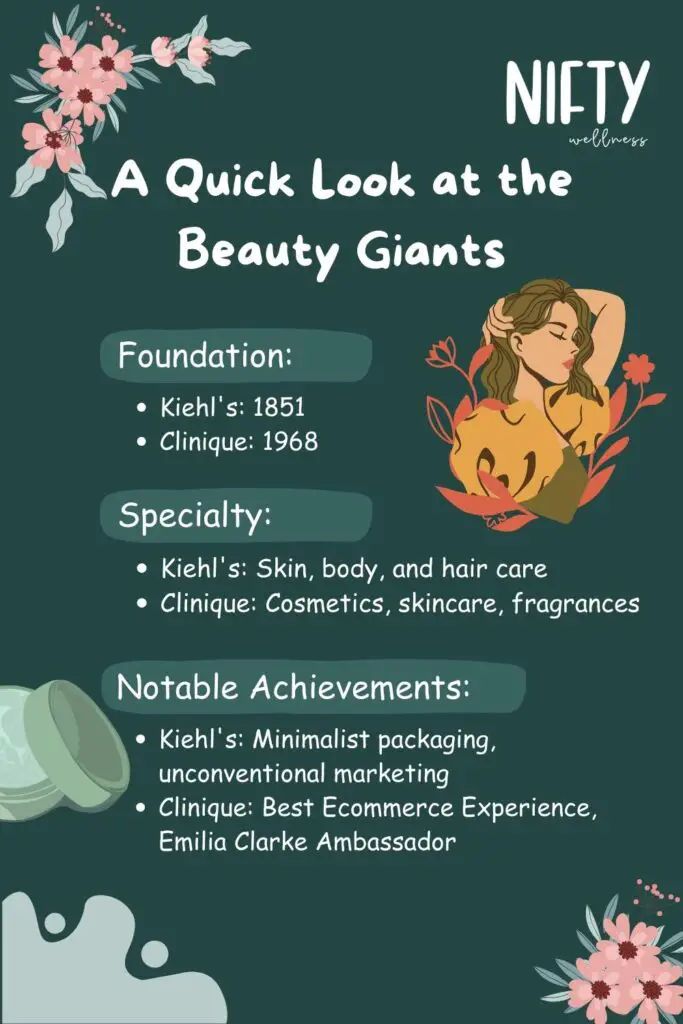 If you think about it, Kiehl's and Clinique are very similar. They produce standard products which are about skincare, and body. 
Also, both give similar benefits to your skin. More than that, both are also top of the class in the market. 
So, for you to decide who is better between the two, here are some sharp differences that we researched.  
Kiehl's skincare products have less variety compared to Clinique. 
Some of Kiehl's and Clinique's have the same benefits to skin but different effects, which will be tackled later on. 
Kiehl's and Clinique differ in product prices which is noticeable in the market.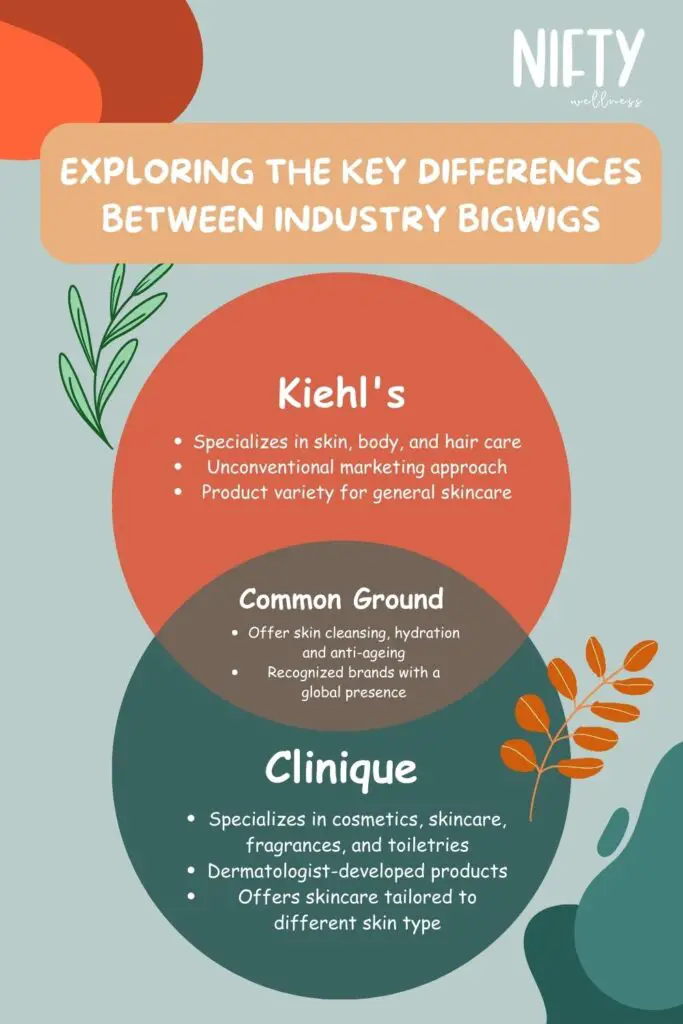 Kiehls VS Clinique Cleansers 
Cleansers are a must-buy for both men and women regularly. It is supposed to clean our face from the accumulated oils, specks of dust, and dirt from surfaces. 
Cleansers prevent the skin from irritation, acne, whiteheads, and more. While both Kiehl's and Clinique effectively clean, some differences still need to be pointed out. 
Kiehl's Deep Clean Calendula Foaming Face Wash
This gentle face cleanser helps eliminate dirt and dust without depleting the skin of vital hydration.
Aside from removing excess sebum and dirt, this cleanser helps protect the skin's biological balance and defensive barrier. 
Composed with Glycerin, Squalane, and Avocado Oil, this skin specialist-tested, soothing face wash is ideal for all skin types.
The facial cleansers that Clinique offers are available for three different skin types: mild, dry, to very dry. They are also developed by dermatologists and are guaranteed to cleanse the face well yet gently.
The product loosens the flakes on the face surface and preserves the skin's natural moisture balance. Moreover, it is easy to apply.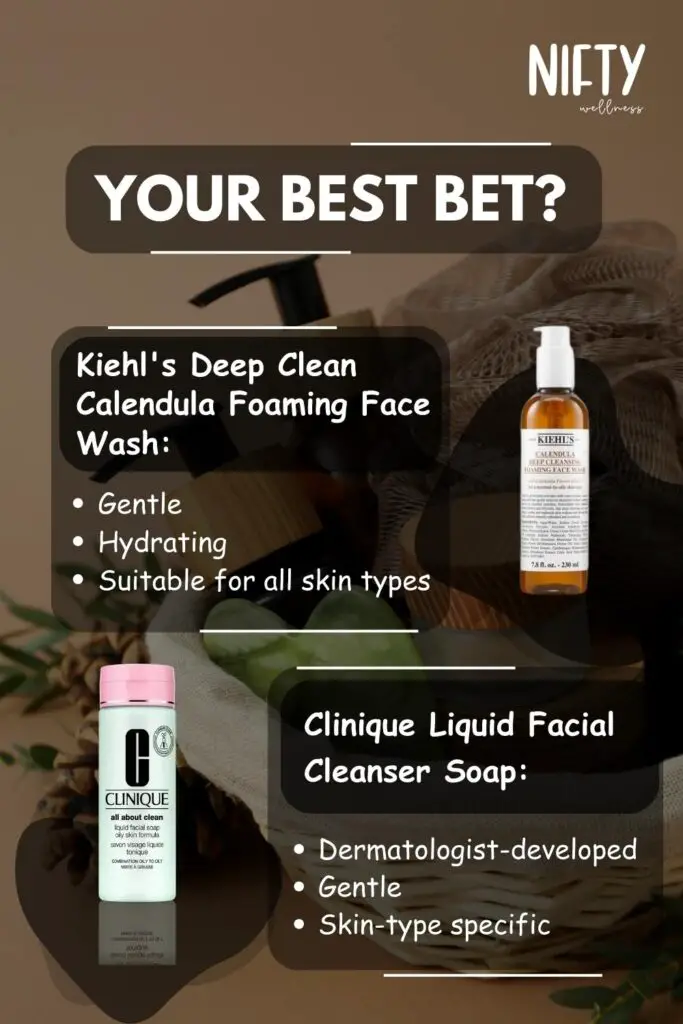 Verdict
It seems that Kiehl's facial cleanser is more of a general-based formula. Hence it cannot determine the success rate for different skin types.
On the other hand, Clinique is more careful and precise when it comes to formulating cleansers. That makes them more reliable and effective. 
Both are dermatologist-tested and safe, but Kiehl's packaging wins the convenience. 
Kiehl's cleansers will be better suited to those with non-sensitive skin whereas Clinique's more mild cleanser is better with sensitive skin.
Moreover, these products differ in terms of their additional effects on your skin. For example, Clinique focuses on giving UV protection. 
Meanwhile, Kiehl is more on anti-acne and anti-aging solutions. Hence, your choice will vary depending on your focus on Anti-aging and Anti-acne or UV protection? 
Read our blog Clinique VS Olay: Differences, Similarities & Which One Is Right For You and discover the ultimate face-off between Clinique and Olay skincare products.
Kiehls VS Clinique Toners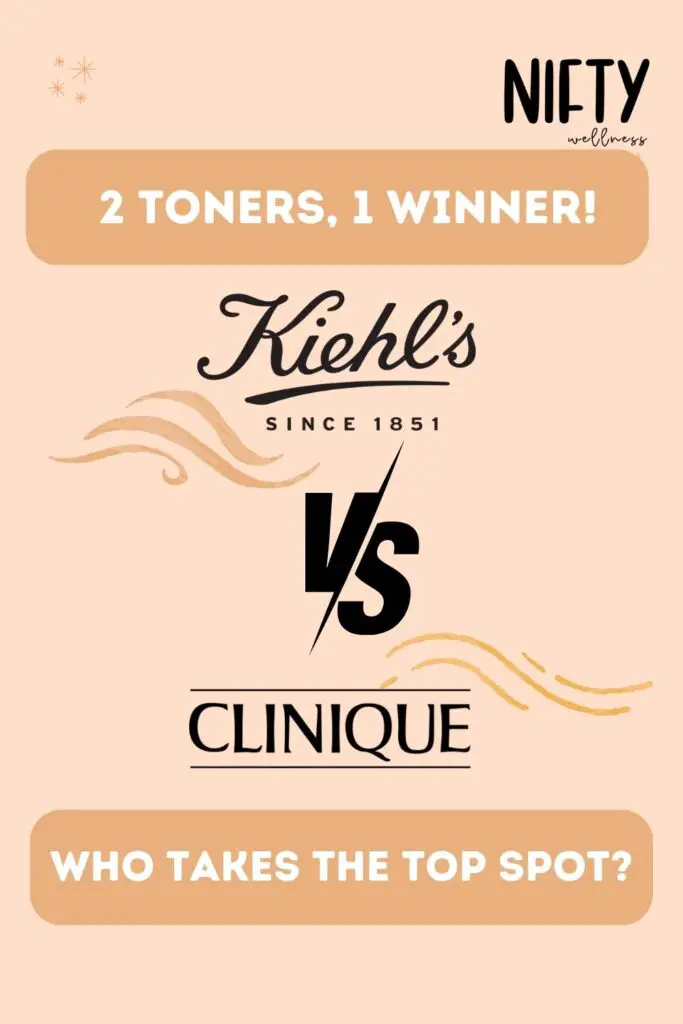 Aside from cleaning, toning your skin is a routine skin care step that you must never neglect. That's because, after cleansing, your face may have too much PH level. 
Toners work by balancing the PH level, making your next skincare steps, like creams, more effective. 
Both Kiehl's and Clinique are effective in toning, but they vary in specialization. 
Kiehl's mild, alcohol-free face toner soothes and moisturizes the skin. 
It is blended with powerful emollients like Squalane, Vitamin E, Apricot Kernel Oil, and Avocado Oil. 
Carefully created not to dry up natural oils, this excellent toner gives the optimum foundation for moisture. Kiehl's ultra facial toner is excellent for balancing, soothing, and tone. 
Clinique's Clarifying lotion is composed of acetyl glucosamine which supports the smoothening and balance of your skin. 
It is also gentle and refreshing to use, making the skin healthier. It can prepare your skin better in the following routines as it is receptive to treatment and products. 
Clinique's Clarifying lotion varies on the formula depending on your skin type. 
Verdict
Just like the cleansers, Kiehl's still has a general-based formula when it comes to toners. 
On the other hand, Clinique offers four specific formulas regarding your skin type. That means that if you already know your skin type, then proceeding to Clinique is a great choice. 
Though, that doesn't lessen Kiehl's general effectiveness to PH balancing. 
Both of the toners from Kiehl's and Clinique contain protection from aging and supports wound healing – which is beneficial to fade acne scars. 
These kinds of products are also applicable to those with dry skin. Though, in terms of UV protection, Clinique has more properties. So, your choice should vary depending on the length of your sun exposure. 
Kiehls VS Clinique Moisturizers
Moisturizers are the basic necessity of your skin, especially in the face when it comes to dryness and flaking. 
That's because moisturizers can help hold the hydration in the outer layer of our skin, called the stratum corneum. 
While moisturizer helps protect the skin against irritations, it can also help reduce more effects of dryness, making it protected from varying weather conditions. 
Here's the comparison between Kiehl's and Clinique moisturizers. 
Kiehl's moisturizer claims to leave your skin with long-lasting hydration and nourishment. 
Like their toners, the moisturizer is infused with glycerin and squalene, which are moisturizing and softening towards the skin. 
Kiehl's moisturizer, according to dermatologists, is paraben-free and free from fragrance. It is applicable for all skin types to have a soft and moisturized face all day long.
Clinique's moisturizing gel is the 3rd step in their skincare package. It is developed and formulated by dermatologists, so it is guaranteed to leave your face free from oil. 
And since it is a moisturizer, it also softens, glows, improves, and smooths your skin. 
The moisturizer can keep functioning for up to 8 hours as it absorbs quickly. It has the main ingredients: barley extract, sunflower seed cake, and cucumber extract, which improves the moisture level of your skin. 
Verdict
Clinique's moisturizer formula focuses on the oily combination to very oily skin types. 
So, if you want skin resiliency more than any other, Clinique is your best choice. On the other hand, Kiehl's moisturizer is again formulated for general usage, making it suitable for most skin types. 
Kiehl is more effective in terms of hydration as it can moisturize the skin for 24 hours. 
Meanwhile, Clinique's maximum effectiveness for moisturization is 8 hours only, so it needs to be reapplied after. Not that it matters much, but if you're on a long trip, Kiehl is better to use. 
Aside from that, both of the products again contain anti-aging properties. But when it comes to healing solutions, Clinique had more solutions with scar healing due to sodium hyaluronate.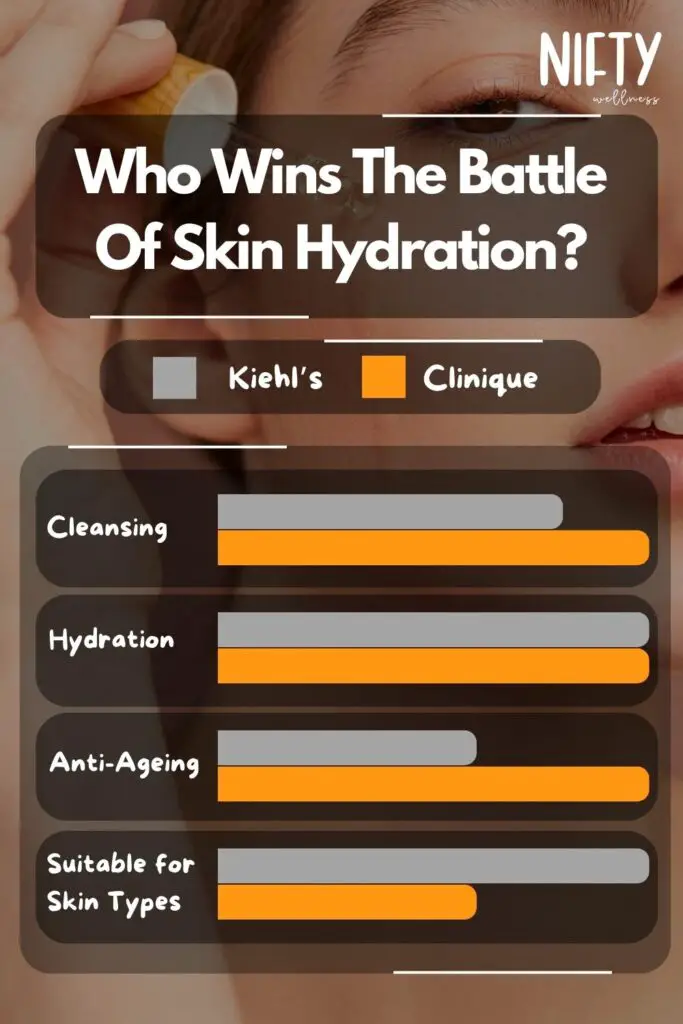 Kiehls VS Clinique Pore Refining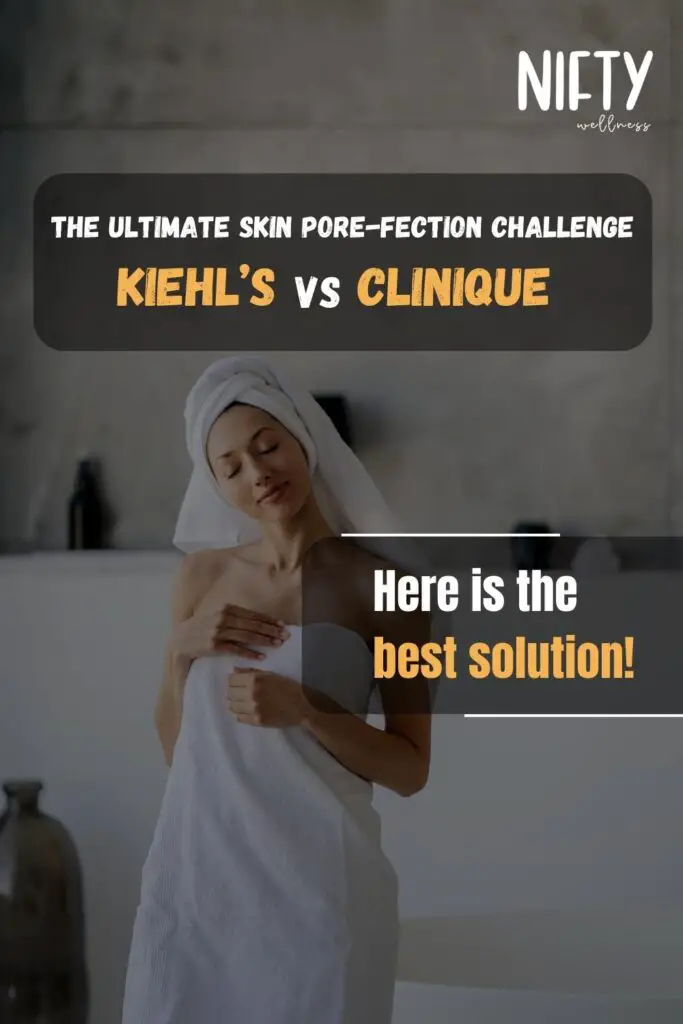 When people use cosmetics frequently, the chance of clogged pores becomes high. Imagine how much effect it can make in addition to the bacterial debris you accumulate every day.
So, while cleansers work by cleaning the skin, pore refiners wrap the process into completion by minimizing the pore and the chance of acne. 
Skin irritations and other skin problems may cause the pore to open up and become unprotected from bacterias. 
Using gentle pore refining products along with your skincare routine products makes your face healthier. 
Both Kiehl's and Clinique have made remarkable identities with pore refining products, but they have distinctions that will be pointed out below. 
The pore-refining serum offered by Kiehl's successfully tightens and lifts the pores. That's because the serum supports the redefinition of facial contours. 
It also helps to minimize the visibility of enlarged pores along with its function. 
The key ingredients used in this product are the filtered out yeast extracts and essential oils from geranium. This serum is clinically and dermatology tested. It is also suitable for every skin type. 
Clinique's pore-refining icon is a perfect yet lightweight serum. It helps to maintain the face free from oil while cleaning the clogged pores from oil and debris. 
The product helps to minimize your pores and resurface healthy-looking skin. Because of that, your skin will have a tighter, younger, and smoother look over time. 
The product is made with dimethicone, polysilicon, alcohol, acetyl glucosamine, and more. It is perfectly partnered along with the skincare set of Clinique. 
Verdict
Both products fit every skin type, which makes it a great catch. 
It seems that Clinique and Kiehl's are great options for both refinings. They don't have much difference from each other aside from the additional effects. 
As you may know, Clinique's serum offers an additional brightening effect alongside the pore-refining properties. 
On the other hand, Kiehl's has an anti-aging formula that minimizes pores, but it doesn't have an additional benefit. 
It can be said that Kiehl's is focused on the main function and offers a different solution for brightening.
Conclusion
In the skincare world, Kiehl's and Clinique are indeed heavyweights, each with unique strengths. Using a minimalist approach and general formulas, Kiehl's presents itself as a good option for people who wish to have a simple skincare routine.
Now, let's talk about Clinique. They're all about creating unique products tailored to your specific skin needs. So, if you've got particular concerns you want to address, Clinique has got you covered.
If you are looking for a skincare brand that offers overall hydration, UV protection, and other benefits, both brands will fit the bill. So, in the Kiehl's vs. Clinique face-off, the winner ultimately depends on your skin's needs. Whichever path you choose, a radiant, healthy complexion awaits.
Frequently Asked Questions (FAQs)
Are Kiehl's products suitable for sensitive skin?
Yes, Kiehl's offers a range of products suitable for sensitive skin. They have a unique "Calendula" line known for its gentle formulations, and many products are dermatologist-tested, making them suitable for sensitive skin. However, checking individual product labels or consulting a dermatologist for personalized recommendations is always better.
Can I use Clinique products alongside other skincare brands?
Clinique products are generally compatible with other skincare products. But before going all in, doing a little patch test is smart. Just take a tiny bit of the new product and put it on a hidden spot on your skin. Wait and see if anything wrong happens, like redness or irritation. If things look good after a day or so, you can use it without problems.
Which brand is more affordable, Kiehl's or Clinique?
Clinique often offers more budget-friendly options compared to Kiehl's. While both brands provide quality skincare, Clinique's pricing is generally more accessible for those seeking effective yet affordable products. So, if you're looking for skincare that's gentle on your skin and your wallet, Clinique might be the way to go.
Do Kiehl's and Clinique test their products on animals?
Both Kiehl's and Clinique claim to be cruelty-free; however, none of these two brands meet the criteria to be considered both do not meet the criteria to be considered the same. Kiehl's admits to testing when required by law and sells in countries where animal testing may be mandatory, while Clinique also sells in markets where animal testing is obligatory. Although they claim not to conduct animal testing on their products or ingredients, their association with such markets means they are not cruelty-free skincare brands.
What is the return policy for Kiehl's and Clinique products?
Remember that individual retailers may have varying return policies when shopping for Kiehl's or Clinique products. Take a moment to read through the return information provided by the store or website you choose to ensure you know their specific guidelines and procedures. This way, you can shop confidently and know what to expect if you need to return or exchange a product.