Sensitive skin is an issue for all of us at some point in our lives. The skin can become sensitive through hormonal changes, aging, or unknown allergies. 
To keep your skin as healthy as possible, despite these issues, it's important to find a skincare range that caters to your dermatological issues specifically and gives you confidence. 
Both Cetaphil and Eucerin were developed to keep the skin strong and healthy and reduce the problems that some products cause for sensitive skin. 
Eucerin & Cetaphil History
Cetaphil
Cetaphil was originally developed in 1947 in Texas by a pharmacist who was committed to resolving some of the issues his customers had with other skincare ranges. 
The first-ever product was the Cetaphil Cleansing Lotion. This was a massive step forward in the sensitive skin world. Today, the formula for this product has changed very little and is now marketed as the Cetaphil Gentle Skin Cleanser. 
After 70 years of successful trading, Cetaphil products are now sold in over 70 countries worldwide as a recommended solution for skin complaints such as eczema, acne, and rosacea. 
Founded by a pharmacist, Cetaphil has earned the confidence of dermatologists and consumers through the years. Their commitment to formulating gentle yet effective skincare products has positioned them as a preferred choice for individuals with various skin types and concerns.
Eucerin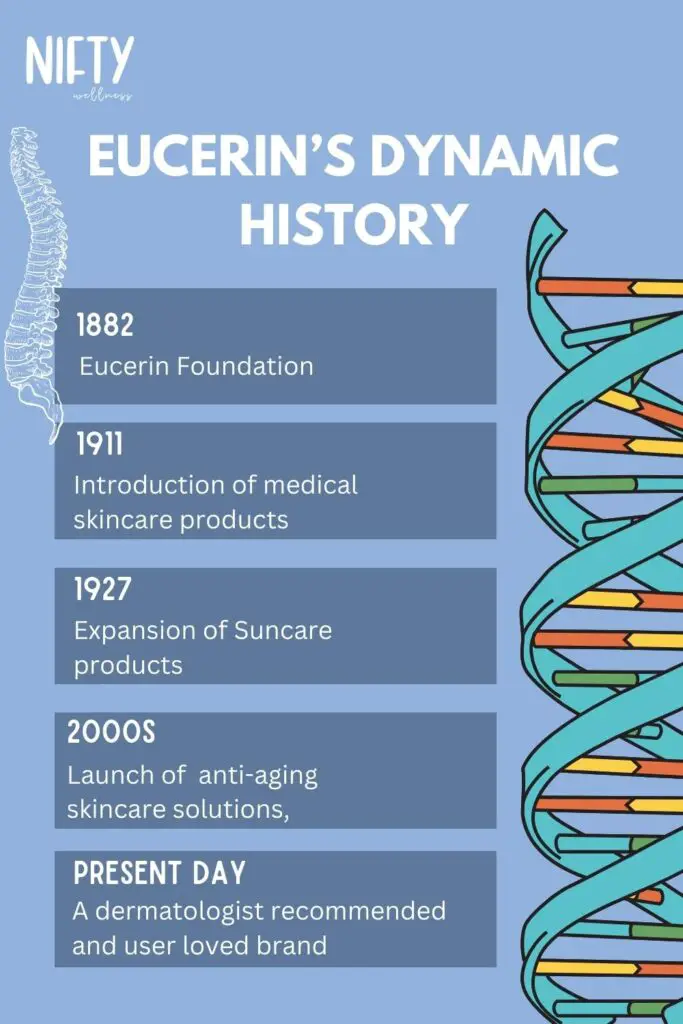 Eucerin was founded in Hamburg in 1882 by Paul C. Beiersdorf, making it one of the oldest skincare brands that are still operating today. 
Beiersdorf later sold the company to pharmacist Oscar Troplowitz and dermatologist Paul Gerson. They began to create products specifically designed to treat sensitive skin using the most up-to-date scientific research. 
The Eucerin products ranged from basic ointments and lotions recommended by doctors to sun care treatments which were preventative measures, protecting the skin from UV rays.
This aimed to prevent the skincare rather than just resolve it after it had occurred. 
Today, Eucerin offers a range of line fillers and aging solutions marked as some of the best anti-age defenses on the market. 
Cetaphil Vs Eucerin General
The "Phil" at the end of the "Cetaphil" brand name means love, and the "Cet" is a fatty alcohol used in the product to soften the skin. The product name symbolizes loving the skin to make it softer and smoother. 
Cetaphil's creators believe that healthy skin is essential for people's overall health and wellbeing. They aim to get right to the source of skin complaints to resolve them as easily as possible. 
Eucerit was a beautifying wax that combined water and oil to hydrate the skin and lock in moisture. It was the first product by Eucerin that was prescribed by a doctor to relieve skin irritation. 
The pH5 Eucerin ointment was one of the first products to consider restoring the pH levels in the skin to resolve rashes, eczema, or acne. The ointment is alkali-based and works to calm any redness or irritation by bringing the skin's pH levels back to normal levels. 
Cetaphil Vs Eucerin Moisturizers
One of the standard products in both ranges is the moisturizer. It helps care for the skin and locks in hydration to keep the skin looking younger and blemish-free.
Eucerin offers the Urearepair Original 5% Urea Cream, which notably contains Dimethicone, a natural silicone that can help with the skin's elasticity. 
Cetaphil's answer to moisturizer is the Cetaphil Moisturizing Cream. This product contains vitamin E to keep the skin refreshed and bright and is much more readily available across the globe than the Eucerin option. 
Similarities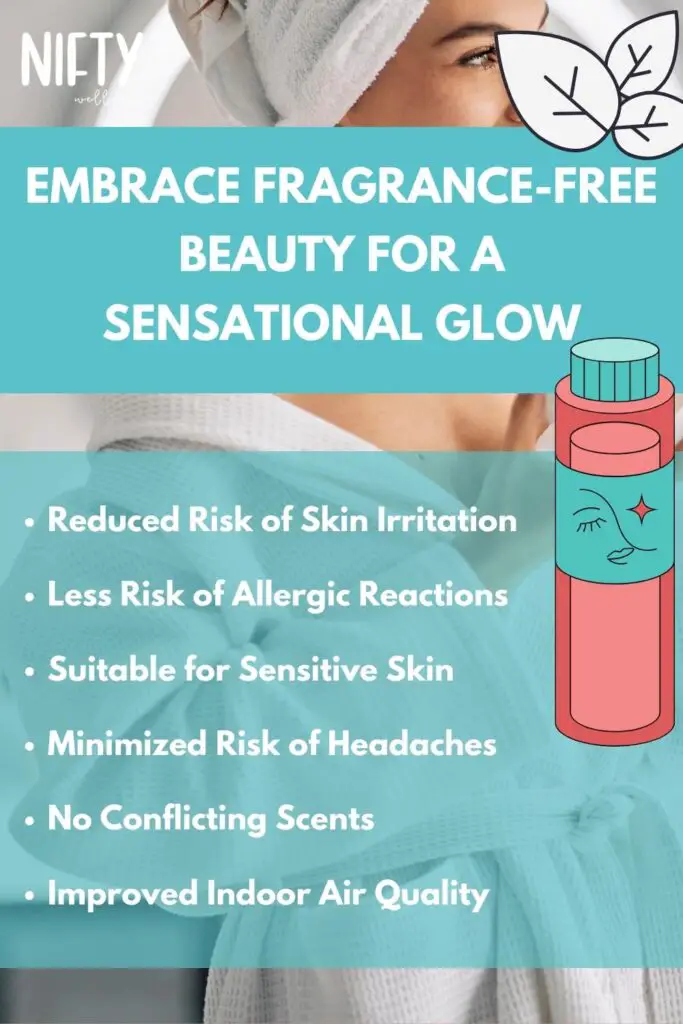 Both products contain lactic acid, which helps get rid of dead or dry skin cells to make way for healthier and fresher-looking skin underneath. 
They are both specifically targeted at people who have dry skin, though normal or combination skin could still benefit. 
However, neither product would work well on oily skin, as their ingredients don't include anything with mattifying effects, so you could end up with greasier-looking skin.
They both pride themselves in being a simple option, including fewer ingredients to help the skin stay healthy using just the essentials. 
For this reason, both products are fragrance-free and paraben-free. This limits the chance of an allergic reaction, especially for people who are known to have sensitive skin. 
Both products also mention their dedication to the environment. They state that their packaging is becoming more environmentally friendly and that neither product is tested on animals. 
Differences
Eucerin moisturizers typically have a thicker texture compared to Cetaphil. They are formulated to address specific skin concerns like dryness, eczema, or aging skin, using specialized ingredients such as urea or hyaluronic acid. Eucerin products aim to offer intensive hydration and tackle specific skin issues, making them a choice for those seeking targeted skincare solutions.
Despite both products being marketed as a resolution to dry or cracked skin, the Cetaphil Moisturizing Cream isn't actually allergen-free. It also contains petrolatum and PEG-5 Glyceryl Stearate, which can cause an allergic reaction in some people.
Despite this, the reviews for Cetaphil do show that it actually locks moisture into the skin for longer. This means that less cream is needed over a longer period of time to keep hydrated.
Verdict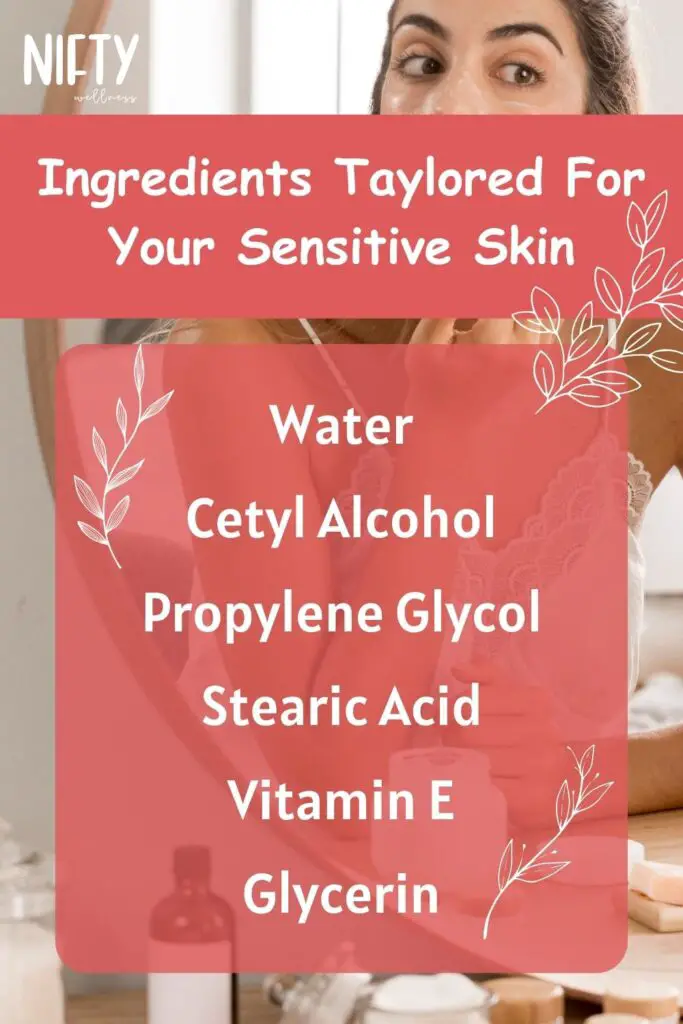 For moisturizing the skin, the Cetaphil product wins here. It contains vitamin E, which helps the overall skin condition and helps combat the aging process. It's also more available in shops for a slightly lower price than the Eucerin. 
However, if you have a known skin complaint such as eczema, then Cetaphil can exacerbate the problem. 
For allergen-free cream that just gives the essentials and keeps your skin moist, then Eucerin is the way to go and the one that you'd be recommended by your doctor. 
Dive into the comparison and make an informed choice today with "The Ultimate Comparison: CeraVe vs Cetaphil – Unveiling the Best Skincare Choice".
Cetaphil Vs Eucerin Face Wash
Washing your face in the morning and at night is an essential part of a skincare regime. It helps you get rid of oils and dead skin cells to make way for new and healthy skin.
Eucerin's Complete Repair Cleanser can be used to remove makeup and clean out the pores and prepare them for a moisturizing cream. 
Cetaphil's Daily Facial Cleanser specializes in refreshing the skin and removing pollutants that attach to your skin throughout the day. 
Similarities
Both products are specifically designed for use twice a day to remove makeup and dead skin from the face. They are the initial stage of any skincare regime.
As they're marketed for dry skin, both face washes have moisturizing properties, leaving the skin soft and supple. 
They are also both alcohol-free, meaning that the ingredients aim specifically not to dry the skin out further. 
While both products are reef-safe and aim to improve their carbon footprint, unfortunately, neither can say that they're totally cruelty-free currently, and neither product is 100% vegan. 
Differences
When comparing Cetaphil and Eucerin face wash products, Cetaphil stands out for its diverse range tailored to different skin types and concerns. Cetaphil offers options suitable for sensitive, oily, and acne-prone skin, ensuring there's a suitable choice for everyone. What sets Cetaphil apart is its reputation for gentle, soap-free formulas that make daily use safe without causing skin dryness. The Eucerin product is considerably more expensive for the same-sized bottle. 
However, this is because it's designed for medical use to clear even the most sensitive skin or impurities that could cause a reaction. This is a product recommended highly by pharmacists for people suffering from acne. 
The product has no fragrance, unlike the Cetaphil, so there's less chance of an allergic reaction based on the perfumes. 
Eucerin also boasts a paraben-free ingredient list, which is great as this reduces the amount of chemicals the product has, again decreasing the chance of a reaction. 
However, this could mean that the Eucerin product doesn't last quite as long as the Cetaphil because it doesn't contain as many preservatives. 
Verdict
Reviews state that the Cetaphil Daily Facial Cleanser does do the job when clearing up the skin, and it's the cheaper product by quite a margin if you happen to be on a budget. 
It keeps the skin moisturized and gives you a fresher feeling with its nicer fragrance. This is the one to go for if you have normal, dry, or combination skin. 
However, if you have a known skin issue or have sensitive skin that might be prone to an allergic reaction, Eucerin is the right choice. 
Although it's slightly more expensive, you run less risk of a skin reaction due to the product's ingredient list. It's also been noted to reduce pore size and provide an overall healthier appearance. 
Check out our blog Sebamed Vs Cetaphil: Which Is Best For Babies, Dry Skin, Acne & More. Get a detailed comparison of these trusted brands to make an educated choice for your skin's health and glow.
Cetaphil Vs Eucerin for Rosacea & Redness
Rosacea is a skin condition that affects both men and women and typically worsens with age. It affects the cheeks and nose, giving them a red rash, which can be sore or tingly to the touch. 
Both Cetaphil and Eucerin claim to be the best in the business when it comes to treating it. 
Cetaphil offers a range of skincare products tailored to address the needs of individuals with rosacea. Cetaphil provides a Moisturizing Lotion that claims to combat rosacea and redness and leave your skin feeling light and refreshed. These gentle and soothing options are formulated to be effective yet mild, making them suitable for sensitive skin. Products made by Cetaphil for rosacea aim to alleviate symptoms and promote healthier skin for those dealing with this condition.
While Eucerin's Anti Redness Soothing Care was specifically developed for this issue, combining SymSitive and Licorice Extract, both known for their soothing properties. 
Similarities
Both lotions are easy to apply and are explicitly marketed for dry skin, although they can be used on normal or combination skin too. 
They aren't recommended for oily skin, as the ingredients are specifically developed to add moisture and lock it in, meaning you could come out looking a little greasy. 
It's recommended that both products are used daily to gain the maximum effect, and both can be applied under makeup for extra protection. 
Differences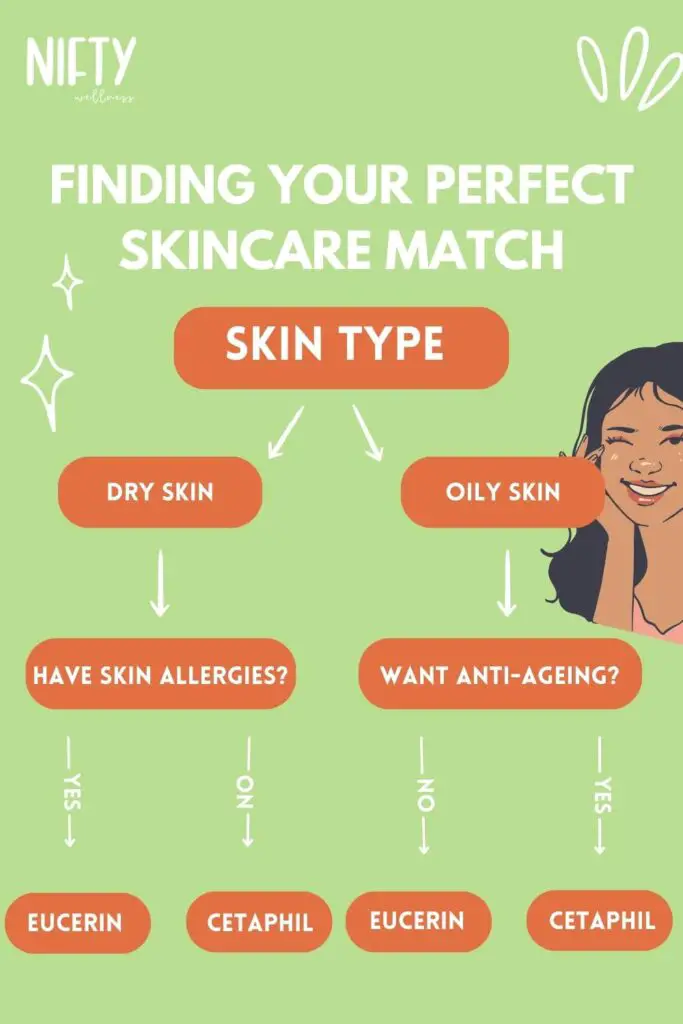 The Cetaphil product works to protect the skin from further damage by creating a protective barrier on the skin using a combination of emollients and humectants to bind the water into the skin's surface and prevent moisture loss. 
This can protect the damaged skin from UV rays. It then uses a unique blend of avocado oil and other moisturizers to calm down any inflammation. 
Eucerin uses the latest in bottle technology to ensure no contamination occurs after the bottle has been opened. This preserves the product for longer without having to use chemical preservatives, which could worsen the issue. 
It's also a little more forward-thinking than the Cetaphil when it comes to relieving the problem. 
Instead of using calming moisturizers to combat the issue, Eucerin includes Glycyrrhiza Inflata Root Extract, an anti-inflammatory and antioxidant. 
It removes any impurities that could cause the skin to flare up and helps to strengthen the skin against the same issues in the future. This potentially means it is a longer-term solution. 
Verdict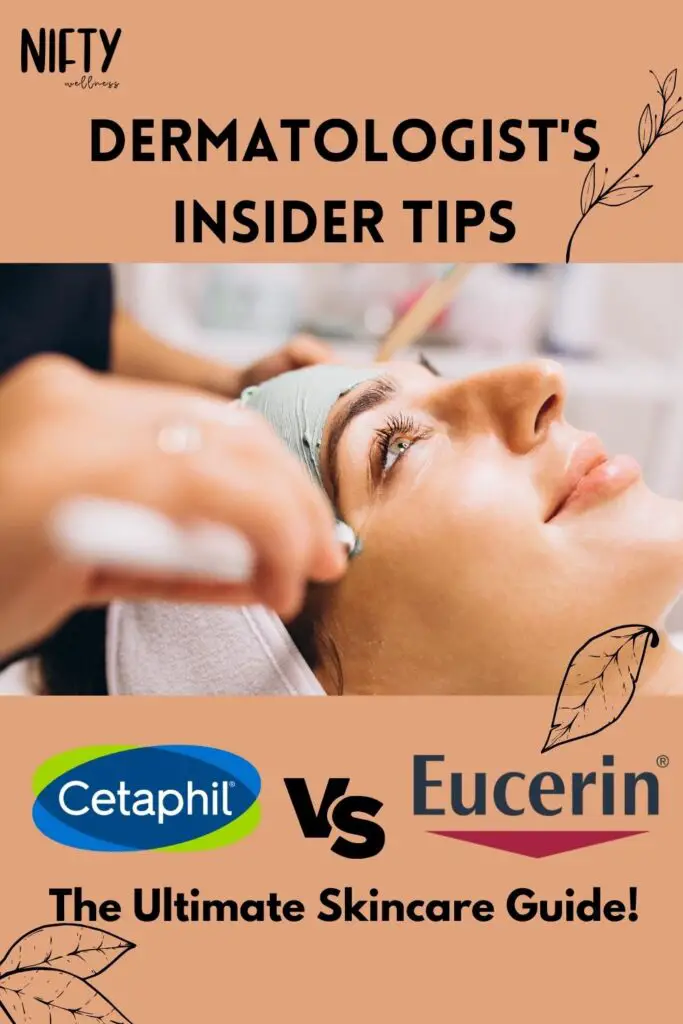 In this case, the Eucerin product wins hands down. Sure, it's a little more expensive; however, it works to prevent the issues causing the flare-up in the longer term. 
This means that your skin will come out stronger and can fight against redness and irritation in the future. 
The Cetaphil product is great for smaller problems and can reduce redness for a time, and it is very soothing. However, your skin is likely to continue to flare up every so often using this. 
Conclusion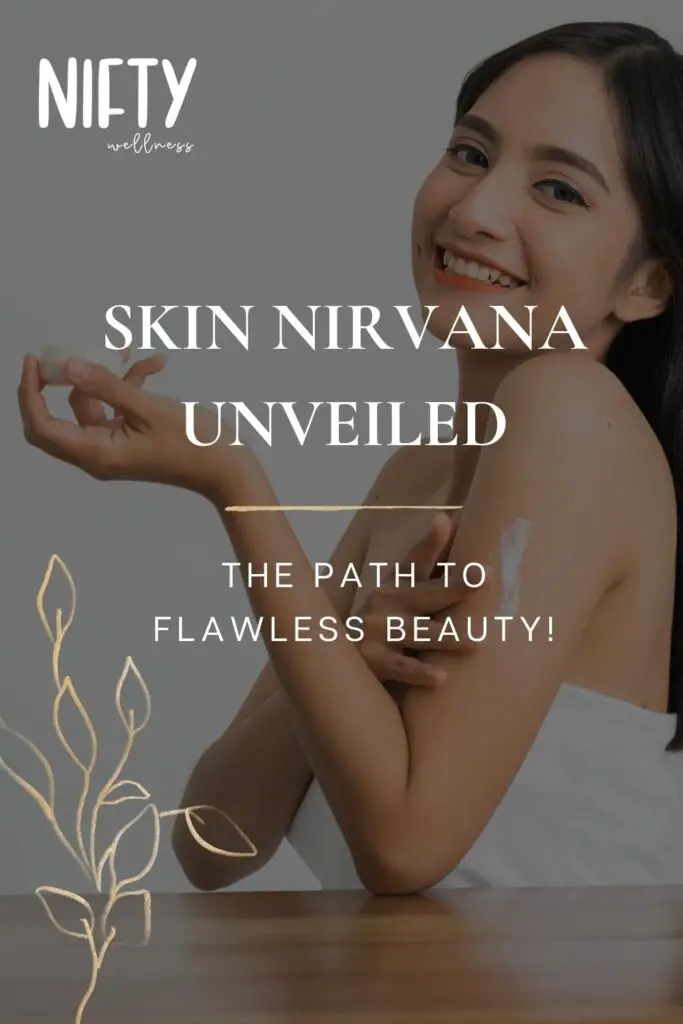 Which product range you choose is entirely dependant on what type of skin you have. 
If you're looking for a standard, everyday use product and don't have any specific skin issues that you're aware of, Cetaphil is the right choice. 
It's the cheaper alternative and can provide clear, moisturized skin which feels healthy and gives you that special glow. 
However, Cetaphil isn't the right choice if you have sensitive skin or you're prone to skin allergies or irritation. 
Yes, it's great for dry skin and can provide moisture. However, the fragrances and extra anti-aging ingredients could set off a reaction. 
For people who are prone to allergies, acne, or eczema, Eucerin is the better choice. 
The fewer chemicals and perfumes included in the products will make you more confident that you aren't going to flare up; they can even improve the appearance of the skin by actively reducing the pore to make you look younger. 
However, this does come at a cost, as Eucerin is usually the more expensive choice and, because of the lack of chemical preservatives, it won't last you as long either. 
Frequently Asked Questions (FAQs)
Can I use Cetaphil products if I have oily skin?
Certainly! Cetaphil products are an excellent choice if your skin tends to be oily. Cetaphil offers a range of skincare solutions, such as gentle cleansers and light moisturizers, tailored to various skin types. These products work well to clean your skin and maintain proper hydration without leaving it overly greasy. They're gentle and won't worsen any problems related to excess oil, making them a wise option for individuals with oily skin seeking a gentle and efficient skincare routine.
Are Eucerin products safe for sensitive skin?
Eucerin products are safe for sensitive skin. Eucerin is well-regarded for making dermatologist-recommended skincare items, many of which are hypoallergenic and gentle on sensitive skin. However, since everyone's skin is different, it's wise to do a patch test or consult a dermatologist before trying a new product, especially if you have sensitive skin or specific skin issues. This helps ensure the product won't cause any unwanted reactions.
Can I use Cetaphil moisturizers under makeup?
Yes, you can use Cetaphil moisturizers under makeup. Cetaphil moisturizers are designed to be lightweight and non-greasy, making them a suitable choice as a makeup base. They provide hydration without clogging pores or making your makeup feel heavy. Just apply a small amount of Cetaphil moisturizer, allow it to absorb into your skin, and then proceed with your makeup routine for a smooth and hydrated canvas.
Do Eucerin products contain parabens or sulfates?
Certainly! Eucerin's product ingredients can differ. Some may contain parabens or sulfates, but not all of them. For precise details about the ingredients in a specific product, it's advisable to read the product label or visit Eucerin's official website. They provide various options, so if you prefer products without parabens or sulfates, you can likely discover suitable alternatives within their range to cater to your skincare preferences.
Are Cetaphil and Eucerin products tested on animals?
Yes, both Cetaphil and Eucerin products may be tested on animals. Cetaphil, owned by Galderma, tests on animals when required by law, such as in Mainland China. Eucerin may also conduct animal testing directly, through suppliers, or third parties. As neither brand is certified as cruelty-free, you should seek alternatives if you prefer products not tested on animals.