Step into the enchanting realm of skincare, where we'll embark on a journey to demystify the secrets of Aquaphor while infusing a delightful dose of humanity into your beauty ritual. Imagine yourself nestled in the snug embrace of your cherished pajamas, blissfully immersed in the ever-evolving cosmos of skincare trends when you serendipitously encounter Aquaphor. It's the time-tested classic, the adored, and the unwavering companion in your skincare arsenal. But does it harmonize with the symphony of your values and ethics? Is Aquaphor cruelty free? The labyrinthine world of skincare often leads us down unexpected paths, and today, our mission is to unlock the riddle that is Aquaphor.
About the Brand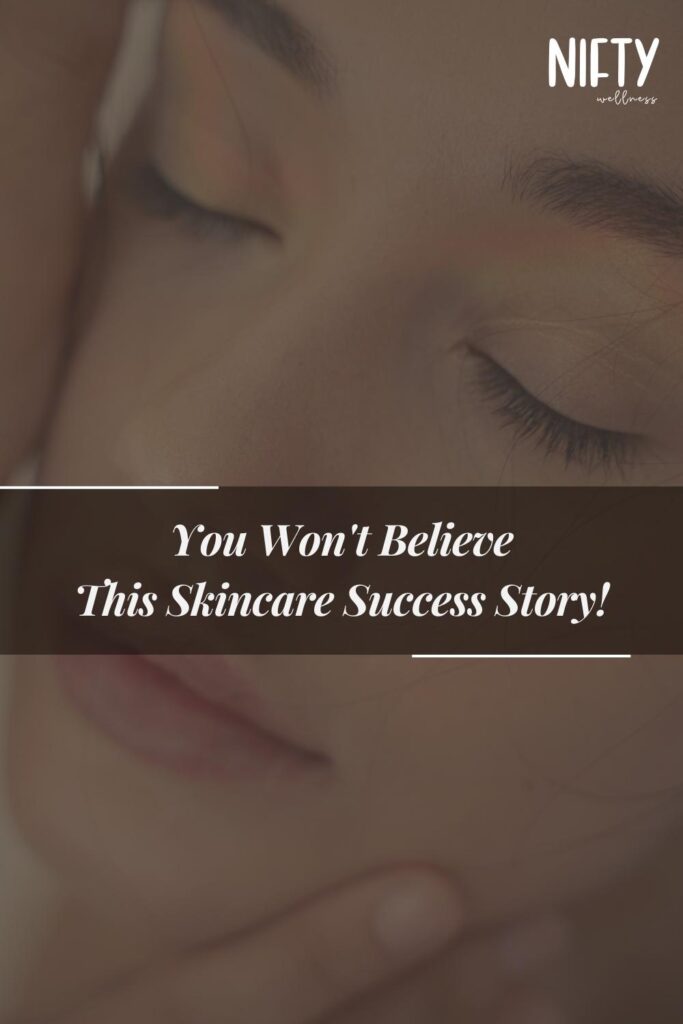 Let's take a deep dive into the realm of Aquaphor and uncover the intriguing story behind this iconic brand. With a rich history spanning over 90 years, Aquaphor has graced the skincare market with a versatile array of products, all crafted to nurture and shield your precious skin. The driving force behind Aquaphor's success is none other than Beiersdorf Inc., the mastermind orchestrating the brand's meteoric rise.
Within Aquaphor's product line-up, a treasure trove of solutions awaits to cater to your unique skincare needs. Whether your skin craves relief from dryness and irritation or your lips long for respite from chapping, Aquaphor has meticulously tailored offerings for your well-being. What sets Aquaphor apart isn't just the seal of approval from loyal customers, but also the resounding endorsement from dermatologists. This dual vote of confidence speaks volumes, underscoring the exceptional quality and performance that have propelled Aquaphor to the zenith of the fiercely competitive skincare industry. Join us on this exploration, where we unravel the secrets of a brand that has mastered the art of skincare.
Check out our latest blog Is Vaseline Cruelty Free? Here's The Truth! Get the facts straight on Vaseline's ethical stand. Our discussion on whether Vaseline is cruelty free will guide you to make conscious beauty decisions.
Best Products by Aquaphor
Before jumping into the nitty and gritty of Aquaphor's ethical practices, let's look at some of Aquaphor's standout products. These are tried and true essentials that you must have already used or might want to consider for your skincare regimen:
Aquaphor Healing Ointment
Aquaphor Healing Ointment is like an old friend you can always count on. It's a classic and for a good reason. Whether you're dealing with dry, cracked skin or chapped lips, this ointment is there to help. What makes it unique is its ability to create a protective barrier on your skin. This barrier not only locks in moisture but also lets your skin breathe naturally, which is crucial for efficient healing and hydration.
Aquaphor Lip Repair Stick Multipack
Even celebrities like Hailey Bieber swear by this fragrance-free lip balm. Aquaphor Lip Repair Stick Multipack is a must-have for anyone looking to keep their lips soft, smooth, and chap-free. The convenient stick format makes it a perfect on-the-go companion, ensuring that your lips stay healthy and hydrated wherever you are.
Aquaphor Ointment Body Spray
The Aquaphor Ointment Body Spray is no ordinary body spray; it's a game-changer. Designed for efficient and even coverage, it's particularly great for those hard-to-reach areas. What sets it apart is how quick and easy it is to apply. The results are impressive, leaving your skin moisturized and soothed.
Aquaphor Healing Ointment With Touch-Free Applicator
If you're looking for something specialized, Aquaphor Healing Ointment With Touch-Free Applicator is ideal. It's perfect for healing tattoos or enhancing your skin's natural beauty. What makes it unique is the touch-free foam applicator, which simplifies the application process. Whether you want to protect a new tattoo or add a subtle highlight to your skin, this product has you covered.
Aquaphor Lip Protectant and Sunscreen Ointment
Your lips deserve special care, and Aquaphor Lip Protectant and Sunscreen Ointment offers just that. It combines deep hydration with protection against the sun. Packed with vitamins, shea butter, and broad-spectrum SPF 30, it moisturizes and shields your lips from harmful UVA and UVB rays. This ointment is an intelligent choice whether you're out in the sun or just looking to maintain lusciously soft lips.
Each of these Aquaphor products is tailored to specific skincare needs, making it easier to find the perfect solution for your unique skin concerns. Whether you need essential moisture, convenient protection, or specialized care, Aquaphor's range has earned its reputation for quality and effectiveness over the years.
Ingredients
Now, let's start with some actual digging- Aquaphor's key ingredients! Understanding what goes into their products is crucial to making an informed choice for your skincare regimen. The show's star here is petrolatum, also known as petroleum jelly, which accounts for 41% of the content. This ingredient plays a vital role by creating a protective, oily layer on your skin's surface. This layer locks in moisture and accelerates the natural healing process.
To complement the power of petrolatum, Aquaphor includes mineral oil, ceresin, lanolin alcohol, panthenol, glycerin, and bisabolol in their formulations. These components work harmoniously to give the skin the care and attention it deserves.
Is Aquaphor Vegan?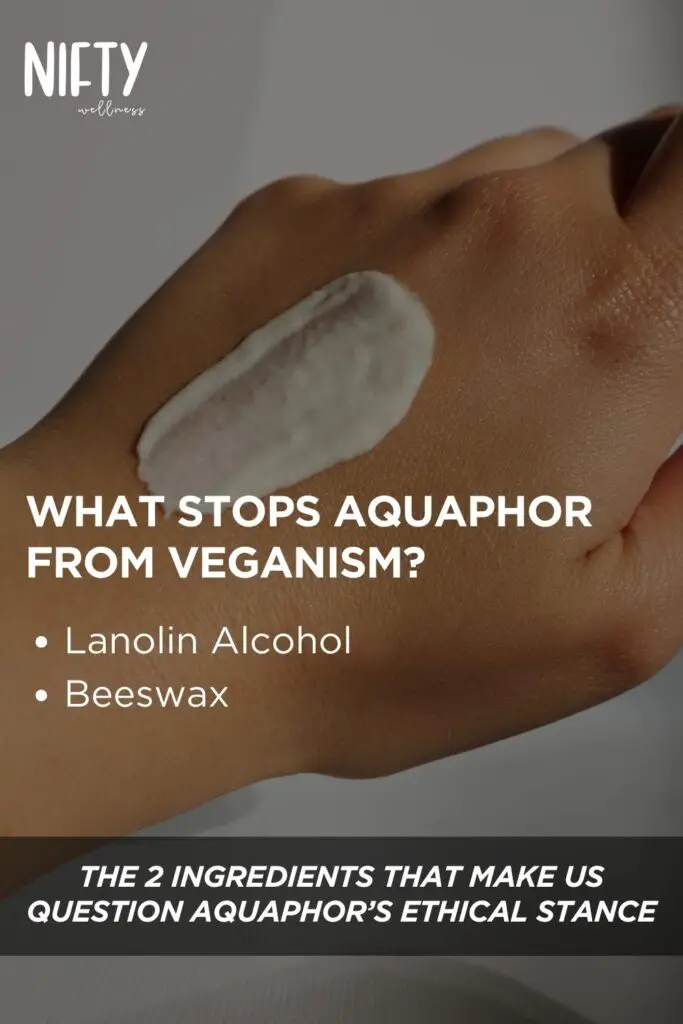 As we venture deeper into our quest for cruelty-free and ethical skincare, we must consider the vegan aspect: Is Aquaphor vegan? Aquaphor, however, doesn't fall under the vegan category. Why, you ask? Well, the answer lies in Aquaphor's transparency about their ingredient list and Aquaphor animal testing policy. Their products contain lanolin alcohol, derived from sheep's wool and beeswax. To earn the coveted vegan label, skincare products must abstain from animal testing and exclude any ingredients of animal origin. Therefore, if you're committed to a vegan skincare routine, Aquaphor might not align with your values.
Is Aquaphor Toxic?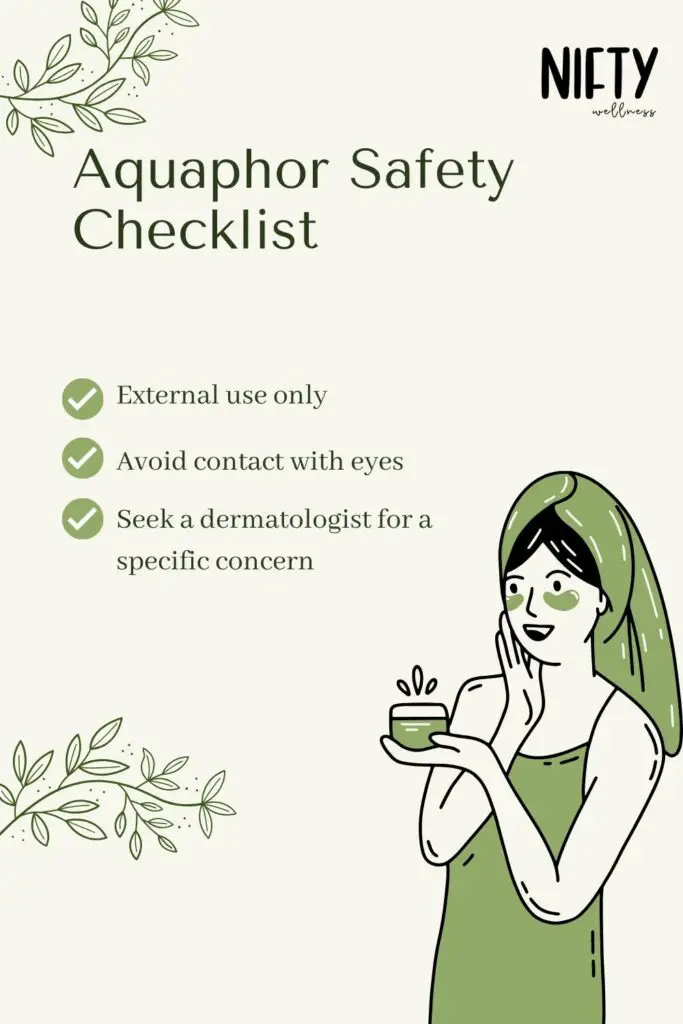 Safety is paramount in the skincare universe, and Aquaphor takes this responsibility seriously. They've ensured that their products are safe for use, but like any skincare item, following the recommended guidelines is essential. Aquaphor products are intended for external use only, so avoiding contact with your eyes and sensitive areas is crucial. If you have specific skin concerns or underlying conditions, seeking advice from a dermatologist or healthcare professional is always wise. They can provide tailored guidance to make the most of your skincare routine while keeping your skin healthy and happy.
Is Aquaphor Cruelty Free?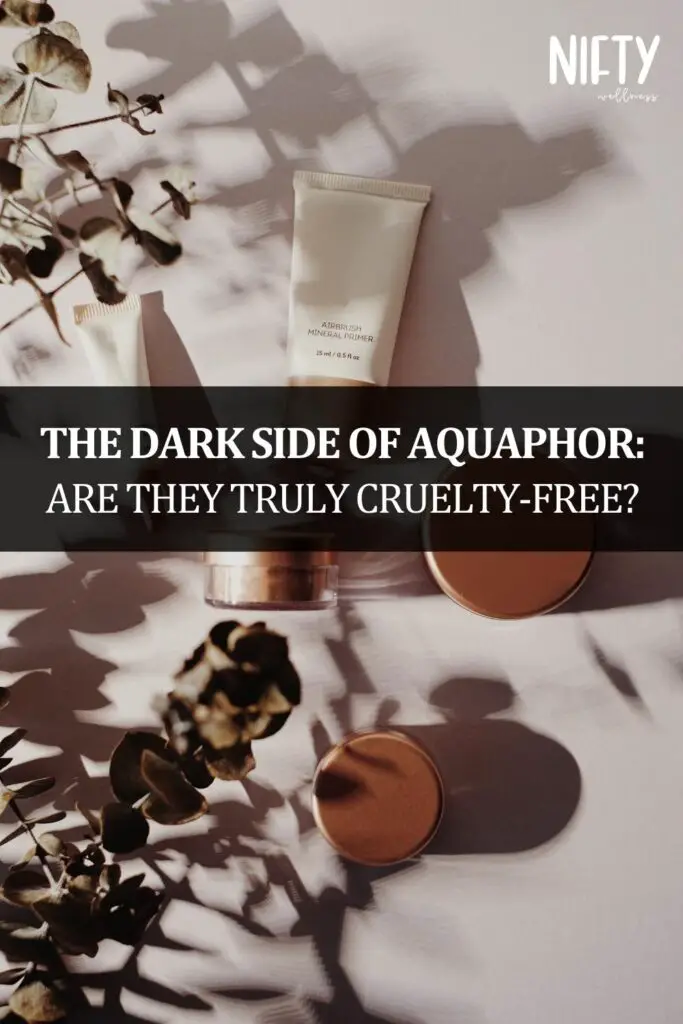 Now, let's tackle the big question – is Aquaphor genuinely cruelty-free? Does Aquaphor test on animals? It's a complex story. The brand claims not to conduct animal testing on their products, except in very rare cases when it's specifically required by law. Aquaphor also takes a stand in advocating for alternative animal-free testing methods globally. However, there's a twist in the plot. Their products are not certified cruelty-free by respected organizations like Leaping Bunny or PETA. The catch is that Aquaphor is owned by Beiersdorf, a parent corporation that still allows animal testing in 2023.
While Aquaphor emphasizes its commitment to seeking alternatives to animal testing, the fact remains that they are part of a parent company that permits it when required by law. This gray area has sparked concerns among conscious consumers about the brand's cruelty-free status.
Read our new blog Is Innisfree Cruelty Free? Korean Skincare & Animal Testing. Welcome to the world of Innisfree and explore whether its beauty products align with your ethics.
Alternatives to Consider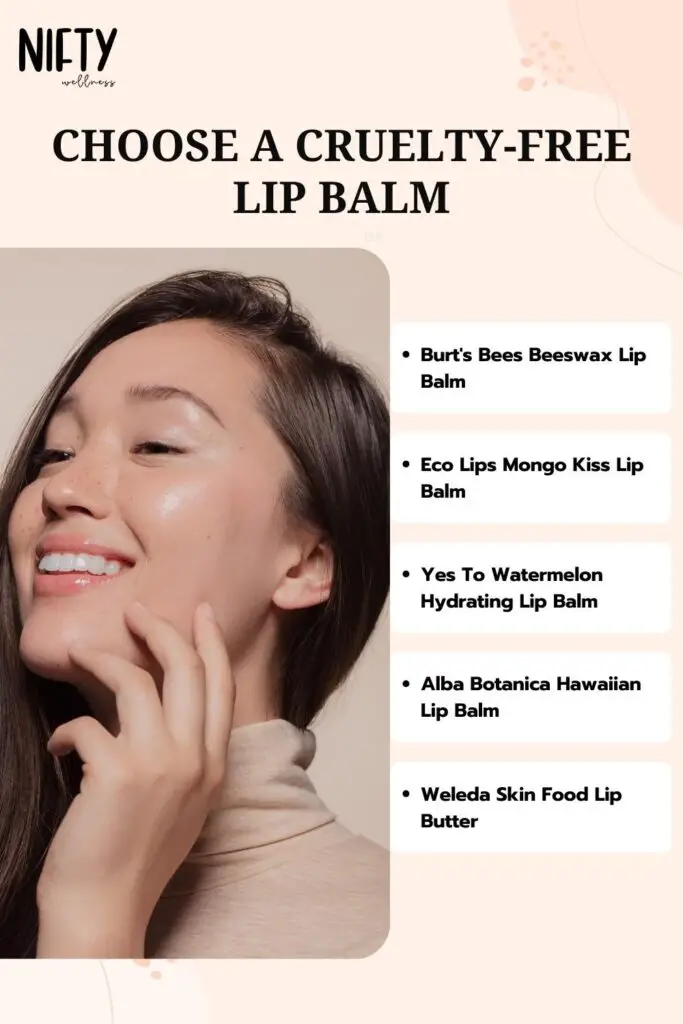 Heartbroken about the big revelation? Fret not! We have a list of brands that are good for your skin and your conscience, too! Let's explore some excellent cruelty-free alternatives that share your commitment to ethical skincare choices:
Burt's Bees
At the heart of Burt's Bees lies a profound commitment to harnessing the power of natural ingredients. This beloved brand presents a captivating selection of skincare essentials, ranging from sumptuous lip balms to rejuvenating healing ointments. The real beauty of Burt's Bees lies in its unwavering stance against animal testing, assuring you that their products are cruelty-free through and through.
A true classic, this lip balm is a fan favourite. With beeswax, vitamin E, and peppermint oil, it's a hydrating and soothing marvel for your lips.
Eco Lips
Eco Lips is your answer for those who seek lip care with a side of organic goodness. Their lip balms and scrubs are a testament to their commitment to organic, gluten-free, and cruelty-free products. It's a world where you can lavish your lips with the purest of ingredients while embracing eco-friendliness.
Infused with Mongongo oil and organic ingredients, this lip balm is a hydrating revelation. It's a must-try for lip care enthusiasts.
Yes To
Yes To welcomes you into a realm of delight with its range of cruelty-free and mostly vegan products. This brand embodies the essence of conscientious skincare. Whether it's their lip balms or healing ointments, you can say "Yes" to guilt-free pampering.
A tropical paradise for your lips, this hydrating lip balm is a heavenly blend of watermelon and apricot kernel oil. It's a top pick for refreshing hydration.
Alba Botanica
Alba Botanica caters to those seeking solace in embracing botanical ingredients. Their lip balms and ointments not only bear the cruelty-free badge but also reflect a commitment to environmental well-being. Here, your skincare routine merges seamlessly with your eco-conscious values.
Transport yourself to the Hawaiian tropics with this lip balm. Infused with nourishing coconut cream, it's a tropical escape for your lips.
Weleda
Weleda is a brand that exudes elegance through its devotion to natural and organic elements. In their diverse range of skincare solutions, including lip balms and healing ointments, you'll find a harmonious blend of science and nature. A resounding "no" to animal testing underscores their commitment to ethical skincare.
This lip butter is a luxurious treat for your lips, enriched with shea and cocoa seed butter. It's a decadent, yet ethical, solution for dry lips.
The Final Say!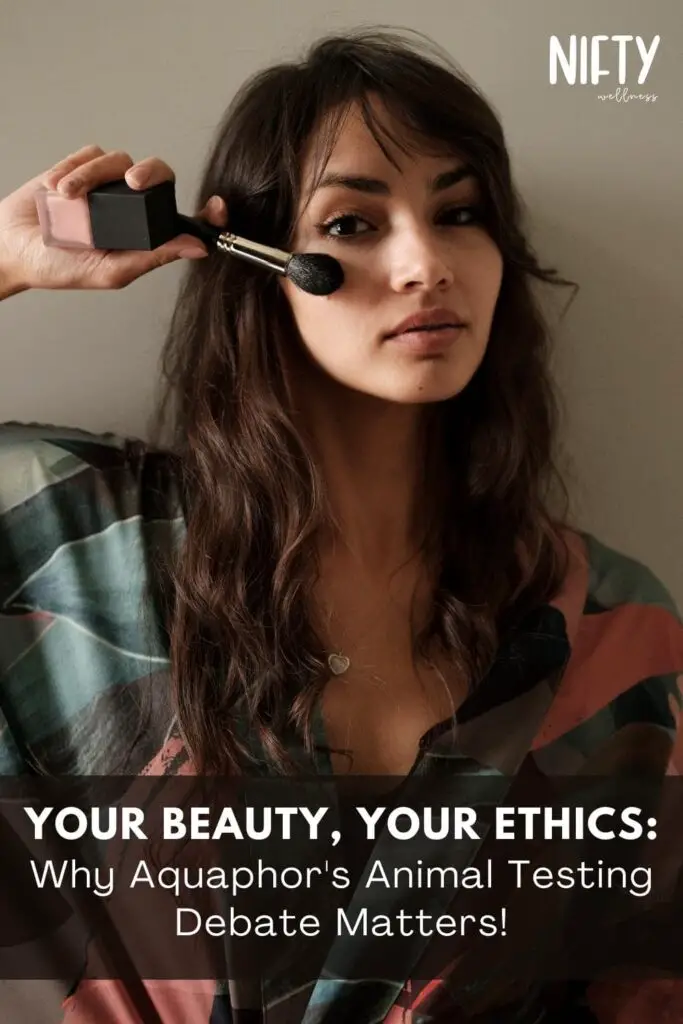 As our adventure through the world of Aquaphor and cruelty-free skincare comes to an end, it's crucial to consider the big picture. Aquaphor may not be classified as cruelty-free due to its association with a parent company that allows animal testing in specific circumstances. For those committed to cruelty-free skincare, exploring alternative brands that align with your values and ethics is the way to go.
Remember, the world of skincare is vast and ever-evolving. The choices you make in selecting your products reflect your principles. Opting for cruelty-free skincare products isn't just a trend; it's a commitment to a better world. So, as you embark on your skincare journey, let your choices make a statement – one that says you're not only beautiful on the outside but compassionate on the inside.
Frequently Asked Questions (FAQs)
Does Aquaphor sell in regions requiring animal testing?
Yes, Aquaphor may be available in regions that require animal testing, as they might adapt to local regulations. It's essential to check the specific product packaging or the manufacturer's website for updated information on their animal testing policy in your region. Cruelty-free alternatives can be considered for those who prefer products not associated with animal testing.
How can consumers verify Aquaphor's cruelty-free status?
Consumers can verify Aquaphor's cruelty-free status by checking for certification from recognized organizations such as Leaping Bunny or PETA (People for the Ethical Treatment of Animals). These organizations provide logos or labels on cruelty-free products. Additionally, consumers can visit the official Aquaphor website or contact their customer support for the latest information on the brand's animal testing policies and practices.
What certifications does Aquaphor hold?
Aquaphor, a brand committed to cruelty-free and ethical skincare, holds no specific cruelty-free certifications from organizations like Leaping Bunny or PETA. However, it follows strict ethical guidelines, ensuring its products are not tested on animals. Additionally, the brand has garnered recognition from dermatologists and skincare professionals for its safety and effectiveness. While Aquaphor may not possess external certifications, its reputation in the industry testifies to its cruelty-free and safe practices.
Is it okay to use Aquaphor every day?
Using Aquaphor daily is generally safe for many people, as it's a gentle and effective product for moisturizing and protecting the skin. However, it's essential to consider your skin type and specific needs. Some may find it too heavy for everyday use on the face, while others with very dry or sensitive skin might benefit from daily application. Always perform a patch test and consult a dermatologist if you have any concerns.
What are the environmental benefits of choosing cruelty-free products?
Opting for cruelty-free products doesn't merely safeguard animals but has positive environmental impacts. When you choose these products, you reject the harmful practice of animal testing, which can harm ecosystems. It promotes biodiversity, encourages sustainable ingredients, eliminates harmful chemicals, supports ethical practices, heightens consumer awareness, and fosters innovation in the beauty industry. In summary, it's a vote for a cleaner, more ethical, and environmentally conscious approach to skincare.