Men and women who are aging always want to look their best. And, mostly, they focus on their skin—shine, wrinkles, etc. 
Beautiful skin takes work, and lots of different skin creams are created especially to slow down the aging process. Shiseido and Sk-II are two brands that can help people reach their ultimate goal of improved skin quality.
But which one is better when it comes down to Shiseido vs Sk-II? Let's find out!
Shiseido vs SK-II Wrinkle Cream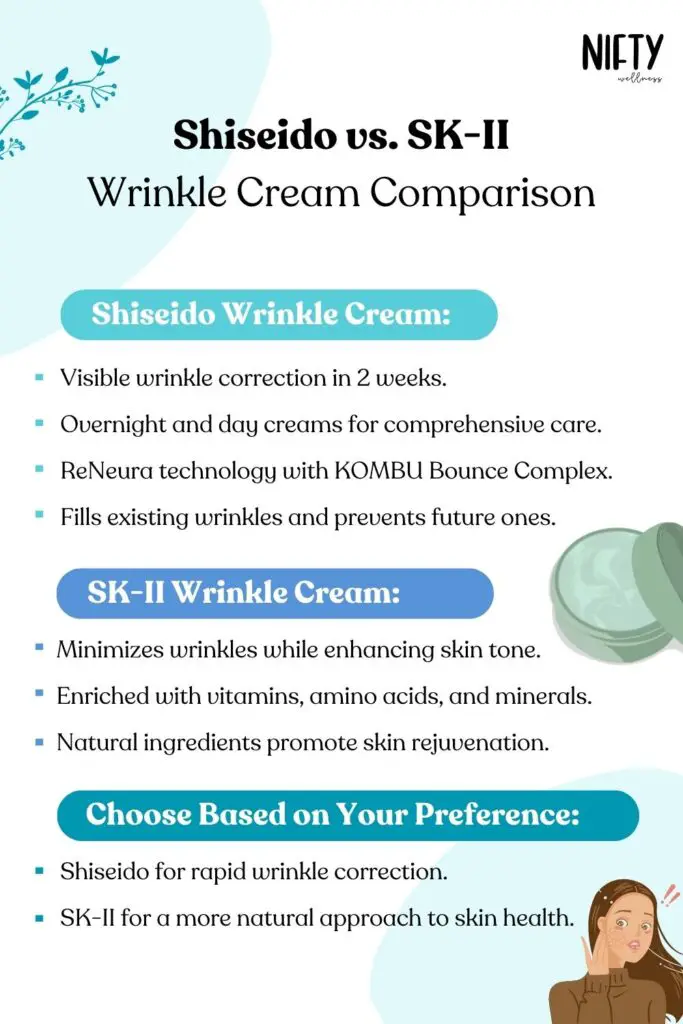 Wrinkles are a sign of aging, stress, and worry. The lines underneath your eyes or on your forehead are heightened when you have a busy stressful life. 
There are many wrinkle creams on the market that will help decrease your wrinkle lines while giving you the confidence that comes from feeling younger.
Shiseido
Shiseido's anti-aging creams visibly correct wrinkles in just 2 weeks. The brand has overnight and day creams to address and correct your wrinkly skin. 
ReNeura technology plus improves skin's receptivity with the KOMBU Bounce Complex, which serves as a wrinkle filler that takes away present wrinkles or any that may come in the future. 
SK-II
The Sk-II creams work to minimize wrinkles in your skin, while enhancing the overall tone and texture of your skin. 
Sk-II products are rich in vitamins, amino acids, minerals, and organic acids, which help your skin to naturally rejuvenate itself. 
Verdict
If you're looking for a quick and effective solution, go for Shiseido. However, if you're looking for a more natural and, in my opinion, healthier solution, go for Sk-II.
Explore the Shiseido VS Estee Lauder: Differences, Similarities & Which One Is Right For You comparison to find your perfect skincare match.
Shiseido vs SK-II Eye Cream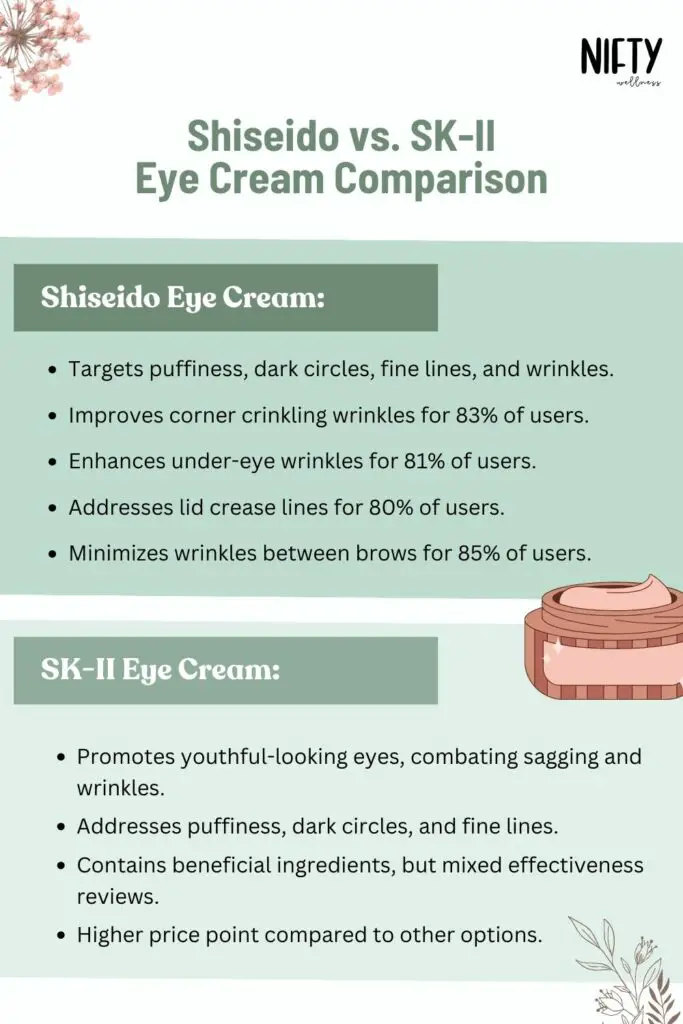 There are many great eye creams on the market that will take away those dark circles that make you look like you have had no sleep during the night.
These eye creams will also help to improve your drooping and sagging look to make your eyes wider and more vibrant. 
Shiseido
Shiseido eye cream is an anti-aging product that eliminates puffiness, dark circles, fine lines, wrinkles, and crow's feet associated with the aging process and other environmental stressors. 
They claim the following:
83% of women saw corner crinkling wrinkles improve
81% of women saw under-eye wrinkles improve
80% of women saw lid crease lines improve
85% of women saw wrinkles between brows improve
SK-II
The Sk-II eye creams help people have more youthful-looking eyes. The creams help prevent sagging, drooping, wrinkles, puffiness, dark circles, and fine lines associated with getting older. 
It has many great ingredients but some controversial reviews regarding its effectiveness. It's also quite a bit more expensive.
Verdict
Both in terms of price and effectiveness, it seems that Shiseido is the better choice for eye creams.
Shiseido vs SK-II Sunscreen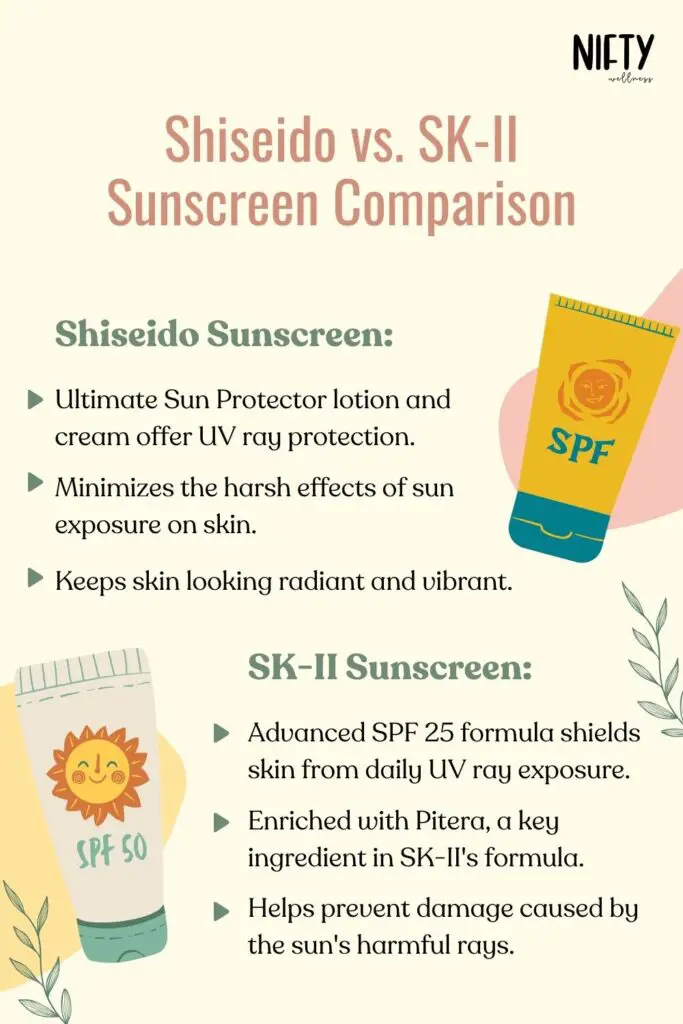 People who live a busy lifestyle or work and play outdoors get exposed to a great deal of sunlight. And while the sun is a great source of Vitamin D, it also has damaging UV rays that can cause skin damage and even cancer over time. 
Purchase a great sun protection cream as the answer to your problem. Applying the cream daily should be a part of your skin regimen to help protect you from the sun's damaging UV rays.
Shiseido
Shiseido Ultimate Sun Protector lotion and cream are two of their best products on the market for giving someone protection from the UV rays of the sun. 
It minimizes the harshness of these rays on your skin that can leave your skin dull and lifeless. 
SK-II
Sk-II sun protection products are rich in Pitera and contain an advanced formula using SPF 25 to protect your skin from daily exposure to the sun's damaging UV rays of the sun.
Verdict
It seems both products are very effective and do the job well, so it's a tie for sunscreens. However, I would give just the slightest edge to SK-II for their Pitera richness.
Shiseido vs SK-II Skin Firming Cream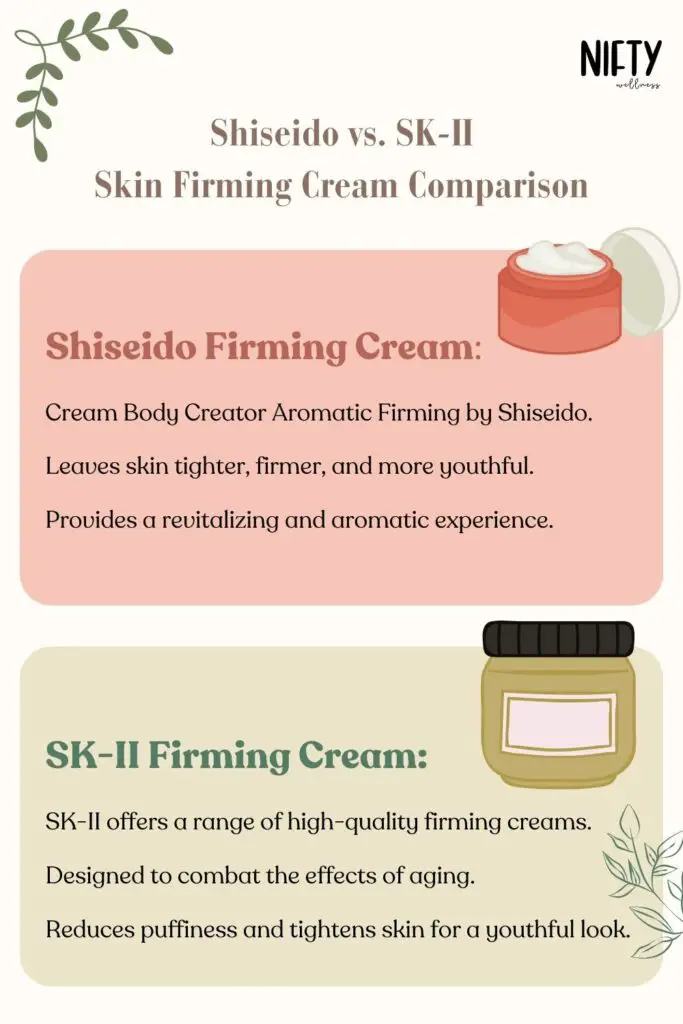 As you age, your skin loses firmness. You will need a skin firming cream to tighten your skin and bring it back to its original form. Tighter skin looks more youthful and revitalized and reflects how you really feel inside. 
Shiseido
Shiseido's Cream Body Creator Aromatic Firming product is one of the best skin firming products on the market. It leaves your skin feeling and looking tighter, firmer, and more youthful in appearance. 
SK-II
Sk-II offers a wide variety of high-quality firming creams that are designed to stop the effects of aging on your skin.
These products help reduce puffiness and tighten your skin while making you look as young on the outside as you feel on the inside. 
Verdict
SK-II seems to be the better choice here simply because they have a wider variety of skin firming products, giving your more choice and personalization for your specific skin type.
Shiseido vs SK-II Skin Revitalizer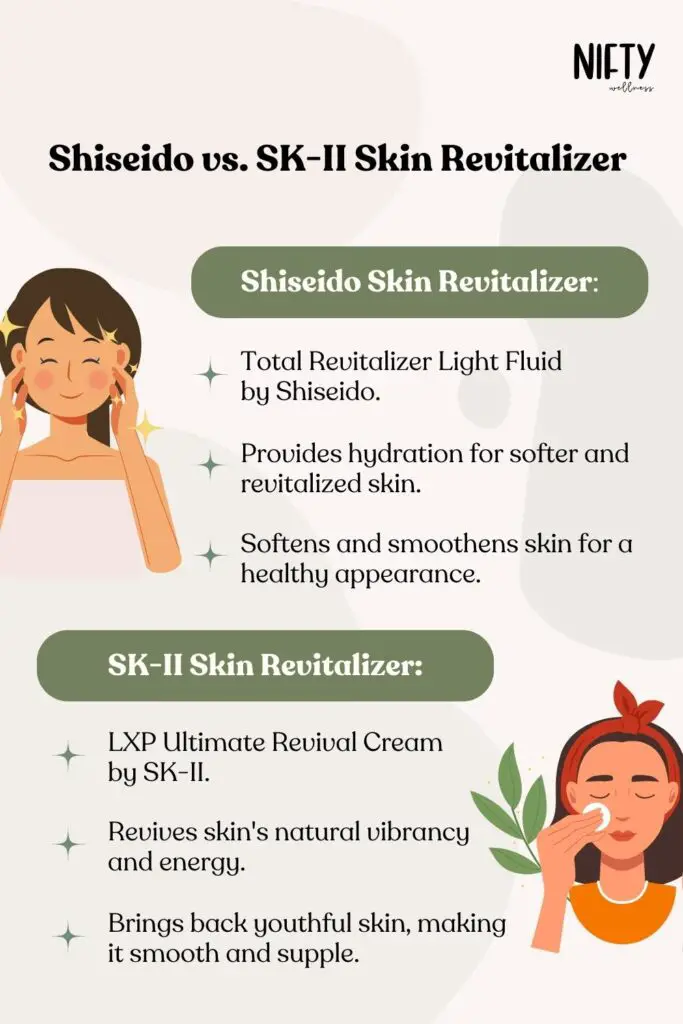 Your skin cells are always looking to be revitalized. The heat from the sun, dirt, bacteria, stress, worry, and other things make your skin look dark and saggy. 
Bring those old dead skin cells back to life with a great revitalizer cream. Wake up your face and body to discover a new skin underneath that looks more vibrant and energized. 
Shiseido
Shiseido Total Revitalizer Light Fluid is just one of their great products on the market that works to revitalize your skin. The fluid is created to help you achieve softer and smoother skin that looks healthy and hydrated. 
SK-II
Sk-II LXP Ultimate Revival Cream is one of the brand's best products on the market. The cream brings back the youthfulness in your skin while making it smooth, soft, and supple. 
Verdict
I would say both brands do a great job of revitalizing skin, it is a straight tie and comes down to which brand you prefer.
Shiseido vs SK-II – Best Skin Moisturizer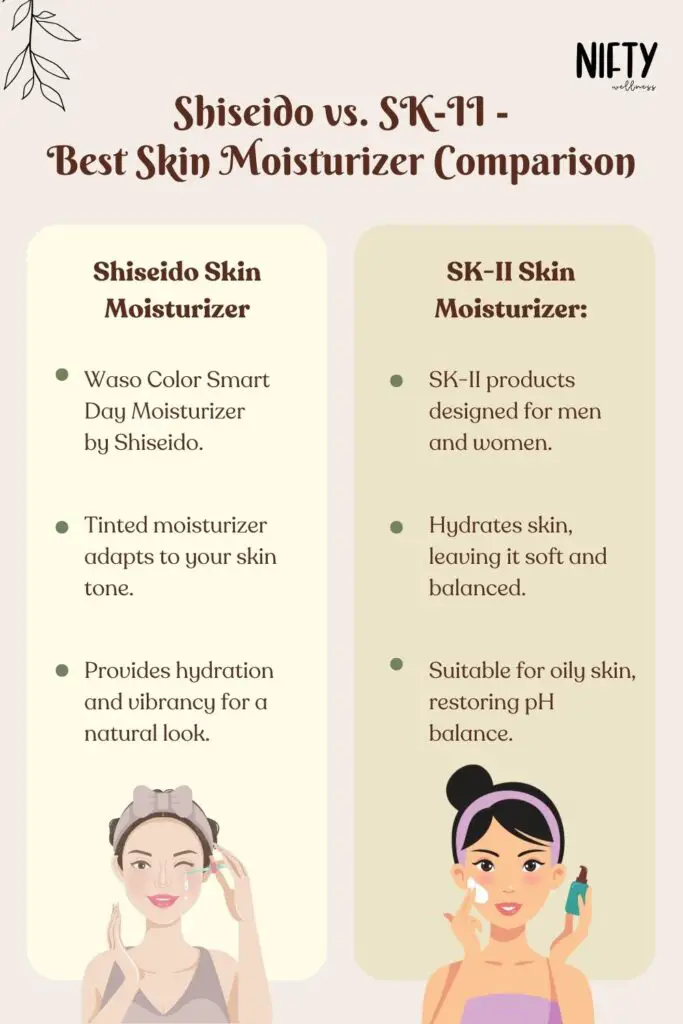 Moisture is important for every part of your body. It is essential to your skin cells to keep them revitalized and rejuvenated, especially if you're in the sun all day, which leaves your skin dry and cracked.
Shiseido
Shiseido Waso Color Smart Day Moisturizer is a tinted moisturizer that works to adapt to your skin tone to give you a more hydrated and vibrant look. 
SK-II 
Sk-II products for men and women are some of the best on the market. The products are created to hydrate your skin while leaving it soft to the touch. They work well with oily skin to bring back the ph balance in your skin. 
Verdict
Both brands have great moisturizers, so it really comes down to whether you prefer a tinted one (Shiseido), which will give you a bit of color along with the cream, or a simple one (SK-II) which will just moisturize.
Shiseido vs SK-II Skin Brightener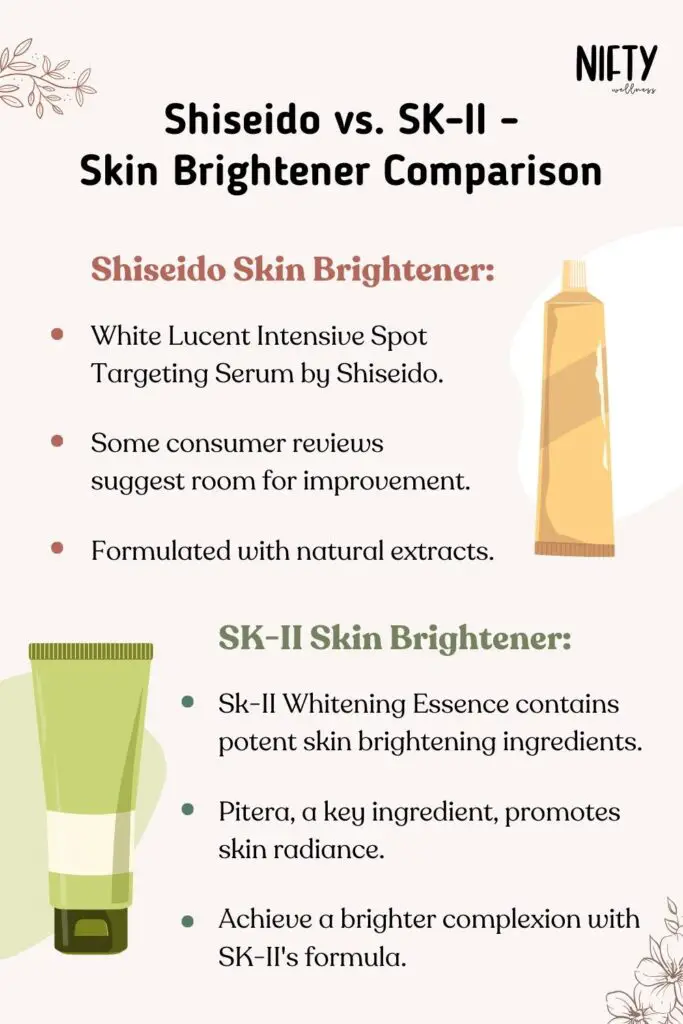 Healthy skin is firm, toned, and bright because it has the nutrients and vitamins needed to keep it looking vibrant. Skin brighteners will make your skin look brighter and more radiant. 
Shiseido
Shiseido White Lucent Intensive Spot Targeting Serum is an excellent skin-lightening product because it is formulated with natural extracts. However, consumer reviews show that there are better brightening formulas on the market. 
SK-II
The Sk-II Whitening Essence contains several skin brightening ingredients, including the powerful Pitera. The ingredient helps the Sk-II products to achieve skin radiance and brightening.  
Verdict
SK-II takes the cake here simply based on reviews. Shiseido seems to have some problems with their formula that need to be worked out before they can be recommended.
Final Words
Now that you know more about Shiseido and Sk-II, two great brands that offer high-quality skincare for wrinkles, fine lines, sagging skin, dark circles, etc., you should know which brand works best for you.
Both brands can be found online for purchasing their products. And while some of these creams may be expensive, just think of them as an investment in your skin and overall health of your body. 
Note: You may want to speak with a professional dermatologist before beginning your skincare regimen, especially if you have sensitive skin. 
Remember that eating healthy foods with nutrients and vitamins and daily drinking the required amounts of water will help these creams to work at their best. Good luck!
Frequently Asked Questions (FAQs)
Are Shiseido and SK-II cruelty-free brands?
Shiseido and SK-II are not cruelty-free brands. Shiseido, a well-known Japanese cosmetics company, conducts animal testing when required by law, particularly in markets like China. SK-II, a subsidiary of Procter & Gamble, also sells its products in regions where animal testing is mandatory. While both companies may have certain cruelty-free products, they cannot be considered entirely cruelty-free due to their testing practices in certain markets.
Which brand is better for sensitive skin?
Determining which brand, Shiseido or SK-II, is better for sensitive skin depends on individual factors. Shiseido offers products designed for sensitive skin, but users should scrutinize ingredients. SK-II Pitera-rich formulations can benefit sensitive skin, but it's crucial to check for potential irritants. Consult with a dermatologist for personalized advice based on your unique skin needs, as what works best may vary from person to person.
Do Shiseido and SK-II offer eco-friendly packaging?
Both Shiseido and SK-II have taken significant steps towards eco-friendly packaging. Shiseido, as per their sustainability initiatives, focuses on reducing plastic usage and promoting recyclable materials. SK-II, owned by P&G, is also committed to sustainable packaging, aiming to make 100% of their packaging recyclable by 2030. They both prioritize environmental responsibility in their product packaging, aligning with global sustainability goals.
Can I use Shiseido and SK-II products together in my skincare routine?
Yes, you can use Shiseido and SK-II products together in your skincare routine, but it's essential to consider your skin's specific needs and sensitivities. Both brands offer a range of skincare products, and while they may complement each other, it's crucial to patch-test any new products and introduce them gradually to ensure they work well together and there will be no adverse reactions caused by them. Consulting with a dermatologist or skincare professional is also advisable for personalized guidance.
What is the price range for Shiseido and SK-II products?
The price range for Shiseido and SK-II products can vary widely depending on the specific product and its size. Generally, both brands are considered high-end and can be relatively expensive compared to mass-market skincare products. Shiseido products may range from $30 to $200 or more, while SK-II products often fall in the range of $70 to $400 or higher. Prices can fluctuate based on the product's formulation and intended use, so it's advisable to check with authorized retailers or the brands' official websites for precise pricing information.